Homeownership is the heart of the American Dream—but can the dream be realized with bad credit?
So you got your credit report and learned that your credit sucks. It's below 620, and you're wondering if buying a home is possible. The good news is that homebuyers, especially first-time homebuyers, with poor credits can still access lending. The bad news is that these loans often come with expensive loan terms and other disadvantages.
In this article, we will cover the ins and outs of buying a new home with bad credit. How to do it the right way and how to spot a bad mortgage from a mile away. Don't start packing until you've read this article!
When you're ready to pack, you're ready to save on home insurance. Shop confidently with Insurify and find the best rate for your home policy in minutes. Try it today!
What is Bad Credit?
Technically speaking, there is no "bad credit score" according to the FICO credit scoring system. Credit scores below 620 are considered "fair", and credit scores below 580 are considered poor. Semantics aside, credit score requirements for mortgage approval usually cut off somewhere around 680 for conventional loans at top-tiered companies. 620 for some smaller mortgage lenders.
Your score is based on your credit history. Negative marks, including late payments and high credit card debt, results in a lower credit score. These records are kept by the credit bureaus:
Transunion

Equifax

Experian
However, your credit score isn't the only factor mortgage lenders take into account when deciding on your loan.
Credit Isn't Everything
Your lender is interested in your complete financial picture. You can come to the negotiating table with more than your credit score. Here are other factors that can help you gain approval:
Income: if you make six figures, you will have an easier time getting approval than someone with bad credit and low income. However, you still need low debt for this to be true.

Low debt: if your debt-to-income ratio can remain low even with a mortgage, your lender will see this as a good sign. Low debt means lower monthly expenses—and a lower likelihood of default.

Assets: if you have a significant asset, like a well-funded savings account, you can use that as a sort of collateral to back your loan. Lenders like to see reserves equal to three or more months worth of your mortgage payment.

Large down payment: speaking of savings, if you have a substantial down payment, think twenty percent or more, then your lender will be more likely to approve your loan.

Work history: if you've been raking in those bills from the same company or industry for years, you'll be more appealing to lenders. This also means that job changes, unless they're promotions, are a no-no during the home buying process.

Co-signer: if a relative or friend is willing, you can add a co-signer to your loan. You get the added benefit of their assets and income—but they run the risk of paying out if you default. Be sure you know what you're getting into before you get a co-signer.
Home Loans for People with Bad Credit
You may be surprised, but most people with low credit scores will find more than one option for a home loan. Credit scores above 580 have many more options than those with scores below. But a combination of assets, income, and an advantageous loan program can still gain approval.
Conventional Home Loans for People with Bad Credit
In the world of conventional loans, subprime loans are the way home buyers with bad credit can get approval. Unfortunately, traditional options don't offer much. Subprime mortgages often come with high interest rates, adjustable rates that can easily become too expensive, and/or few safety measures protecting the buyer from foreclosure.
Insurify does not recommend using a conventional subprime mortgage as a viable path to homeownership. We recommend that you use another option.
FHA Home Loans for People with Bad Credit
For people with credit below 620, Federal Housing Administration loans are usually the best option. Down-payment requirements are generous, with only 6.5 percent required of buyers with scores of 580 or higher. For buyers with a lower score, only 10 percent is required to buy.
Bear in mind that buyers with scores below 580 will have fewer options when it comes to mortgage companies. Most lenders, especially large commercial banks, will not underwrite an FHA loan for buyers with scores below 580. The minimum credit score for an FHA loan is 500.
Finally, any FHA loan where the buyer puts less than 20 percent down does come with monthly private mortgage insurance premiums. Keep this in mind when you budget for home buying.
VA Home Loans for People with Bad Credit
If you are or have been a member of the United States military, then the Department of Veterans Affairs has options for you. While no minimum is set by the VA, most people with a 620 score or higher will find funding.
Homebuyers will also find leniency when it comes to the down payment, as none is required. Also, no mortgage insurance is required, instead, you'll pay a funding fee once and never again.
USDA Home Loans for People with Bad Credit
If you're willing to relocate to a rural area, you may qualify for a U.S. Department of Agriculture home loan. USDA rules for credit scoring are not clear cut, with many lending institutions requiring at least a 640 for underwriting a USDA loan.
However, if you can provide a credit score of 640 you may qualify for zero down in interest. If you can't, you may be able to find lending if you can provide a substantial down payment.
Government Assistance Programs for People with Bad Credit
If you're a first-time homebuyer, you will be relieved to know that several local, state, and federal programs exist to help you.
The HomePath Ready Buyer Program offered by Fannie may help people who have not owned a home in the last three years. The program offers competitive mortgage rates and may also help with closing costs. All homes purchased through HomePath are foreclosed properties.
You should also look into local organizations that provide grants to homebuyers. Many municipalities across the country are offering home buying assistance to people willing to relocate. Local non-profits sometimes offer grants for down payments. Contact your local government to learn more.
Finally, your employer may offer home buying help. Some employers offer forgivable loans, while others offer low-interest loans. You may also be able to borrow against your retirement savings if your employer allows you to. Don't be afraid to ask you human resources representative.
Compare Car Insurance Quotes Instantly
Personalized quotes in 5 minutes or less
No signup required
The Benefits of Waiting
If you decide to rebuild your credit and put housebuying on pause, you will likely save a lot of money. A higher credit score gets you a lower interest rate, saving you tens of thousands over the life of the loan.
Rebuilding your credit takes time, but for many people, it will be worth it. Remember, you don't need perfect credit to get more favorable interest rates. And certain credit marks are easier to fix than others, for example:
Late payments

Credit utilization

Credit mix
Paying off maxed-out credit card balances can boost your score by 100 points or more. Getting added as an authorized user to a credit card boosts your score in 30 days. Challenging your late payments may result in several being removed from your report. A little elbow grease goes a long way.
But waiting gives you another benefit: time to continue saving toward your nest egg. A bigger downpayment helps you qualify for better loan terms.
Should I Buy a Home with Bad Credit?
There are some advantages of buying a home right away. The interest on home loans are at a historic low. So low, even people with unfavorable credit will qualify for lower-than-average rates, historically speaking. Plus, the monthly payment for a mortgage will not change on a fixed mortgage, while rent prices will continue to rise.
However, buying with bad credit comes with drawbacks. Buyers will need to come up with more money upfront, pay higher interest rates, likely pay mortgage insurance for the life of the loan, and be at greater risk of disadvantageous borrowing terms.
The Truth About Subprime Lending
"Subprime" lending, you may recall, was a big reason behind the 2008 housing bubble crash and millions of foreclosures nationwide. Such disadvantageous terms include adjustable-rate mortgages and balloon mortgages. The reason? Both mortgage term agreements start with low monthly payments that later skyrocket.
In 2009, a full 40 percent of adjustable-rate subprime mortgages were in delinquency, while nearly 20 percent of adjustable-rate prime mortgages were also in delinquency—as recorded in the Financial Crisis Inquiry Report. The lesson? Choose your loan terms wisely.
Can I Get a Home Loan if I've Declared Bankruptcy?
People who have gone through the bankruptcy process can still apply for homeownership. It will take some time, and the clock doesn't start ticking until the bankruptcy has been discharged or dismissed. How much time depends on the kind of loan you use. Here is a quick guide:
| Type of Bankruptcy | Conventional Loans | FHA Loans | VA Loans | USDA Loans |
| --- | --- | --- | --- | --- |
| Chapter 7 | 4 years | 2 years | 2 years | 3 years |
| Chapter 11 | 4 years | 2 years | 2 years | 2 years |
| Chapter 13 | 4 years | 0 years | 0 years | 1 year |
Frequently Asked Questions About Buying a House with Bad Credit?
While married couples or domestic partners often buy their first home together, it's not a requirement. If one spouse has good credit, low enough debt, and an adequate income, that person can apply for a loan without the other spouse.  As strange as it may sound, this can be a good thing. Buying solo gets you into a home right away without sacrificing on high interest. It also gives extra time to the other spouse for credit repair. Finally, it may even be possible to benefit from first-time home buying perks more than once.

Buying a home after a foreclosure is a bit more difficult than buying one after a bankruptcy. To qualify for a conventional mortgage, you'll need seven years' time between the end of the foreclosure process and the date of your new preapproval. VA and FHA loans are more helpful, only requiring three years.  Finally, USDA loans are the most generous, requiring only two years. Perfect for anyone looking for rural living.
Conclusion: Making the Right Choice Means Staying Informed
Deciding to buy right away because you can buy a multiunit property may make up for higher interest rates. Deciding to wait to pay down your credit cards may make up for lost time and money renting. Whatever you decide to do, be sure you have a good reason and a plan.
We want your home to be a refuge and an investment—not a money pit that leads to foreclosure. Ultimately, you're in charge of finding the right mortgage for you.
And when you find the right mortgage for the right home, be sure to find the right homeowners insurance through Insurify. Our rate comparison tool lets you compare coverage for top companies in minutes. Shop, compare, and save today!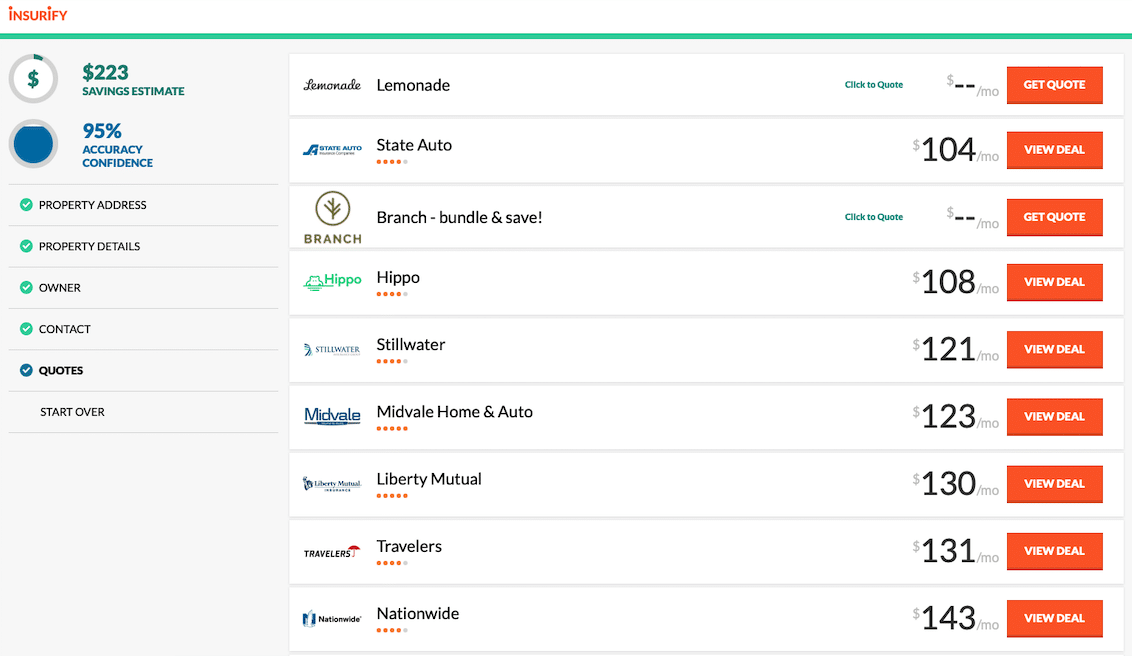 Compare Car Insurance Quotes Instantly
Personalized quotes in 5 minutes or less
No signup required
Data scientists at Insurify analyzed over 40 million auto insurance rates across the United States to compile the car insurance quotes, statistics, and data visualizations displayed on this page. The car insurance data includes coverage analysis and details on drivers' vehicles, driving records, and demographic information. With these insights, Insurify is able to offer drivers insight into how their car insurance premiums are priced by companies.