Why you can trust Insurify
Blog
Home Insurance
Best Worst Sites To Compare Home Insurance Quotes
What's the easiest way to get the best and cheapest homeowners insurance?
Comparing homeowners insurance quotes ensures you've seen all your options so you know you've found the best rate available to you. Insurify will do the leg work for you in 2 minutes, for free!
Choosing a home insurance policy is an essential part of protecting both your house and your family.
But because insurance companies will ask different questions and emphasize different variables for pricing purposes, the quotes you could get for homeowners insurance cover a considerable range. That means comparison shopping is the only way to be sure you're getting the best home insurance quotes. But hitting a series of insurance company websites one by one to compare home insurance quotes can take hours and may not get you accurate results. For one thing, the rates you find may not be based on the same coverage levels, making one policy look more or less expensive than it truly is.
That's where insurance comparison sites can be a massive help in your search for affordable home insurance quotes. These sites let you instantly compare rates from multiple insurance providers, and the best ones provide accurate and personalized rates, insurance discounts, and coverage options all on one site.
Sadly, however, not all sites that claim to provide home insurance quotes are the real thing….
How Home Insurance Quote Comparison Sites Work
There are two types of insurance comparison websites: quote comparison sites and lead generation sites. Home quote comparison websites present users with rates based on information submitted during the shopping experience. You can then decide which quote to pursue, and the data you entered is transferred to the agent or company website, greatly expediting the purchasing process. These sites do not sell your information to insurance companies or agencies.
Unlike actual quote comparison sites, lead generation sites sell your information to their advertising partners —typically insurance companies. These sites are not built to provide you with personalized quotes and are not much help when trying to compare home insurance quotes. Avoid these sites unless you're eager to receive tons of cold calls from insurance robocalls and desperate agents.
Insurance comparison websites can be further broken down into sites that provide real-time insurance quotes versus those that provide estimated ones. The benefit of the former is that you get a more reliable quote; if you follow up on an estimated quote, you could discover that your real rate will be entirely different.
Things That Affect Your Home Insurance Rates
Homeowners insurance rates will vary from insurance company to insurance company and from policy to policy. Comparison shopping is essential because the cost breakdown of your home insurance premium is not a fixed or standardized figure. Standard home insurance coverage includes a combination of dwelling coverage, property damage protection, loss of use coverage, and additional living expenses. Policyholders can opt to have add-ons onto their policies that protect against things like water damage or higher liability coverage.  Here are the factors that go into most homeowners insurance companies' assessment of your risk profile:
Your home: Is bigger always better when it comes to your peace of mind and the value of your home? Large, expensive, and customized houses demand more homeowners insurance coverage. The more that can conceivably go wrong, the more your insurance company will charge.

Your area: Each region of the U.S. has its own risk profile, especially concerning the likelihood of natural disasters. Living smack in the middle of Tornado Alley, or in a cliffside coastal home, will present a unique set of risks. Will you need extra earthquake insurance for your home? What about flood insurance?

Your stuff: Personal property coverage for all of the personal belongings in your home is a vital element of the typical homeowners insurance policy. The more you own, the more you'll need to be covered. Hoarders beware!

Your protection: Investing inadequate safety and security features for your house (burglar alarms, smoke detectors, fire extinguishers, deadbolts) will stave off danger and decrease your home insurance rates.

Your past: Already filed a home insurance claim? Expect the insurance industry to react in kind: your rates will most likely increase.
Compare Car Insurance Quotes Instantly
Personalized quotes in 5 minutes or less
No signup required
Home Insurance Comparison Sites with Real Quotes
The following comparison websites offer real-time, accurate homeowners insurance quotes. Picking the best homeowners insurance company will depend on your home's unique features, including location, age, and size. These tools can help you narrow down the choice.
Insurify
Insurify is a free insurance comparison engine that provides real-time, accurate quotes from top insurance companies nationwide. The site offers a wide variety of insurance companies to choose from and an easy-to-use interface, and can effectively serve consumers in all segments of the market. To date, it has delivered over 4 million insurance quotes from top providers such as The General, MetLife, and Liberty Mutual.
Insurify has been featured on Forbes, the Wall Street Journal, and CNET, and is considered one of the top insurance comparison sites.
How it works: Insurify asks shoppers to answer a series of questions that it uses to produce real-time, accurate quotes.
The site asked simple questions about my home's address, age, and value, along with a few questions about me (name, email address, and credit score). It then offered me a set of three packages: a basic policy, standard policy, or premium policy. The differences between the three included extended replacement cost coverage (25 percent vs. 50 percent), personal liability coverage, and medical payments coverage.
The questions were easy to answer, and the process was straightforward—I was able to submit my information and get personalized quotes in under five minutes.
Results: Insurify produced three quotes for the "standard" coverage policy, one for $68 per month, one for $78 per month, and one for $79 per month.
| Home Insurance Company | Monthly Quote from Insurify |
| --- | --- |
| Hippo | $68 |
| ASI | $78 |
| Safeco | $79 |
Clicking on the button to the right of each quote brought up a pop-up window with options to apply for the homeowners policy online or call an agent from that company. It also gave me a chance to create a custom package if I wasn't satisfied with the three default options.
Each quote included information about the company, such as the year it was founded and the services it offers. My ability to easily compare home insurance quotes allowed me to see how the policies differed. There were a few coverage areas that were a bit different between the two quotes and seeing them side by side made it easy to pick those out.
Underneath the quotes, the site provided a list of links to other insurers, with a "Get Quote" button to visit that site. I could also click back and forth between basic, standard, and premium tabs to quickly see the quotes for those coverage levels.
Overall, this site provided a clean and easy-to-use interface with lots of information about my coverage and insurer options. Insurify can get you the cheapest home insurance quotes available.
Policygenius
Policygenius is another homeowners insurance quote website that generates real-time quotes from multiple insurance providers. In addition to home insurance quotes, Policygenius provides rates for life, health, and disability insurance (among others), as well as blogs with information on these various types of insurance. The site also has an Insurance Checkup tool that asks basic questions and recommends which kinds of insurance users should have.
How it works: Policygenius' shopping process asked me for my address and contact information. The only thing it wanted to know about my house was whether it was a single-family home.
Results: Policygenius took my information and informed me that I'd receive an email from a licensed expert within 24 hours. There was no option to look at actual quotes or even choose policy options. What's more, the site required me to enter my phone number, giving me the uneasy suspicion that insurance agents would be calling me soon to sell me coverage.
Lead Generation Sites
Unlike quote comparison sites, lead generation sites are paid when they send customers' personal information to external agencies.
These sites often draw visitors in with competitive rates, but then transfer you to a different site to continue shopping and complete your transaction, often at a far less attractive price. This is because lead generation sites are paid to sell your information to an agency, not to present you with the best rates on home insurance.
You can sometimes get home insurance quotes on lead generation sites, but you should expect them to be far less reliable than quotes from actual comparison sites. Using lead generation sites most likely means that you'll need to go to the various home insurance websites to find real rate information, which arguably defeats the purpose of using a quote-generating site at all.
CoverHound
CoverHound is a free, online comparison tool that provides quotes for both business and personal insurance. The site also has a Learning Center with articles on insurance-related subjects. CoverHound says that its advisors are "compensated based on service" rather than by commissions, implying that said advisors are motivated to find the best policy for customers rather than the most lucrative one.
How it works: The quoting tool didn't work until I switched browsers to Microsoft Edge (probably because I have third-party cookies disabled in my primary browser). CoverHound asked me quite a few questions about my home, such as when I'd bought it and whether I had a dog. The site then wanted my contact information. The text above the Get Quotes button informed me that by clicking the link, I was giving CoverHound permission to source data about my credit history and insurance claims history.
Results: After a minute or so of processing, the quoting tool spit out eight different home insurance quotes ranging from $101.67 to $177.25 per month. The site preset my coverage limits and deductible and wouldn't let me change them to produce more accurate quotes. Clicking the Select button next to one of the quotes took me to a page saying that they'd call me shortly to discuss the quote.
I appreciated getting actual quotes, but without the ability to adjust coverage details, the numbers were somewhat inapplicable. For example, the site assumed my home's value was $400,000, which could be inaccurate given it didn't even ask how large or how old the house was.
Insurance.com
Insurance.com is a free, online comparison tool that provides quotes for auto, life, health, and home insurance. It has numerous articles related to insurance and provides information on auto insurance by state of residence. There's a calculator that provides the average home insurance rates for your area based on coverage level.
How it works: I entered my ZIP code and was immediately dropped into a page with a list of several renter's and home insurance providers.
Results: The site provided me with a total of five links, one for renter's insurance coverage at Lemonade and four for home insurance from various insurance companies. Each Get Quote link simply sent me to the provider's website. Apparently, Insurance.com's home insurance quote tool is strictly an affiliate link funnel to various insurers.
InsuranceQuotes
InsuranceQuotes is a free, online comparison tool that offers quoting processes for auto, life, health, homeowners, and other types of insurance. The site also has articles on insurance-related subjects and provides information on car insurance by state, including average rates.
How it works: During the quoting process, I was asked for some necessary information about my home and insurance history, along with my contact information. Clicking the Get Quotes button required me to consent to a declaration that I would be called by up to eight insurance or partner companies, potentially including robocalls.
Results: After answering the required questions, I ended up on a results page suggesting that I "Click at least 2 to 3 companies below to find the best rate!" with links to five different insurance company websites. It also informed me it had matched me with three insurance agents who would be contacting me shortly.
Insure.com
Insure.com is a free, online insurance quote comparison tool that has quotes for life, auto, health, and homeowners insurance. There are also financial strength ratings for insurance companies, insurance glossaries, and informational articles.
How it works: The quoting tool asked for the type of home I owned, its age, and its location. It then wanted my contact information. The boilerplate text above the "Get Your Quotes" button informed me I might be contacted by up to five home insurance companies, agents, or robocalls for marketing purposes.
Results: The quoting tool sent me to a page saying that it had matched me with the following insurers in my state. It provided a list of three insurance companies and five insurance comparison sites or agencies. Clicking the Get Quote button next to a listing took me to the website in question's quoting tool, not an actual quote.
QuoteWizard
QuoteWizard is another insurance lead generation site that sells leads to insurance agents. In addition to home insurance, they also offer quotes for life, renters, health, and auto insurance. The site also has a blog with articles about various types of insurance.
How it works: The home insurance quoting tool asked me a series of questions about my home, including its age and number of stories. It also asked for my name, address, email, and phone number. Text beneath the Get My Home Quotes button gave the usual warning about how I was giving express consent for telemarketing by agents and robocalls.
Results: QuoteWizard dropped me on a page with links to three different insurance companies. Clicking the See Your Rate button by each listing simply sent me to the insurance company's website.
SmartFinancial
SmartFinancial's home page says it can get you rates from top-rated insurance companies in less than 3 minutes. The quote processing tool provides quotes for life, auto, home, and health insurance, among others.
How it works: As with CoverHound, I had to switch browsers to Microsoft Edge to get the quoting tool to work. It asked me quite a few questions about my home, such as what type of garage I had and how many bathrooms there were. Next, the tool asked for my email address while claiming "no spam, ever."
Before I clicked to view my quotes, I noticed the fine print asking me to agree to allow "marketing partners to contact you for marketing/telemarketing purposes at the number and address provided above."
Results: After a short wait, the quoting tool produced three home insurance quotes ranging from $13 to $16 per month and two links to other sites with buttons allowing me to "Check Price." Clicking one of these links redirected me to the start of the home insurance provider's own quoting process.
Clicking the "View Details" link next to the quotes provided a bit of information about the insurance company, but there was no way to select the offer. Instead, it seems visitors need to call the provided number to speak with a licensed insurance agent to sign up.
The Simple Dollar
The Simple Dollar is a personal finance site with information about credit cards and other debt products, insurance, investing, and banking. There's a blog with numerous personal finance articles and tons of reviews of various financial products.
How it works:  The homeowners insurance quoting tool is built into the middle of a page offering advice on how to choose an insurance policy. It asked for just my ZIP code, then populated the page with a list of companies.
Results: The list included eight insurance companies and comparison sites. None of the results had actual quotes, just links to "compare quotes" on the various sites. Clicking the link took me straight to the new website. This isn't so much a quoting tool as a directory of available insurance providers for the visitor's ZIP code.
ValuePenguin
Like The Simple Dollar, ValuePenguin is a personal finance site dedicated to helping consumers make informed decisions about their credit cards, banking, investments, and insurance. The site offers quoting tools, in-depth financial product reviews, and analyses of industry trends.
How it works: ValuePenguin's quoting tool asked me for my ZIP code, then immediately sent me to a page with a long list of home insurance providers and other quote generation sites. Text at the top of the page announced the listed providers "offer the best premiums based on the information you have provided," although all I had provided was my ZIP code.
Results: Again, like The Simple Dollar, none of the results had actual quotes, just links to "compare rates" on the various sites.
Home Insurance Quotes Comparison FAQs
Insurify lets new and seasoned homeowners alike compare home insurance quotes and save money on their policy in a matter of minutes. Unlock discounts and save on your annual premium with a real quote from a large or small homeowners insurance provider. Other home insurance comparison sites include Policygenius and Nerdwallet.

Comparing home insurance quotes on Insurify saves you time, money, and stress. Entering the same personal information directly on a bunch of company or lead generation sites will leave you susceptible to unwelcome spam calls and emails. With Insurify, users can compare homeowners insurance quotes on one secure platform in mere minutes, and choose to buy the right policy for them online or over the phone.

The cost of your homeowners insurance policy will vary based on multiple factors, especially the features of your dwelling and where you live. Nonetheless, some home insurance companies get uniformly high marks. Insurify's official list of the best home insurance companies deems COUNTRY Financial, USAA, and Allstate the best home insurers of 2020.
How to Get the Best Home Insurance Quotes: The Bottom Line
Even if you're happy with your insurance provider, it's best to compare home insurance quotes every time your policy is up for renewal. If you find a better price elsewhere, you can always take the quote to your current provider and ask if they can match it. You might end up with the best of both worlds: a home insurance provider you love and a great rate! It's also wise to consider tweaking your coverage options. For example, if your income has gone up, you might want to raise your coverage limits to protect your savings in case something goes wrong. Before you start shopping, use a home insurance calculator to get a rough idea of the costs you might encounter when it comes to home insurance.
When you've worked out just what coverage you need, a home insurance quotes comparison site can help find the best price for your desired policy. However, you'd be advised to stick to reputable comparison sites that give you real quotes rather than lead generation sites that will throw you at the mercy of cold-calling insurance agents. No matter your unique situation, whether you're looking to insure your mobile home or bundling your home and auto policies, Insurify can help.
You may find that a few minutes spent comparing quotes on Insurify will save you hundreds of dollars a year in homeowners insurance costs.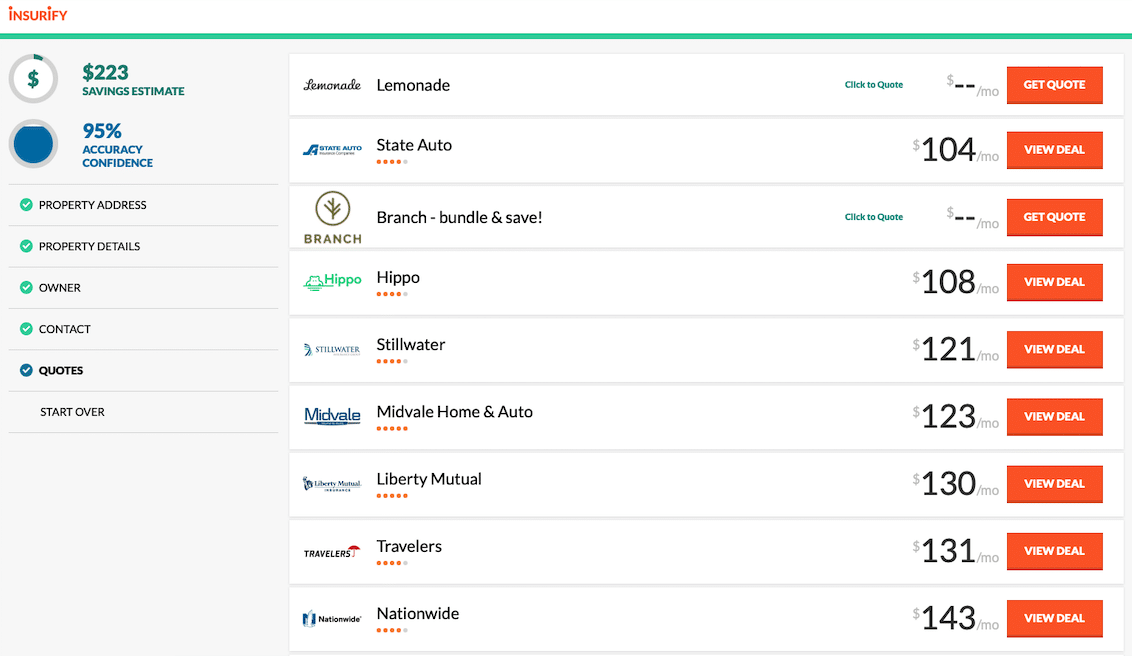 Compare Car Insurance Quotes Instantly
Personalized quotes in 5 minutes or less
No signup required
Data scientists at Insurify analyzed over 40 million auto insurance rates across the United States to compile the car insurance quotes, statistics, and data visualizations displayed on this page. The car insurance data includes coverage analysis and details on drivers' vehicles, driving records, and demographic information. With these insights, Insurify is able to offer drivers insight into how their car insurance premiums are priced by companies.