Why you can trust Insurify:
As an independent agent and insurance comparison website, Insurify makes money through commissions from insurance companies. However, our expert insurance writers and editors operate independently of our insurance partners.
Learn more
.
If you are looking to cancel your Infinity auto insurance policy, you're in the right place. You can find a new policy and depart from Infinity insurance in six easy steps. Before you get started, consider why you want to cancel your Infinity policy. That way, you'll know what to look for in a new insurance company.
Infinity insurance is best known for catering to high-risk drivers needing an SR-22 to keep their license. However, if you don't need auto insurance coverage from a nonstandard insurer or want to shop around, there are plenty of options that offer better service, claims, and prices. Use Insurify to compare car insurance rates and save money on a new policy.
Quick Facts
Infinity insurance may provide a refund if you cancel before your renewal date.

Ask about cancellation fees, and buy new car insurance before canceling the old policy to avoid coverage lapses.

You can cancel your Infinity insurance over the phone by calling 1 (800) 782-1020.
Infinity Cancellation Policy
How do I cancel my Infinity insurance policy?
You can cancel your Infinity insurance policy by calling customer support at 1 (800) 782-1020 or through Infinity's online customer portal.
You'll need your policy number, contact information, and cancellation effective date[1].
Depending on your policy's renewal date, you may receive a refund for canceling. If you do qualify, Infinity insurance will mail you a check for the unused portion. However, Infinity's website does not specify if they charge fees for canceling a policy early. Before canceling your Infinity policy, check your policy details, and ask an agent if there are any cancellation fees.
Compare Car Insurance Quotes Instantly
Secure. Free. Easy-to-use.
Step 1: Look Up the Renewal Date
Find your policy's coverage or declarations page to identify the coverage dates. The renewal date is usually the last day of coverage. It might not seem like a big deal, but the renewal date tells your new policy when to start, which helps you avoid a gap in coverage.
When setting up a new policy, creating an overlap in coverage guarantees you have car insurance protection. A new insurance company may penalize you for coverage gaps, even if it is just one day. It is also illegal to drive without insurance, so creating an overlap prevents you from having to deal with legal trouble.
See More: Cheap Car Insurance
Step 2: Compare Car Insurance Quotes
Next, make sure to compare auto insurance quotes from several other companies before switching policies. A comparison gives you an idea of how much a new policy would cost and how much you could save. Don't forget to look at bundling discounts when comparing pricing. Bundling your renters or homeowners insurance could save you even more.
Insurify helps you compare multiple car insurance quotes in one place, saving you hours of shopping. First, enter information about yourself, your car, your driving history, and your coverage needs. Then, let Insurify do the rest. You'll get car insurance quotes from multiple top providers and you can choose which one fits your needs best.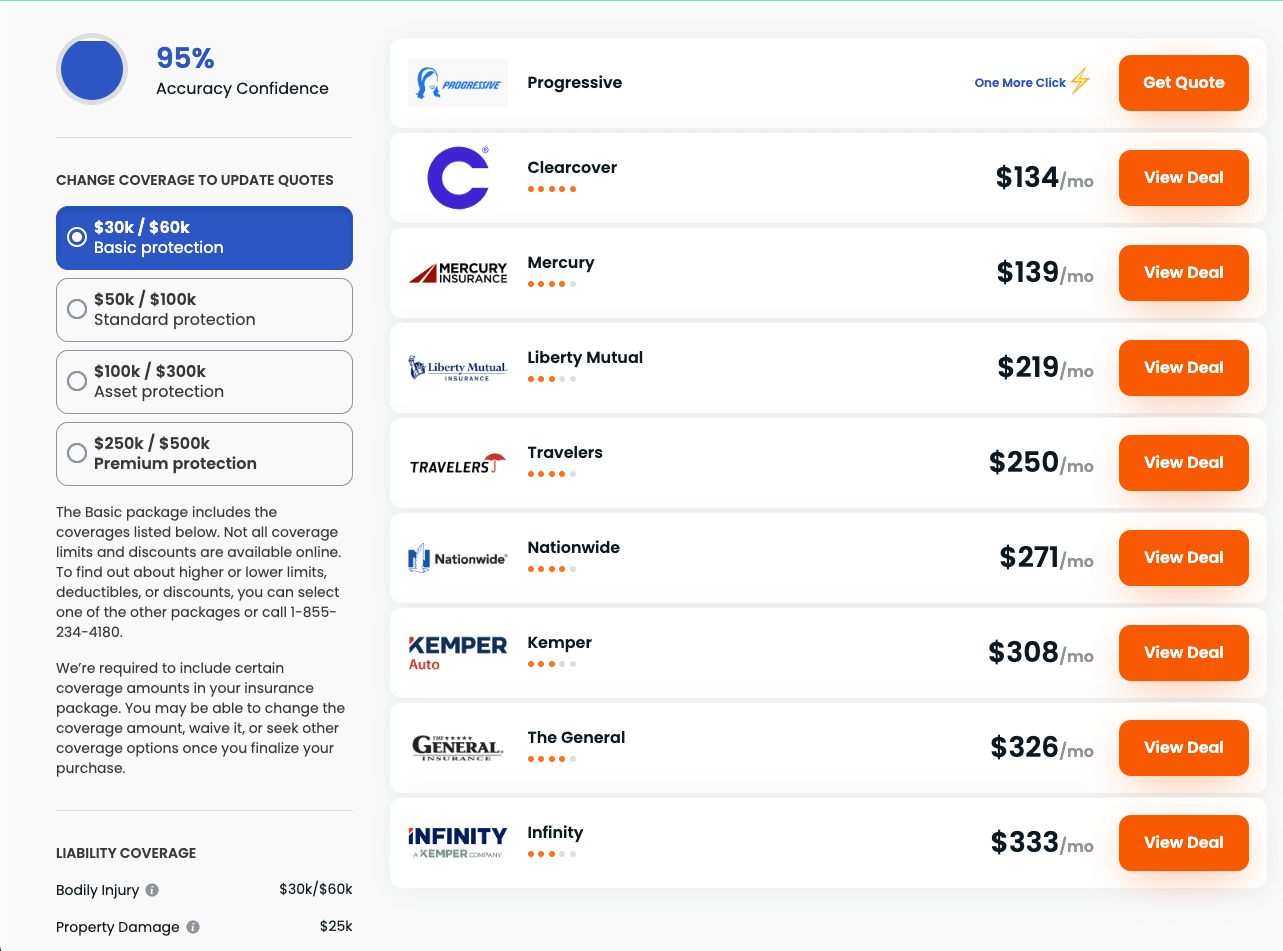 Step 3: Think about Why You're Leaving Infinity
Before you switch, consider why you want to leave Infinity insurance. Are you changing insurers because you want cheaper car insurance rates? Maybe you're unhappy with the customer service, or maybe your driving record improved and you think you could get lower rates. Whatever your reasoning, be sure to know what you want from a new insurance company.
See More: Best Car Insurance Companies
Step 4: Secure a New Policy
Once you find a new car insurance policy, set it up before canceling your Infinity car insurance. This will help you avoid lapses in coverage, let you qualify for possible discounts, and avoid the risks of driving uninsured.
When securing a new policy, Insurify makes buying car insurance painless. Simply enter some details to access your preferred insurer's application with a few clicks. Then, the new insurer issues your policy, and you're ready to drive.
Step 5: Cancel Your Infinity Policy
Now that your new car insurance policy is ready, it's time to break the news to Infinity. Calling in is also a great time to ask if you will receive a refund of your unused premiums.
Fortunately, you can easily cancel your policy through Infinity's online portal or by calling them on the phone. Have your policy number and the details about your new insurance policy ready. Expect a bit of a sales pitch to keep your old policy, but take comfort knowing you have new insurance and can decline their offers.
See More: Compare Car Insurance
Step 6: Follow Up on Your Refund
In some cases, Infinity may send you a refund. If that is the case, you should receive it within two to three weeks. If you haven't, call Infinity back. Typically, insurance companies mail checks, but some may credit your bank or credit card account.
Canceling Your Infinity Policy
Canceling your Infinity car insurance policy is easy. The most essential step is making sure you have another car insurance policy lined up that meets your state's liability insurance minimums before you cancel with Infinity. Overlapping coverage is acceptable, but having a coverage gap or lapse can hurt you, both in buying new car insurance and with the law.
Find the cheapest car insurance quotes with Insurify's comparison tool. It's fast, free, and easy to use. Insurify lets you compare dozens of car insurance quotes with the click of a button. It only takes a few minutes to run a car insurance comparison and potentially save yourself hundreds of dollars.
Infinity Quotes vs. Competitors
See how Infinity stacks up against car insurance competitors with the average monthly prices from Insurify's proprietary database.
Disclaimer: Table data sourced from real-time quotes from Insurify's 50-plus partner insurance providers. Actual quotes may vary based on the policy buyer's unique driver profile.
The quotes listed above are based on averages, but Insurify can show you how much you would pay for car insurance with its car insurance comparison tool.
Frequently Asked Questions
How do I cancel Infinity car insurance?

Policyholders can cancel Infinity car insurance by submitting a request through the online portal or by calling the phone number at 1 (800) 782-1020. Make sure to have your new car insurance policy in place before calling to avoid gaps in coverage.

What should I do before canceling my car insurance with Infinity?

Preparing to cancel a car insurance policy starts with buying a new policy first. Find coverage that fits your budget and needs, and maintain continuous coverage.

Does Infinity charge a cancellation fee?

Infinity's website and FAQs don't mention a cancellation fee. However, former Infinity customers have described cancellation fees in Infinity insurance reviews online. Check your policy documents, or ask an Infinity agent whether you will have a cancellation penalty.

Where can I find new car insurance when I decide to cancel my Infinity policy?

Insurify can help you find new car insurance in only a few minutes. You can compare car insurance quotes personally tailored to you to find the best rates and coverage for your needs.
Compare Car Insurance Quotes Instantly
Secure. Free. Easy-to-use.
Methodology
Data scientists at Insurify analyzed more than 40 million real-time auto insurance rates from our partner providers across the United States to compile the car insurance quotes, statistics, and data visualizations displayed on this page. The car insurance data includes coverage analysis and details on drivers' vehicles, driving records, and demographic information. Quotes for Allstate, Farmers, GEICO, State Farm, and USAA are estimates based on Quadrant Information Service's database of auto insurance rates. With these insights, Insurify is able to offer drivers insight into how companies price their car insurance premiums.