Swyfft homeowners insurance could be your future home insurance company.
Every homeowner has unique needs when it comes to their homeowner insurance policy. Insurify can help you decide if this is the right insurance company for you.
When shopping for home insurance, the last thing you want to do is spend time contacting each individual insurance company in order to obtain a quote. With ease of use in mind, Swyfft developed technology that can assess customer needs in just a few minutes, showing them policy options without hours of research.
Swyfft 's model is a bit different, as most of its policies are backed by Clear Blue Insurance. Swyfft does partner with other companies that are highly rated by A.M. Best and feature solid financial standing. Policyholders love how tech-minded Swyfft is, although coverage is limited to only a handful of states. Lastly, Getting in touch with someone can sometimes be tricky.
If you're unsatisfied with your Swyfft experience, consider heading to Insurify instead. You'll be able to research coverage options from a wide range of companies and obtain a home insurance quote in a matter of minutes.
Swyfft Home Insurance Coverages
Each insurance policy available through Swyfft 's partners is quite comprehensive, offering peace of mind to homeowners who are looking for the ultimate in coverage. While options might differ from state to state, you can typically expect the following to be available:
Dwelling and other structures coverage for property damage to your home, garage, fences, and more

Personal property protection to help replace stolen or damaged items inside the home

Living expenses should your home become uninhabitable during repairs

Personal liability and medical expenses coverage in the event someone is injured while on your property
Swyfft Home Insurance Reviews: Customer Satisfaction
In general, customers seem to be pleased with the range of insurance products that Swyfft can provide. The company partners with other carriers to offer a range of coverage types. Instead of speaking with an insurance agent to determine the levels of insurance best for your home, Swyfft uses a unique algorithm to save you time and ensure your valuables are protected.
While many enjoy their ability to shop for insurance quickly, not everyone is thrilled with Swyfft. Some customers have reported to the Better Business Bureau that the claims process is difficult to navigate. Others report that simple administrative requests, including billing questions and policy changes, are lost in the shuffle.
Here are two recent Swifft insurance reviews from the BBB website:
Compare Car Insurance Quotes Instantly
Personalized quotes in 5 minutes or less
No signup required
Claims Process
Those who enjoy a do-it-yourself experience can head to swyfft.com and click "Report a Claim" to get started. You'll be asked simple questions about the covered event, including the date and time of the incident and any additional information you can provide that will help Swyfft determine the next steps.
If you'd rather begin your claim over the phone, you can call Swyfft at (877) 799-3389. As with any claims experience, timelines will vary. You should continue to be proactive about contacting Swyfft. The more information you provide the easier it will be to handle your claim.
Once you start a claims process, you'll be assigned an adjuster. The adjuster will come to your home to examine damages. Based on the adjuster's assessment, you'll be awarded financial coverage for damages minus your deductible.
Available Discounts and Payment Methods
Nee to lower your insurance rate? Many insurance carriers boast about discounts in order to offer customers a lower insurance premium, but Swyfft doesn't make such information public. If any discounts are even available, it's hard to tell. If you speak with an agent when enrolling in coverage, ask if Swyfft offers any savings for certain home safety features or deductible savings options if you remain claim-free.
In the theme of keeping things as automated as possible, paying your Swyfft premium involves using auto-pay. You won't receive a bill in the mail each month. Instead, your monthly premium is charged to a debit or credit card. If you prefer to pay online, there's an option for that at www.swyfft.com. Policyholders who need to mail in a check for annual payments can send it to:
Swyfft LLC
PO Box 21649
New York, NY 10087-1649
How to Get a Quote from Swyfft Insurance
If you're curious about what Swyfft has to offer, you can obtain a quote online by providing your home address and answering a few questions. You'll be able to see what type of policy Swyfft generates for your home through the use of unique data sources and algorithms.
Some customers note that trying to use the online system can be frustrating, as Swyfft sometimes states that new business isn't being accepted after providing your home address. Swyfft does provide a customer service phone number on its website, so should you have any difficulty when trying to get quotes for your home or commercial property, you can call (855) 479-9338.
Other Types of Insurance Coverage Offered by Swyfft
Swyfft keeps its coverage limited and only offers homeowner insurance to residents of Alabama, Florida, Massachusetts, New Jersey, New York, and Texas. Commercial insurance coverage on a limited basis is available to Illinois businesses as well.
Customers interested in a variety of coverage features including rental insurance, umbrella policies, and life insurance should explore options with another insurance provider.
Swyfft Insurance FAQ
Keep in mind that Swyfft itself does not offer insurance policies but instead partners with companies that do. These carriers have some of the best ratings in the industry and are financially strong.

Using specific analytics to generate a quote, customers can obtain customized coverage in a matter of minutes. If you're interested to learn more about your options, contact Swyfft at (855) 479-9338.

Home insurance is a very customized product, so the price you pay for coverage can vary. If you're looking for the best value when it comes to a new policy, visit Insurify.
The Best Way to Save on Home Insurance
Swyfft is certainly changing the way that homeowners shop for insurance, and while it might be a convenient way to purchase coverage, it may not always be the cheapest.
If you're looking for the best way to save money and are also interested in saving time, make sure to visit Insurify. In just a few minutes you'll be able to compare quotes from multiple companies.
Swyfft Insurance Overview
The history of Swyfft is vague at best, with some stating that the insurer has only been in business for a handful of years. Raising seed money in a matter of hours, Swyfft has attracted the attention of the tech industry and insurance carriers alike with its unique business model.
Swyfft has a mostly positive reputation among its customers. Many are pleased with the do-it-yourself type of policy management that Swyfft has created, while others who have issues with claims or billing note that customer service is sorely lacking. Remember, Swyfft is a relatively new company within the insurance industry and as it continues to grow, there's a good chance that these issues will be handled with ease and the company's service areas will continue to grow.
Better Business Burea: B+ Rating

J.D. Power Customer Satisfaction Rating: Not yet rated

A.M. Best Rating: A- Rating (Excellent)

Moody's Financial Strength Rating: Not yet rated

Standard & Poor's Financial Rating: Not yet rated
Department

Contact Information

Claims
1 (877) 799-3389
Customer Service
1 (855) 479-9338
Headquarters
44 Headquarters Plaza
4th Floor, North Tower
Morristown, NJ 07960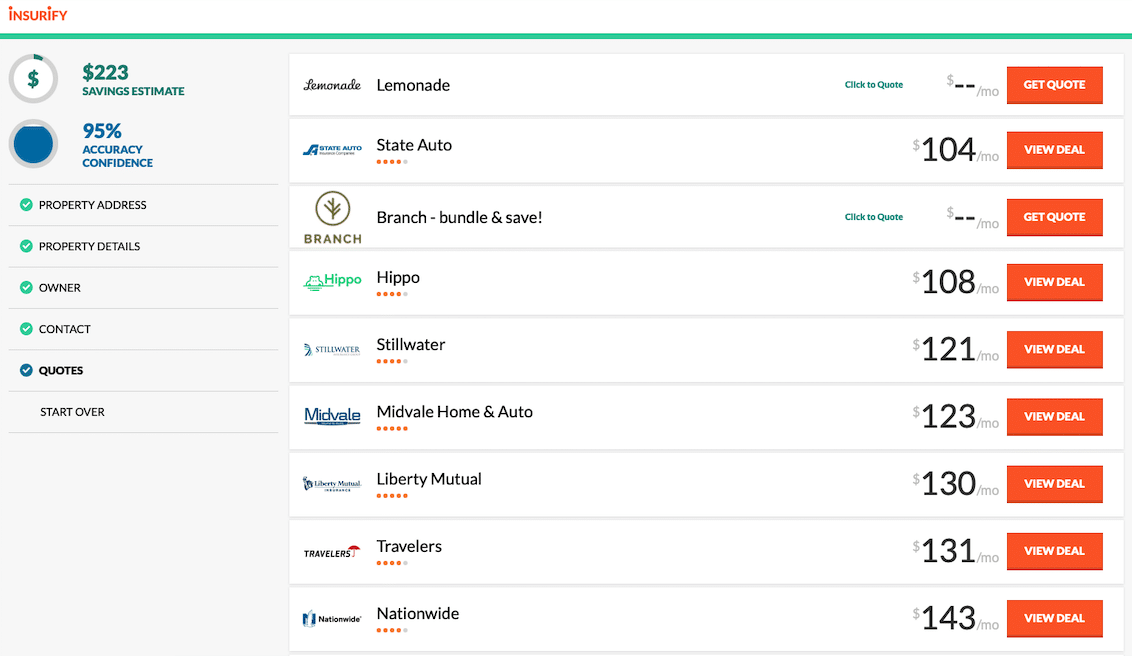 Compare Car Insurance Quotes Instantly
Personalized quotes in 5 minutes or less
No signup required
Data scientists at Insurify analyzed over 40 million auto insurance rates across the United States to compile the car insurance quotes, statistics, and data visualizations displayed on this page. The car insurance data includes coverage analysis and details on drivers' vehicles, driving records, and demographic information. With these insights, Insurify is able to offer drivers insight into how their car insurance premiums are priced by companies.