Interest rates are at an all-time low right now, prompting many homeowners to consider mortgage refinancing. But low rates aren't the only thing to consider when you're thinking about refinancing. The process can be confusing, so check out our guide on refinancing your mortgage and see whether it makes sense for you to refinance.
Refinancing may save you money. You can also save money on your home insurance. Use Insurify to compare rates from different insurers and make sure your investment is protected at a rate that works for you.
How to Know When to Refinance Your Mortgage
When people think about a refinance, it's usually because interest rates have fallen below the rate they were at when you closed on your mortgage originally. Refinancing can also be a good opportunity if you've improved your credit score significantly and now qualify for a new loan with a better rate. Here are some of the most popular reasons people refinance their current mortgage:
Lower monthly payments. If your goal is to lower your monthly mortgage payments, you might want to refinance and choose a mortgage loan with a lower interest rate. You can also change from a 15-year mortgage to a 30-year mortgage, which will also lower the rates but will end with you paying more interest over the life of the loan.

Use your home's equity. Refinancing to borrow more than you owe on the loan is called a " cash-out refinance." Some people use the extra to make home improvements or other investments in the property. It's common to get a cash-out to refinance loan and a lower interest rate at the same time.

Get debt-free faster. Refinance from a 30-year loan to a shorter-term of 15 years to pay off the loan in half the time, saving you money on interest.

Cancel your mortgage insurance. Private mortgage insurance ( PMI ) on conventional home loans is usually required for people who make a down payment of less than 20 percent. It can be canceled once you hit the 20 percent equity threshold, but you usually can't cancel the Federal Housing Administration mortgage insurance premium that you pay on FHA loans. The only way to get rid of it is to sell your house or refinance the loan when you have enough equity.

Switch loan types. Interest rates on adjustable-rate mortgages can go up or down, so you might end up with a higher interest rate even if your credit score and other predictors of interest rates stay the same. A fixed-rate mortgage is more stable because it doesn't change.
How to Refinance Your Mortgage in 5 Steps
Refinancing the mortgage on your current home may seem daunting, but it's doable. Here's how to refinance your mortgage and find the best mortgage for your situation.
Know your goals. Why are you considering refinancing? Are you looking for lower monthly payments, or do you need to borrow money to make some repairs? Knowing what you need from the process will help you find the best loan for you.

Understand your financial situation. You have to qualify for a refinance, just like you had to qualify for your original loan. If your credit score leaves a lot to be desired, consider putting a few months into improving it so you can get better refinance rates and improve your chances of having your loan approved. Pay down credit cards and other debts to improve your debt-to-credit ratio, and review your credit reports to look for mistakes that could be affecting your credit.

Figure out how much equity you have. Your home equity is your home's value minus your loan balance. You can figure it out yourself—just get your current mortgage balance from your mortgage statement, then use home search sites or ask a real estate agent about the estimated value of your home. Your equity is the difference between those two numbers.

Shop around. Get quotes from multiple lenders to make sure you're getting the best rates. After you've chosen your lender, gather pay stubs, tax returns, and any other paperwork they request. Lenders also look at credit and net worth, so make sure you're prepared to discuss those. Some lenders also require an appraisal to determine the home's current market value.

Close on the refinance. Come to the closing with cash unless you've chosen to finance the closing costs.
Compare Car Insurance Quotes Instantly
Personalized quotes in 5 minutes or less
No signup required
How to Refinance Your Mortgage without Closing Costs
You can refinance without closing costs, which are typically a few thousand dollars, by financing them instead. However, that increases the loan amount you're borrowing, so you will probably pay more for it over the long run because it will be part of the loan you're paying interest on.
What Are the Risks of Refinancing?
Refinancing isn't without risks. One of the biggest ones is that paying down your current loan with home equity credit often incurs fees—if you check your mortgage agreement, there may be a provision that lets the mortgage lender charge you a fee for using your equity credit to pay down your loan. Crunch the numbers before you refinance, and make sure that the savings will cover the penalty.
There are usually additional fees you'll have to cover, like bank fees and paying for an attorney to review the deal and handle paperwork. Look for a bank offering low-fee or free refinancing to avoid the fees—this could save you thousands of dollars.
You also need to make sure the refinance is a good enough deal to justify the closing costs. Use an online refinance calculator where you can enter information about your current mortgage and mortgage refinance, and determine how long it will take before the monthly savings from the refinance outweigh the closing costs. This is often called the "break-even point" and is usually a matter of years. If you don't plan on staying in your house for much longer, then refinancing might end up costing you more money even if it comes with lower mortgage rates.
Refinancing also restarts the clock on amortization, so if you take out a new mortgage with a 30-year loan term, you'll be making payments longer than you would have if you'd stuck with your original mortgage. For some homeowners, this is OK. However, if you've already been paying down your mortgage for 10 or 20 years, the extra interest might not be worth it unless you can refinance into a loan with a shorter loan term.
Refinancing Your Mortgage Frequently Asked Questions
How does my credit score affect my refinance options?
Your credit score determines two things: whether your refinance is approved and the mortgage interest rates you'll pay. The higher your credit score, the more likely your refinance will be approved and the lower your interest rates will be.
Is now the right time to refinance?
Interest rates are low right now, but a lower rate isn't the only reason to refinance. Fees, costs, and a longer repayment schedule can justify sticking with your original mortgage loan even if it comes with a higher rate.
Conclusion: Is It Time to Refinance?
Only you can decide whether now is the right time to refinance. You can lock in low mortgage refinance rates if you act now, but there are other factors to consider before you jump into this decision. Review the reasons to refinance —and the reasons not to—and make the decision that's best for your unique situation.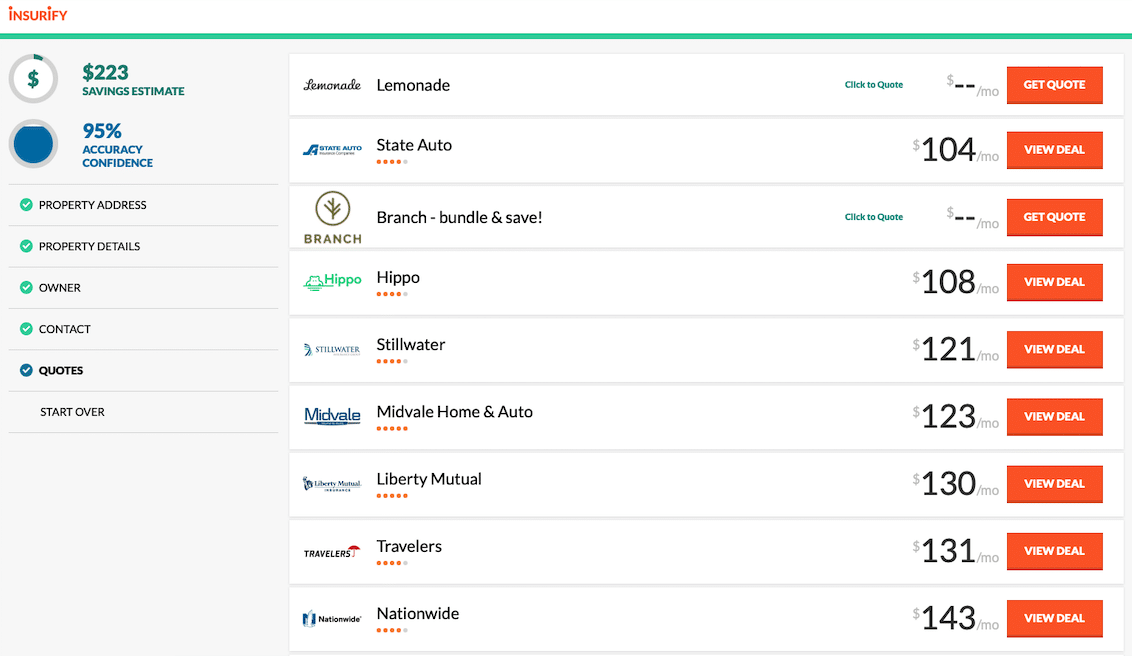 Compare Car Insurance Quotes Instantly
Personalized quotes in 5 minutes or less
No signup required
Data scientists at Insurify analyzed over 40 million auto insurance rates across the United States to compile the car insurance quotes, statistics, and data visualizations displayed on this page. The car insurance data includes coverage analysis and details on drivers' vehicles, driving records, and demographic information. With these insights, Insurify is able to offer drivers insight into how their car insurance premiums are priced by companies.