Why you can trust Insurify:
As an independent agent and insurance comparison website, Insurify makes money through commissions from insurance companies. However, our expert insurance writers and editors operate independently of our insurance partners.
Learn more
.
So you've decided it's over between you and Safeco Insurance. We'll walk you through the steps to making it final.
Have you made up your mind to cancel but aren't sure how to switch car insurance companies? Insurify's car insurance comparison tool can help. It provides you with a range of real, personalized quotes in just a few minutes.
Quick Facts
Safeco Insurance does not charge a cancellation fee, and you can cancel anytime.

To cancel Safeco auto insurance, call your local agent or Safeco customer service.

Make sure your new policy is ready *before* you cancel so your insurance coverage never lapses.
Safeco Cancellation Policy
How do I cancel my Safeco insurance policy?
You can cancel your Safeco insurance policy by calling customer service at 1 (800) 332-3226 or by going directly through your local agent. Be sure to have a new policy lined up before canceling to avoid a gap in coverage.
Luckily, Safeco Insurance has a simple cancellation policy. There's no fee, and all you have to do is call your local agent or Safeco customer service. Policyholders should have their policy number and customer details ready in hand.
You can choose the date you want your policy to end, and you'll be refunded on a prorated basis for the paid time on the policy term that goes unused.
Compare Car Insurance Quotes Instantly
Secure. Free. Easy-to-use.
Step 1: Look Up the Renewal Date
First things first: you'll want to know your renewal date so you can decide to cancel early or simply choose not to renew your current policy. To find the date, look at your insurance ID cards, get the mobile app from an app store, sign in to your account on the Safeco website, or call your insurance agent.
See More: Cheap Car Insurance
Step 2: Compare Car Insurance Quotes
Why is it important to look for new insurance before you cancel your Safeco auto insurance? It keeps you from making a costly mistake: having a gap in your insurance coverage. Having your next auto insurance lined up will prevent this, which can result in higher insurance rates and legal trouble.
One of the best ways to find a new car insurance policy that fits your budget and needs is by comparing car insurance. With Insurify, you can compare real quotes from top insurance companies and toggle through different coverage options and deductibles to see how the quotes are affected. It's a great way to make sure you save money.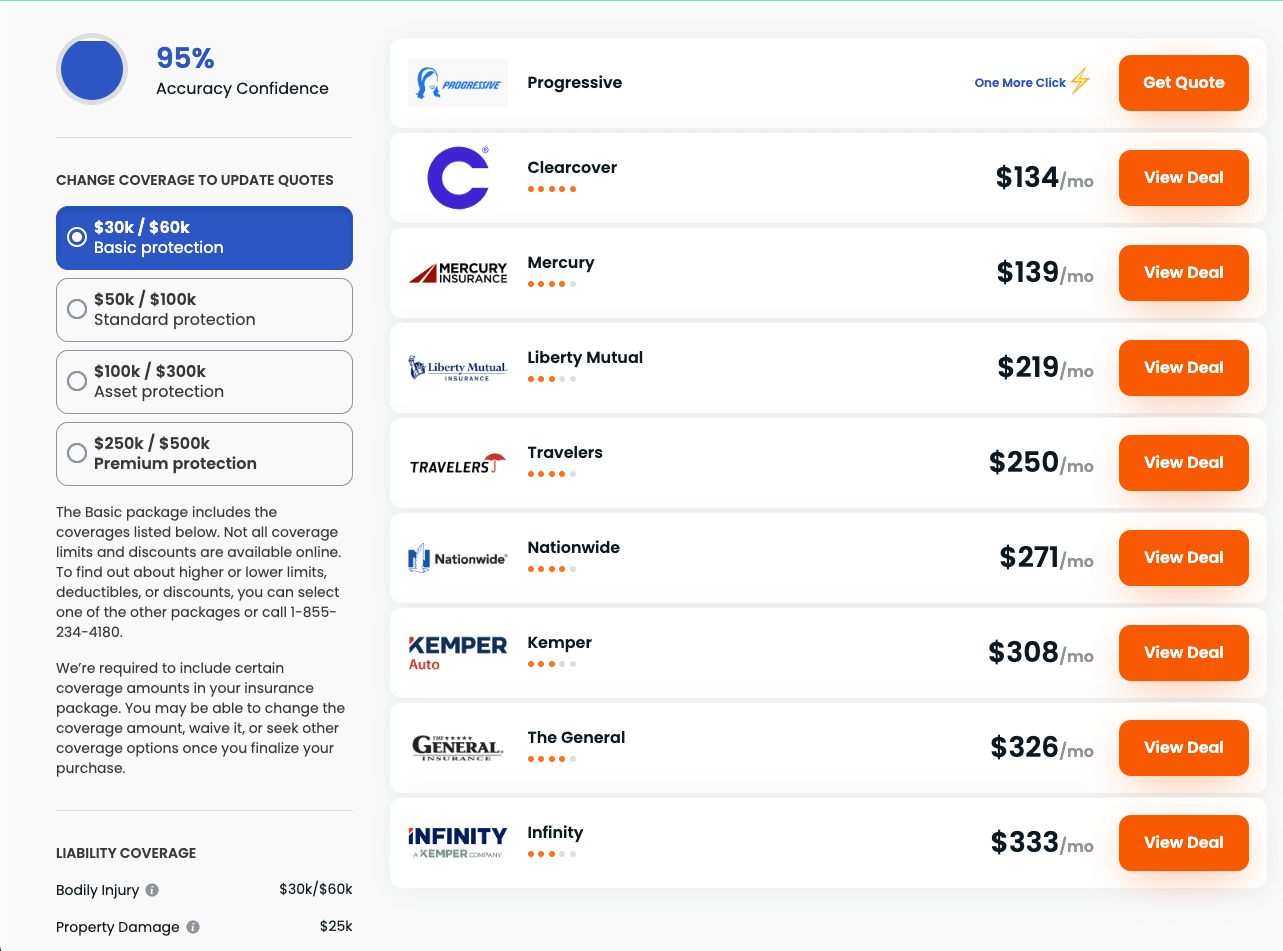 Safeco Quotes vs. Competitors
Disclaimer: Table data sourced from real-time quotes from Insurify's 50-plus partner insurance providers. Actual quotes may vary based on the policy buyer's unique driver profile.
Step 3: Think about Why You're Leaving Safeco
Take a minute to ask yourself why your Safeco insurance policy didn't work out. Was it the insurance claims process that did it for you? Bad experience with roadside assistance? According to our customer reviews, the company's insurance rates can be on the higher side. Perhaps you're confident you can get a lower premium or better discounts elsewhere.
If you bundle multiple policies with Safeco Insurance, such as homeowners or renters insurance, keep in mind that you may want your next insurance company to have bundling opportunities with the same insurance products.
See More: Best Car Insurance Companies
Step 4: Secure a New Policy
With those considerations in mind, you're ready to search for your new car insurance policy. You can start with some basic research, checking out auto insurance reviews, and searching for quotes. But to find the best rates on the auto insurance policy you're looking for, you'll want to compare auto insurance quotes.
Insurify saves you the tedium of soliciting insurance quotes from a bunch of companies, a process that tends to subject you to incessant follow-ups and emails. In just a few, it provides multiple real, personalized quotes, going beyond the usual suspects like State Farm, Liberty Mutual, and GEICO. You might be surprised at what's out there.
Step 5: Cancel Your Safeco Policy
This is the easy part. Simply call your local agent with Safeco Insurance to cancel. Make sure you know your policy number—you can find it on your insurance ID cards, online, or in your mobile app. If you don't have your local agent's number, call Safeco customer service at 1 (800) 332-3226. You should receive a confirmation email when your cancellation goes through.
See More: Compare Car Insurance
Step 6: Follow Up on Your Refund
If you cancel before the end of your policy period and have paid the full insurance premium, Safeco will reimburse you on a prorated basis. When Safeco customer service or your insurance agent tells you when to expect a refund, make a note of the date, and if you don't receive your money back in the expected time period, follow up.
Most often, insurance companies reimburse policyholders using the same payment method you used to pay your premiums.
Canceling Your Safeco Policy
As you can see, canceling your Safeco policy is the easy part. The challenge comes when it's time to find the best rates possible for your next insurance policy. That's where Insurify comes in. When you compare car insurance rates with Insurify, you'll get a quality list of real quotes personalized to your driving record and the other attributes that make you unique.
You can even adjust coverage options and deductibles during the process to weigh your options and find the insurance premiums you can afford. Thanks to Insurify's partnerships with dozens of insurance companies, you can click and buy right on its website.
Frequently Asked Questions
Does Safeco Insurance charge a cancellation fee?

No, Safeco Insurance does not charge a cancellation fee. Policyholders looking to cancel only have to call their local agent. Have your customer details, such as your phone number and policy number, ready when you call. This information can be found on your insurance ID cards, in your online account, or on your mobile app.

Can I cancel my Safeco auto insurance policy at any time?

Yes, you can cancel anytime. You don't have to wait till your auto insurance policy expires before you cancel. When you call to cancel your Safeco car insurance policy, just tell your insurance agent what day you'd like your insurance coverage to end. Make sure your new policy overlaps or begins the following day.

How do I cancel my Safeco auto insurance?

Cancel your Safeco Insurance auto policy by calling your insurance agent. Have your policy number and other customer details on hand when you call. If you don't know your Safeco agent's number, call Safeco's customer service number at 1 (800) 332-3226.

What is Safeco Insurance?

A part of Liberty Mutual, Safeco Insurance Company of America is a Seattle-based insurance company with independent agents across the country. Safeco Insurance provides auto insurance, along with a number of insurance products, including renters insurance and home insurance. Safeco ranks in the middle of the pack on customer satisfaction.
Compare Car Insurance Quotes Instantly
Secure. Free. Easy-to-use.
Methodology
Data scientists at Insurify analyzed more than 40 million real-time auto insurance rates from our partner providers across the United States to compile the car insurance quotes, statistics, and data visualizations displayed on this page. The car insurance data includes coverage analysis and details on drivers' vehicles, driving records, and demographic information. Quotes for Allstate, Farmers, GEICO, State Farm, and USAA are estimates based on Quadrant Information Service's database of auto insurance rates. With these insights, Insurify is able to offer drivers insight into how companies price their car insurance premiums.