Why you can trust Insurify:
As an independent agent and insurance comparison website, Insurify makes money through commissions from insurance companies. However, our expert insurance writers and editors operate independently of our insurance partners.
Learn more
.
Mercury Insurance Company offers auto insurance policies to drivers in 11 states. In addition to auto insurance coverage, the company offers home insurance, renters insurance, umbrella, and business policies. In insurance reviews, customers tend to fault the company based on how it handles insurance claims and its limitations for customizing car insurance policies.
If you're considering switching your car insurance provider, this article is for you. We'll cover everything you should consider when making a change. Plus, we'll show you how to do car insurance comparison quickly and easily to ensure that your new policy provides the same level of coverage for a lower cost. We promise it's easy! Let's get started.
Quick Facts
Canceling Mercury car insurance is easy, but it's not generally free. The insurer reserves the right to charge as much as 10 percent of unpaid or unused insurance premiums.

You cannot cancel Mercury Insurance online, but you can cancel over the phone.

If you bundle your auto and homeowners insurance, be sure to consider how the bundling discount affects your rate. If possible, choose a new company that can also offer multi-line policies.
Mercury Cancellation Policy
How do I cancel my Mercury insurance?
You can request cancellation over the phone by calling customer service at 1 (800) 503-3724. You can also use that number to file a complaint or raise a concern.
To cancel a Mercury Insurance policy, you'll need to contact your local agent or speak with customer service. Some policyholders may have to send a letter requesting cancellation, but that's rare. When you call in, have your policy number at the ready. Your agent or customer service representative may try to persuade you to stay, but the process is almost hassle-free.
We say almost because many former customers report receiving a fee of 10 percent of unpaid premiums. That means if you have three months left in your current policy term, you'll pay 10 percent of three months of premiums. If your policy costs $100 a month, you'd pay a $30 fee to cancel three months early.
But rest assured, you can cancel your policy anytime it makes sense to you. Just be sure you do cancel. Car insurance policies renew automatically, so if you don't explicitly cancel your policy, a new one will be issued to you when the old one expires.
Compare Car Insurance Quotes Instantly
Secure. Free. Easy-to-use.
Step 1: Look Up the Renewal Date
Before canceling your policy, look up when it ends. You can find the date on your insurance card and policy documents. If you're near the start of your term, it may make sense to wait, as Mercury charges a fee based on the remaining time left in your policy. Canceling at the end of your policy involves a lower cost. But either way, the process is simple.
While you're gathering information, you should also review what's included in your current policy. Take note of your coverage options, coverage limits, deductible, discounts, and any special perks, such as roadside assistance. When you know exactly what you're getting now, you'll be able to compare insurance rates for new policies offering the same benefits.
See More: Cheap Car Insurance
Step 2: Compare Car Insurance Quotes
Now you can start gathering car insurance quotes from insurance providers in your area. You can do this quickly using the Insurify insurance quote comparison tool. Fill out our confidential form—we don't share your info with other companies—as accurately as possible. We will ensure you get quotes based on your state minimums (liability, uninsured motorist, and so on).
On your results page, you'll find a list of quotes along with an overview of each company. The overview has customer reviews, discounts (multi-car, good driver, etc.), and other important information. Adjust insurance options by increasing coverage limits or adding optional coverage. When you find the right policy, you can buy online, by phone, or with one of our independent agents.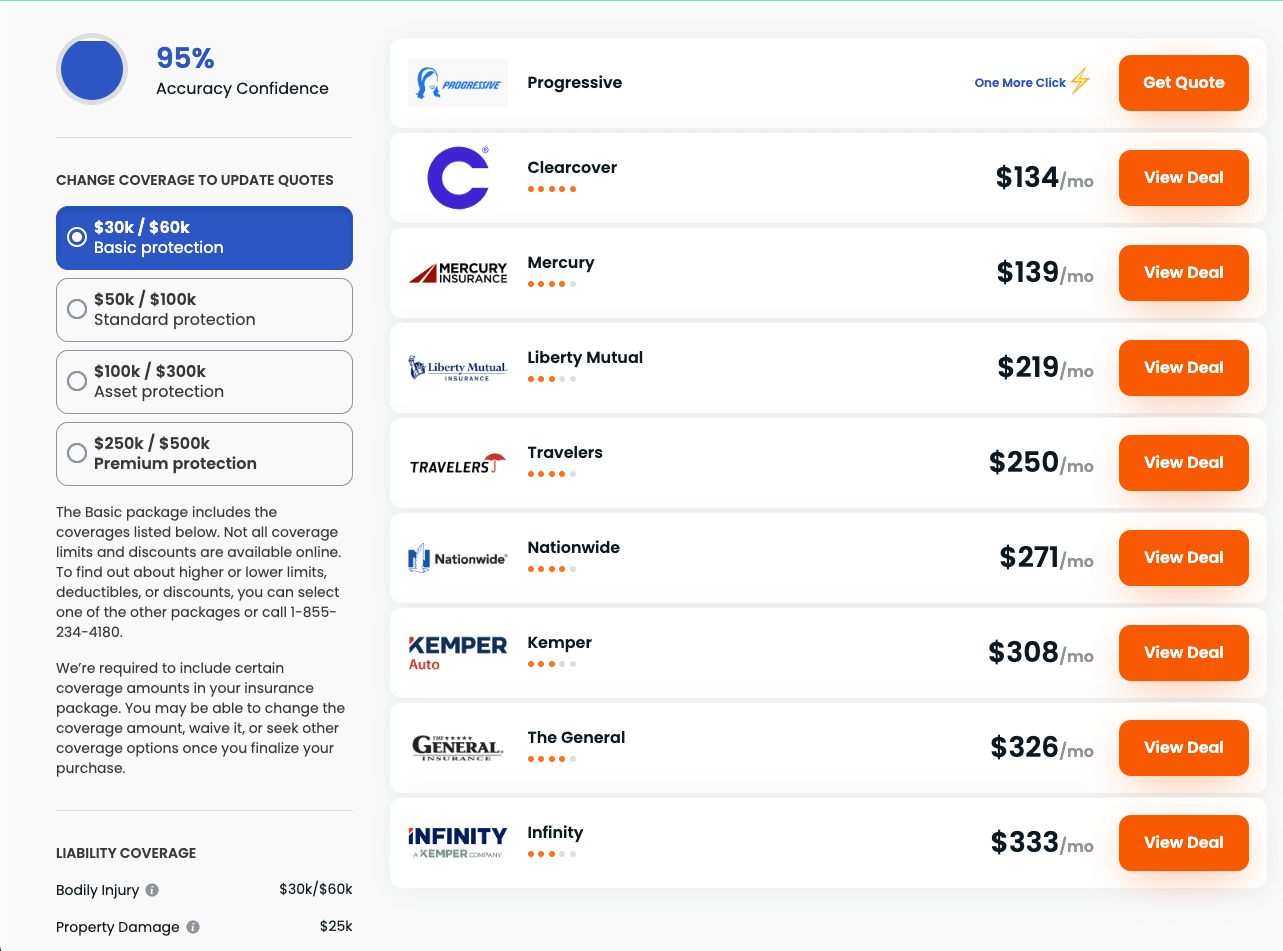 Step 3: Think about Why You're Leaving Mercury
There are two main reasons why policyholders decide to switch car insurance companies: price and service. Mercury is known for offering low prices to people who drive less. Though there are fewer discounts than other companies, the discounts Mercury Insurance does offer are valuable. Always be sure you're getting every discount you're entitled to before switching based on cost.
If you're switching due to a service issue, give your customer service agent a call. They may be able to set things right. Beyond cost and service, you likely have a specific issue with your current provider. Getting clear on what you don't like about working with Mercury helps you avoid choosing a company that is likely to present the same problems.
See More: Best Car Insurance Companies
Step 4: Secure a New Policy
Now that you're clear about why you're switching car insurance and you've chosen the best policy for you, it's time to buy. Each insurance company has its own rules and procedures regarding how policies are purchased. Many allow you to buy online and over the phone. Follow the procedure and don't forget to ask about any additional discounts you may have missed.
If you have any questions about setting up your new policy, independent Insurify agents are available. Call 1 (866) 405-5518 to speak with one. They can walk you through the process and double-check that you get everything you need from your new policy. They can also ensure that your new policy starts the day you need it to and advise you on canceling your old policy.
Step 5: Cancel Your Mercury Policy
With your new policy in hand, it's time to cancel the old one. You can cancel your Mercury Insurance policy over the phone by contacting customer service or your Mercury Insurance agent. They will do their best to try to retain your business, so be prepared for a little pushback. They may also ask you for information about your new insurance company and policy.
We recommend setting the cancellation date for the day after your new policy is set to start. This gives you time to ensure your new policy is in effect and that there are no gaps in insurance coverage. Even a short lapse in coverage can result in big problems and higher car insurance premiums.
See More: Compare Car Insurance
Step 6: Follow Up on Your Refund
If you paid your policy in full or have any unused premiums, you're entitled to a refund minus the cancellation fee. Your refund will be paid within two weeks from the last day your policy is in effect. Always be sure to ask about the expected arrival of your refund at the time you request your policy be canceled, and double-check that you submitted all required materials.
If you don't receive your refund within that time frame, call customer service. Have your proof of cancellation ready to share with your representative in case there are any issues. This is another reason why it's always good to get any promises in writing.
Canceling Your Mercury Policy
Canceling your Mercury policy is easy. And, so long as you've found a better option via car insurance quote comparison, canceling is a good choice. Just remember that Mercury is one of the few companies that will charge a cancellation fee. But don't let that stop you if a better deal offsets that cost! Don't be afraid to negotiate either, you may be able to get your fee waived.
As a final bit of advice, be sure to make comparing car insurance a part of your regular financial routine. Prices change all the time because car insurance companies are both working hard to remain competitive and adjusting how they determine the risk of policyholders. These changes can make a big difference in what you pay for premiums.
Mercury Quotes vs. Competitors
Mercury is known for providing affordable car insurance policies, but it's not your only option. Below is our list of top Mercury Insurance competitors and the average cost of a monthly premium based on thousands of quotes generated with Insurify. Your costs will vary depending on your driving record, your location, and (if your state allows it) your credit score.
Disclaimer: Table data sourced from real-time quotes from Insurify's 50-plus partner insurance providers. Actual quotes may vary based on the policy buyer's unique driver profile.
Frequently Asked Questions
Unfortunately, you cannot cancel a Mercury Insurance policy online. But you can cancel over the phone with an insurance agent (the phone number is listed on the back of your insurance card). If you want to avoid speaking to an agent, you can send a written cancellation request via postal mail. Keep an eye out for the confirmation letter you should receive within 7 to 14 days.

Yes, you can cancel your Mercury policy (and most auto insurance policies) at any time by following the policies and procedures laid out by the company. Bear in mind that you will be charged a fee of 10 percent of your unpaid and unused premiums, so it's a good idea to wait to cancel if you're able to do so. You can set your cancellation date to the day your policy ends.

Unlike many car insurance providers, Mercury Insurance charges a 10 percent fee for early termination. So $600 of unpaid premiums amounts to a $60 fee. If you paid in full, you'd receive a refund of all unused premium, minus 10 percent. Because you pay more in fees by canceling near the start of your policy, we recommend waiting until later in your policy term to cancel.

Mercury Insurance is available in 11 states: Arizona, California, Florida, Georgia, Illinois, Nevada, New Jersey, New York, Oklahoma, Texas, and Virginia. The insurer operates via an independent agent model where policyholders work directly with a local agency to purchase and manage their car insurance policies. It is headquartered in Los Angeles.
Compare Car Insurance Quotes Instantly
Secure. Free. Easy-to-use.
Data scientists at Insurify analyzed more than 40 million real-time auto insurance rates from our partner providers across the United States to compile the car insurance quotes, statistics, and data visualizations displayed on this page. The car insurance data includes coverage analysis and details on drivers' vehicles, driving records, and demographic information. Quotes for Allstate, Farmers, GEICO, State Farm, and USAA are estimates based on Quadrant Information Service's database of auto insurance rates. With these insights, Insurify is able to offer drivers insight into how companies price their car insurance premiums.