Why you can trust Insurify:
As an independent agent and insurance comparison website, Insurify makes money through commissions from insurance companies. However, our expert insurance writers and editors operate independently of our insurance partners.
Learn more
.
There are a number of reasons why you may want to cancel your Esurance auto insurance policy. Your needs or financial situation may have changed since you set it up, or maybe you just found a better deal with another company.
If you're a policyholder looking to cancel your Esurance auto insurance policy, it's easy to do. Switching car insurance companies isn't complicated; however, it's essential to pay attention to the details to save yourself time down the road. The best way to make sure you're getting the right policy is to compare auto insurance quotes with Insurify.
Quick Facts
Esurance may provide a refund if you cancel before your renewal date.

Set up new insurance before canceling the old policy to avoid a coverage gap.

Cancel Esurance over the phone by calling 1 (800) 378-7262.
Esurance Cancellation Policy
How do I cancel my Esurance policy?
To cancel a policy with Esurance, you'll need to call the Esurance customer service line at 1(800) 378-7262. Have your policy number ready, and be ready for the customer service agent to try to convince you to stay.
While Esurance does not clearly state its cancellation policy on its website, you can call the Esurance customer service phone number at 1 (800) 378-7262 and ask about the insurance provider's cancellation policies and fees.
If you received your policy by email, check your account for the policy information. Searching the documents for "cancel" may help you locate the cancellation policy. Typically, you'll receive a refund of the unused insurance premium you paid if you cancel before renewal.
Be sure to avoid an insurance coverage lapse by setting up a new car insurance policy before canceling. It can be more challenging and pricey to buy auto insurance if you do not have continuous coverage.
Compare Car Insurance Quotes Instantly
Secure. Free. Easy-to-use.
Step 1: Look Up the Renewal Date
Your auto insurance renewal date is on your policy's declaration page. It's a cover page with an overview of your coverage limits, name, address, and coverage dates.
Many insurers like Esurance state you must cancel your policy within 10 days of the renewal date of your current term to avoid receiving a bill for the next policy[1].
See More: Cheap Car Insurance
Step 2: Compare Car Insurance Quotes
Now that you know your policy's renewal date, it's time to compare car insurance quotes. With Insurify, you can get multiple quotes in minutes from top providers like Allstate, GEICO, Travelers, State Farm, and The General.
Using your declarations page, enter the coverage limits to find identical policies with lower rates than you currently pay. Comparing similar coverage gives you an idea of whether you're paying too much for auto insurance. However, it's easy to reduce coverage if you feel it's necessary.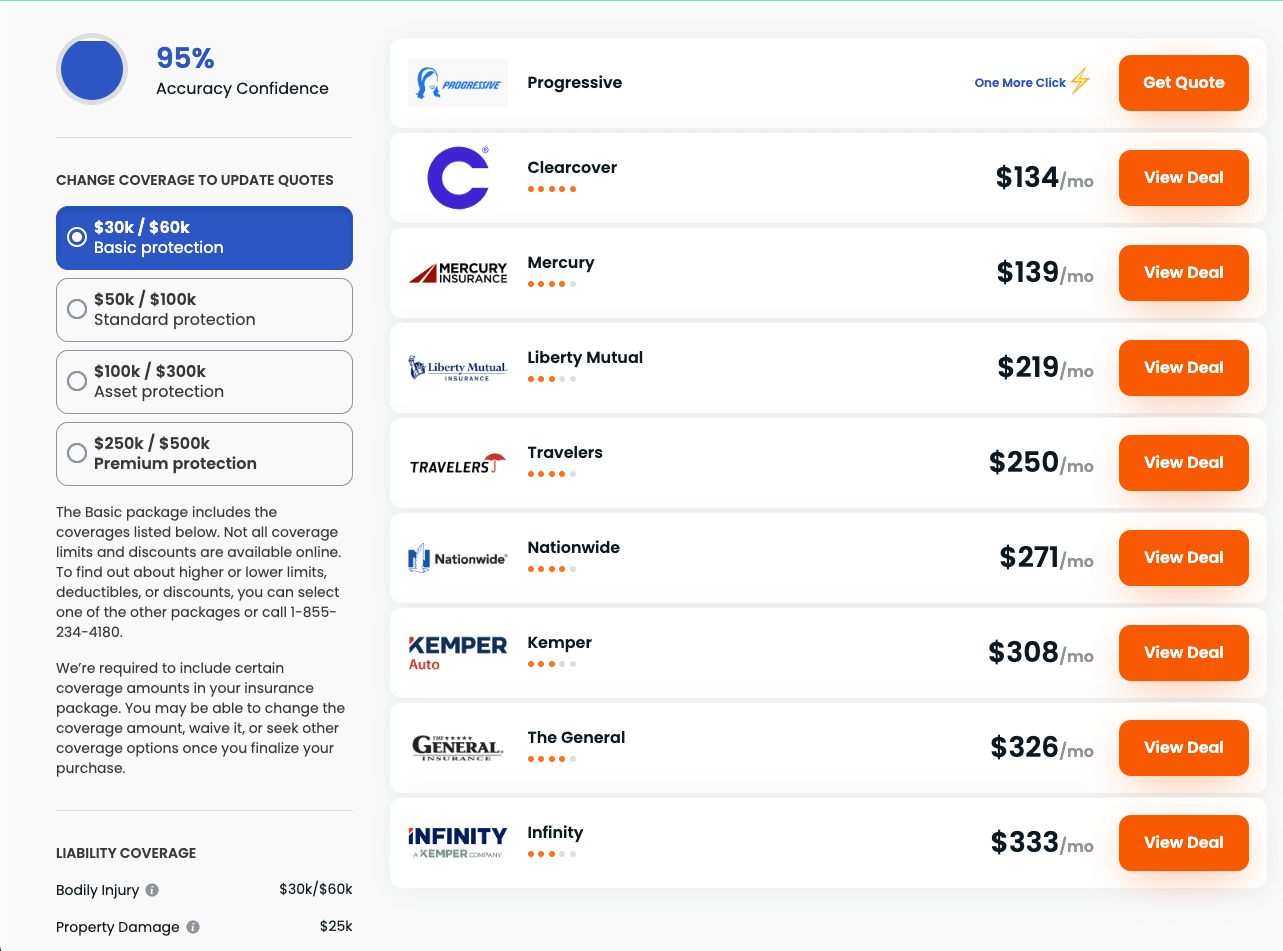 Esurance Quotes vs. Competitors
Disclaimer: Table data sourced from real-time quotes from Insurify's 50-plus partner insurance providers. Actual quotes may vary based on the policy buyer's unique driver profile.
Step 3: Think about Why You're Leaving Esurance
Ask yourself why you want to leave Esurance. Maybe the reason has nothing to do with the company's service or policies. You may be selling your car, moving to another state, or just looking for ways to reduce your expenses.
Shopping around for car insurance is a quick and easy way to save money. Alternatively, perhaps you didn't like its privacy policy, claims handling, or deductible options. Once you identify the reason you want to exit your Esurance relationship, you'll have a better idea of what you want in your next policy.
See More: Best Car Insurance Companies
Step 4: Secure a New Policy
Now, it's time to buy that new policy. It's always wise to check out multiple insurers before settling on a policy. Insurify makes it easy to shop dozens of car insurance companies in minutes. Here's how it works:
Head to Insurify's car insurance comparison tool.

Enter information about your vehicle, your driving history, and your coverage needs.

Review the list of insurance companies and their prices.

Pick the best one for you and complete the enrollment process.
As a final step, check your email for your policy details, and be sure to put your new insurance card in your car.
Step 5: Cancel Your Esurance Policy
Don't sweat canceling your current policy with Esurance. Just give Esurance customer service a call at 1 (800) 378-7262. Have your policy number handy, and let them know you are canceling. Expect them to try to talk you out of it by offering a discount or other benefits. Remember that you have no obligation to stay with Esurance.
Ask the representative about the refund amount you will receive, and request an email confirming everything you discussed.
See More: Compare Car Insurance
Step 6: Follow Up on Your Refund
If you cancel your Esurance policy before the renewal, you'll likely get a refund of your unused premium. Expect to see a check in the mail or a credit to your bank account or credit card within two weeks. If not, contact Esurance and follow up about your refund.
Canceling Your Esurance Policy
When canceling your Esurance policy, make sure you have another policy in place before pulling the trigger. Life is much easier if your insurance overlaps for a few days than if you have a coverage gap that leaves you uninsured.
Find cheaper rates than Esurance by doing a car insurance comparison with Insurify. Insurify shows you car insurance quotes from dozens of companies. Just enter some details about your car and driving history, and Insurify does all the hard work. You'll save hours of research by getting a car insurance quote comparison from Insurify.
Frequently Asked Questions
If you have an online account with Esurance or use the mobile app, you can check to see if it offers the option to cancel. However, the most reliable way to cancel an Esurance car insurance policy is to call them at 1 (800) 378-7262. It's best to have new coverage in place before canceling your existing coverage.

If you cancel your Esurance policy before the policy term expires, Esurance may charge you a policy cancellation fee. Verify any additional charges when you call to cancel your policy. Request that the customer service or insurance agent send you confirmation of the details by email.

Fortunately, finding new car insurance after canceling Esurance is a breeze. Just enter your driver's license and other information at Insurify, and choose your favorite option from dozens of car insurance companies. You can get a new auto insurance policy set up in a few minutes.

Having a clean driving record or bundling your policy with renters or home insurance can lower your car insurance premiums. It also helps to compare auto insurance rates from multiple companies. It's easy with Insurify—we show you the cheapest rates on car insurance for dozens of insurers, and you can customize your policy by adding or reducing your coverage.
Compare Car Insurance Quotes Instantly
Secure. Free. Easy-to-use.
Data scientists at Insurify analyzed more than 40 million real-time auto insurance rates from our partner providers across the United States to compile the car insurance quotes, statistics, and data visualizations displayed on this page. The car insurance data includes coverage analysis and details on drivers' vehicles, driving records, and demographic information. Quotes for Allstate, Farmers, GEICO, State Farm, and USAA are estimates based on Quadrant Information Service's database of auto insurance rates. With these insights, Insurify is able to offer drivers insight into how companies price their car insurance premiums.