Should I get flood insurance in South Carolina?
Buying South Carolina flood insurance could save you from a devastating loss, and South Carolina flood insurance policies are among the most affordable in the country.
Whether you're on the coast or inland, if you live in South Carolina, you have reason to worry about a flood. And thanks to the warming climate, those risks are only increasing.
Tropical storms and hurricanes cause flooding, but so can rainfall that overwhelms storm drainage, as well as overflowing rivers. And though you might be in a low- risk area, there's no such thing as a zero- risk area.
Your homeowners insurance very likely doesn't cover flooding, so if you don't have your own flood insurance policy, you'll pay for any flood damage right out of your own pocket. That could be devastating.
But luckily, South Carolina flood insurance rates are lower than in most states. Read on for everything you need to know about buying flood insurance in South Carolina.
When you're shopping for any insurance, there's a great tool you can use to make sure you're getting the best price for the coverage you need: Insurify will help you compare quotes, for free, in just a few minutes.
Do I Need Flood Insurance in South Carolina?
In a state as prone to flooding as South Carolina, everyone ought to have flood insurance coverage. But if you own a house, it might be required by your mortgage lenders anyway.
The Federal Emergency Management Agency ( FEMA ) designates high-risk areas using flood maps. If you live in one of these areas—you can check using FEMA 's Flood Map Service Center —and have a federally backed mortgage on your house, you are required to have a flood insurance policy.
But even if you live outside a flood zone, you should still very seriously consider purchasing South Carolina flood insurance. About 20 percent of flood insurance claims filed through the NFIP came from low- risk areas, and 30 percent of flood losses happen outside of high-risk flood zones.
Sure, places like Charleston and Mount Pleasant have storm surge to fear, but even residents who live up near North Carolina or in the city of Columbia bear significant flood risk.
FEMA provides flood insurance through the National Flood Insurance Program ( NFIP ), which keeps flood insurance affordable. More and more private insurers are selling flood insurance policies too, but while these policies might lower your insurance costs, private flood insurance policies carry some risk.
Renters also qualify for NFIP flood insurance; you don't have to own property to protect your belongings from a flood, and renters insurance policies almost never cover flood damage.
South Carolina Flood Zones
FEMA maps floodplains to determine the flood risk for every home, and NFIP policies are based on these ratings. Go to FEMA. gov 's Flood Map Service Center to search your home or property and see if you live in a high-risk flood zone.
What's Covered with South Carolina Flood Insurance?
Make sure you have a thorough discussion with your insurance agent about what your flood insurance policy covers when you purchase flood insurance. All policies will cover damage to your property and the systems, like electricity and plumbing, that keep it running; this is called building coverage.
It might increase your flood insurance quote, but as you're shopping, consider whether you want contents coverage, which would help you recover the cost of valuables and other possessions that are inside your home and could be damaged by a flood. Remember that even if you have homeowners insurance, damage to your belongings won't be covered in the event of a flood.
The NFIP offers building coverage and contents coverage as separate coverage options, which is why renters should consider buying contents coverage to protect their personal property even if they're not responsible for damage to the building they live in.
Compare Car Insurance Quotes Instantly
Personalized quotes in 5 minutes or less
No signup required
What's Not Covered with South Carolina Flood Insurance?
NFIP policies have strict limits on the amount that property owners can claim: usually $250,000 for the building and $100,000 for contents coverage. If you have an expensive house, you might want to consider seeking quotes from other private insurance companies.
Also, you'll often have to wait 30 days after buying flood insurance coverage for the policy to kick in. So don't wait until the week before a storm hits to buy a flood insurance policy.
What's the Cost of Flood Insurance in South Carolina?
Luckily, South Carolina flood insurance is very affordable compared to flood insurance policies around the country. According to ValuePenguin, South Carolina flood insurance costs an average of about $700 per year, which is a bit lower than the country's average.
Beware: flood insurance rates will vary based on the floodplain you live in. If you don't already have an elevation certificate from FEMA, getting one will help lower your flood insurance rates.
How to Get a Flood Insurance Policy in South Carolina
Getting South Carolina flood insurance is a simple process since most of it is offered through FEMA 's NFIP. Read on for some guidance on how to get started.
National Flood Insurance Program ( NFIP )
The NFIP provides flood insurance coverage to the public at subsidized rates. The vast majority of flood insurance policies owned by homeowners are through the NFIP. Insurance companies sell NFIP coverage, not the federal government. So you'll buy your flood insurance policy from a company.
Since your rate will be determined by where you live, the age of your building, and your elevation certificate, all the rates you get on NFIP policies will be the same. So pick a company to buy your policy from that has a strong record of handling claims well and keeping customers happy.
Call 1 (888) 379-9531 to find an insurance agent that offers NFIP policies, or ask your own insurance provider.
Private Flood Insurance
If you need higher limits, are looking to get a cheaper flood insurance premium, or are looking for other specific coverage options, you might want to explore private insurance. If you live in an area with low flood risk, some policies are cheaper through private insurance companies.
You can find flood insurance policies being offered in your area by searching online. You might be able to find a policy that suits your specific needs better than the NFIP. But make sure you're working with a company that can pay out your claim should you need to file one. And unlike the NFIP, insurance companies can drop you from a private flood insurance policy at any time.
Frequently Asked Questions
About 15 percent of South Carolina homes have flood insurance; it's one of the most flood-insured states. Even if you don't live in a high-risk area, it's a very good thing to consider. Emergencies can happen anywhere, and the state's humid, subtropical climate means nowhere is truly safe.

Enter your address at FEMA's Flood Map Service Center to look at the flood maps and determine your risk. But remember, one-fifth of flood insurance claims come from homes that are rated low-risk.

The National Flood Insurance Program (NFIP) is a program administered by FEMA that provides standard flood insurance coverage to anyone who wants it. The federal government doesn't sell NFIP insurance or handle claims, private companies do. But FEMA sets prices and assesses risk based on flood maps.

South Carolina flood insurance rates will vary from Columbia to Myrtle Beach, but on average it's nearly $700 a year. That's not bad considering that claims are usually in the tens of thousands of dollars. And in a federally declared emergency, the best you'll get is a $5,000 loan.

Be careful about private flood insurance policies. The NFIP is federally supported, and if your mortgage lender requires you to have flood insurance, you probably need an NFIP policy. But if you have valuables or a very expensive house and want to get higher limits than the federal government offers, explore some other policies.
Conclusion
A $700 average can feel like a lot of money to pay for flood insurance. But it certainly doesn't compare with the cost of damage from a terrible storm surge. If you live in South Carolina, you're at risk in some way or another from flood damage, so definitely give it some thought or get a flood insurance quote.
Speaking of quotes—no matter the insurance you're buying, Insurify will help you get the best prices by searching across the industry for insurance rates that are tailored to your needs. Try it now for free! It only takes a few minutes.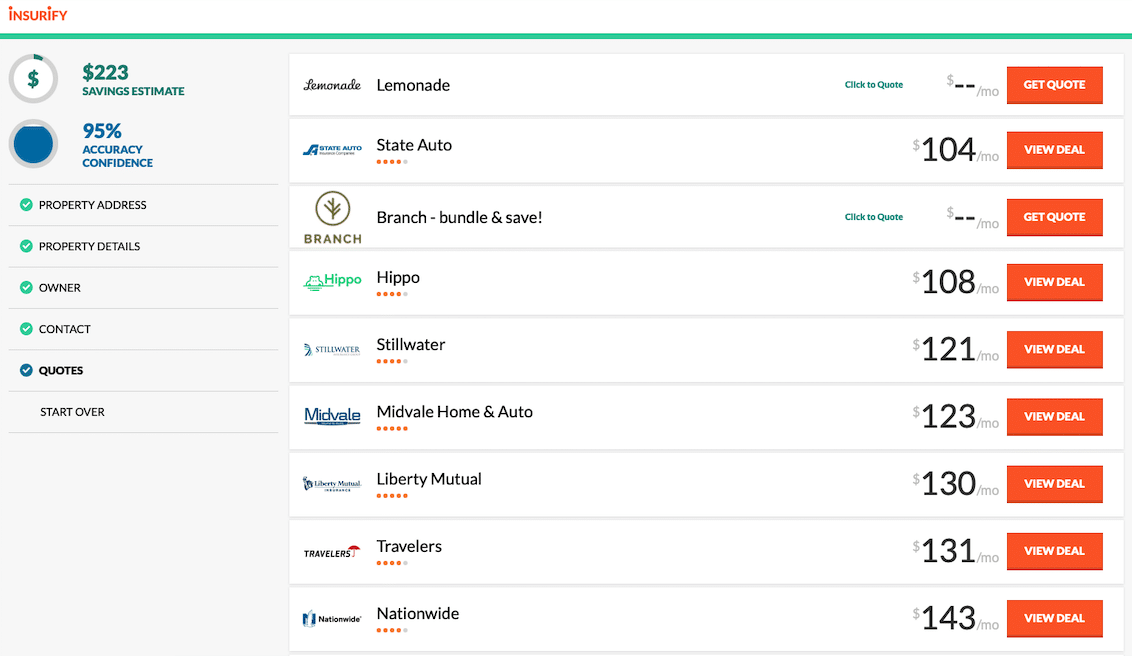 Compare Car Insurance Quotes Instantly
Personalized quotes in 5 minutes or less
No signup required
Data scientists at Insurify analyzed over 40 million auto insurance rates across the United States to compile the car insurance quotes, statistics, and data visualizations displayed on this page. The car insurance data includes coverage analysis and details on drivers' vehicles, driving records, and demographic information. With these insights, Insurify is able to offer drivers insight into how their car insurance premiums are priced by companies.