Homeowners have many options to buy home insurance. One of the best and easiest ways is to use an online comparison tool.
Gabi is an online insurance marketplace that helps you shop for home insurance. It's a licensed insurance agency that offers policies from home and auto insurance companies. With Gabi 's online comparison tool, you can view quotes from top providers of home insurance with just a few clicks.
The platform is free to use, and it could save you significant time and money over more traditional methods of purchasing home insurance.
Gabi is a good option to shop for insurance coverage, but it isn't the only way to compare rates. Insurify streamlines buying a home insurance policy. A straightforward questionnaire will unlock multiple quotes and discount options.
Gabi Insurance Review: Is Gabi Legit?
Yes, Gabi is a legitimate insurance company. It's licensed as an insurance broker in all 50 states and the District of Columbia.
The company partners with a wide range of insurers, including Allstate, Travelers, Safeco, Nationwide, and Progressive. However, Gabi will also provide quotes from insurers that aren't necessarily their partners to help you save money on home insurance.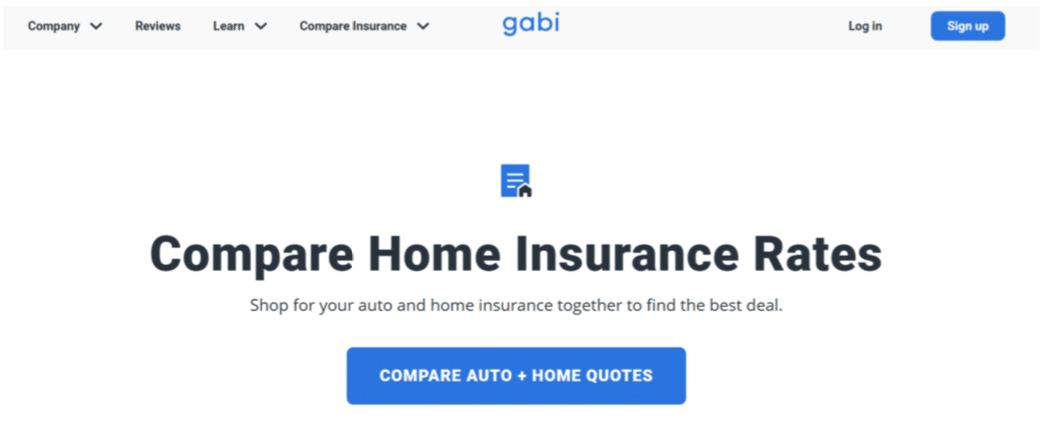 Do you remember having to make multiple phone calls to get a deal on home insurance? With Gabi, that's in the past. The technology behind the service can do in minutes what used to take hours. That's because Gabi isn't an insurance provider. It's a comparison site (just like Insurify ).
With Gabi, you can get more than home insurance. If you purchase a new car, it will also shop for a low auto insurance rate. The comparison platform will also seek out policies for umbrella insurance, condo insurance, landlord insurance, and renters insurance. Whatever types of insurance you're looking for, Gabi allows you to compare insurance premiums quickly. And it does make finding the best price fairly easy.
When you visit the site, you'll share your name, birthdate, driver's license number, and location to start the process.
The downside to using Gabi for home insurance is that you're required to start with a car insurance quote. If you're only seeking a policy for your home, this feels like a frustrating detour. You'll also be required to share your phone number. And no, you can't fake it. Gabi asks for validation.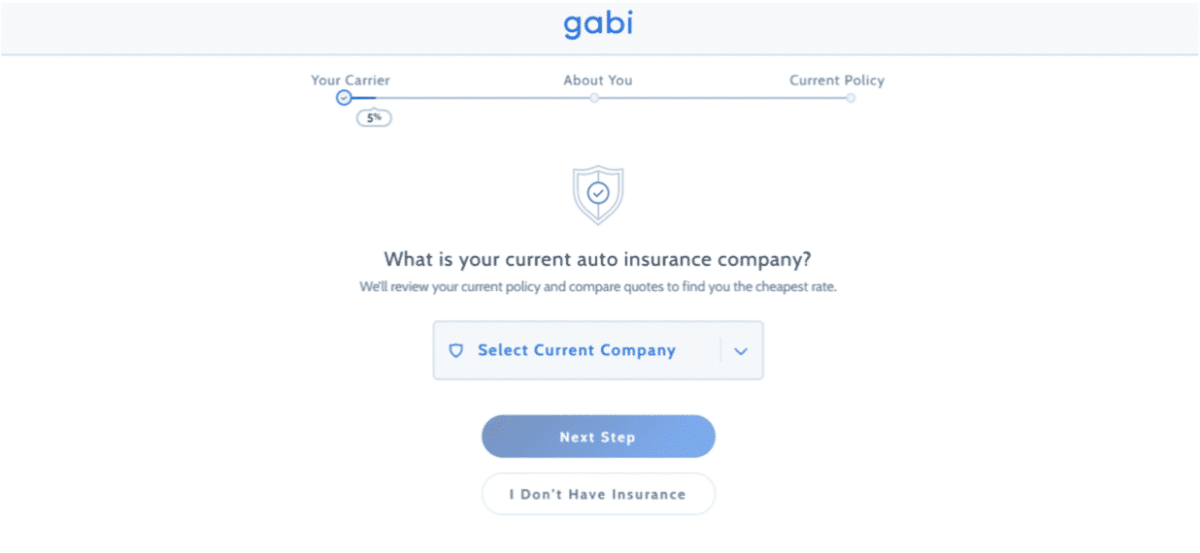 Once you complete the questions and Gabi scans your driving record, you have the option to add a homeowners policy to your insurance account. This is where you enter information about your home to compare homeowners insurance rates.
If you have an existing homeowners policy, it'll ask you to upload your current insurance details.
By analyzing your existing coverage, Gabi takes the guesswork out of comparing policies. It will assess the data and "shop" for the same coverage options at a better rate.
Because it works with various insurers, the company has many options to compare the best rates.
After scanning your personal information and analyzing the best policy options, Gabi's team of licensed insurance agents will contact you by phone or email to review rates and coverage levels. That does take quite a bit of the control out of your hands. And if you're not looking for an auto insurance policy, you won't be saving as much time as you could be. But it is informative.
They can answer questions about packages and coverage, including the difference between replacement cost value and actual cash value policies, to help you get the right protection. They'll also talk about getting you the best car insurance rate. But if you're not interested, it's easy to bypass the discussion. Gabi agents are (thankfully) not pushy with adding policies.
Once you've picked out the policy of your dreams (or close enough), your agent will gather your payment information (best done by credit card). They'll also send your policy declarations page and other documents. This is done quickly by email. Be sure to review the declarations page carefully to ensure you're getting the policy you think you're getting.
Gabi claims to save its customers an average of $720 per year for the same or better insurance coverage. The service is free to use, and it only takes a few minutes. They do make it easy to see if you qualify for lower premiums.
Gabi Reviews: What Are Customers Saying?
Gabi asks for your email address and phone number before revealing your home insurance quotes, so you may get follow-up calls from a Gabi agent. However, Gabi isn't a lead generation site, and your contact information isn't shared.
Gabi customers are generally satisfied with the savings they get:
Although others have found the process to be frustrating:
Based on reviews from actual customers on popular review sites, here's how Gabi rates overall:
| Site | Customer Rating | Number of Reviews |
| --- | --- | --- |
| Facebook | 4.7 / 5 | 308 |
| Google | 4.8 / 5 | 1,756 |
| Yelp | 3.5 / 5 | 88 |
| Better Business Bureau (BBB) | 1.88 / 5 | 17 |
| Total Score | 3.72 / 5 | 2,176 |
Gabi is rated an average of 3.94 out of 5 based on 1,808 reviews.
The Better Business Bureau ranks businesses to help consumers decide which companies are safe to use. Gabi has been accredited by the Better Business Bureau since 2019. The BBB gives Gabi an "A+," and customers rate it at just 1.88 out of 5.
| Better Business Bureau Rating | A+ |
| --- | --- |
| BBB Total Customer Reviews | 24 |
| BBB Customer Complaints | 9 |
Comparison shopping for home insurance doesn't have to end with Gabi.
Insurify is a one-stop shop for your insurance needs. The platform lets you shop for home, auto, and life insurance, which can help you score multi-policy discounts to save more money overall.
You deserve to find the best protection and rate for your personal needs. A few minutes and one simple form let you compare coverage with five to seven quotes from top insurance companies. There are no strings attached, and you could save up to $489 or more a year with Insurify compared to your current policy.
Compare Car Insurance Quotes Instantly
Personalized quotes in 5 minutes or less
No signup required
More About Gabi
Gabi was founded in 2016 as Gabi Personal Insurance Agency, Inc., with the goal of using technology to make insurance shopping more accessible. In 2020, the company was run by CEO Hanno Fichtner.
Since its start, Gabi has raised over $39 million in venture capital funding. Top investors include Canvas Ventures, Mubadala Ventures, and Northwestern Mutual Future Ventures.
Contact Information
Headquarters

106 Lincoln Blvd #106

San Francisco, CA 94129

Phone number

1 (415) 842-2411

Email

hello@gabi.com

Website
Frequently Asked Questions - Gabi Home Insurance Comparison
Gabi Personal Insurance Agency uses technology to simplify shopping for insurance. The company provides home, car, renters, condo, and umbrella insurance. If Gabi finds you a lower price on insurance, a licensed insurance broker will contact you to discuss your options.

There's no charge to compare types of insurance with Gabi. It's one of the best comparison sites, and all coverage reviews and quotes are free. The company makes money by selling policies from insurance providers. It won't ask for your credit card because Gabi's insurance partners process payments.

Both Insurify and Gabi offer free home insurance quotes in all 50 states. Artificial intelligence technology streamlines comparison shopping, giving you multiple quotes to review in a matter of minutes.

With Insurify, you can buy your policy 100 percent online with near-instant savings. Meanwhile, Gabi works with insurance agents to review your policy manually, and the process could take several days.
Is Gabi Home Insurance Right for You?
Home insurance is one of the most important purchases you'll make as a homeowner. Compare pricing options and insurance products with an online tool like Gabi. It makes shopping for the best homeowners insurance policy easy by getting you started with a simple form.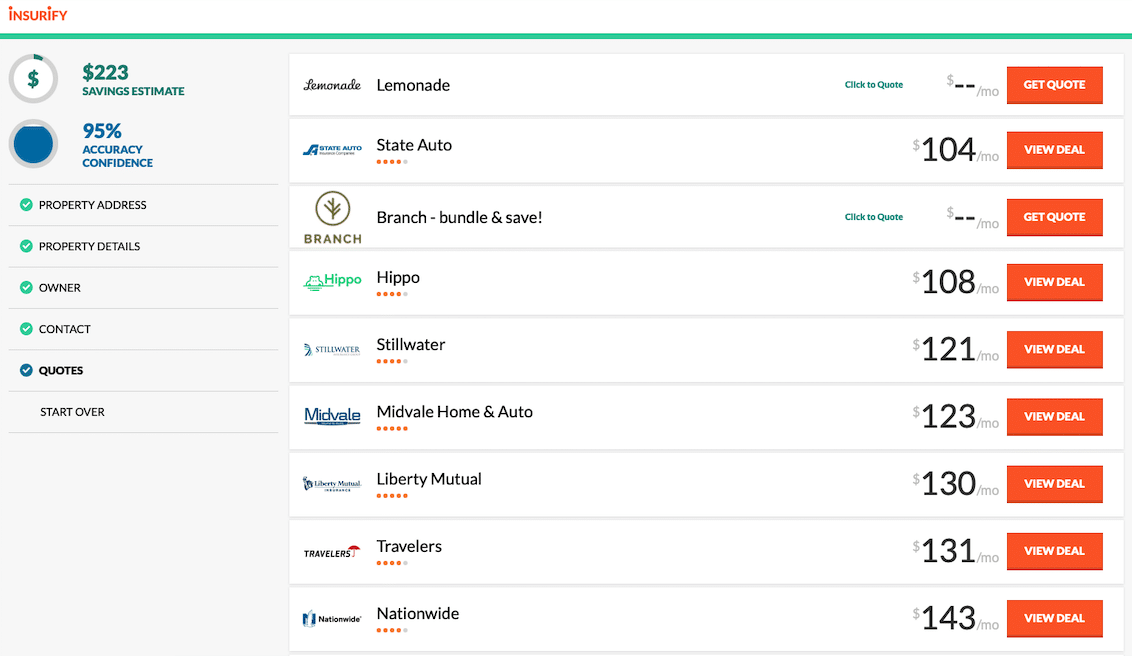 Compare Car Insurance Quotes Instantly
Personalized quotes in 5 minutes or less
No signup required
Data scientists at Insurify analyzed over 40 million auto insurance rates across the United States to compile the car insurance quotes, statistics, and data visualizations displayed on this page. The car insurance data includes coverage analysis and details on drivers' vehicles, driving records, and demographic information. With these insights, Insurify is able to offer drivers insight into how their car insurance premiums are priced by companies.