Who needs co-op insurance in NYC?
If you own an apartment or other NYC co-op living space, you need co-op insurance. Mortgage lenders and co-op bylaws typically require you to have co-op insurance in NYC.
If you own a co-op or are thinking about buying one, you may be wondering, "Why can't I just rely on my building's insurance?"
The short answer is that your co-op's master insurance policy only covers the structure of the building. It does not protect your furniture, electronics, clothing, or even built-in fixtures in the kitchen and bathroom.
What you need is co-op insurance, or an HO-6 policy. Without co-op insurance in NYC, you could lose everything if your building suffers a major fire or hurricane.
Many NYC co-op owners may not realize that they need to carry a policy to insure their homes and possessions against losses. Here's what you must know to get the coverage you need at the best co-op insurance rate.
How Does a Co-op Work?
A co-operative ( co-op ) is a legal entity between a building—an apartment, condo, or townhome—and its owners. Some describe the individuals as condo owners or homeowners, but co-op is the most common term.
It's similar to owning an apartment or a condo. But the building isn't owned by one particular individual or company. Instead, what sets it apart is that a group of individuals share membership, occupancy rights, and responsibility for the housing unit.
Your building will have what's called a master insurance policy. However, your individual NYC co-op or condo insurance helps protect your belongings and the inside of your unit.
Co-op Insurance vs. Master Insurance Policy
Co-op insurance is trickier than a standard homeowners policy. When you own a house, you typically buy home insurance coverage that protects your dwelling and the land it sits on.
When you live in a co-op, you're covered by two insurance policies:
The master insurance policy covers the building, the common areas, and adjacent structures.

Co-op insurance is a policy that residents and owners carry to protect their personal belongings and the unit's interior.
Your building may have a co-op board of directors responsible for the master policy. You may pay maintenance fees or association dues to cover the cost of its premiums.
Your mortgage lender and co-op bylaws can dictate your policy requirements. At its most basic level, co-op insurance should cover your possessions and the structural elements not covered by the master policy.
Compare Car Insurance Quotes Instantly
Personalized quotes in 5 minutes or less
No signup required
What Co-op Insurance in NYC Covers
The big question in co-op insurance is, "What will my policy cover?" HO-6 policyholders can expect protection against 16 perils, including hazards like:
Fire and lightning

Windstorm and hail

Smoke

Vandalism and theft

Weight of ice, snow, and sleet

Riot and civil commotion
Your policy can cover co-op property, home contents, personal liability, and additional living expenses.
Property Insurance for Co-ops
As a co-op shareholder in the building, you typically don't own the walls, doors, or windows. But you may own the kitchen cabinets, light fixtures, and appliances. That means you're responsible for repairing or replacing those items if something goes wrong.
For instance, let's say you have a small grease fire in your kitchen. You put the flames out quickly, but not before they ruined your countertop and your over-the-range microwave.
Because the fire didn't damage the walls or doors, the building's master policy doesn't kick in. Instead, you'd file a claim with your own insurance to cover the damage.
Home Contents Coverage
The contents portion of your HO-6 policy protects your personal items. It's sometimes referred to as personal property coverage and helps pay to replace or repair your belongings if a fire or another covered peril damages them.
Keep in mind that your policy will have coverage limits. The coverage limit is the maximum amount your policy will reimburse you for a covered claim.
The cap on your coverage is typically enough to cover furniture, clothing, and other items you own. However, expensive electronics, fine art, or other valuables can require additional coverage.
Talk to your insurance agent or insurance broker about optional coverage to get enough protection for your personal effects.
Co-op Liability Insurance in New York City
Imagine if a friend or a family member injured themselves in your apartment. Does NYC co-op insurance cover you then?
Generally, the answer is yes. Co-op insurance includes personal liability coverage that can protect you if a guest injures themselves in your home or if you damage someone else's property.
Liability can pay for legal expenses, medical bills, and property damages.
Additional Living Expenses Coverage
You may not be familiar with additional living expenses (ALE) coverage, but it can be crucial as a co-op owner. It can pay for hotel expenses and food if your home is uninhabitable after damage caused by a covered peril.
ALE is sometimes called loss of use coverage, and most co-op policies have this protection.
Here's how it works: Let's say a fire swept through several units in your co-op building, including yours. The damage is so bad that you can't live there. It might take months to restore the building to a livable condition. While repairs are being done, ALE coverage can pay for temporary accommodations, food, and other expenses until you can move back home.
What Co-op Insurance in NYC Doesn't Cover
Your co-op policy won't typically cover walls, windows, doors, or common areas of the building or property. The building's master policy protects against damage to those items.
But even the best co-op insurance companies don't cover everything. While policies can vary, a few events are commonly excluded:
Floods

Earthquakes

Wear and tear

Water damage and sewer backup
Flooding is the most common natural disaster. However, no co-op insurance policy will cover flood damage. Specific flood insurance policies are needed if you live in a flood-prone area or want flood coverage for your home.
Additionally, your policy may not protect against fire, vandalism, or other perils if your home is uninhabited. If you're gone from your co-op unit for extended periods, you may need unoccupied and vacant insurance.
How Much Co-op Insurance Do You Need in NYC?
There's no easy answer to how much co-op insurance you need. No single policy will cover you completely. It can depend on:
What the master policy covers

The rebuild cost of your unit

The value of your personal belongings
Your individual co-op policy picks up where the building's master policy leaves off. Carefully review the master insurance coverage for gaps. Find out if it includes the walls, fixtures, or appliances in your unit. If it doesn't, you'll need more coverage to make sure you're protected.
You'll want to review the property insurance portion of your policy to see if it's enough to pay to repair or rebuild your apartment or condo if it's destroyed. The insurer will set a coverage limit, so check that it's high enough to cover the cost to restore your home to its current condition.
The same goes for your personal property coverage—make sure your policy limit is high enough to cover all of your belongings. You may need to buy endorsements to protect your items.
For example, electronics, jewelry, bikes, art, and other high-value possessions may exceed the amount your policy covers. But most insurance providers let you buy endorsements, floaters, or supplemental protection to insure your belongings fully.
You may also have the choice of coverage level. The two most common coverage types are actual cash value and replacement cost value. Each affects how much you'll receive from your insurance company if you file a claim for damages.
For example, an actual cash value (ACV) policy reimburses the depreciated value of your belongings. In that case, you'll get a claim check for the value of the item at the time of loss rather than the price you paid or the cost to replace it with a new one.
On the other hand, replacement cost coverage can pay the total value of your belongings. The reimbursement you receive from your insurance claim is based on today's prices, so your policy can cover the full cost of replacing your home and possessions.
Average Co-op Insurance Cost in NYC
The average cost of co-op or condo insurance is $506 per year, according to a report from the National Association of Insurance Commissioners. However, that's the national average throughout the U.S. The average annual price is slightly higher in New York, coming in at $553.
Insurance rates can vary from one insurance agency to the next. In fact, several factors can impact price. For example, the amount of coverage you buy can increase your premiums. A co-op policy in New York City that covers $100,000 or more has an average annual rate of around $1,300.
NYC is known for its high cost of living. That means repair and renovation costs can be extra high, so don't skimp on the coverage you buy.
The easiest and quickest way to save on your policy is to shop around and compare insurance quotes. Companies can offer different discounts that can lower your premiums.
Your deductible can also influence the price. The deductible is the amount you're responsible for paying for an insurance claim. Typically, you can lower your insurance costs by increasing your deductible.
Frequently Asked Questions
No. Home insurance is a specific type of insurance for houses. If you own a unit in a co-op building or you're a condo owner, you need a co-op insurance policy.

No. If you rent a unit in a condo or an apartment building, you need renters insurance. A renters policy is a specific insurance product that protects your possessions in case of a calamity. Your landlord should have a separate policy to cover the building and structure.

The cost of co-op insurance in NYC depends on your location, the value of your belongings, and the coverage options you choose. The average co-op policy in New York is $553 per year. However, you'll likely pay $1,300 or more for a policy in NYC.
Co-op Insurance for New Yorkers: The Bottom Line
NYC real estate is in high demand. Even finding affordable homeowners insurance in NYC, not to mention apartments and condos in Manhattan, Brooklyn, or surrounding areas can be a challenge. Depending on your budget, you may have to compromise on size, location, a doorman, and other amenities.
But one area you should never compromise is insurance. Making your co-op insurance needs a primary concern can protect against financial ruin if the worst should happen. After all, isn't your peace of mind worth it?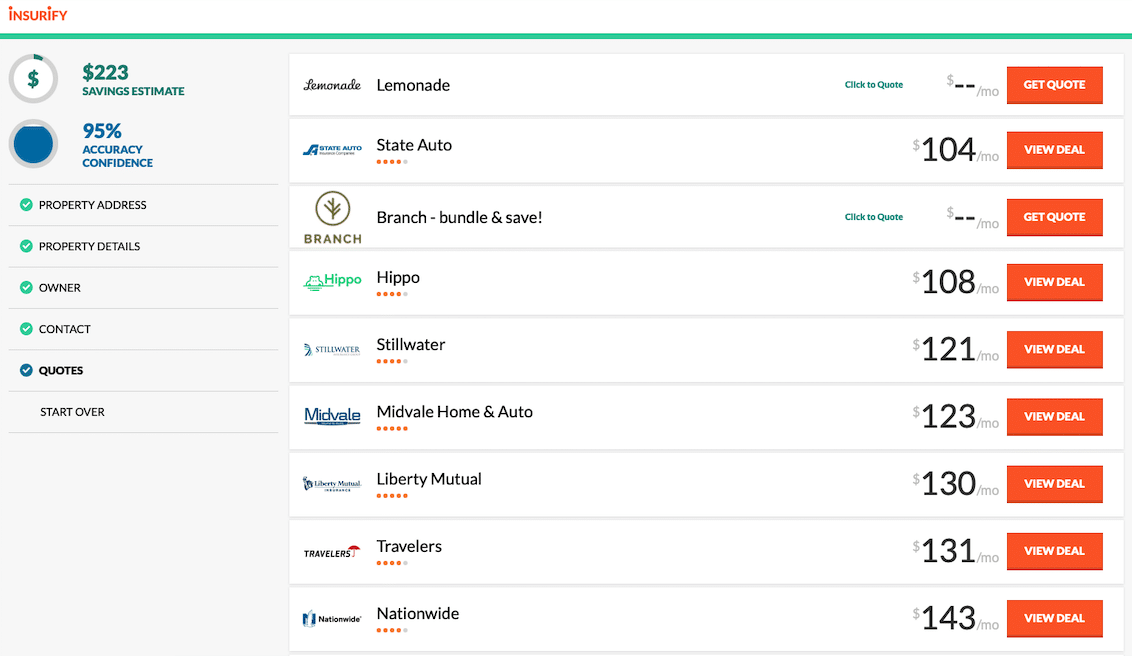 Compare Car Insurance Quotes Instantly
Personalized quotes in 5 minutes or less
No signup required
Data scientists at Insurify analyzed over 40 million auto insurance rates across the United States to compile the car insurance quotes, statistics, and data visualizations displayed on this page. The car insurance data includes coverage analysis and details on drivers' vehicles, driving records, and demographic information. With these insights, Insurify is able to offer drivers insight into how their car insurance premiums are priced by companies.