What is condo landlord insurance?
Condo landlord insurance protects you financially from damages or injuries that can happen when you own a rental property.
Do you own a condo that you rent out? If so, you have unique risks that only condo landlord insurance can cover. For example, you could suffer a severe financial setback if unexpected repairs or a natural disaster causes you to lose your rental income.
A typical insurance policy for a condo landlord offers protection for the building itself, some of the contents, and loss of rent.
But what does it cover exactly? And if you need it, how much can you expect to pay? Keep reading to find out.
Condo Landlord Insurance 101
Condo landlord insurance is a policy for someone who rents out a condo. It protects the condo property owner against losses that may arise from renting their condominium to tenants.
Coverage typically includes property damage, personal liability protection, and loss of rental income from damage caused by fire, windstorm, hail, or another covered loss.
Why Condo Landlords Need Liability Insurance
It's been said the only things you can count on are death and taxes. But there's another certainty in life: accidents happen, and they can happen when you least expect them.
From fire and flooding to injuries and damage, landlord coverage can protect against life's mishaps. Here's why landlord insurance is a must:
It minimizes the risks you may face.

It saves you time and money when coordinating repairs that may arise.

It has custom options to personalize your policy.
If you own the entire building, you might think you don't need a policy if you have master insurance coverage.
But here's the thing: master policies only cover damage to the building and common areas. It does not cover damage to the individual units or the contents inside.
Condo landlord insurance can bridge the gap in coverage. It provides peace of mind knowing you have a safeguard against accidental damages or injuries related to your rental property.
What Landlord Insurance Covers
No two landlord insurance policies are the same. However, coverage typically includes property and liability protection to protect you from financial loss.
Condo Landlord Property Protection
Property protection coverage helps cover the physical property of the condo you're renting out. A policy generally includes:
Dwelling: The structure of your rented condo and permanent fixtures like cabinets and carpeting

Other structures: Detached structures you may have on your rental property, such as a detached garage, shed, or fence

Personal property used to service the rental: A lawnmower, snowblower, or other equipment or items you use to maintain the property
Keep in mind that your personal property coverage will not protect your tenants' personal property —they must have their own renters insurance policy for that.
Landlord Liability Protection
A standard condo insurance policy includes liability protection. Landlord liability protection can help pay for another's medical payments or your legal expenses if you're responsible for a personal injury.
For example, suppose your tenant falls down the stairs at your rental property. You could be held responsible for their medical, legal, and other costs if a court determines you didn't properly maintain the stairs or railing.
Rather than having to cover the costs out of pocket, your landlord liability protection can help cover those expenses.
What Landlord Insurance Doesn't Cover
Condo landlord property insurance offers great protection. However, no single policy can cover everything. Policies don't typically include:
Maintenance and equipment breakdowns

Property you share

Tenants' personal possessions
You're responsible for maintenance and upkeep. For example, your policy won't cover your furnace or dishwasher if it breaks down.
If you live on the property and rent out a room or another floor, you wouldn't be eligible for a landlord policy. Landlord insurance is for non-owner-occupied property only.
If you rent a portion of your home or property, talk to your insurance agent about adding coverage to your homeowners policy.
Landlord insurance also doesn't extend to your tenants' property. For example, if a fire destroys the condo and your tenant's furniture, clothes, and other belongings, your policy won't pay to replace their items. They'd need their own renters insurance policy for that kind of protection.
Who Needs Condo Landlord Insurance?
If you own a condo that you rent to tenants, you need condo landlord insurance. There is one exception: some homeowners insurance companies allow policyholders to have short-term rentals if they notify the insurer.
But renting out your primary residence even for short periods of time is considered to be a business if it's done regularly—and homeowners policies don't cover business activities conducted in the home.
Long-term rentals will almost always require you to purchase a landlord or rental dwelling policy.
If short-term rentals are something you want to pursue, contact an insurance agency about additional coverage options, such as an add-on endorsement or a hotel or bed and breakfast policy.
How Much Landlord Rental Property Insurance You Need
Having the right amount of condo coverage is a crucial decision for landlords. If a fire or other disaster destroys your home, is your coverage enough to repair or rebuild your property to its prior condition?
The rule of thumb is to have enough coverage to pay for your rental property to be rebuilt if it were destroyed.
But you must also consider coverages, deductibles, and policy limits when choosing the right amount of property damage and liability coverage. Talk to your insurance agent to make sure you have enough insurance for your condo and to cover personal liability claims.
Cost of Landlord Insurance for a Condo
According to the Insurance Information Institute, landlord policies tend to cost about 25 percent more than a standard homeowners policy.
The National Association of Insurance Commissioners reports the average cost of a homeowners policy in the U.S. is $1,249 per year. Based on that, you can expect a landlord condo policy to cost $1,561 per year.
How much you pay depends on a variety of factors. When quoting a policy premium, insurers typically consider:
The age of the condo

The condo's location

Building materials used

Your claims history

Your credit score

The policy's deductible

The policy's coverage limits
You can find opportunities to save on condo landlord insurance if you know where to look. For example, shop around to compare quotes from at least three insurance companies to find the best price for the coverage you want.
Discounts are another option to lower your premiums. Finally, consider raising your deductible amount—higher deductibles transfer more risk onto you as the policyholder, which often results in a lower insurance quote.
Frequently Asked Questions
Many similarities exist between a standard homeowners policy and landlord insurance. However, if you plan to rent out your condo, your homeowners insurance won't cut it. Renting your condo is typically considered business activity, and home insurance doesn't cover business activity. Landlord insurance is specifically designed to cover short- and long-term rentals, and it's the right policy if you want to rent out your condo.

The average cost of landlord insurance is approximately 25 percent more than what you'd pay for a standard homeowners insurance policy, according to the Insurance Information Institute. Based on that amount, you can expect the insurance cost to be about $130 per month for landlord insurance.

Landlord insurance policies include dwelling coverage for the structure of the condo, personal property you might store on-site (a lawnmower or tools, for example), and personal liability to protect against injury claims. Policies typically also include lost rent reimbursement coverage if a covered peril makes your condo uninhabitable while repairs are being made.

The landlord's insurance covers the structure of the building only. It does not protect your property. If you rent your living space, you need a renters insurance policy to cover your personal belongings.
Get the Protection You Need with Condo Landlord Insurance
A standard homeowners or condo insurance policy won't typically cover losses if you rent out a room, a floor, or your entire unit.
To protect your investment, you need condo landlord insurance. Shop around to compare coverage options and landlord insurance quotes before committing to an insurance company.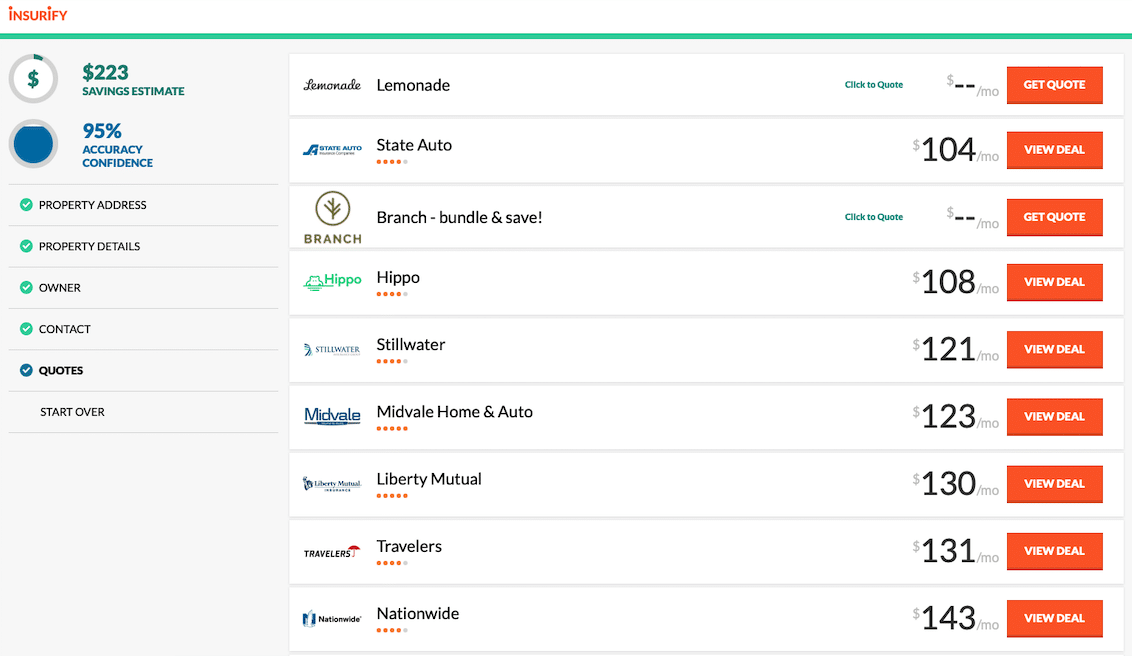 Compare Home Insurance Quotes Instantly
Personalized quotes in 5 minutes or less
No signup required