What should you consider when looking for homeowners insurance for seniors?
Homeowners insurance for seniors has special considerations, including coverage types, policy limits, protections, and discounts available specifically for senior citizens.
You worked hard to get where you are. The last thing you want to do is spend your golden years thinking about home insurance—retirement is for traveling, new hobbies, and enjoying family and friends, not worrying about home insurance.
That's why we put together this guide to homeowners insurance for senior citizens. You'll discover the common home insurance policy features you should look for, what discounts are available, and the best homeowners insurance companies for seniors.
Homeowners Insurance Policy Considerations for Seniors
Your home is likely your biggest investment. It makes sense to protect it with insurance. Even though homeowners insurance isn't mandatory under state law, lenders can require it before issuing a mortgage.
But 56 percent of homeowners aged 60 to 70 years don't bring a mortgage into retirement, according to a Retirement and Mortgages Survey by American Financing.
Still, it's good coverage to have. Most homeowners policies are standard and include similar coverages regardless of how old you are. But you should consider policy options that may benefit seniors.
Mobility Modifications
Many seniors have special insurance needs that can impact their insurance protection.
For example, your insurer will need to know if you added a wheelchair ramp, stairlift, or other modifications to your home. By sharing the information with your insurance provider, you can make sure your policy coverage includes those alterations.
Deductible Waiver
A deductible waiver lets you off the hook from paying the deductible if you have a significant loss. For instance, if a fire destroys all or most of your home, your claim could be substantial. Your homeowners insurance company may offer to waive the deductible, allowing you to keep the cash in your pocket.
Protection for Full Cost
Protection for full cost is another important consideration for senior homeowners insurance. Many policies offer actual cash value (ACV), which typically doesn't cover the total cost to replace items if you file a claim.
Upgrading to a replacement cost policy (instead of ACV) can help ensure you get the money you need to replace what you lost.
Identity Theft and Fraud Protection
Older adults are popular targets for identity theft. According to a U.S. Department of Justice report, 2.6 million seniors per year are identity theft victims.
While standard homeowners insurance policies don't cover identity theft, many insurers offer it as an add-on option.
Recommended Home Insurance Coverage for Seniors
Standard homeowners policies cover many perils, such as fire, theft, vandalism, and storm damage. Your coverage depends on the policy you buy.
The most common type of homeowners policy is called special form. It covers against all perils unless the policy specifically excludes a hazard by name.
For example, policies generally exclude flood and earthquake damage. However, separate flood insurance and earthquake coverage is available if you live in a high-risk area.
Types of Coverage
Thankfully, the recommended homeowners insurance coverage for seniors comes standard in most policies:
Dwelling coverage to pay for damage to your home's structure

Coverage for other structures like sheds and fences

Personal property coverage for loss of furniture, clothing, and other items

Loss of use that reimburses additional living expenses if a covered loss makes your home uninhabitable

Personal liability coverage to protect against claims and lawsuits if someone is injured in your home

Medical payments to cover hospital bills for less severe injuries
Policy Limits
Your policy limits determine the amount of coverage your policy includes. While you have some control over the amount, it primarily depends on the rebuild cost of your home.
For example, if it would cost $250,000 to rebuild your home, you want to have a policy limit of at least $250,000.
Your policy limits for other structures, personal property, and loss of use depend on the amount of dwelling coverage.
Here's an example of the typical policy limits, according to the National Association of Insurance Commissioners (NAIC):
| Coverage Type | Typical Policy Limit |
| --- | --- |
| Dwelling | You choose (based on home's rebuild cost) |
| Other structures | 10% of dwelling coverage limit |
| Personal property | 50% of dwelling coverage limit |
| Loss of use | 20% of dwelling coverage limit |
| Personal liability | You choose |
| Medical payments | You choose |
Additional Coverage for Valuables
It's important to note that policies can have lower coverage limits on valuable items. For example, a typical homeowners policy only covers jewelry up to $1,000 per item and $5,000 per claim.
So, if a fire destroys your jewelry collection worth more than $5,000, you could be left empty-handed.
However, many insurers offer add-ons to increase your coverage— insurance providers call these riders, floaters, or endorsements.
Increased Personal Liability Protection
Besides increasing your coverage for your more expensive items, you may also want to add extra personal liability protection.
If someone is hurt in your home—a dog bite, slip and fall, or another accident—a court could find you liable. In some cases, the lawsuit could be for an amount that's more than the coverage limit on your policy.
You may be forced to sell your home and liquidate other assets, such as retirement accounts or a child's college fund, to settle a claim if it exceeds your policy limits.
Because seniors generally have more assets than younger generations, you should consider the extra protection an umbrella policy can offer. An umbrella policy is an insurance product that supplements your home's personal liability coverage limit.
A $1 million policy is pretty affordable, and most insurance providers stop coverage at $5 million. But Travelers offers umbrella insurance up to $10 million, and Chubb's policies go up to $100 million.
Top Homeowners Insurance Discounts for Seniors
Age can be a factor in determining home insurance rates. Is home insurance for seniors more expensive?
Not usually. Your home's location, age, construction type, and features typically influence the premiums more than the policyholder 's age. Your claims history can also affect your homeowners insurance rate.
But there are several ways to save with home insurance discounts for seniors.
Mature Credit: Save 10 to 25 percent if you're 55 years or older and retired. Homeowners companies offer " retiree credits " because retired folks tend to spend more time at home—so it's easier to detect hazards.

Claims-Free Discount: Save up to 20 percent if you go a certain number of years without having a claim.

Loyalty Discount: Long-term customers can save on insurance premiums through an insurer 's loyalty discount.

Gated-Community Credit: Living in a secure location could cut up to 20 percent off the cost of home insurance.

Homeowners Association Credit: Some insurers will give you as much as a 10 percent discount if you're part of a homeowners association (HOA).
Other discounts you may qualify for include savings for non-smokers, smoke detectors, home security systems, or bundling discounts for combining your home and auto policy.
Condo Insurance for Seniors
Do seniors need homeowners insurance if they live in a condo? Yes! However, a condo insurance policy is different from standard homeowners coverage.
Condo owners have unique insurance needs. The condo association will have a master insurance policy covering the structure of the building and common areas.
How much condo insurance you need depends on the master policy. In some cases, it can cover part of your unit—although coverage is typically limited to original fixtures, installations, and appliances.
The master policy will not cover your personal belongings. A condo insurance policy for seniors can protect your furniture, clothing, electronics, and other items.
Renters Insurance for Seniors
Many older Americans move into senior living facilities. It can eliminate the stress of homeownership and improve quality of life.
However, just because you don't have a home doesn't mean you don't need insurance—as long as you own items, you need coverage.
Senior living communities can provide many of your daily needs, but they do not cover your possessions against loss.
Renters insurance can be the answer if you rent a senior apartment, live in a senior community, or transition into a nursing home.
Best Home Insurance Companies for Senior Citizens
The best homeowners insurance company depends on your individual needs. For example, if you own many assets, you may want to go with a company that offers higher personal liability protection.
According to J.D. Power's U.S. Home Insurance Study, the top home insurance companies are:
The same study found the best renters insurance companies:
J.D. Power based the study on overall customer satisfaction, including customer service, coverage options, price, billing process, policy information, and claims.
Frequently Asked Questions
Home insurance isn't usually more expensive for seniors. Other factors affect the premium you pay more than your age, including the insurance company and coverages you choose, the location, age, and building materials of your home, and whether the home has smoke detectors, burglar alarms, a wood stove, or a swimming pool.

Unfortunately, there isn't one "best" home insurance company. The best home insurance depends on your home type, coverage limits, and insurance needs. Protecting your valuables is important, but so is the overall policy cost. To find the right coverage, consider getting home insurance quotes from multiple companies. That way, you can compare policy options and premiums.

Yes. AARP offers homeowners insurance from The Hartford, and AARP members can save up to 20 percent on a policy. While you can get a free quote without a membership, membership is required in most states to get coverage.
Get the Right Senior Homeowners Insurance Policy
Getting the right coverage can bring you peace of mind. Many factors go into choosing the right policy. The value of your home and possessions are only part of the equation—your lifestyle, home type, and location also impact your decision.
If you're a senior citizen looking for home insurance, find the best policy by shopping around to compare home insurance rates. It will give you a good idea of insurance options and coverages available to you.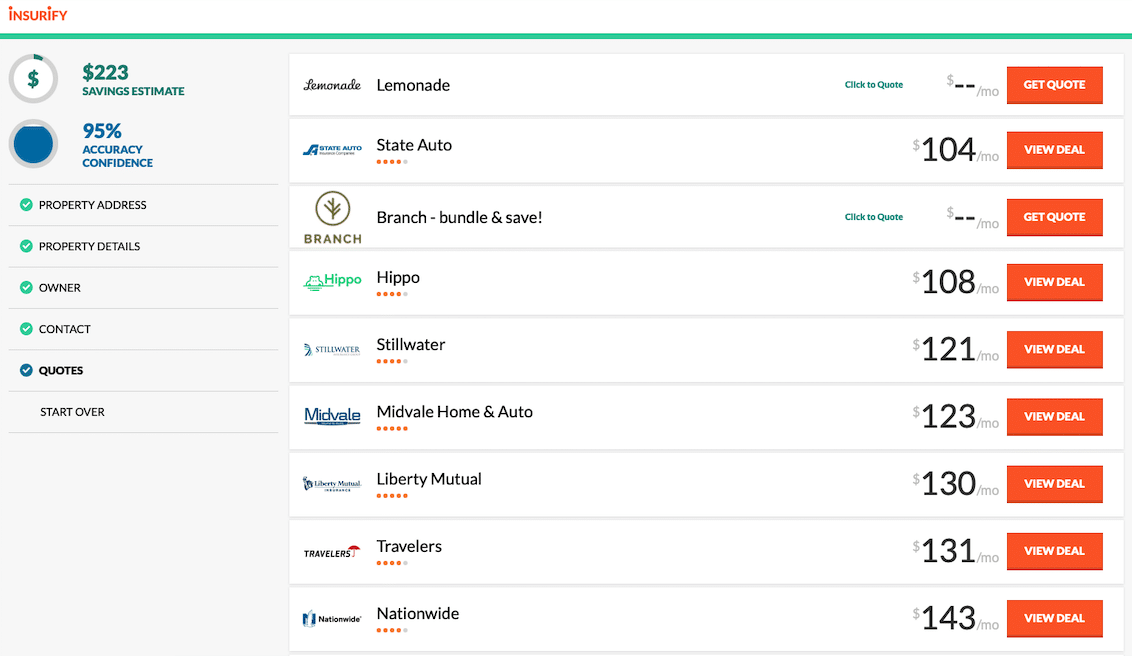 Compare Home Insurance Quotes Instantly
Personalized quotes in 5 minutes or less
No signup required