Does GEICO have home insurance? Yes. Is it right for you? Maybe… Here's why.
GEICO homeowners insurance could be your future home insurance company.
Every homeowner has unique needs when it comes to their insurance policy. Insurify can help you decide if GEICO is the right insurance company for you.
GEICO Insurance Agency has provided coverage to property owners since 1936 and soon became a leader in the insurance industry. Today, it's one of the largest property insurance companies in the country. It's best known for its loveable gecko and typically low rates. But bigger doesn't always mean better. And a cheaper policy may not be worth it to many consumers.
While customers can be certain GEICO will remain financially solvent now and in the near future, they're less confident when it comes to customer service. Of course, customer service scores remain relatively low across the field of insurance providers. Especially when it comes to the claims process. Even so, GEICO has a unique set of circumstances that often translates into an extra-confusing customer service process.
Below is an overview of the good, the bad, and the ugly when it comes to purchasing and maintaining a GEICO home insurance policy.
Unsure which company is right for you? Try Insurify 's rate comparison tool: fill out one form and receive 10+ real insurance quotes from the nation's best home insurance companies. No insurance agent necessary. Unlock discounts, adjust coverage amounts, and get peace of mind today.
GEICO Home Insurance Coverages
A homeowners policy with GEICO will cover you for all "named perils" within your policy documents. Bear in mind, "named perils" vary from company to company, and the amount of coverage will vary policy to policy. When conducting comparison shopping, be sure that you fully understand the components of coverage before making your decision.
You'll typically be choosing between three options:
Basic Form (HO-1)

Broad Form (HO-2)

Comprehensive Form (HO-5)
The comprehensive form is the most common type of insurance plan for homeowners.
What is covered under GEICO home insurance?
With a GEICO homeowners insurance policy, you can be (almost) sure you're covered for:
Property damage from fire, weather, and other disasters (not including flooding, earthquakes, and other exclusions depending on where you live) to your house and other structures, like a garage, gazebo, or shed.

Damages to personal property, like electronics, as named in your policy. Be sure to tally up a list of your personal belongings and their value to ensure you get enough coverage in your policy. If standard coverage isn't enough, speak to your agent about raising your coverage limit.

Some coverage for jewelry, with the option to purchase more coverage.

Personal liability, which protects you in the event someone sues you due to an injury on your property.

Loss of use coverage, which pays for hotels and other expenses that are incurred due to damage to your property that prohibits you from living there temporarily.
Why do we say almost sure? Everyone's home insurance needs will be slightly different—and the most likely damages vary from property to property. The more likely a specific type of damage, the more expensive the insurance that covers the damage. If the risk is too high, GEICO, like most home insurance companies, may not offer coverage at all.
If your policy doesn't offer everything you need, you can purchase additional coverage. Sometimes this means coverage add-ons to your policy. Other times it may mean adding a separate insurance policy, such as a flood insurance policy. More on this below.
GEICO Insurance Underwriting
Also, note that GEICO does not underwrite its home insurance policies. While you can purchase coverage through a GEICO agent, it is underwritten and ultimately serviced by a different company. GEICO partners with more than 30 companies nationwide, making it difficult to say for sure:
What policy components each company will underwrite

How efficiently your claim will be processed

Customer satisfaction with each insurance partner
So, while you can go to a GEICO insurance agent to purchase your policy, you will need to contact the Insurance Agency Partner for almost everything else. According to the GEICO website, this includes:
Bill payment and questions

Claims process from beginning to end

Changes in coverage within your policy

Obtaining policy information
The following is a complete list of GEICO's Insurance Agency Partners:
AIG

All Risks

American Modern

Arrowhead

Bay City Underwriters

Berkshire Hathaway Specialty Insurance

Cabrillo

California Fair Plan

Chubb

FedNat

First Insurance Company of Hawaii

Foremost Property and Casualty Insurance Company

The Hartford

Heritage Property and Casualty Insurance Company

Hawaiian Insurance and Guaranty Company, Limited

Homeowners of America

Homesite

Interboro Insurance Co

Island Insurance

Liberty Mutual

Narragansett Bay Insurance Company

Privilege Underwriters Reciprocal Exchange

RLI Insurance Co

SageSure Insurance

Security First

Stillwater Insurance Group

TAPCO Underwriters Inc

Travelers

UPC Insurance

Universal Ins Co of North America

Universal Property & Casualty Insurance Company

Universal Risk Advisors

Wellington Risk Ins Agency
Optional Home Insurance Coverages with GEICO
If you need coverage options that go beyond the basics, you will need to purchase an endorsement for your homeowners policy. Depending on where you live, you may be able to buy endorsements that cover you in the event of:
Earthquake

Sewer backup

Identity theft

Windstorm
You can almost always increase the coverage limits for components in your policy. For example, higher limits for personal property. Just remember that increased coverage limits come with increased insurance premiums.
Compare Car Insurance Quotes Instantly
Personalized quotes in 5 minutes or less
No signup required
GEICO Bundling Options
Overall, it's not a bad idea to bundle a GEICO auto insurance policy with a homeowners policy. According to J.D. Power, homeowners who bundle home and car insurance report higher satisfaction ratings. This may be for many reasons, including ease of access to customer service, billing, and policy documents.
At least one of those reasons is due to the discounts offered to customers who bundle. With GEICO, customers who bundle can save up to 25 percent on premiums.
Available Discounts
To stay competitive and retain its status as an affordable insurance company, GEICO offers many ways to save on insurance. It boasts three main discounts for its home insurance customers:
Multi-Policy Discount **
** We already covered bundling auto and home insurance, but that's not the only insurance product available for bundling with GEICO. Bundling boat or RV insurance **with your homeowners policy can significantly reduce costs**. Again, up to 25 percent across all policies within the bundle.
Smoke Detectors and Fire Extinguishers
If you're a smart homeowner, you probably already have a smoke alarm system in your home. But do you have enough smoke detectors to ensure your safety? According to the National Fire Protection Association (NFPA), homeowners should install a smoke detector:
On every floor of your home, including the basement

In every bedroom or sleeping quarter

Outside every sleeping area—for example, one in the hallway where multiple bedrooms exit to and one outside the doorway of the basement room a teenager has claimed as a bedroom

10 feet from cooking areas
Home Security Systems **
** Just like a smoke detection system, homeowners can lower costs with other alarm systems. Whether using Nest, ADT, or another provider, having a comprehensive burglary alarm system can quickly reduce costs as well as keep you and your property safer.
Other Home Insurance Discounts with GEICO
Homeowners can find discounts or cheaper rates in other ways as well:
Improving and maintaining a good credit score can make a surprising difference when it comes to property insurance, and that includes your auto policy. This is especially true for GEICO customers, according to Consumer Affairs.

Just like adding smoke detectors can reduce damages in the event of a fire, you can also make alterations to protect your home in the event of other disasters. Examples include storm shutters, lighting rods, and impact-resistant roofs and windows.

Increasing your deductible —the amount you pay (annually) in the event of a claim—can lower your month-to-month costs. Just be sure you can actually afford the deductible.

Some home improvements may also reduce insurance costs.
GEICO Home Insurance Reviews: Customer Satisfaction
Overall, GEICO is doing well when it comes to servicing policyholders. In 2015, J.D. Power ranked GEICO fifth for overall customer satisfaction rating. GEICO exceeds expectations when it comes to price and technology—its mobile app receives glowing reviews by customers. However, it falls short with customer service, even during the quote process:
Read Hannah S. 's review of GEICO on Yelp
This is most likely because customers don't speak directly with GEICO during most interactions, including during the insurance claims process. Instead, they must go through the underwriting company partnered with GEICO, where satisfaction varies.
Read Zolton T. 's review of GEICO on Yelp
By far, GEICO's best trait is its low cost. Many customers turned to GEICO when costs with another insurer were too high.
And, despite many negative reports, customer service can still come through even in difficult times:
GEICO Mobile Home Insurance
Not to be confused with RV insurance, which more closely resembles an auto policy, mobile home insurance is for manufactured homes. Because these homes differ considerably in construction, longevity, and use, the insurance also varies. But not so significantly.
Fire and other property damage may be covered in addition to personal liability and personal property like electronics. The main contrast is that a mobile home can move. During transportation, a mobile home is most at risk for damages. Because of this, GEICO and most other insurers do not cover the structure while it's in transit. You'll need an additional policy during the move.
GEICO Renters Insurance
If you rent your home, renters insurance is a great idea—and it's typically much less expensive than homeowners insurance. Renters insurance covers you in the event of a fire, burglary, and other disasters, but it does not cover the structure of your rental (that's covered by your landlord).
Items you can insure include:
Electronics

Furnishings

Appliances

Jewelry
GEICO offers a personal property calculator to make it easy for customers to estimate how much coverage they actually need. Customers can also bundle renters and auto insurance for lower rates.
Other Insurance Products from GEICO
In addition to GEICO's most popular products, you can also find policies for:
Condo Insurance

Commercial Auto Insurance

Motorcycle Insurance

ATV Insurance

RV Insurance

Boat Insurance

Umbrella Insurance

Life Insurance
To get umbrella insurance, you need to also have a GEICO auto insurance policy.
Frequently Asked Questions
GEICO is one of the largest insurers in the country. Choosing GEICO means choosing a company that will almost surely remain solvent now and in the future, at least judging by the financial score given by Moody Analytics. GEICO also provides other advantages, like its extensive technological investments. However, remember that a (typically smaller) company will underwrite GEICO's home insurance. So, while you may be purchasing your policy through GEICO, it will be serviced by someone else. And customer satisfaction varies widely.

GEICO partners with 35 companies, which vary from state to state, even municipality to municipality. In some situations, the company below may be a parent company of a subsidiary that will underwrite your policy. If you feel unsure about who is underwriting your policy, be sure to ask your agent and ask for policy documentation before agreeing to your policy.

For some customers, one of the main drawbacks of using GEICO is the limited availability of in-person agents. Back in the day, an insurance agent could set up a small business serving the local community. Nowadays most agents work remotely, holding licenses from multiple states—and most customers have forgone using a specific, local agent or broker for insurance needs. This keeps overhead low for the insurance company (and its customers) but makes it more difficult to get in touch and stay in touch with an agent during a claim. If you must have an agent in-person, or if you want to see the same agent every time you make a claim, GEICO is not the company for you.

The short answer is: it depends. The company that is best for you may not be best for your neighbor, even with similar needs and house plans. This is due to several factors, including construction materials; construction type; heat source (fireplace or wood-burning stoves can increase rates); proximity to a fire station; roof condition; credit history; and marital status.

The best thing to do is to shop around, do your research and weigh your options. Luckily, this has gotten a lot easier: you can use a tool like Insurify to help you sort through all your options—even alert you to price drops in the future. You fill out only one form, instead of handing out information to multiple websites and companies. At the end of the process, you will receive a list of rates from companies large and small, plus you can speak with a virtual, independent agent to help you answer questions. And you receive real insurance quotes so you can be confident that what you see is what you get.

According to research done at the Insurance Information Institute (III), homeowners insurance paid out $675 million in claims for dog-related injuries in 2018. In most states, with Michigan and Pennsylvania excepted, insurers can deny coverage to people with "aggressive" dogs. Breeds typically given this designation include: Pit Bulls or Staffordshire Terriers; Rottweilers; Doberman Pinschers; German Shepherds; Great Danes; Akitas; Chows; and Presa Canarios. So long as your dog is approved, under personal liability coverage, you will be protected if your dog bites someone. To ensure coverage, you must tell your agent you have a dog at the time of purchasing your policy. Additionally, if breed restrictions apply in your state, you may be limited in your choice of dog breed or choice of insurer.
GEICO Insurance Overview: Financial Health and Ratings
Better Business Bureau: A+
J.D. Power & Associates Rating for Claims Satisfaction: 4
National Association of Insurance Commissioners (NAIC): 0.74
Moody Analytics, Insurance Financial Strength: Aa1
A.M. Best Rating Services: A++ (superior)
NAIC Complaint Index: 1.33
The National Association of Insurance Commissioners (NAIC) methodology for calculating the complaint index is to divide the market share of complaints by the market share of premiums written. The lower the number, the better.
GEICO Homeowners Insurance Contact Information
GEICO Home Insurance phone number: 1 (800) 241-8098
Website: www.geico.com
Remember: you will need to contact your underwriter to service your homeowners policy. If you do not know the phone number, email, or mailing address, call the customer service line or look at your policy documents.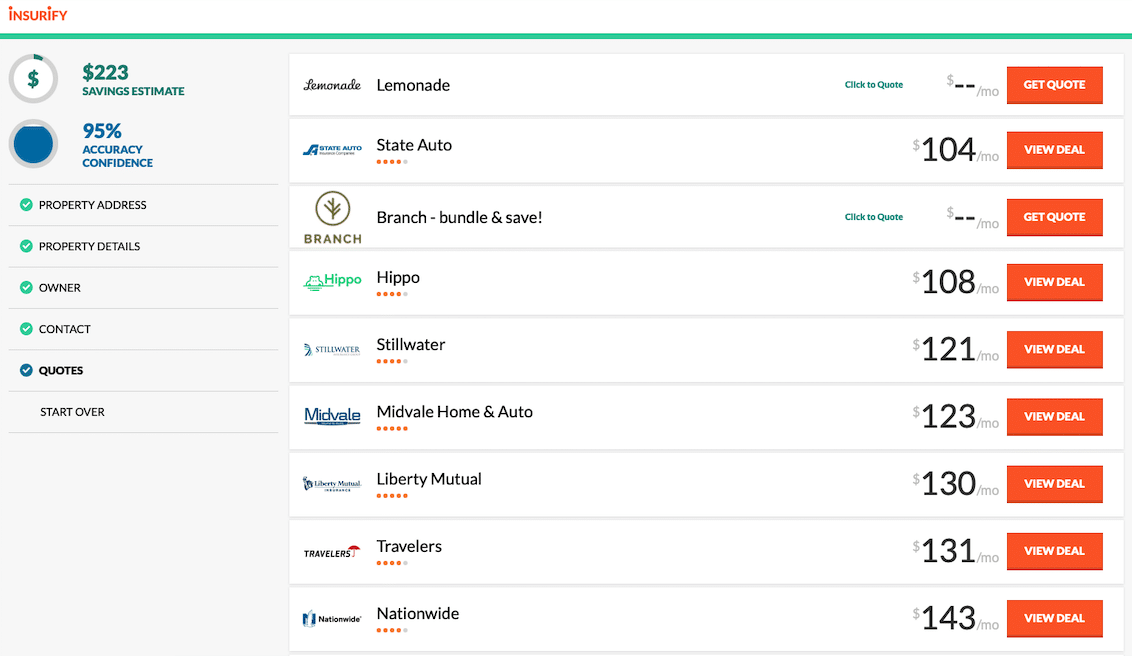 Compare Car Insurance Quotes Instantly
Personalized quotes in 5 minutes or less
No signup required
Data scientists at Insurify analyzed over 40 million auto insurance rates across the United States to compile the car insurance quotes, statistics, and data visualizations displayed on this page. The car insurance data includes coverage analysis and details on drivers' vehicles, driving records, and demographic information. With these insights, Insurify is able to offer drivers insight into how their car insurance premiums are priced by companies.