AAA Homeowners Insurance
You may know AAA for their iconic roadside assistance program. But did you know they also offer homeowners insurance policies for around the country? Let Insurify help you decide if AAA homeowners insurance is the right choice for you.
The American Automobile Association ( AAA) is one of the more unique insurance companies in the United States, with an organization that's composed of various regional clubs, each offering its own set of coverages and discounts. Depending on where you live, you may be able to take advantage of low-priced insurance policies but possibly won't get to choose from many additional options.
It's smart to do a bit of research before you purchase insurance coverage, so make sure you visit Insurify before you buy. You'll be able to compare home insurance rates from multiple companies at once and review all of the coverage options available, ensuring that you find the best policy to meet your needs.
AAA Homeowners Insurance Reviews: Here's What People Are Saying…
The organizational structure of AAA makes it an interesting company to work with. Some homeowners are able to purchase a policy that completely meets their needs. In contrast, others find that extra coverage is lacking. Ultimately, you must be a member of AAA to even enroll in coverage, and everyone interested in a home policy is typically required to also purchase AAA car insurance as well. Unlike other large insurers, AAA offers major perks other than standard coverage to holders of a AAA home insurance policy.
Each regional group is referred to as one of the AAA Auto Clubs. W hile some offer insurance products directly, others outsource coverage to other insurance groups. AAA, in general, does offer a customer service telephone number so people can manage their memberships and policy details. But with such a difference between motor clubs, continuity is hard to come by.
Ultimately, most individuals with a homeowners policy from AAA note that customer satisfaction appears to be high on the company's priority list, that rates are affordable, and that the claims process is easy to navigate. However, some reviews state just the opposite, leaving customers frustrated with ever-increasing premiums and claims that take an extended period to resolve. Though AAA is more well known for its auto insurance offerings, the company's home insurance has an excellent reputation.
Take a look at these home insurance reviews to see a range of customer experiences:
AAA Homeowners Insurance Quotes
AAA is well known for offering competitive rates. Obtaining a quote for homeowners insurance can sometimes be difficult, as each regional group has its own website with varying features. Some homeowners may be able to generate a quote online with ease while others might need to contact customer service and could potentially need to purchase a AAA membership before proceeding.
Among other major insurance providers, rates from AAA tend to be some of the cheapest available. Usually, customers can save money on coverage for property damage, personal property, and more. However, each option influences your premium's pricing. When compared to Allstate, Nationwide, and State Farm, AAA often provides the best value.
The extent of your coverage will influence your costs. While most homeowners policies will cover:
Hail and wind damage

Vandalism

House fire

Burglary
Coverage for earthquakes, floods, and forest fires is often not covered. For these, you will need to purchase a rider or an additional policy. But be tactical. If you live in an earthquake-prone area like California, you may want to add earthquake coverage. But if you live in Kentucky, you can do without that rider.
In addition to the level of coverage, several other factors can influence policy pricing. This includes:
Age of home

Location

Building materials

Foundation type

Proximity to fire hydrant
Compare Home Insurance Quotes Instantly
Personalized quotes in 5 minutes or less
No signup required
What's Covered by AAA Home Insurance?
The features available to you through the American Automobile Association will vary based on your location. Most homeowners policies will cover:
Dwelling and outbuildings

Personal property

Personal liability
AAA offers policies for homeowner's insurance, renters insurance, and even earthquake and flood insurance in most places. Some regional groups also offer:
Coverage against identity theft

Extensive liability coverage if someone gets hurt in your home

Umbrella insurance for large levels of coverage

Funds for both loss of use and living expenses

Medical payments to help offset the cost of injuries that occurred on your property
Remember, policyholders cannot view AAA as one company that offers the same levels of coverage everywhere. Rates, coverage options, and even billing options may be different from state to state. Some regional groups allow for the bundling of policies, allowing you to take advantage of multi-policy savings.
How Does AAA's Claims Process Work?
Insurance claims can be frustrating to deal with, especially if you've sustained a major loss. AAA aims to make the claims process as easy as possible, allowing you to file a claim in one of several ways. Policyholders can contact customer service at 1 (800) 222-8252 or may reach out directly to another insurance provider depending on who manages the policy. Some areas also feature dedicated AAA locations where you can speak with an AAA insurance agent to begin a claim.
Processing a claim on most homeowners insurance policies tends to look the same. You'll be contacted by an adjuster or an inspector to evaluate the damage. AAA places customer satisfaction as a top priority and works to provide you with fair compensation as quickly as possible.
AAA Home Insurance Discounts and Payment Methods
It's no surprise that the policy discounts available to AAA members will vary just as much as the policies themselves. Most customers can count bundling savings for combining homeowners insurance with an AAA auto insurance policy. They can also find discounts for being claim-free. Members with specific home features like a hail-resistant roof, fire-resistant building materials, and protective devices like smoke detectors may see even deeper discounts.
Customers can take advantage of one of several payment methods that best meet their needs, including the option to create an account online at www. aaa.com and use a debit card, credit card, or banking information. You can also call membership services at 1 (800) 222-8252 to make a payment over the phone. Some regional clubs also allow you to set up automatic withdrawals using your checking account. It's best to contact your AAA club to determine which options are available to you.
AAA policyholders will have the choice to increase or decrease their deductible and insurance premium to best fit their needs.
AAA Home Insurance FAQ
What does AAA home insurance cover?
Depending on where you live, you'll find that home policies from AAA could vary considerably. It's best to check with your local AAA automobile club to learn more about your options.
Can I buy only home insurance from AAA?
In most cases, you need to be a member of AAA in order to take advantage of its insurance policies. Most regional groups also require you to enroll in auto insurance before purchasing any other type of coverage.
Is AAA home insurance affordable?
Many policyholders find that coverage with AAA is among the most reasonably priced in their area. Remember to contact an agent at AAA to learn more about what's offered in your state.
Other Types of Home Insurance Offered by AAA
Individuals shopping for unique home insurance options might find that their AAA club has precisely what they're looking for. Contact your regional group to learn about additional coverages including:
- Mobile and manufactured home coverage

- Home hosting policies

- Home daycare options

- Landscaping and yard protection

- Extended personal property coverage
For some, coverage with AAA is robust and offers more than anyone could want, while other customers find its options to be lacking. Again, the availability of products solely depends on where you live.
AAA Insurance Overview
From life insurance to travel discounts, the services provided by AAA are extensive. It was first incorporated as an automobile club in 1902 and now has over 60 million members across the United States. Headquartered in Florida, it's a not-for-profit organization that's best known for helping customers when they're stranded on the side of the road.
Its 42 different regional clubs that span the U.S. and residents can purchase any number of insurance options from their local group. Road maps, travel guides, and a range of insurance services are available. You can also download the AAA mobile app from Google Play or the App Store. With it, you can access maps, a road trip planner, and other resources.
AAA tends to be a highly regarded and trusted company by its millions of customers. It has received high scores from J.D. Power and Associates and works to make a positive impact on our environment through a variety of programs.
Membership/Customer Service Number
1 (800) 222-8252
Headquarters Address
1000 AAA Drive
Heathrow, Florida 32746
Website
www.aaa.com
The Best Way to Save on Home Insurance
For some homeowners, insurance can cost thousands of dollars per year, so it's not a purchase that you want to take lightly. Before you buy, make sure to do your research and head over to Insurify. You'll be able to compare quotes and access the best way to compare insurance between multiple homeowners insurance companies to determine if AAA will save you the most money. From Pennsylvania to Arizona, AAA offers policyholders excellent service and coverage. AAA auto insurance and homeowners policies offer unique perks to their policyholders. If you ever have to file a claim with AAA, be sure to save all your receipts to submit for reimbursement, this will ensure you cash in on all covered losses you may have experienced. Contact your local AAA home insurance agency to get all the details on filing a claim.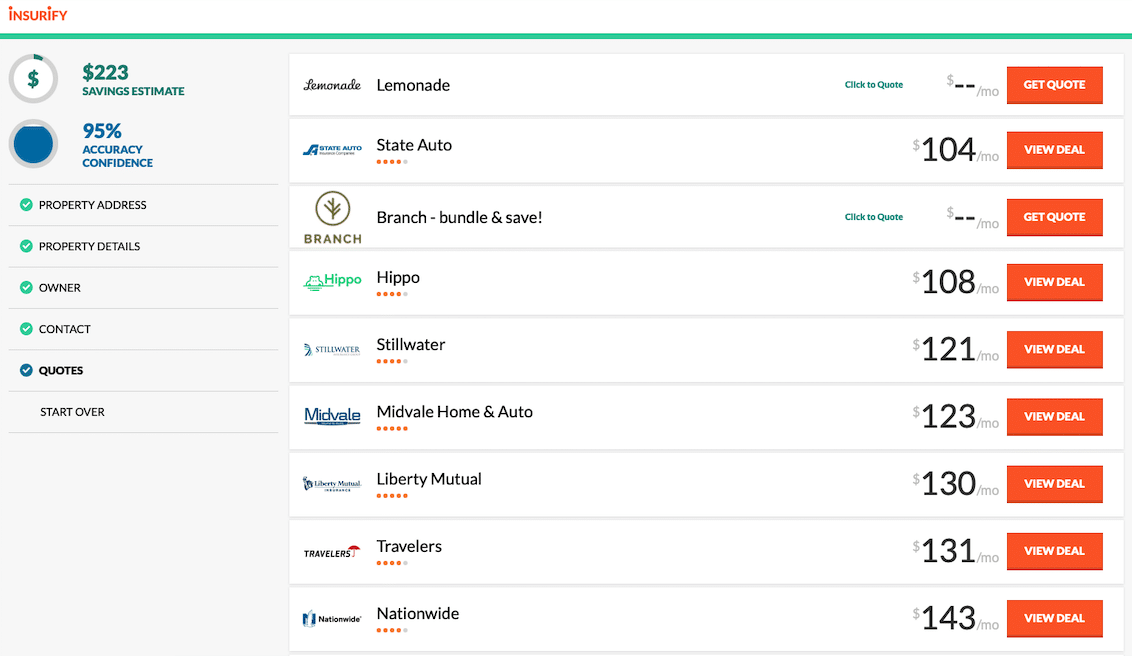 Compare Home Insurance Quotes Instantly
Personalized quotes in 5 minutes or less
No signup required
Data scientists at Insurify analyzed over 40 million auto insurance rates across the United States to compile the car insurance quotes, statistics, and data visualizations displayed on this page. The car insurance data includes coverage analysis and details on drivers' vehicles, driving records, and demographic information. With these insights, Insurify is able to offer drivers insight into how their car insurance premiums are priced by companies.