Why you can trust Insurify
Blog
Home Insurance
Understanding Home Insurance Cancellations A Complete Guide 2021
Why was my home insurance policy canceled?
Home insurance policies get canceled due to claims history, lack of payment, or structural issues with the home.
Home insurance, like auto insurance, is essential to protect you from financial disaster when life gives you lemons. When a tornado rolls through and causes a giant shade tree to fall into your house or your electronics are stolen during a break-in, your insurance will cover the costs of repairs and theft.
Insurance also covers insurance claims resulting from your guest slipping, falling, and breaking their arm. And when you're away from home, it gives you liability protection for the unexpected. For example, if you hurt another player during your rec league volleyball game, your insurance covers medical costs.
Unfortunately, things out of your control happen that can cause an insurance company to cut a policy term short and send you looking for home insurance quotes online. Although it will take time to find a new policy, it's not difficult to do when you use Insurify's home insurance comparison tool to get personalized insurance quotes for your home. Check it out now!
Three Ways Insurance Companies Can Cancel Your Policy
For homeowners and renters, cancellation of an insurance policy can be shocking and panic-inducing. Fortunately, under the umbrella term of " cancellation," there are three distinct ways in which your insurance provider may sever service.
Each is distinctly different, and after discussion and repairing the issues that prompted the cancellation notice, you might be able to continue coverage if you choose. Here's a look at each type of cancellation.
Reasons for Home Insurance Policy Lapse
Cancellation due to non-payment of your insurance payments is easy to solve. A policy lapse occurs when you're more than 30 days late on your payment. Insurance companies generally give a grace period, so when you get notification of non-payment, you've likely missed a few payments and the insurance company won't cover any claims for events that occur.
Sometimes, this comes as a surprise because the money for your insurance premiums is often held in escrow and paid by your mortgage lender. You make your monthly payment to the bank, and that's that. But there's always room for error. Maybe a new hire made a mistake, or the computers were down and payments didn't get processed on time.
Do not ignore notices of non-payment, but don't fear them either. If you know that you missed a payment or two, call your insurance company to discuss a payment plan. If you are unaware of missing payments, contact your insurance company to find out which payments are missing and then discuss the situation with your lender so they can get things squared away.
Home Insurance Cancellation
There are several reasons why your insurance company might cancel your policy. They can cancel it if you omitted or misrepresented information on your application. One example of this is if you state that you have a dog but fail to mention that Spot is a dog breed that they don't cover. Giving fraudulent information is also grounds for cancellation.
A company may cancel a policy if there's been a recent weather event that caused large amounts of damage in your area. Paying out more in claims than was projected may cause them to reevaluate coverage. Another reason you might find your insurance canceled is if you've filed an excessive number of claims.
Non-payment of premiums and failing to occupy the property are other reasons why your insurance coverage can be canceled. They may determine that your home needs some serious repairs to make it safer and more secure.
When an insurance provider wants to cancel your policy, you'll get written notice from them stating this, along with the termination date. Likewise, you can terminate the contract if you decide to switch insurance carriers.
Most state laws require that an insurer give 30 days' notice before canceling the policy so that you have plenty of time to find a new policy to maintain insurance coverage on your home. If you prefer to stay with your insurance provider, you can call them to discuss ways in which you might be able to remedy the issue and continue coverage.
Home Insurance Non-Renewal
A non-renewal of a policy is not a cancellation because it allows the policy to remain in place until the end date. Let's say your policy renews every September 1. If the company decides not to renew the contract in June, they will still cover you until August 31.
Typically, you'd pay your annual or semi-annual premiums before September 1 and be good to go for the following year. In this case, you have until August 31 to find a new home insurance company so that your coverage doesn't lapse.
How to Handle the Insurance Company Canceling Your Home Insurance Policy
It can be pretty shocking to receive notice that your policy is being canceled, no matter the reason. But don't let the fear of this stop you from taking action. Not having insurance is risky. For one, your lender requires it, and not having coverage could cause issues with your bank. Second, few people can afford to take on the financial risk of not having insurance.
Attempt to Resolve the Issue
In some cases, like non-payment of premiums or having a roof in dire need of repair, solving the underlying problem will put you back in good graces with the company. Assuming you've had a good relationship with the insurance company, you can call them to discuss the nature of their action and attempt to fix it so that coverage continues seamlessly.
Get a New Home Insurance Policy
Maybe you're ready to move on to another insurance provider, or you're the one who wants to cancel the policy. Shopping for a new policy is simple when you use Insurify's online tool.
In extreme situations where you can't get coverage due to living in an area notorious for extreme weather events, or if you've filed too many claims, you have a few options. Contact your state insurance commissioner's office. They can direct you to insurance companies that can help or point you to your state's FAIR plan, if available, to get last-resort coverage.
Compare Car Insurance Quotes Instantly
Personalized quotes in 5 minutes or less
No signup required
How to Cancel Your Home Insurance Policy
Sometimes you need to cancel your home insurance policy because you've shopped around and found better rates elsewhere. Once you have your new policy ready to go, you still need to go through a few steps to cancel your old one. Here's how to do just that.
1. 1. Contact your agent or representative at the insurance company. Give them a heads-up that you are going to be canceling your policy. Find out if there are any additional requirements for doing so, especially if you are due a refund.
2. Write a letter stating that you're canceling your homeowners insurance policy. Include your name, address of the insured property, policy number, and cancellation date.
3. Mail or fax your cancellation letter to the insurance company. Call to confirm receipt of your letter.
4. Follow up with requests from the old insurance company as needed.
Be sure to inform your mortgage company about your new insurer so that the payments from your escrow account go to the right homeowners insurance company.
As you get your new policy set up, double-check to ensure that its start date is on or before the date your old policy ends. It's far better to pay for an extra day or two of double coverage than risk having none at all.
FAQ: Cancelling Home Insurance
Some policyholders do question why their existing policy is being canceled and can continue coverage. This is commonly the case when you have missed a payment or can fix the issue relatively quickly, like removing your above-ground pool or fixing high-risk structural issues.

First, notify your insurance agent or contact the company. Send a written notice of your intent to cancel your policy. Include all relevant information like policy number and the home's address. Finally, send the letter to the company, and follow up as needed until the policy is closed.

You can't prevent or predict some things, but you can take measures to lower the amount of damage done if they occur. Keep your home well-maintained and secure. Have an emergency fund so that you can handle minor issues on your own without adding to your claims history.
Before Cancelling Find Better Home Insurance Rates Online
Even though losing an old policy is frustrating, try to focus on the positive: you get to look for a new home insurance policy, which means you could save money or get better coverage. This is something worth doing every couple of years, even if your current home insurance provider doesn't cancel your policy.
It's easy to find a new homeowners insurance policy with Insurify. Get a list of home insurers that cover your neighborhood. Fill out the form and get personalized quotes, plus see what discounts are available. You can even complete your application online. Try it today!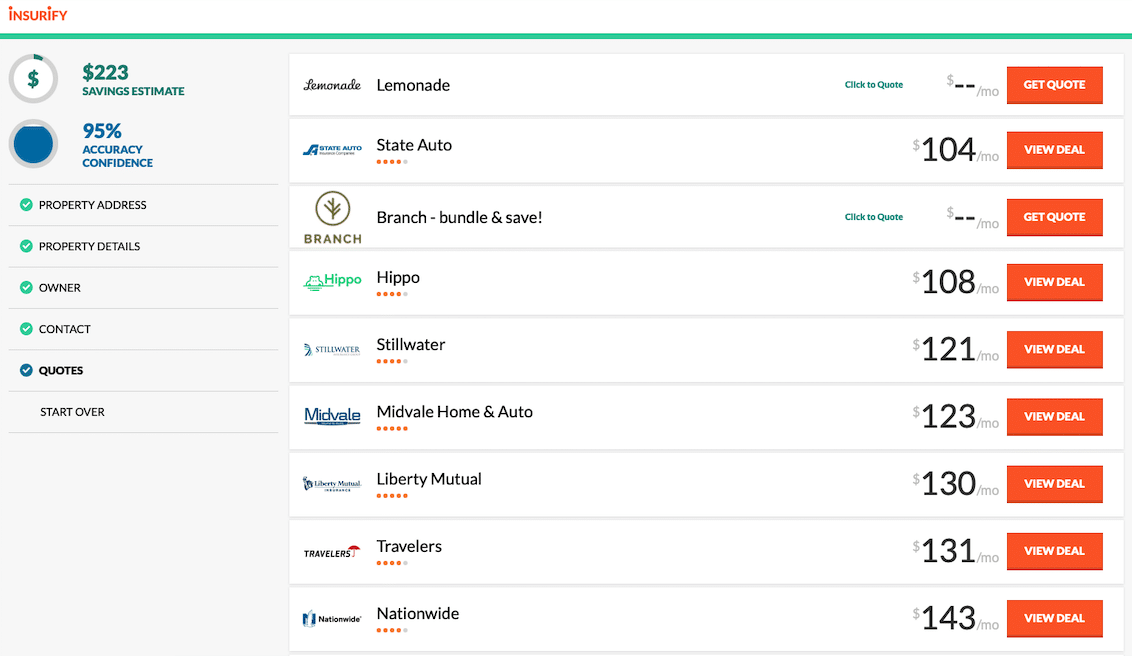 Compare Car Insurance Quotes Instantly
Personalized quotes in 5 minutes or less
No signup required
Data scientists at Insurify analyzed over 40 million auto insurance rates across the United States to compile the car insurance quotes, statistics, and data visualizations displayed on this page. The car insurance data includes coverage analysis and details on drivers' vehicles, driving records, and demographic information. With these insights, Insurify is able to offer drivers insight into how their car insurance premiums are priced by companies.