Stillwater homeowners insurance could be your future home insurance company.
Every homeowner has unique needs when it comes to their insurance policy. Insurify can help you decide if this is the right insurance company for you.
Stillwater Insurance Group has become a household name for homeowners insurance since its start in 2000. The company was founded initially as a branch of Fidelity National Financial. The casualty insurance company offers homeowners insurance in all 50 states.
Having a comprehensive insurance policy for your home goes a long way to provide peace of mind. How does Stillwater measure up? We evaluated the policy coverage options to help you determine if it's the best insurance provider for you and your home.
Here at Insurify, we also make it easy to compare coverage and quotes so you get an excellent policy at the best price. Check out our comparison tool to see rates from half a dozen or more home insurance companies with a single click.
Stillwater Home Insurance Coverages
According to its website, Stillwater casualty insurance group offers property insurance across these dwelling situations and insurance needs:
Homeowners Insurance
Homeowners insurance protects you if your home is damaged by fire, vandalism, hurricane, storms, lightning, or other events.
Your coverage should match your needs. Stillwater offers coverage options to personalize your policy, so check with your agent to discover what's available for you and your home. For instance, you might need additional insurance if you own a pool, trampoline, or dog to provide added liability protection.
Renters Insurance
A renters insurance policy can protect your personal possessions in the apartment or home you rent. While the property owner's policy will cover the home or apartment structure, a Stillwater renters policy can reimburse you if your personal items are damaged or stolen.
The average cost of renters insurance from Stillwater is only a few dollars per week. You could also qualify for discounts, such as bundling a renters and an auto policy, to save even more on your premium.
Condo Insurance
If your condo association has insurance, you don't need your own policy, right? Wrong! The condo association's policy covers the building and common areas but doesn't include your individual unit.
Stillwater 's condo insurance protects the spaces you're responsible for, like your unit's interior walls, floors, ceilings, fixtures, and personal items you may own. It also provides liability coverage if someone is injured in your home.
Umbrella Insurance
Although not technically home insurance, umbrella policies can increase your policy limits for even more protection. It's a supplement to your existing home, renters, or auto insurance policy.
Umbrella insurance from Stillwater can give you up to $5 million in liability protection.
Components of a Stillwater Home Insurance Policy
If disaster strikes, homeowners insurance can step in to make you financially "whole" again. Your Stillwater homeowners insurance policy includes these main components:
Dwelling Coverage
A dwelling includes the physical structure of your home. If there is a fire, hurricane, theft, or another covered event, dwelling coverage helps repair or rebuild your home's structure.
Keep in mind that all policies have coverage limits. How much your policy will pay isn't based on your home's market value. Rather, it's determined by the amount it would cost to rebuild your home at current construction and labor prices.
Other Structures
Structures not attached to your home are covered under the "other structures" portion of your policy. This might include damage or destruction of an unattached garage, fence, shed, driveway, or swimming pool.
Personal Possessions
Your homeowners insurance policy from Stillwater includes protection for most of your personal items. It can pay to repair or replace appliances, furniture, electronics, and clothing if a covered peril damages them.
Loss of Use
If you can't live in your home while it's being repaired or rebuilt, your policy's loss of use coverage can ease the financial burden. It can pay for alternative accommodations, food, and other expenses you might have due to losing the use of your home.
Compare Car Insurance Quotes Instantly
Personalized quotes in 5 minutes or less
No signup required
Optional Coverages for Your Stillwater Home Insurance Policy
To customize your policy, consider these optional coverages for your homeowners insurance:
Animal Liability

Identity Theft Expense Recoupment

Personal Injury

Special Personal Property

Water Backup
If you have questions about what optional coverages you might need, contact a Stillwater insurance agent. The company has offices in Jacksonville, Omaha, and Santa Barbara, but your agent is available by phone no matter where you live.
Available Discounts
Stillwater has flexible payment options to make policies affordable. You could also qualify for homeowners insurance discounts to help lower your costs even more.
Accredited Builder

Age of Insured

Automatic Sprinkler

Claims-Free

Gated Community

Home Alarm Protection

Marital Status

Multi-Policy

Newly Acquired Home

Roof Type

Utility Upgrade
Stillwater also offers discounts for your condo insurance policy:
Age of Insured

Automatic Sprinkler

Claims-Free

Auto-Home Bundling
Keep in mind that discounts can vary depending on where you're located. Stillwater offers policies in many states, and the discounts may not be available where you live.
Average Cost of Stillwater by State
Based on 610 quotes generate on Insurify, we found that the average monthly cost for a Stillwater insurance policy was $138 a month. Below is a table showing the average cost of Stillwater home insurance by state.
Don't see your state? We haven't gathered enough data from that state yet. We will update this page with more quoting information as soon as we are able. Stay tuned!
Stillwater Home Insurance Reviews: Customer Satisfaction
Before choosing an insurance company, consider what other customers are saying about it. Stillwater has one out of five stars on Yelp, with most customers reporting difficulties with the claims process.
One reviewer said Stillwater gave the best rate they could find on homeowners insurance:
The company is accredited with the Better Business Bureau ( BBB ) and has an A+ rating. Here are a few other ratings the insurer has received regarding financial stability:
J.D. Power Customer Satisfaction Rating: Not rated

A.M. Best Rating: A-

Moody's Financial Strength Rating: Not rated

Better Business Bureau Rating: A+
Frequently Asked Questions - Stillwater Homeowners Insurance
Stillwater insurance company has excellent ratings with the Better Business Bureau, with customer reviews giving it four out of five stars. You can customize your coverage with optional add-ons and qualify for discounts to save on home insurance. The company has a mobile app to make filing a claim and working with an adjuster easy. You can also contact the company by phone or email with questions about your policy. With so many options, Stillwater is a company worthy of your consideration for homeowners insurance.

Standard homeowners insurance will not cover mobile homes. Instead, you need mobile home insurance to protect your mobile or manufactured home. It's a similar insurance product to a standard homeowners policy and offers many of the same coverage options, including fire, windstorm, falling objects, lightning, and visitor injuries.

Yes, one of the insurance products you can get from Stillwater is a car insurance policy. The insurance agency has several discounts to help you save money on auto insurance. Available discounts include being a good driver, paying your premium in full, and opting for paperless billing. You could also save by bundling your car insurance with a home, renters, or condo policy.

Want to know how low your policy can go? Get a real quote or two, or several, with Insurify today.
Stillwater Insurance Overview
Stillwater offers property & casualty insurance with customized policies to fit your needs. Policyholders can take advantage of the many discounts they offer to save money on insurance services.
The company serves all 50 states and is a safe and reliable choice for anyone looking for homeowners insurance.
Stillwater Home Insurance Contact Information
| Department | Contact Information |
| --- | --- |
| Customer service phone number | 1 (855) 712-4092 |
| Claims service phone number | 1 (800) 220-1351 |
| Website | www.stillwaterinsurance.com |
Use Insurify to compare homeowners insurance premiums for your property in your area.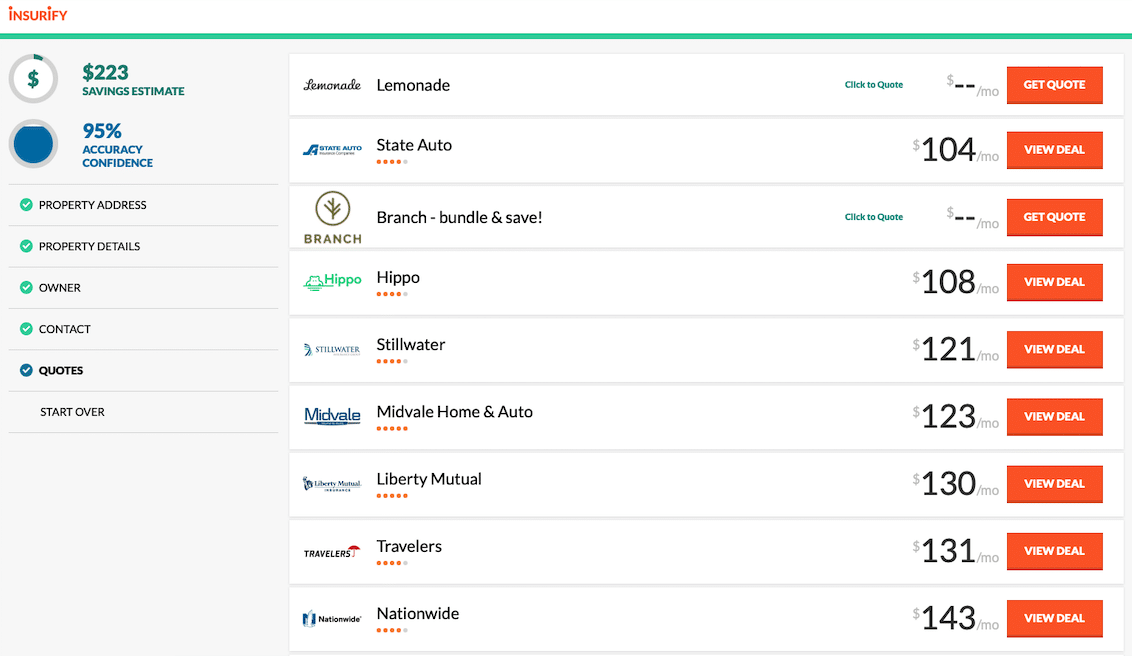 Compare Car Insurance Quotes Instantly
Personalized quotes in 5 minutes or less
No signup required
Data scientists at Insurify analyzed over 40 million auto insurance rates across the United States to compile the car insurance quotes, statistics, and data visualizations displayed on this page. The car insurance data includes coverage analysis and details on drivers' vehicles, driving records, and demographic information. With these insights, Insurify is able to offer drivers insight into how their car insurance premiums are priced by companies.