Is home insurance required.
Technically, no. But for most people, yes. It's complicated, Insurify will explain it all for you.
Before you start shopping for a homeowners insurance policy, you might be wondering: Is this really necessary? Is this kind of insurance coverage required for all homeowners?
The short answer? Yes. But the kind of coverage you need can vary based on a variety of factors. For instance, one's geographical location can make an impact on whether or not you add flood insurance to your policy.
So if you need homeowners insurance, how do you go about finding an insurance company that provides the kind of coverage you need?
Enter Insurify. Insurify helps compare homeowners insurance quotes so that they can get the right coverage at the right price. The property coverage home insurance offers policyholders financial protection for their real estate investment. We've got all the coverage options and information you need to know about.
Homeowners Insurance Requirements
Simply put, there are no laws that require you to purchase homeowners insurance.
That said, mortgage lenders will make you get an insurance policy on your home before approving the loan. After all, a mortgage lender is essentially a part owner in your home—so they'll, of course, want to make sure their investment is protected.
Where you live influences the kind of insurance that's required. For instance, if you're buying a home in Florida, where hurricanes are frequent, you'll probably need flood insurance. That said, flood insurance will also be more expensive in an area that has a high risk of hurricanes. Meanwhile, if you're in an area with a low risk of natural disasters, you might find that hazard insurance is cheaper.
Say you live in an area with a high risk of crime. The chance of a burglar breaking into your home and stealing a valuable item could be high. In that case, your mortgage lender will probably require personal property insurance, which covers all of the personal belongings in your home.
And no matter where you live, you'll want to get personal liability coverage. This protects you in the event of an injury on your property. Say a visitor to your home twists his or her ankle running down the stairs. In that event, their medical bills are covered by liability protection, and you aren't on the hook.
Picking Home Insurance Coverages
The amount of coverage your mortgage company requires can vary. You'll most likely want dwelling coverage that covers the replacement cost of your home. This policy should also include hazard insurance, which keeps you protected in the event of anything from water damage to windstorms to vandalism.
You also might want to consider additional living expenses coverage. This isn't required but can cover hotel expenses and other costs if you're displaced from your home. Your covered losses will include your personal property and the value of your home, accurately documenting the actual cash value of your personal property so that if and when you file a claim, you'll be on the receiving end of an ample and accurate reimbursement.
Compare Car Insurance Quotes Instantly
Personalized quotes in 5 minutes or less
No signup required
Mortgage Lenders and Home Insurance
Homeowners insurance is required because mortgage lenders need to be confident the property in question is protected. If they're worried you won't be able to pay for repairs in the event of property damage, they'll be less inclined to provide you with a loan. Insurance covers everything from dwelling coverage to personal liability, mortgage lenders want to make sure their loans are in good
Opting Out of Home Insurance
If you don't have homeowners insurance, you won't be in trouble with the law…but you might not get approved for the mortgage by your lender. You'll also be in a financially difficult position if you sustain significant property damage.
Tax Deductions on Home Insurance
Homeowners insurance generally isn't tax-deductible. That said, there are a few situations where you might be able to deduct some of the costs of your policy.
For instance, if you run a business out of your home, you can deduct some of your premium. But in general, the IRS does not see homeowners insurance as a tax-deductible cost. However, there are tax deductions and credits available in some states for people who have recently bought a new home.
Shopping for Home Insurance
A lot of factors go into finding the best homeowners insurance coverage for you. Along the way, you might find you want a homeowners policy that includes certain additional coverages. As your dream policy evolves, you might have trouble keeping track of prices and quotes.
Going from website to website and speaking on the phone with different insurance agents can make your head spin.
That's why Insurify puts everything in one place. In one easy-to-use interface, you can compare quotes side by side and find the exact home insurance policy you want.
Paying for Home Insurance
In many cases, your home insurance costs will be included in your mortgage payment. This is convenient because it means you aren't paying two separate bills. Often, this takes the form of an escrow account set up by your lender. There are some tips and tricks to get the best and cheapest rates on your home insurance. By bundling your home insurance with your renters or auto insurance policy, you may be able to save big with the same company. The structure of your home has a huge impact on the rates you're quoted, so it's always worth keeping your home in the best possible condition, otherwise, depreciation may occur and be reflected in your insurance rates. Your credit score, previous insurance claims, and other personal details may also affect your rates.  The ability to pay for home insurance shouldn't be an issue for any policyholder – by comparing home insurance quotes on Inusrify you'll be sure you've found the best rates available to you.
Frequently Asked Questions: Home Insurance Requirements
If you're a renter, you'll want renters insurance. Though not required, renters insurance is a great way to protect the personal belongings you keep in your rental.

If you own your home outright, you don't have to work with a lender. That means you don't have a mortgage company requiring a policy. That said, you still probably want protection to cover your home—especially if this home is a long-term investment that you've spent many years paying off.

There are a lot of great options out there when it comes to home insurance. Along the way, you want to do your research and make sure you're getting a good policy at a good value. The best way to do that is to compare quotes from a variety of insurance companies. Home insurance quotes comparison sites like Insurify are designed to do just that.
Saving Big on Home Insurance: The Bottom Line
If you're taking out a loan to pay for your home, you're going to need homeowners insurance. And on a deeper level, home insurance gives home buyers peace of mind. It helps you remain confident that if something happens to your property, you and your family won't be in financial trouble.
Whether you're looking for a standard homeowners policy or want to buy additional coverage, doing your research is crucial. And the best way to research homeowners insurance quotes side-by-side is with Insurify.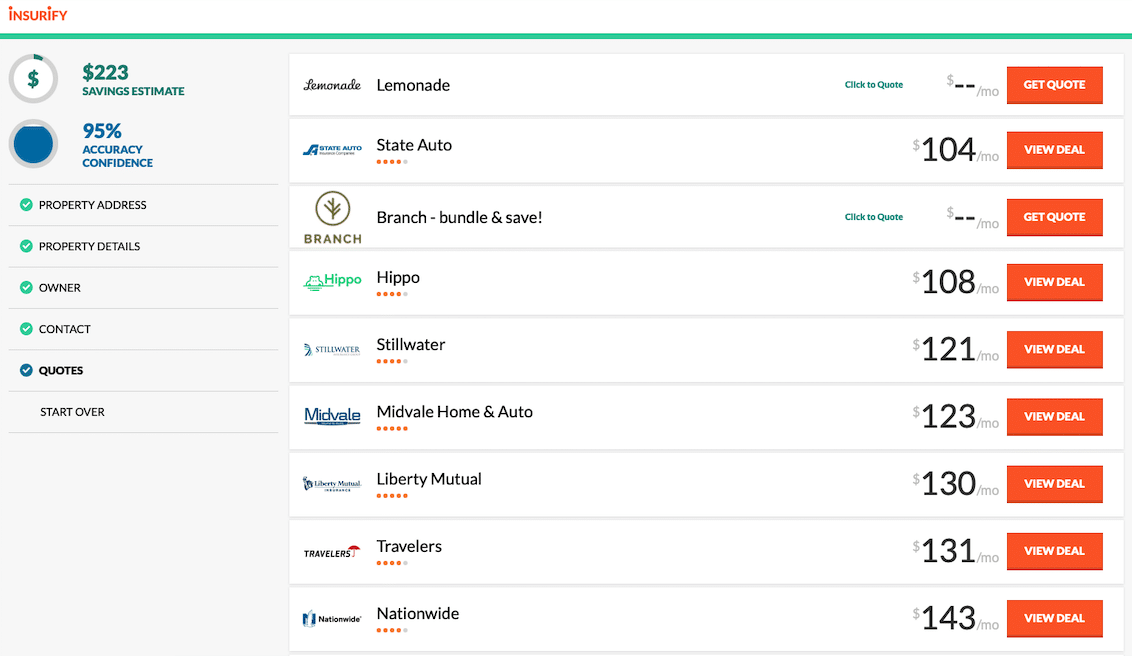 Compare Car Insurance Quotes Instantly
Personalized quotes in 5 minutes or less
No signup required
Data scientists at Insurify analyzed over 40 million auto insurance rates across the United States to compile the car insurance quotes, statistics, and data visualizations displayed on this page. The car insurance data includes coverage analysis and details on drivers' vehicles, driving records, and demographic information. With these insights, Insurify is able to offer drivers insight into how their car insurance premiums are priced by companies.