Whether you're buying your first home or just looking to upgrade, you'll need to start shopping for home insurance. Home insurance protects your investment in your home by covering it against perils like fire and theft.
Still building your new home? No problem. With home insurance, it's better to start shopping sooner rather than later, even if your new home is still under construction.
Start by shopping around for the best prices on insurance. Consider meeting with an insurance agent to figure out your insurance needs and determine how best to meet them. Get the shopping process started with Insurify, which lets you compare homeowners insurance from multiple insurers in just a few minutes.
Here's what you need to know about insuring a new house.
How Much Does It Cost to Insure a New Home?
The good news is that the newer the home, the cheaper it is to insure. Rates climb as homes age, so a new build will be much less expensive to cover.
Why is this? It's because everything on the home is new, and thus covering it involves less of a risk for the insurance company. Newer homes are much less likely to suffer from the problems that older homes tend to have, like poor wiring or roof damage, which the insurer would have to pay out for. Insurance companies are betting that owners of new builds won't need to file property claims for a while unless there's a severe weather event involved.
Start looking for insurance during the early stages of home buying or building. Talk to insurance agents before you sign anything. Talk about what you're about to buy or build, and ask about the coverage that comes with each type of policy. Ask questions like:
Is the land I'm building on insurable?

What type of coverage do I need, and what is a base quote for it?

How will the location of my property affect the cost of my insurance policy?
What Belongs in New Home Insurance?
Your new policy should include several basic types of coverage.
Dwelling coverage: This covers your home and any structures attached to it, like a garage. It includes "covered perils"—a list of disasters that are specifically covered by your policy, like fire, smoke damage, windstorms, hail, and vandalism. It also covers issues related to wiring, plumbing, and your HVAC system.
Other property: This covers structures that aren't attached to your home, like sheds, fences, and detached garages.
Personal property or contents coverage: This part covers property inside the home—everything from your furniture and appliances to clothing and personal electronics. You have a choice to make with this part of your insurance—you can choose replacement cost coverage (which pays to fully replace things that are damaged or stolen) or actual cash value (which reimburses you for whatever the items were worth when they were damaged or stolen).
Home liability: Liability coverage protects you in case visitors are injured on your property. In some cases, it can also protect you against incidents that happen away from your house.
Additional living expenses: If your home becomes uninhabitable (say, after major storm damage) and you have to live somewhere else temporarily, ALE coverage pays for your new living situation.
Compare Car Insurance Quotes Instantly
Personalized quotes in 5 minutes or less
No signup required
How to Insure Homes Under Construction
Still building your dream home? A standard homeowners insurance policy may not cover damages that occur while your home is still under construction.
Talk to your insurance agent about what coverage you need. Construction sites are easy pickings for crimes like vandalism and theft, so your insurance company might require you to buy builders risk insurance (also known as course of construction insurance ) as an add-on to your policy until the construction project is finished. Builders risk insurance covers houses that are under construction or undergoing a major remodel.
There are three key components to builders risk insurance:
The physical structure itself

Building materials

Equipment, both on-site and off-site
Builders risk policies don't cover quite as much as your regular homeowners insurance policy. That's because they're intended to be temporary—they only cover the construction project until it's completed. For example, it doesn't cover:
Liability insurance (though this could be covered if your general contractor carries liability coverage in case of injuries or property damage )

Personal property or home contents

Additional living expenses

Other people's medical payments
When the house is finished, reassess its replacement cost and then update your insurance coverage to a standard policy that will cover the whole thing.
Sometimes general contractors or builders will purchase builders risk insurance on your behalf because they have a better idea of the risks involved and the different materials that need coverage. Go over your contract with your builder and understand who has which insurance obligations, from builders risk to liability and workers' compensation coverage. If you discover any gaps in coverage, talk to your insurance agent about them right away.
Lower Your Home Insurance Costs
Even though insuring a newly built home is relatively cheap, there are still a few things you can do to lower the costs. First, see if there are opportunities to bundle more than one policy with the same company. Bundling discounts (like home insurance with auto insurance, for example) are common, and many insurers offer them.
Next, examine your home insurer 's offerings to see if you can find more discounts. The number and value of discounts vary between companies, and they may or may not be included in your initial quote. If you qualify for a few discounts, they can really add up. Some of the more common ones include:
New home construction or homebuyer

Payments, including paperless billing, pay in full (in which you pay for the entire term upfront), electronic funds transfer (EFT) payments, or automatic payments

Claims-free (not filing claims for a certain amount of time)

Senior homeowners

Upgrading the roof

Installing a home security or fire prevention system

Smoke-free homeowners
Are you comfortable paying a higher deductible if you have a covered loss? If so, this is an easy way to lower your premiums. Another easy thing you can do is to simply understand which incidents are worth filing claims for. It can be hard to find coverage if you have a long history of claims because insurance companies track all property claims in a national database, the Comprehensive Loss Underwriting Exchange (CLUE). A good rule of thumb is that you should file a claim if the repair or replacement costs are higher than your deductible.
Finally, one of the best ways you can avoid overpaying for home insurance is to shop for a new policy on a regular basis. Some insurers are simply more expensive than others, so you may be able to get a better rate somewhere else. Try tools like Insurify to compare prices between insurers.
Frequently Asked Questions
You will need add-ons to your insurance to address things like sewer backup, identity theft, and earthquake protection. These typically aren't included in base policies. Coverage against flood damage requires a separate flood insurance policy.

There are several factors that affect the cost of insurance, some of which are specific to your ZIP code. Local crime rates and your proximity to fire departments and bodies of water are some of the more common things insurers consider.

It can be a good idea to buy title insurance for a new build, even though it may seem unnecessary because a brand-new home has no previous owners. Here's why: the land itself may have had prior owners, so there can still be existing liens on the land. Title insurance also protects you against contractor liens from builders who may not have paid suppliers or subcontractors. Remember, the lender's title insurance only protects the lender. To protect yourself, you need to buy an owner's policy.
Insure Your New Home Right
Home insurance is a crucial purchase when you're buying a home. Understand the needs of your new construction home—from the construction phase to move-in—to make sure it's covered against all possible perils.
Start your homeownership journey with your newly built home the right way by shopping for the best price on homeowners insurance. Trust Insurify, the best home insurance comparison site that lets you compare multiple quotes with just a few minutes of research.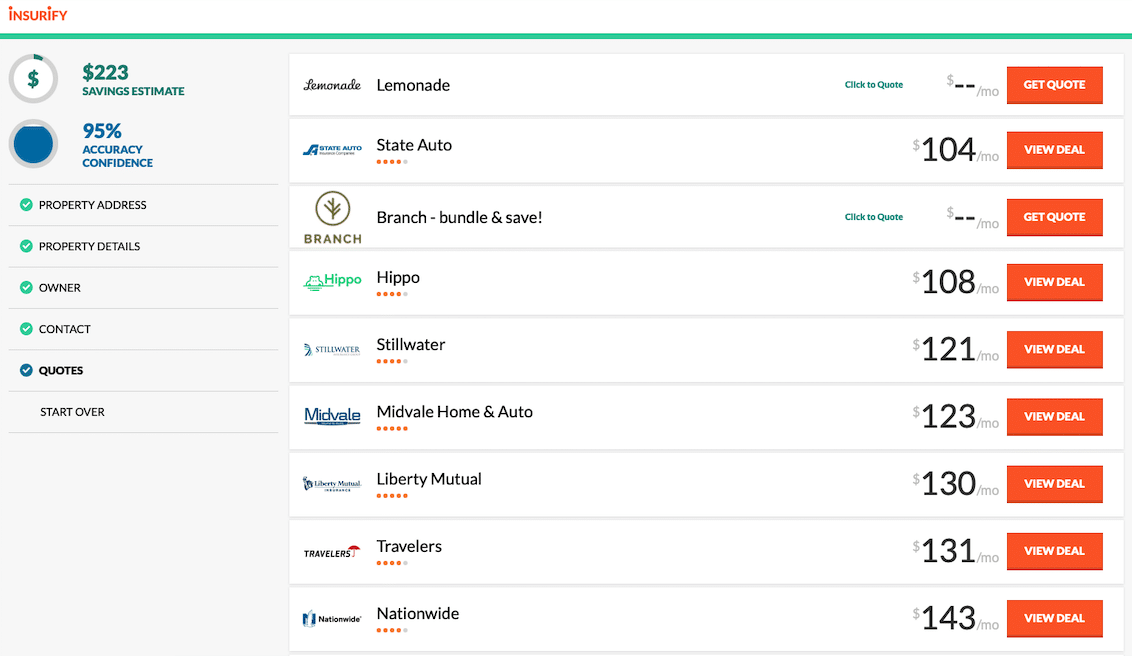 Compare Car Insurance Quotes Instantly
Personalized quotes in 5 minutes or less
No signup required
Data scientists at Insurify analyzed over 40 million auto insurance rates across the United States to compile the car insurance quotes, statistics, and data visualizations displayed on this page. The car insurance data includes coverage analysis and details on drivers' vehicles, driving records, and demographic information. With these insights, Insurify is able to offer drivers insight into how their car insurance premiums are priced by companies.