How are home insurance premiums determined?
Many factors determine your home insurance, but among the top are your ZIP code, type of home, age of home, and weather where you live.
With the average annual homeowners insurance rate coming in around $2,000, it's no surprise that people want to find a way to lower their homeowners insurance premiums. And that's the national average. People in some ZIP codes pay a lot more, while others pay a lot less.
Homeowners insurance isn't federally mandated, but your mortgage company will require that you have a valid policy. Even if you own your home free and clear, you should have a policy because it mitigates risk. It may seem expensive, but over the year, the average annual premium is worth the cost for the coverage amount if you have to file a claim.
When a fire destroys part of your home, your insurance policy pays for some living expenses while your home is being repaired. And liability insurance is invaluable if a friend or neighbor is injured and you need to claim medical payments.
Weather-related claims are the bulk of what homeowners insurance companies pay each year. If you live in New York or Maryland, you might experience weather-related disasters from storms or cold weather. In California, you're at risk for wildfires, and in the middle of the country is Tornado Alley.
Not sure if your current home insurance is right for you? Review your policy, or shop for a new one with Insurify. This easy-to-use tool lets you get quotes from multiple insurers with just a few minutes of research. Find the lowest rate fast and purchase your new policy easily.
Factors That Determine the Cost of Homeowners Insurance
Insurance companies pay out millions of dollars in damages to homeowners every year. To stay in business and offer you financial protection, they use multiple pieces of data to create your premium. No two companies determine rates in the exact same way, which is why you will find that insurance rates vary between insurance companies.
Your home's location
Do you live near a lake or river, putting you at risk for flooding? Are you in an unsafe neighborhood? Are you far out in the country, away from a fire department? Each of these locations poses some risk, which gets weighed carefully by the insurance company.
Your home's age
Nothing lasts forever, and that's true of houses. Over the years, general wear and tear causes deterioration, which leads to insurance claims when something goes wrong. When a storm causes damage to your home, a 25-year-old roof will likely sustain more damage than a 5-year-old one.
Cost to rebuild your home
When you take out a home insurance policy, you need to choose the type of replacement coverage you want. If you opt for replacement value, in which the insurance company pays for the home to be rebuilt to its current state, you will pay more than if you have a policy that pays the actual cash value of your home and takes depreciation into account.
Coverage limits that you want
Your dwelling coverage limit will be based on whether you want replacement cost or actual cash value coverage. You may also want more liability coverage for maximum protection. Add-ons like loss of use or sewage coverage also bring up the average cost of homeowners insurance.
Risks around your home
Home insurance isn't limited to what happens inside your home, like a kitchen fire or a bathtub flooding and ruining the flooring. Swimming pools, hot tubs, trampolines, and swing sets all pose a certain amount of risk to you as a homeowner. Also, if you have a breed of dog known to be more vicious than others, you will have a higher premium.
See more: High Risk Home Insurance
Distance to the nearest fire station and fire hydrant
The closer you are to a fire station, the faster the first responders will arrive on the scene to put out any fires and get your family to safety. Being close to a fire hydrant means there is enough water available. You may not know this off the top of your head, but you can check Google Maps to determine how far you are from a fire station.
Your past claim history
Insurance companies consider claims you've made with previous insurers for your home and claims filed by the home's prior owners. Even one claim will cause your premium to increase. The good news is, you don't have to accept this rate. You can shop for cheaper insurance and possibly find a policy that's cheaper or offers better coverage.
Your credit score
In all but three states ( Massachusetts, Hawaii, and California ), your credit score will play a part in determining your home insurance premiums. Insurance companies have determined that the higher your credit score is, the less likely you are to file claims. It's not foolproof, but taking steps to increase your credit score is an excellent way to lower your insurance premiums.
See more: Homeowners Insurance for Bad Credit
The local weather
Homes in coastal areas are prone to wind and water damage, but that's not to say that homes further inland aren't. Freezing temperatures can wreak havoc on homes, with pipes freezing and bursting. Hailstorms and tornadoes cause massive amounts of damage in the Midwest each year.
What Does Homeowners Insurance Cost?
Insurance does not come with a one-size-fits-all type of pricing, and home insurance is no exception. Each insurance company has its way of calculating the risk it's taking based on the factors listed above. Insurance companies are for-profit businesses, so you aren't going to get rock-bottom pricing.
Fortunately, it's now easier than ever to shop and find better rates, coverage, or both by using a home insurance comparison site like Insurify.
What's in Your Home Insurance Policy?
There are four main components of a home insurance policy: dwelling coverage, liability coverage, personal property, and other structures.
Dwelling coverage is for your house. It covers damage from things like smoke and fire, wind, hail, and lightning. In many cases, the coverage extends to cover attached spaces that aren't used for full-time living, like attached garages and decks.
Liability coverage protects you, your loved ones, and even your dog (yes, really!) if a guest is hurt on your property. It's used to pay the medical bills of the injured party or your legal bills in the event someone sues you or your pup hurts someone.
Additionally, this protection extends beyond your property. If you accidentally injure someone during your rec league basketball game, or if you're mowing your yard and a rock flies from the grass and shatters your neighbor's window, you can make a claim with your homeowner's insurance to pay for the damage caused.
Personal property coverage insures your belongings. This includes your clothes, furniture, and electronics. More expensive items like jewelry and art are generally not included; for this, you'll need to buy a rider to get more comprehensive coverage.
"Other structures" refers to detached garages, storage sheds, and fencing in the context of home insurance. There is usually some coverage included for these things that may be on your property but are not a part of the actual dwelling.
Why Do Some States Have Lower Home Insurance Premiums?
While your home insurance rates are different from those of your neighbor, they might be consistently cheaper than what your sister in another state pays for insurance on her home that's similar to yours. So what causes a state to have low premiums overall? Fewer weather risks, lower crime rates, and a more rural population are a few reasons.
States with the cheapest home insurance premiums are:
According to the Insurance Information Institute data, claims filed for weather-related damages account for about 90 percent of claims annually . No matter where you live in the United States, there's always some risk due to the unpredictability of natural disasters. Bad storms don't happen every year, but rain, hail, and snow can do a number on the outside of your home over time.
Why Do Some States Have Higher Home Insurance Premiums?
The more expensive states for a homeowners insurance policy include:
You probably noticed that, except for Oklahoma, all of these states have large amounts of coastline. Even if you have an excellent credit score and no claims history, your homeowners insurance rates will be high due to the sheer amount of risk.
The average cost of home insurance in an area is also affected by high crime rates. When there's a history of vandalism and theft in an area, insurance companies have to pay for property damage.
Compare Car Insurance Quotes Instantly
Personalized quotes in 5 minutes or less
No signup required
Saving Money on Home Insurance Coverage
While you may not have complete control over the factors that go into determining your homeowners insurance rates, there are some things you can do to get insurance discounts. And they work for both home and renters insurance.
These are in order of most to least practical because you may not be interested in moving just to save on insurance, but you can start shopping for a new insurance provider. Read through them to see which tips will work best for you.
Compare home insurance rates with other insurance companies
This has never been easier to do than now. You don't have to call up multiple insurance agents and answer their long list of questions over and over again. With online comparison tools like Insurify, it takes just minutes to answer the questions and get customized quotes from multiple insurance companies.
Choose a higher deductible
This is a quick fix that shouldn't take more than a phone call and several minutes. Many people opt for the standard $500 deductible to limit their out-of-pocket costs. However, this means your premiums are higher because if the insurance company does pay out a claim, you pay just $500.
Consider how often you make a claim and what your chances of making one are in the near future. By raising your deductible to $1,000 or even $2,000, you could lower your premium significantly. Just remember to add some extra cash to your emergency fund to cover your deductible so it doesn't cause a financial disaster.
Bundle your home insurance policy with other insurance policies
Bundling your policies together with other insurance products ( auto insurance or life insurance policies) from the same company typically results in a discount. Sometimes, it can be as much as 10 to 15 percent. Of course, companies know that this discourages price shopping, but there's no reason why you cannot switch to another insurance company a year or two later if you find better rates.
Take steps to raise your credit score
Since credit scores are used, in part, to determine your rates in 47 states, it's worth your time to work on improving yours. A perfect credit score of 850 is very rare. Aim for 750, but know that any number above 700 is considered good.
Raising your credit score takes time, but start (or continue) doing these things and watch your score rise.
Pay all bills on time each month. Budgeting your income will help you see how you need to allocate your paychecks so that your bills get paid on time.

Pay off old debts. Consider calling creditors to negotiate a settlement.

Keep your credit utilization low. Don't add more debt if you already have a lot.

Don't close your oldest credit card. The length of your credit history plays a part in your overall score. If you're closing accounts, keep one of the older ones so you don't shorten the length of your borrowing history.
Buy (or rent) in a neighborhood near a fire station
You're not going to move to save $100 a year on your insurance costs, but this is something to consider for future moves. Being in a neighborhood with a low crime rate and near a fire station or hydrant will affect your home insurance rate.
FAQ: Average Home Insurance Costs
Yes, you can generally lower the amount of your premium in several ways. Having a higher deductible will lower your rate since you take on more risk. Another popular way to get a discount is to bundle your homeowners insurance with another insurance policy like auto insurance. Paying your premium annually, rather than monthly, can save you money, too.

Unless you own your home outright, meaning you don't have a mortgage, you need insurance. Most mortgage companies require it as a contingency of the loan. Even if your home is paid for, insurance is a low-cost way to mitigate risk. If you're in an area known for tornadoes, like Kansas, consider insurance essential.

The short answer is yes. It may take you some time to find an insurer who will underwrite a policy for you, and it will cost more. This is where a comparison tool like comes in handy. You can get rates from many companies quickly and conveniently.
Conclusion: Bring Down Your Home Insurance Costs by Comparison-Shopping Today
Now that you know the average home insurance rates and what goes into them, you can determine if your current rate is reasonable or if you could get cheaper rates by looking into other home insurance companies.
It takes just a few minutes to compare home insurance quotes through Insurify's online comparison tool. Try it today to see if you qualify for lower rates on your home.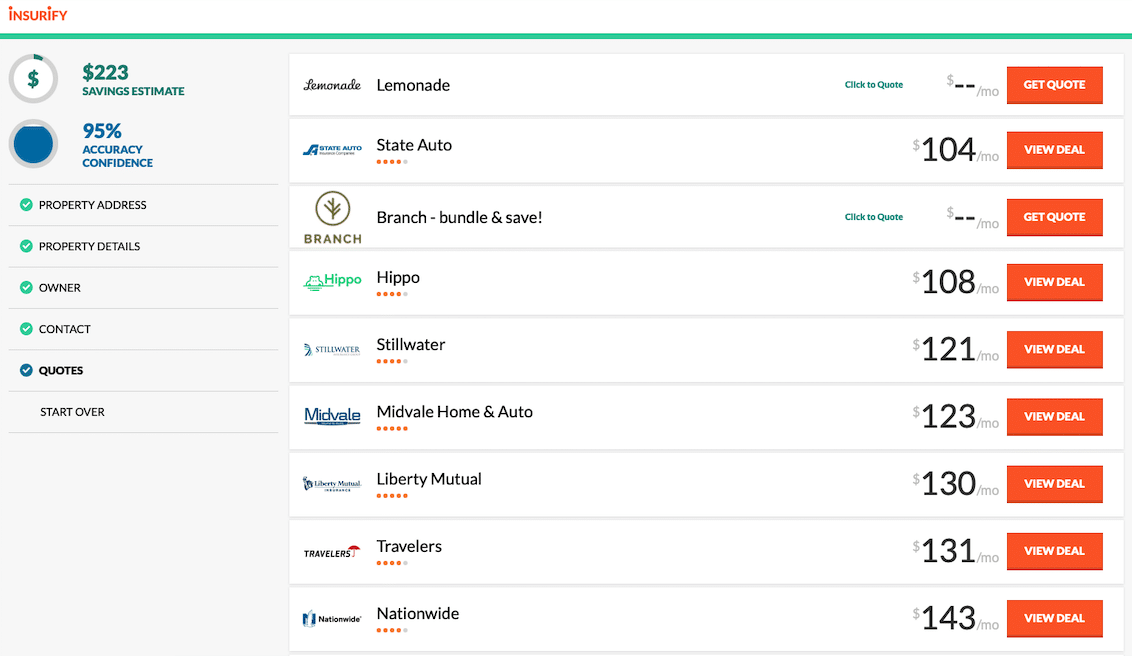 Compare Car Insurance Quotes Instantly
Personalized quotes in 5 minutes or less
No signup required
Data scientists at Insurify analyzed over 40 million auto insurance rates across the United States to compile the car insurance quotes, statistics, and data visualizations displayed on this page. The car insurance data includes coverage analysis and details on drivers' vehicles, driving records, and demographic information. With these insights, Insurify is able to offer drivers insight into how their car insurance premiums are priced by companies.