Should I get flood insurance in Oregon?
Everyone is at risk of a flood, and the potential costs are enormous compared to flood insurance rates—so you should at least consider it.
If you live in Oregon, should you get flood insurance? No matter where you live in Oregon, f rom Klamath Falls to Portland, you should think about getting flood insurance. Only a few inches of rain can cost tens of thousands of dollars in flood damage, and even if you're not in a floodplain or high-risk area, you're still at some flood risk.
Here's what you need to know about Oregon flood insurance.
And no matter where you're getting insurance or what kind, Insurify will help you get the best rate possible for the coverage you need. Try our free quote-comparison tool—it takes only a few minutes.
Do I Need Flood Insurance in Oregon?
Curious about your flood risk? First, head to the Federal Emergency Management Agency ( FEMA )'s Map Service Center (msc. FEMA.gov ) and put in your address. You'll be able to see if you live in a flood zone.
If you happen to live in a Special Flood Hazard Area ( SFHA ) and own your house through a federally backed mortgage, your lender probably requires you to have a flood insurance policy. And if you think you're probably covered because you have renters insurance or homeowners insurance, think again: those policies rarely, if ever, cover flood damage.
But no matter your flood risk, all property owners should seriously consider buying a flood insurance policy. One in five flood insurance claims originates in low- to moderate-risk flood areas. You can contact your insurance agent to see if your insurance company sells flood insurance or go to FEMA.gov.
Oregon Flood Zones
Your city or county government website likely has a floodplain management plan and a set of maps that can help you determine your flood risk. You can also go to the FEMA website and input your address in the Map Service Center to look at a flood map.
If you live in a 100-year floodplain —meaning there's a 1 percent chance each year that your home will be involved in a flood—your property is considered high-risk. The estimate of how high floodwaters will rise during a storm is called the base flood elevation. You can also look at a local flood insurance rate map to get a sense of what rate you'll pay.
What's Covered with Oregon Flood Insurance?
Most flood insurance coverage is offered through the National Flood Insurance Program ( NFIP ), which you can learn about at floodsmart.org. NFIP policies are identical no matter which insurers are selling them, so policyholders don't have to worry about haggling with insurance companies.
With NFIP policies, you can get two types of coverage: Building coverage protects the systems and materials that make up the property, including plumbing and electrical systems, windows, the foundation, etc. Contents coverage protects your belongings from damage from floodwater.
Even if they aren't required to be insured for flooding by a lender, renters in high-risk flood zones should strongly consider purchasing contents coverage on a flood insurance policy because renters insurance policies don't cover flood damage.
If you choose to purchase flood insurance that's not offered by the NFIP, you can take advantage of higher coverage limits. The federal government subsidizes the NFIP and therefore caps coverage limits at $250,000 for building coverage and $100,000 for contents coverage. But private insurers can offer higher limits.
What's Not Covered with Oregon Flood Insurance?
If your bathroom floods or your sink overflows because you leave a faucet on, that's not going to get covered on a flood insurance policy. If you sustain flood damage from an event that doesn't originate from a flood affecting at least two acres of property and several homes, it's not going to be part of your flood insurance coverage.
What's the Cost of Flood Insurance in Oregon?
The average cost of Oregon flood insurance is $912 per year. That's about 25 percent more than the national average. Your flood insurance rate will be lower in a low-risk area and probably higher in a high-risk flood zone.
If you obtain an elevation certificate from FEMA, you could possibly lower your rate. Choosing a high deductible could also lower your annual premium. But that could defeat the purpose of the insurance policy in the first place, so do the math and talk to an insurance agent.
How to Get a Flood Insurance Policy in Oregon
To buy Oregon flood insurance, it's probably best to start at floodsmart.gov to learn about the NFIP. The official websites of FEMA and the NFIP will help you start buying flood insurance.
Most insurers participate in the NFIP and can sell you flood insurance. If you work with an insurance agent already, contact them, and you'll be on your way to flood insurance coverage.
National Flood Insurance Program ( NFIP )
The National Flood Insurance Program is subsidized insurance offered through FEMA. Homeowners who purchase NFIP policies benefit from set rates with policies guaranteed by the federal government. No matter which insurance company is selling you insurance, the rates will be the same based on your home's value and flood risk. Business owners can also get NFIP policies.
Private Flood Insurance
There are alternatives to NFIP policies. Some private insurers sell flood insurance to homeowners and renters. Because flood insurance claims can be very expensive, make sure you are working with a company that can pay out your claim should you ever need to file it.
Frequently Asked Questions
You should definitely think about it. From Portland down to Bend, floods can happen anywhere, and they do. And no other insurance policies cover flooding.

Put in your address at msc.FEMA.gov, and you'll know what your risk is.

Strongly consider it, and maybe reach out to your insurance agent to see what your options are. You can also try floodsmart.gov to learn more.

It's a bit pricier than in other states, but it's subsidized through NFIP, so you'll get the same rates everywhere in the state.
Do You Need Oregon Flood Insurance?
Even if it doesn't get hurricanes, Oregon is a place very much at legitimate risk of flooding. Check out all your options and consider taking advantage of the National Flood Insurance Program.
While you're buying insurance, make sure you compare quotes with Insurify 's free and fast search tool that will give you personalized rates from the leading insurers in the industry. Try it now.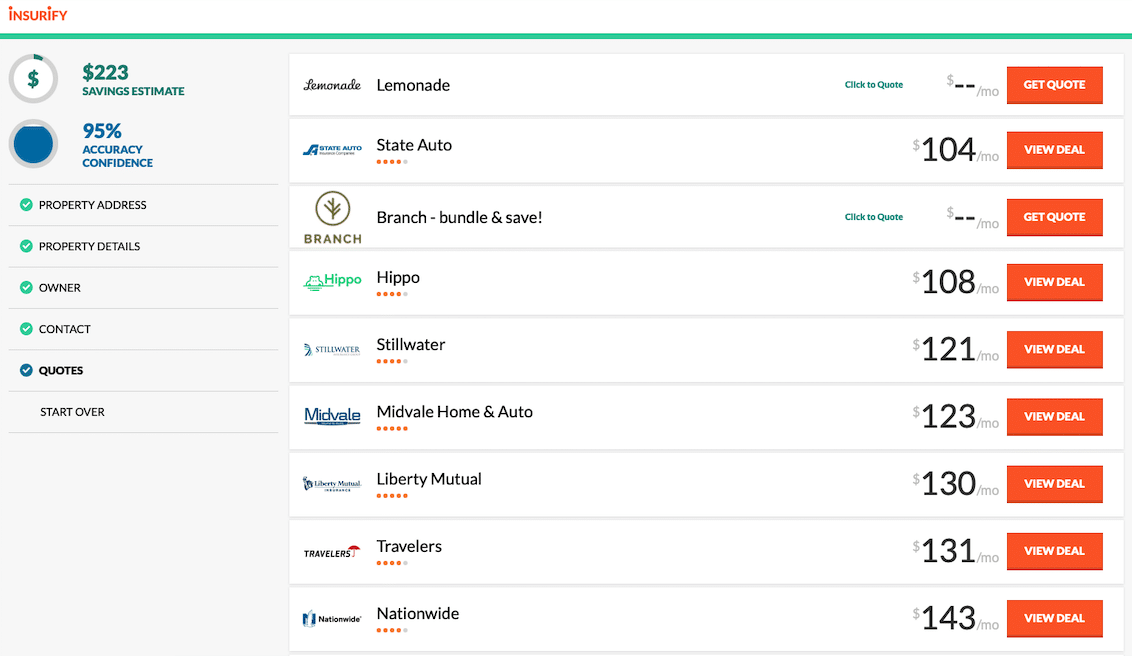 Compare Home Insurance Quotes Instantly
Personalized quotes in 5 minutes or less
No signup required