Should I have flood insurance in Washington?
You should strongly consider purchasing flood coverage, as flooding is the most prevalent natural disaster that Washington state residents face.
In Washington state, the costs of flooding exceed all other natural disasters. So if you're a homeowner or are thinking of buying in Washington, it's time to seriously consider purchasing flood coverage. According to Washington's Department of Ecology, there's an 80 percent chance that at least 10 flood events will occur in any given year in Washington state. Western Washington, in particular, is very prone to flooding, with over 200 miles of waterfront from the Pacific Coast, rivers, and lakes.
Many property owners in Washington—and across the nation—assume that their homeowners policy provides protection from all types of natural disasters, including flooding from storms and hurricanes. However, the typical homeowners insurance policy does not cover flood damage. You need to purchase a separate coverage plan to protect your home and belongings from the risk of floodwaters —especially if you reside in a state with a high flood risk, such as Washington.
In this guide, we'll walk through everything you need to know about purchasing flood insurance in Washington—from requirements and flood zones to policy costs and more.
Before we dive in, keep in mind that while flood insurance is a good idea, it also isn't a replacement for homeowners insurance. Insurify can help you find the best rate possible for any kind of insurance policy you need. Quickly compare policies in your area and find the best coverage option for you.
Do I Need Flood Insurance in Washington?
If you live in Washington, buying a flood insurance policy isn't legally required. But it's a very good idea, considering how prone the state is to floods. For those in the process of applying for a mortgage loan, you may be required by your mortgage lender to purchase and maintain flood coverage if your home is located in a high-risk flood zone.
Western Washington is very prone to flooding and has three distinct flooding hazards: riverine flooding, coastal flooding, and urban flooding. If you live in a high-risk area along the western coast, like Seattle, it is strongly recommended to purchase flood coverage. And even if you live in a rural area that isn't in a high-risk flood zone, you may still want to buy flood insurance, given how prevalent flooding is in the entire state of Washington.
Washington Flood Zones
It's clear that Washington state is prone to flooding, but how do you know what type of flood zone you live in? The Federal Emergency Management Agency ( FEMA ) determines flood zones and uses this information to create and update flood maps.
You can search for flood hazard areas on Washington's Department of Ecology website or use an interactive flood map on the FEMA website.
A program unique to Washington state is the Risk Mapping, Assessment, and Planning (Risk MAP) program. Working alongside FEMA, the program is designed to provide data, risk assessment tools, and mitigation expertise to local communities to reduce risks from natural hazards like floods. The program also provides homeowners with resources for floodplain planning to help you understand how changes to your local flood map can affect flood insurance and how to reduce personal risk.
What Does Washington Flood Insurance Cover?
When you purchase a Washington flood insurance policy, you can get coverage that protects your home, personal property, or a combination of the two. Here's what you need to know about the two main coverages.
Building Coverage
This coverage protects the physical structure of your home:
Foundation, walls, and staircases

Electrical and plumbing systems

Central air and heating

Furnaces and water heaters

Built-in appliances like refrigerators, stoves, and dishwashers

Permanently installed fixtures like cabinets, paneling, and carpeting

Attached and detached garages
Contents Coverage
Clothing and jewelry

Furniture

Electronics

Portable appliances

Artwork, collectibles, and other valuables
It's important to keep in mind that each insurance policy pays out differently and comes with different maximum coverage limits. Certain categories within contents coverage may even have their own maximum coverage limits. For instance, artwork might have a lower coverage limit than furniture does.
Make sure to carefully review your insurance policy and reach out to your insurance agency with any questions you may have. If a particular category doesn't have sufficient coverage for your needs, you can always look into purchasing additional protection.
Compare Car Insurance Quotes Instantly
Personalized quotes in 5 minutes or less
No signup required
What's Not Covered with Washington Flood Insurance?
Like any other insurance policy, there are exceptions regarding coverage for flood insurance.
First, in order to receive coverage from your flood insurance policy, your home needs to sustain damage that meets the definition of a flood. By definition, a flood is an inundation of water in a typically dry area, and it must affect at least two acres of land or several properties. Water damage that doesn't meet that definition of a flood won't be covered. So, if you accidentally leave a sink faucet on or experience plumbing leaks that flood your home, that won't be covered by flood insurance.
If your home does sustain flood damage that meets the definition of a flood, there are some items and expenses that are typically not covered by flood insurance. These include:
Temporary housing and additional living expenses while your home is being repaired or is uninhabitable

Belongings and structures outside of the insured dwelling, like decks, patios, fences, swimming pools, hot tubs, and sheds

Damage to automobiles

Precious metals, stock certificates, currency, or other valuable papers
Remember, this isn't an exhaustive list, and each policy has its own terms. Make sure to carefully read over your policy and ask your insurance agent any questions you may have about coverage gaps.
How Much Does Flood Insurance Cost in Washington?
The average annual cost of flood insurance in Washington state is $937, which is about 28 percent more than the national average. Your flood insurance policy rate will vary depending on several factors, such as:
Whether you live in a low-, moderate-, or high-risk area (usually, the higher the risk, the more expensive the coverage)

Whether you choose a high- or low-deductible plan (high-deductible plans have cheaper premiums, but you pay more out of pocket when you need to make a claim)

Depth of coverage you choose
How to Get a Flood Insurance Policy in Washington State
You can either purchase a flood insurance policy from the NFIP or through a private insurance company. One isn't better than the other—the best choice will depend on your personal needs.
National Flood Insurance Program ( NFIP )
FEMA is a federal government program that offers flood insurance protection through the National Flood Insurance Program ( NFIP ). Although FEMA manages the program, it does not directly sell insurance coverage. If you want to purchase an NFIP policy, you can do so through approved resellers.
Many private insurance companies, like Allstate and USAA, can provide you with an NFIP policy. If you already have homeowners insurance, you can contact your current policy provider to ask about getting an NFIP policy.
Private Flood Insurance
Alternatively, you can purchase flood coverage through a private insurance company. Flood insurance through private insurance companies may be more expensive than NFIP policies, but the upside is that they offer a greater variety of options. If you're looking for higher coverage limits and more coverage options, you may find a great match through a private insurer.
Frequently Asked Questions
Most flood insurance policies have a 30-day waiting period before you can file any claims. The best thing you can do is sign up for flood insurance well before storm season hits or as soon as possible since flooding can occur at any time of the year.

Renters can purchase flood coverage for their personal possessions. Since property owners are responsible for insuring their dwelling, you will only need contents coverage—not building coverage.

All homeowners should consider purchasing flood insurance coverage. Flooding can happen anywhere, and dealing with the aftermath can be incredibly expensive. You can visit www.FloodSmart.gov and www.Fema.gov for more information about flood zones and flood insurance policies.
Is Washington Flood Insurance Worth It?
Given the high risk of flooding in Washington state, purchasing flood insurance protection is a smart idea. Since Washington experiences multiple floods every year, the peace of mind alone can be worth it.
Getting a flood insurance quote is easy. If you have homeowners insurance, you can contact your current provider. If you don't have homeowners insurance or are in the middle of considering a new provider, you can contact nearly any private insurance company to compare NFIP flood insurance policies and private policies in your area.
As you're seeking quotes for flood insurance, when's the last time you compared homeowners insurance rates? With Insurify, you can quickly pull up policies in your area to find the best coverage options at the best rates. Try it today—it only takes a couple of minutes to get started.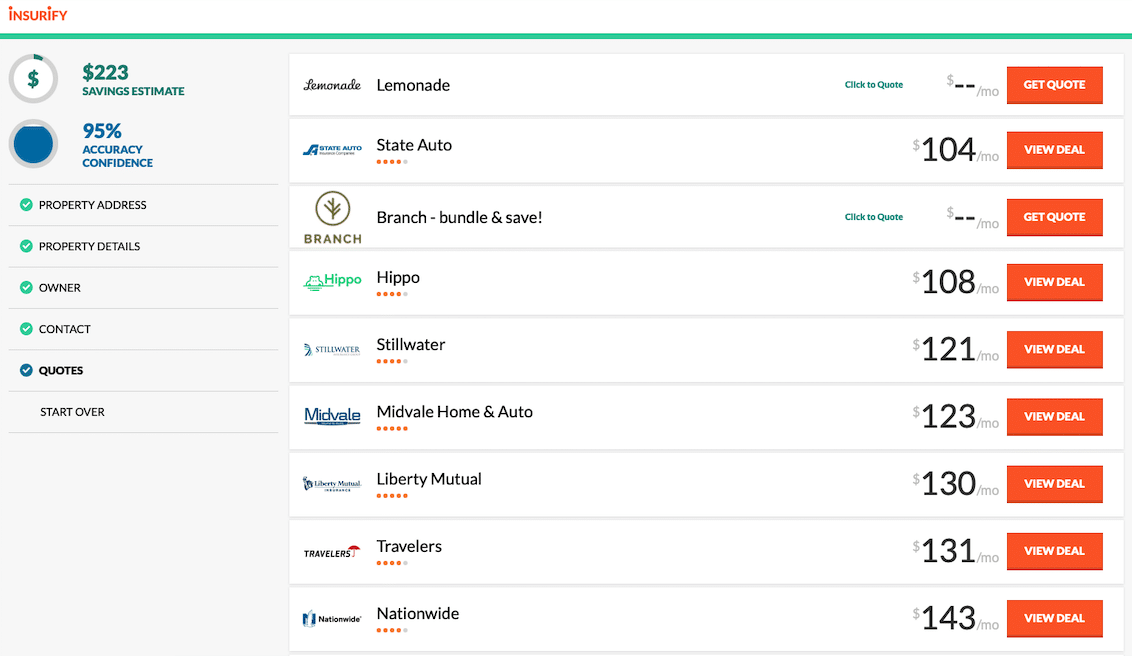 Compare Car Insurance Quotes Instantly
Personalized quotes in 5 minutes or less
No signup required
Data scientists at Insurify analyzed over 40 million auto insurance rates across the United States to compile the car insurance quotes, statistics, and data visualizations displayed on this page. The car insurance data includes coverage analysis and details on drivers' vehicles, driving records, and demographic information. With these insights, Insurify is able to offer drivers insight into how their car insurance premiums are priced by companies.