Do I need flood insurance in Oklahoma?
Oklahoma residents are at risk of flooding no matter where they live, and Oklahoma flood insurance can protect you and your family after disaster strikes.
When thinking of Oklahoma, you're likely to consider tornadoes a bigger threat than flooding. However, Oklahoma is ranked as one of the top states to experience the majority of flooding in the country.
While most homeowners insurance policies cover tornadoes, they will not cover damage caused by flooding. The only insurance that will protect your home and belongings from floodwaters is flood insurance.
Fortunately, Oklahoma flood insurance is inexpensive and easy to get. It makes an excellent addition to homeowners insurance, but it isn't a replacement—shop Insurify to compare rates and get the best and cheapest home insurance in Oklahoma.
Do I Need Flood Insurance in Oklahoma?
Oklahoma has many streams, rivers, lakes, and ponds that are susceptible to flooding. The Oklahoma State Department of Health estimates there are 40,000 streams in the boundaries of the regulatory floodplains. Yet less than 25 percent of those at risk have flood insurance.
You might think you're off the hook if you don't live near water. But consider this: 30 percent of all flood claims are filed by residents in low- to moderate-risk areas, according to the Federal Emergency Management Agency ( FEMA ).
That means that no matter where you live in Oklahoma, you're at risk of flooding. Rather than leave your family and home to chance, get a flood insurance policy. It can protect you and your family after a devastating loss.
Oklahoma Flood Zones
Your designated flood zone is the primary indicator of your flood risk. The Oklahoma Water Resources Board (OWRB) has a floodplain viewer you can use to get a general idea of flood risk in your area.
However, the OWRB encourages residents to contact their local floodplain administrator. You can also view your flood risk using FEMA 's Flood Map Service Center —enter your address to discover your flood zone.
What's Covered with Oklahoma Flood Insurance?
Typical flood policy coverage has two types of protection. One is building coverage. It insures the structure of your home. The other is content coverage, which protects your personal property and belongings.
What your flood insurance covers can vary. Read your policy carefully and contact your insurance provider if you have questions.
Building Coverage
The home and its foundation

Electrical and plumbing systems

Furnaces, water heaters, and central air conditioning equipment

Refrigerators, cooking stoves, and built-in appliances like dishwashers

Permanently installed carpeting
Contents Coverage
Clothing, furniture, and electronic equipment

Curtains

Portable and window air conditioners

Microwaves, washers, and dryers

Carpeting that isn't covered by building coverage
Compare Car Insurance Quotes Instantly
Personalized quotes in 5 minutes or less
No signup required
What's Not Covered with Oklahoma Flood Insurance?
Flood insurance coverage can give you peace of mind. However, policies can have exclusions. For example, flood insurance only covers damage caused by flooding. It will not cover flood damage caused by rain entering through a leaky roof or sewer backup.
Policies also don't include additional living expenses. So, if your home is uninhabitable following flood losses, flood insurance won't help pay for temporary housing or other living costs while home repairs are being done.
Your policy may not cover you for the first 30 days after purchase, either. Unless you're buying a policy at the same time as a newly purchased home, Oklahoma flood insurance typically has a 30-day waiting period before coverage goes into effect.
What's the Cost of Flood Insurance in Oklahoma?
The Oklahoma Insurance Department reports the average monthly cost of flood insurance is $58, or about $700 per year, in Oklahoma.
How much you pay for flood coverage depends on several factors:
The flood zone

The amount and type of coverage you purchase

The policy deductible you choose

The design and age of the house
How to Get a Flood Insurance Policy in Oklahoma
Getting Oklahoma flood insurance is a straightforward process. Most homeowners, property owners, renters, and business owners can get coverage through FEMA 's National Flood Insurance Program ( NFIP ). You also have the option of buying a private policy.
If you can't get flood insurance, contact the Oklahoma Insurance Department at 1 (800) 522-0071 or by submitting an online form.
National Flood Insurance Program ( NFIP )
The NFIP is a federal government program that provides flood insurance to homeowners and renters in the U.S. However, the government doesn't sell policies directly. Instead, it partners with insurance companies throughout the country to offer policies.
Contact your current homeowners or renters insurance provider to ask about adding flood insurance coverage.
Remember that you don't have to live in a high-risk area to need flood coverage. You can buy a policy even if you live in a low-risk or moderate-risk area.
Private Flood Insurance
If you're looking for a flood insurance quote, private flood insurance is another option. You might choose a private policy over one from the NFIP if you want expanded coverage options or higher policy limits.
For example, a standard NFIP flood insurance policy covers your home up to $250,000. A private insurer can offer you a higher limit, which is helpful if you live in a high-value home.
Is Oklahoma Flood Insurance Worth It?
Oklahoma is better known for its tornadoes than its floods. However, flooding poses a serious risk to Oklahoma residents. Standard homeowners insurance doesn't protect against flood losses.
To get peace of mind, buy flood insurance. Contact your home insurance company to ask about adding flood insurance coverage. And if you need homeowners insurance, use Insurify to shop and compare insurance rates from up to a dozen or more providers in minutes.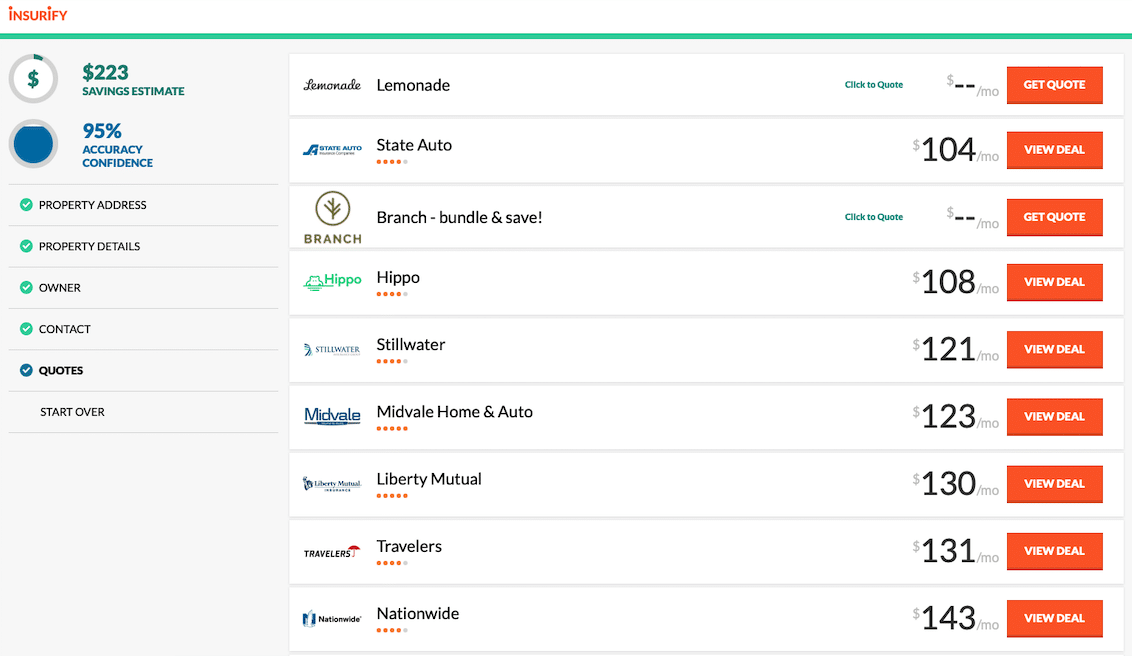 Compare Car Insurance Quotes Instantly
Personalized quotes in 5 minutes or less
No signup required
Data scientists at Insurify analyzed over 40 million auto insurance rates across the United States to compile the car insurance quotes, statistics, and data visualizations displayed on this page. The car insurance data includes coverage analysis and details on drivers' vehicles, driving records, and demographic information. With these insights, Insurify is able to offer drivers insight into how their car insurance premiums are priced by companies.