Flood Insurance in Massachusetts is an important aspect of homeowners insurance.
Here's our guide to the cost of coverage, how it works, and what you can expect.
From the incredible summers and active sports culture to world-famous seafood, there's a lot to love about Massachusetts. But homeowners in the Bay State must be aware of and plan for flooding.
One of the most common natural disasters in the U.S. is flooding, and Massachusetts is no exception. Massachusetts flood insurance can protect you and your family against flood damage.
Massachusetts Flood Insurance: What Homeowners Need to Know
Here's why that's important: standard homeowners policies don't cover damage from floodwater. Don't be caught off guard when disaster strikes. Here's what you need to know about flood insurance in this New England state.
Flood insurance doesn't replace homeowners insurance policies. To get the right amount of coverage for your home, use Insurify to compare rates from a dozen or more homeowners insurance companies to see how much you could save.
When You Need Massachusetts Flood Insurance
As a homeowner, you probably have homeowners insurance to protect your house and property. But that isn't always enough. If floodwaters rise, Massachusetts flood insurance can protect you financially from a loss.
But is flood insurance required? Like most things in life, it depends on your situation.
State law doesn't require you purchase flood insurance. However, you may need to purchase a flood insurance policy if you live in a specific flood zone. Many lenders require it as part of the home loan approval process if the house is in a high-risk area.
The Federal Emergency Management Agency ( FEMA ) determines flood zones. Visit FEMA 's Flood Insurance Rate Maps to locate flood map information about your neighborhood.
Some Massachusetts communities have more restrictive requirements for flood insurance. If you're unsure, check with your local municipality for more information.
Compare Car Insurance Quotes Instantly
Personalized quotes in 5 minutes or less
No signup required
What Does Massachusetts Flood Insurance Cover?
Because standard Massachusetts homeowners insurance doesn't cover flood damage, you may want to purchase a policy even if flood insurance isn't required. Here's why: FEMA reports that nearly a quarter of flood claims are outside of high-risk areas.
No matter where you live in Massachusetts, flood damage could impact you. It's best to understand what's covered—and what's not—before disaster strikes.
Your flood insurance coverage can vary from one policy to the next. It can also depend on whether you purchase a National Flood Insurance Program ( NFIP ) policy or a private flood insurance policy.
Generally, policies are broken into two components: home and building coverage and personal property coverage.
Home and building coverage includes:
Home systems, such as electrical and plumbing

Furnaces and water heaters

Built-in appliances, like refrigerators and ranges

Carpeting and window blinds

Cabinets and bookcases

Foundation and structure, including detached garages
Personal contents coverage includes:
Furniture and electronics

Window treatments and curtains

Washers, dryers, and window air conditioners

Clothing and other personal belongings
What's Not Covered by Flood Insurance
Based on the long list of what flood insurance includes, you might think everything is covered. But policyholders should be aware that flood insurance does not cover:
Swimming pools, fences, decks, and other property outside your home

Cars, trucks, and most self-propelled vehicles

Currency, precious metals, and stock certificates

Personal items kept in the basement
Cost of Flood Insurance in Massachusetts
According to the Massachusetts Division of Insurance (DOI), the average cost of flood insurance is $550 per year. That's for a policy purchased through the NFIP.
However, how much you pay depends on whether your home is in a FEMA -designated high-risk floodplain. The DOI reports homeowners in lower- risk areas can pay premiums as low as $119 per year. But you could also pay significantly higher premiums than the state's average if you're located in a high-risk area.
Where to Buy a Flood Insurance Policy in Massachusetts
Flood insurance policies are available to renters, homeowners, business owners, and commercial property owners in Massachusetts. So, where can you find flood insurance?
Typically, the same person who sells your home or auto insurance will also sell flood insurance. You can choose from roughly 85 insurance companies in more than 20,800 communities throughout the state.
If you don't have a local insurance agent, consider these Massachusetts flood insurance companies to get a quote:
Allstate Insurance Company

Farm Family Casualty

Liberty Mutual

National General Insurance

Privilege Underwriters
You can find more information and view all flood insurance providers in Massachusetts at Floodsmart. gov.
Frequently Asked Questions - Massachusetts Earthquake Insurance
The state of Massachusetts doesn't have a law that requires you to purchase flood insurance. But you may need coverage if you live in a high-risk area. If you're a property owner in a high-risk flood zone as determined by FEMA, your home loan lender may require you to buy flood insurance. You can get a policy from the NFIP or through a private insurance company.

Renters insurance is a great way to protect your personal belongings. Because standard policies don't cover flood damage, you may want to consider buying flood insurance. It isn't generally required but can offer financial protection if flooding is a concern.

The cheapest flood insurance depends on a few factors. Flood risk, type of coverage, policy deductible, and other variables determine how much you pay for flood insurance. Policyholders in low-risk zones often get the cheapest policies because there isn't a substantial risk of flooding. FEMA sets NFIP policy rates. You can compare an NFIP quote to private flood insurance. Contact a local independent insurance agent to see which can save you the most money.
The Bottom Line: Massachusetts Flood Insurance
Standard homeowners and renters insurance doesn't cover water damage from flooding. Because floods can happen outside of high-risk areas, consider purchasing flood insurance to protect your home and belongings.
Massachusetts flood insurance policies are available from the NFIP and through private insurers. Before you commit to a company, make sure you understand what's covered and the policy limits that may be in place.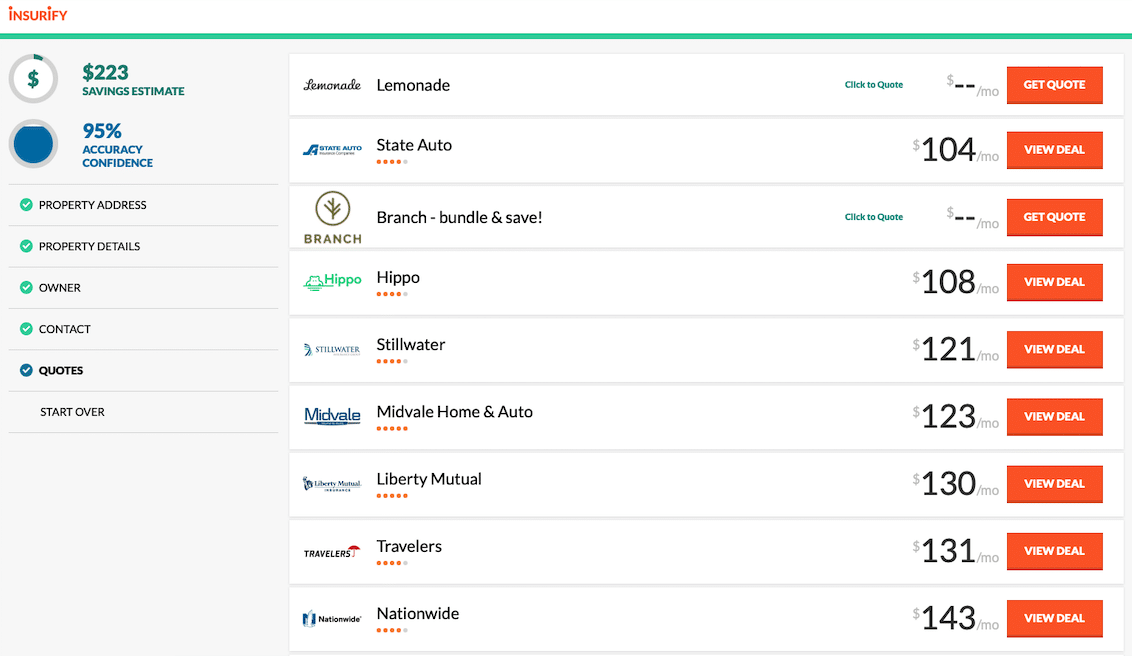 Compare Car Insurance Quotes Instantly
Personalized quotes in 5 minutes or less
No signup required
Data scientists at Insurify analyzed over 40 million auto insurance rates across the United States to compile the car insurance quotes, statistics, and data visualizations displayed on this page. The car insurance data includes coverage analysis and details on drivers' vehicles, driving records, and demographic information. With these insights, Insurify is able to offer drivers insight into how their car insurance premiums are priced by companies.