While loyal to their owners, "man's best friend" isn't always viewed in the same light by insurance companies, especially when it comes to what are considered dangerous breeds. There are certain options for homeowners insurance for dog owners because the majority of pet-related claims come from dog bites and injuries.
These 10 breeds are generally considered dangerous, and even blacklisted, by some insurers:
Pitbull

Bull terrier

Chow chow

German shepherd

Rottweiler

Wolf hybrid

Doberman pinscher

Presa Canario

Staffordshire terrier

Akita
What can you do if you have, or will be getting, one of these dog breeds? You can undoubtedly get a homeowners or renters insurance policy with a dog. Just be prepared to spend a little more time and money finding a policy that gives you and your pets enough liability coverage.
Why Homes with Pit Bulls Are Expensive to Insure
Data from the Insurance Information Institute shows that there were nearly 17,000 dog bite claims in 2020. Statistics from Dog Bite Law show that although pit bulls account for less than six percent of the dog population in the U.S., they cause nearly two-thirds of the dog-related injuries.
The average cost for these dog bite claims, which include medical bills and property damage, is just over $50,000 per incident. Insurance companies have policies to mitigate the financial risk they take on when deciding to underwrite policies for dog owners. This is done by either having dog breed restrictions and charging dog owners higher premiums.
It's not just physical injuries that dogs cause. They are capable of doing property damage to your neighbors' homes or vehicles and even the cars of your guests. Since your homeowners liability insurance covers you away from home, a good policy will cover your hound when you're at the park or out for your daily walk.
Some companies blacklist certain dog breeds altogether to avoid the added liability that comes with dog ownership. Others may offer other insurance options like having special dog liability riders but exclude the dog from your homeowner's policy. You need to search around for a policy that meets your needs and protects everyone in your family, pup included!
How to Find Homeowners Insurance with a Pit Bull
First, check with your current homeowners insurance company to learn their policies regarding dogs. It's essential to know your city, county, and state laws regarding dog ownership and insurance.
For example, Michigan and Pennsylvania have laws that protect dog owners. Insurance companies are not allowed to cancel or deny coverage in some existing policies. In Ohio, owners of dangerous dog breeds must carry an extra $100,000 in liability coverage.
Some insurance companies will take the temperament of your pet into consideration. You must raise and train your pit bull well to lower your liability. You should discourage roughhousing since pit bulls are strong and energetic. Use these to your advantage: engage your dog in daily games of catch and go for long walks twice a day.
Socialization is also vital for all dogs, but especially dog breeds more prone to aggressiveness toward others. Your pit bull should be able to be around both unfamiliar people and dogs and behave well. It's never too late to start, and if you do not see progress, hire a trainer. A good one can work miracles with your dog.
Expect your insurance company to send a representative to your home to evaluate your dog, even the ones that do underwrite policies for all dog breeds. This is normal, and you can use it as your opportunity to show how gentle and loveable your dog is.
It might be easier than you think to get insurance quotes from insurance carriers who accept dogs of all breeds. But if they won't cover your dog, you have some options:
Ask if they offer canine liability insurance. Some companies will not cover your pit bull as part of your homeowners policy but do offer add-on policies that give policyholders coverage specifically for their canine.

Consider an umbrella insurance policy. Whether or not your policy covers your dog, an umbrella policy gives you extra protection. Read the policy carefully, and ask questions to ensure that your dog is covered.

Check with your network. You probably know someone or have a Facebook friend who knows someone who is a fellow pit bull owner and will tell you which company their homeowners insurance is through.

Bundle your insurance policies. When you use the same insurer for your home and car insurance, they generally offer a discount.

Get a home insurance policy elsewhere. There are insurance companies that will cover your pit bull. At most, you'll need to do a bit of sleuthing to find them and compare policies. Insurify makes it easy to find homeowners insurance that covers pet ownership.
Money-saving tip: Even if you can stay with your current provider, shopping around for rates with Insurify might save you money or give you access to a better policy, especially when it comes to your pup.
Compare Car Insurance Quotes Instantly
Personalized quotes in 5 minutes or less
No signup required
Tips to Lower Your Homeowners Insurance Costs with a Pit Bull
When it comes to an insurance company deciding their coverage policy for dogs, they go by the facts. Although you can't imagine that your adorable dog would ever hurt a fly, the stats show that insurance liability claims for dogs are high.
Get your dog certified as a canine good citizen. This program from the American Kennel Club tests your pup's manners in 10 different skill areas. Successful completion of this program may help you get better rates on your insurance coverage.

Purchase a separate dog liability policy. This stand-alone policy gives you extra liability protection.

Shop around for homeowners insurance rates. It's the 21st century, and you no longer need to be loyal to your insurance agent or a specific company. You might be surprised at the results if you spend a few minutes searching for a dog-friendly home insurance policy. The Insurify comparison tool makes finding insurance a breeze.
While it's uncommon to have a pit bull as a service dog, some insurance companies that do not usually cover this breed will make an exception. The caveat is that your dog must have the proper documents showing he or she does indeed fulfill this role.
FAQ: Home Insurance and Pit Bulls
Yes, you need to disclose, and you shouldn't lie about your pet. There are insurance companies that will underwrite homeowners insurance policies for pit bull owners. The worst-case scenario is that you have to find a new insurance company.

Yes, you can find renters insurance policies with a pit bull, but expect to do a bit of sleuthing to find the right company. But before you look for a policy, be sure that your landlord is on board with your pets. Some rental properties have restrictions on dog breeds.

Keep searching! Some insurance companies are known for insuring pit bulls and other hard-to-insure dog breeds. Allstate, Farmers, Nationwide, USAA, and State Farm are a few. Using an online tool like Insurify will help you find a new insurance provider in just minutes.
The Bottom Line: You Can Find Insurance Companies That Will Cover Your Pit Bull
While it might seem disappointing to find that your current homeowners insurance company won't cover your new pet, don't despair. You can find a policy that will offer the liability coverage you need.
You should never go without homeowners or renters insurance just because it's hard to find coverage for your dog. A single claim, even if it's not related to your pet at all, could ruin your finances for years to come. Try the Insurify comparison tool to search for better home insurance today.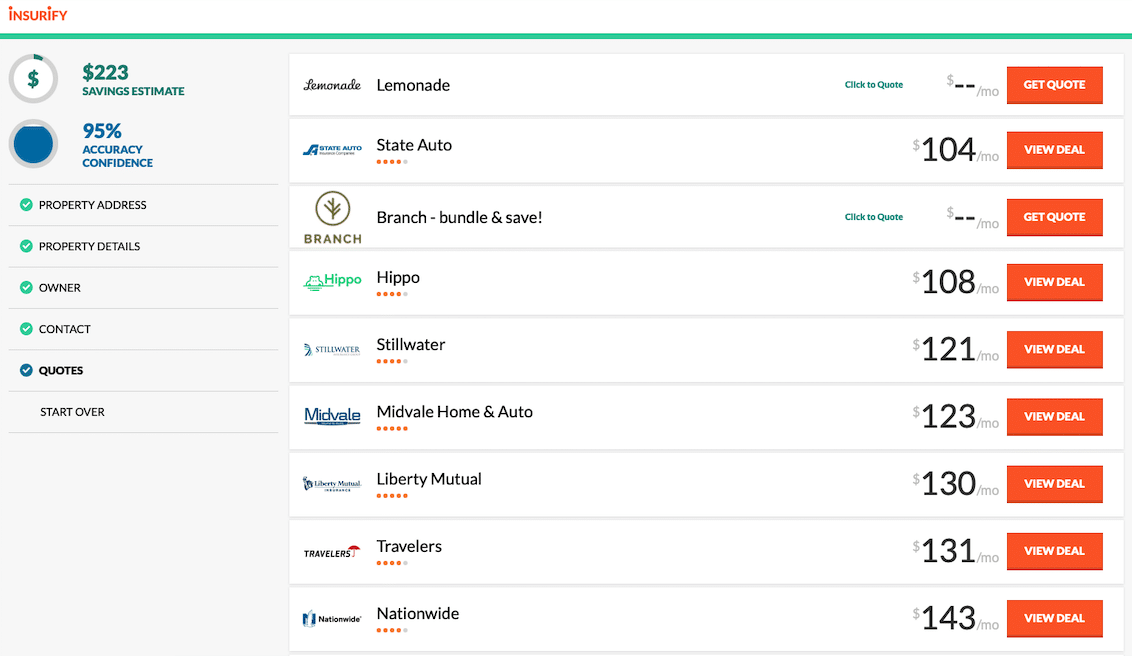 Compare Car Insurance Quotes Instantly
Personalized quotes in 5 minutes or less
No signup required
Data scientists at Insurify analyzed over 40 million auto insurance rates across the United States to compile the car insurance quotes, statistics, and data visualizations displayed on this page. The car insurance data includes coverage analysis and details on drivers' vehicles, driving records, and demographic information. With these insights, Insurify is able to offer drivers insight into how their car insurance premiums are priced by companies.