Buying a house is tedious. Between interest rates, tax credits, and down payment assistance, there's plenty to think about. And being a first-time homebuyer? That's even more stressful. One misstep could cause you to miss out on your dream home.
The process is easier when you know the dos and don'ts of buying a home. Instead of learning as you go, you can use this guide we put together for first-time homebuyers. We'll outline what to do and what not to do when figuring out how to buy a house for the first time.
Once you purchase a home, you'll need insurance to protect your investment. Use Insurify to compare rates and find the best homeowners insurance policy for your new home.
6 Dos for First-Time Homebuyers
Advanced preparation can make all the difference in the home buying process. Here's what to do to ensure your finances are in order and find the right professionals to represent your best interests.
1. Know Your Credit Score
Lenders look at your credit score to determine whether you're financially prepared to buy a home. Before you look at houses, check your credit history to know where you stand. Lenders set their own credit score requirements to qualify for home loans, and they're less likely to approve you if you have a low credit score.
To give you an idea, most mortgage lenders look for a credit score of at least 640. FHA loans allow you to purchase a house with a credit score as low as 500. However, the FHA program requires a down payment of at least 10 percent if your score is below 580.
A higher credit score can qualify you for better mortgage programs and lower interest rates, reducing the overall cost of homeownership. To improve your score, focus on:
Making payments on time

Paying down debt balances

Not applying for new lines of credit

Disputing negative marks on your credit report
If you have an existing credit card, asking for a higher credit limit could improve your debt utilization ratio and increase your credit score.
2. Use a Home Loan Calculator
After you get your credit score in order, your next step is to determine how much house you can afford. A home loan calculator can show you how much your mortgage payments might be and estimate your home loan's total cost.
It's best to find a mortgage calculator that will factor property taxes and insurance costs into your monthly payment. Many real estate listings include a history of property tax amounts for prior years. For home insurance, get multiple home insurance quotes to find the best policy for your new home.
Before you purchase a house, it's essential to determine the amount of money to save for a down payment. A home loan calculator can help you see the impact a larger down payment can have on your house payment.
When you put more money down, lenders can offer a low interest rate. A down payment of at least 20 percent can also eliminate the need for private mortgage insurance (PMI). Using a home loan calculator, you can explore different financial scenarios to determine which options are best for you.
3. Find Programs for First-Time Buyers
Buying a first home can feel overwhelming. First-time homebuyer programs can help you overcome significant hurdles that stand between you and homeownership. Local and national programs exist and can offer down payment assistance, a reduced interest rate on your mortgage, and even tax credits to lower your tax bill.
The options can vary from one location to the next. The U.S. Department of Housing and Urban Development (HUD) lists local assistance programs by state to make it easy for buyers to find help. You may discover closing cost assistance and homebuyer education programs. On a national level, several loan and assistance programs are available.
Here are some of the most useful local and national options to consider when searching for a first home:
FHA loan: Helpful if you have a low credit score or need a low down payment

VA loan: Service members and veterans can buy a home with no money down

USDA loan: Offers no down payment and 100 percent financing on qualifying rural properties

Home renovation loan: Purchase a fixer-upper and remodel it using money from the loan

Good Neighbor Next Door program: Discounts on homes for law enforcement, teachers, firefighters, and emergency medical technicians
Programs are available to help even after you purchase a home. Because of the coronavirus pandemic, the Federal Housing Administration has COVID-19 mortgage help available. If you buy a home and cannot pay your mortgage loan, contact your lender to discuss your options.
4. Look Into a First-Time Homebuyer Credit
Unfortunately, the federal First-time Homebuyer Tax Credit (FHTC) no longer exists. The program was a response to the 2008 housing burst but ended in September 2010. However, some states offer tax credits that you may qualify for.
For instance, Texas has two programs that provide first-time homebuyer grants. Its Homes for Texas Heroes Home Loan Program helps teachers, firefighters, police, correctional officers, veterans, and EMS personnel. At the same time, the Homes Sweet Texas Home Loan Program has assistance for buyers with low and moderate incomes.
Florida also has down payment and closing cost assistance. The state's Mortgage Credit Certificate (MCC) Program can provide an income tax credit of up to 50 percent of the loan amount.
5. Find a Real Estate Agent
A real estate agent isn't a requirement when shopping for a home. However, a real estate agent can guide you through the process. Real estate agents are familiar with the local housing market and can show you what to look for when purchasing a home.
The right agent can make all the difference. They can help you make an offer and negotiate the purchase price. But the best part? Real estate agents don't cost you anything out of pocket. The agent's commission is taken from the listing price, so the seller pays the fee.
6. Read Your Mortgage Disclosures
When you finally make it to closing, your hard work isn't over. One important thing to watch for as a first-time buyer is your mortgage disclosure.
For instance, your Closing Disclosure lists all the details about your loan. Review the document to double-check that the spelling of your name, terms and conditions, interest rate, loan amount, and estimated monthly payment match what you expect.
5 Don'ts for First-Time Homebuyers
Buying a home is a fantastic experience, and it's easy to get swept up in the excitement. However, maintaining a practical mindset is crucial to ensure you don't make a choice you regret.
1. Don't Let Emotions Drive Decisions
Buying a home is a personal experience. You're about to own your first home! Don't get swept up in the thrill and let your emotions drive your decisions. Your home and the terms of your mortgage can stick with you for a long time—usually 15, 20, or 30 years.
Keep an eye on your finances and consider the impact that homeownership will have on your situation and the future. Your household income, credit score, and down payment amount are the most significant factors determining the house you can purchase, not your emotions.
2. Don't Share Your Social Security Number Too Soon
Lenders need your Social Security number to process a full mortgage application. But if you haven't settled on a lender yet, be cautious about who you give that information to.
Once a lender has your Social Security number, they can pull your credit report. You want to protect your credit score when in the market to buy a home, and too many credit inquiries can hurt your credit score.
3. Don't Agree to Anything You Don't Understand
The home buying process will introduce you to terms and phrases you may not be familiar with. Don't let your mortgage loan officer or real estate agent pressure you into a decision if you're not 100 percent confident in what you're agreeing to. Instead, ask your loan officer to explain anything you don't understand.
4. Don't Make Big Changes
When shopping for a home, lenders look for stability to help determine your eligibility for a mortgage. A few red flags they look for include:
Changing jobs

Making a big credit card purchase

Taking out a car loan

Moving large amounts of money around
If you make significant changes six months to a year before purchasing a home, lenders might not ask a lot of questions. However, it would be best if you didn't do any of those things once the seller accepts your offer. Your lender will check your credit report until the last minute, and large purchases could cause your loan application to be denied. You're not in the clear until after you sign papers and are officially a homeowner.
5. Don't Forget to Estimate Closing Costs
Houses can cost a lot of money, even before you get the keys to your new place. Closing costs are one expense you'll encounter while finalizing your mortgage. Even with a down payment assistance program, closing costs can be expensive.
Depending on where you live, the home loan program, and the purchase price, your closing costs can vary. Your closing costs can include fees for:
Home appraisal

Underwriting

Surveys

Title insurance

Home insurance

Origination fee

Mortgage insurance
When calculating the amount you need for a down payment, don't forget to add extra to cover closing costs.
You'll likely have a lot of questions when buying a house for the first time. Here are a few answers to common questions from first-time homeowners.
Compare Car Insurance Quotes Instantly
Personalized quotes in 5 minutes or less
No signup required
First-Time Homebuyer FAQs
There is no set-in-stone amount of money you need to save to buy a house. Depending on the loan program you choose, you might not need a down payment. However, home loans can require a down payment of three percent to 20 percent of the purchase price. The purchase price can depend on where you live. For instance, New York generally has a higher cost of living and higher home prices. You should also have additional cash to pay for closing costs, although you could ask the seller to pay a portion of the closing costs when submitting your offer.

The loan program that's best for you can depend on several factors. Lenders rarely have income limits for you to meet. However, your credit score, savings amount, and military history can push you toward one loan type over another. For instance, FHA loans are excellent for low- to moderate-income buyers, while VA loans have fantastic benefits for service members, veterans, and their families.

How long it takes to buy a house largely depends on how long you shop for a home. According to the National Association of Realtors, once your offer is accepted, sales take an average of 24 days to go through.

The minimum credit score to buy a house depends on the loan program you use. To get a conventional loan, you generally need a score of 660 or higher. An FHA loan can get you into a house with a credit score as low as 500. However, you'll need a 10 percent down payment for an FHA loan if your score is below 580.
Ready to Buy Your First House?
Buying a house is an exciting time, especially for a first-time homeowner. The key to making it a pleasant experience is to prepare in advance. Check your credit report, get your finances in order, and find trusted mortgage and real estate experts to guide you.
And when you find your dream home, Insurify can help you protect your investment by getting you a great rate on home insurance.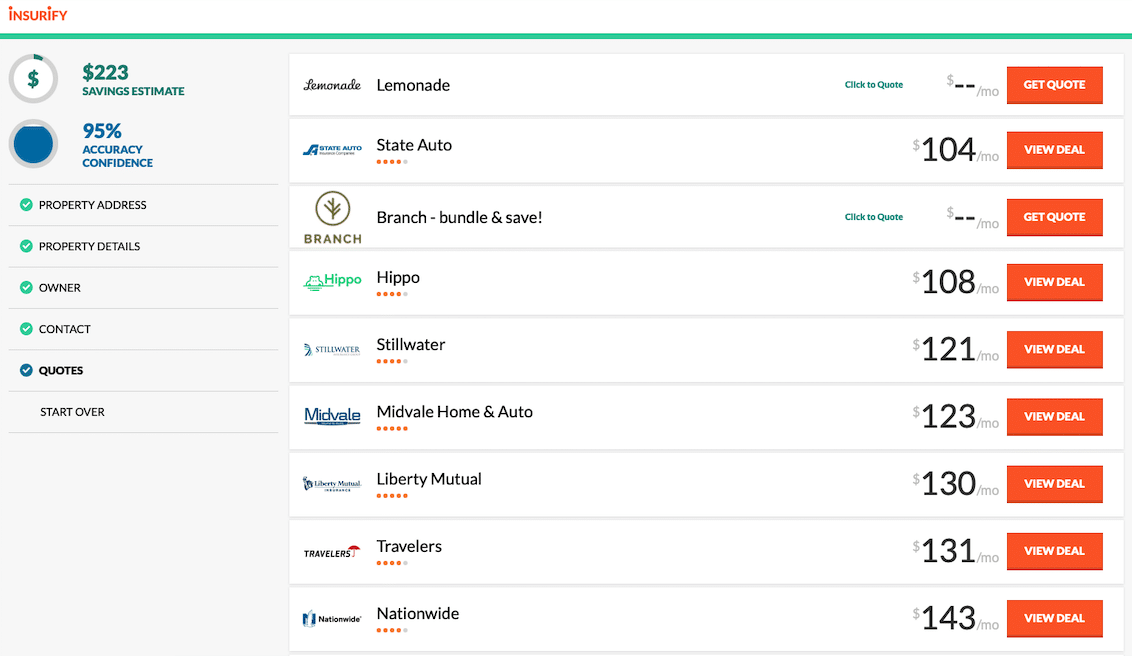 Compare Car Insurance Quotes Instantly
Personalized quotes in 5 minutes or less
No signup required
Data scientists at Insurify analyzed over 40 million auto insurance rates across the United States to compile the car insurance quotes, statistics, and data visualizations displayed on this page. The car insurance data includes coverage analysis and details on drivers' vehicles, driving records, and demographic information. With these insights, Insurify is able to offer drivers insight into how their car insurance premiums are priced by companies.