Do you need condo insurance in New York City?
NYC law doesn't require condo insurance. However, most banks, lenders, and condo associations require condo owners to buy condo insurance.
As a condo owner, you have unique needs. Condo units have shared areas maintained by the community association, such as shared walls, roofs, and common spaces.
You also own property that is part of the building within the unit, like a remodeled bathroom or an upgraded kitchen faucet and fixtures. Plus, your personal belongings—furniture, clothing, and electronics—are at risk if the condo had a fire.
Homeowners insurance doesn't offer the protection you need. And while condos and co-ops are similar, co-op insurance isn't right for you, either.
Instead, condo insurance in New York City is the only policy type that can offer the right protection for condo owners.
Keep reading to find out what it covers, how it protects you, and how to buy the right policy for your condo.
What Is Condo Insurance?
Condo insurance isn't as clear-cut as renters or homeowners insurance policies. That's because condo owners need two different policies to fully protect themselves and their belongings: a master policy and an individual policy.
Master Insurance Coverage
The master insurance policy protects owners from infrastructure losses caused by hazards like a tornado ripping off the roof or a fire burning through the units. It can include:
Condominium building structure

Common areas, both indoor and outdoor

The land the building sits on
How much condo insurance you need depends on the master policy 's coverage. Coverage generally comes in three types:
Bare walls coverage covers structural damage and things behind walls like drywall, plumbing, and wiring. This is the least comprehensive type of policy.

Single entity coverage includes bare walls and the interior structure of your unit, like flooring, cabinets, and light fixtures. It excludes improvements or remodeling you may have done after moving into the unit.

All-in coverage is the most comprehensive master condo policy and covers everything a single entity policy does, plus alterations you made to the unit.
However, you can't count on the master policy to fully protect your investment or personal possessions.
The Master Policy vs. Condo Insurance in NYC
The master insurance policy may not cover the appliances or fixtures inside your unit, and it doesn't cover your personal property at all. That's where the additional coverage of a condo insurance policy comes in.
It protects you from financial losses if a burst pipe ruins your new hardwood floors or someone breaks in and steals property.
When getting an insurance quote, you'll discover that condo insurance is also called an HO-6 policy. It is a specific type of home insurance policy designed for the unique circumstances of condominium units.
It complements the master condo policy and can reimburse you directly for losses.
What Does Condo Insurance Cover?
Coverage options can vary between policies and insurance companies. However, most condo insurance policies cover:
Fire and wind damage

Limited water damage

Theft and vandalism

Improvements and additions within the unit

Damage to other residents' property

Personal liability coverage

Living expenses while your unit undergoes repairs after a covered event (including meals, lodging, and phone bills)
However, even the best homeowners insurance, condo insurance, or renters insurance will not cover floods. Condo owners need a separate flood insurance policy to protect against flood damage.
Check with your insurance agent if you aren't sure what your policy includes.
Compare Car Insurance Quotes Instantly
Personalized quotes in 5 minutes or less
No signup required
How Condo Insurance Protects You in NYC
Most homeowners insurance companies also offer condo insurance. When you're shopping for a policy, your insurance carrier will ask you about different policy components, such as dwelling, personal property, personal liability, and loss of use coverage.
Dwelling Insurance
Like New York home insurance, condo policies are usually one of two types: open perils or named perils. A peril is something that causes damage, like a fire or strong wind.
Open perils policies cover every possible peril except those the policy expressly excludes.

Named perils policies only cover hazards that are spelled out in the policy and nothing else.
Keep in mind that your dwelling protection will include a coverage limit. When you file an insurance claim, your insurance carrier will only pay up to the maximum amount.
Your association's policy can determine how much additional coverage you need. Make sure you have enough to repair or rebuild if disaster strikes.
Personal Property Insurance
Condo insurance reimburses you for losses if your clothing, furniture, and other personal items suffer damage.
Like dwelling coverage, the personal property portion of your policy will have a cap on how much the insurer will pay for an insurance claim. But riders can allow you to cover important possessions against damage or loss.
Using a rider or endorsement can cover valuable items like:
Expensive electronics

Musical instruments

Furs

Antiques and collectibles

Jewelry, precious metals, and stones
Discuss your options with your insurance provider. The last thing you want to happen during a disaster is to discover you don't have enough coverage to replace your belongings.
Liability Insurance
Liability insurance protects you if someone suffers an injury on your property. It can pay for medical and hospital bills for the injured person.
And if they sue you, liability coverage helps pay legal fees and settlement costs.
Similarly, if you damage someone else's property, this can cover the cost of repairing the damage you caused.
Loss of Use
Suppose your condo was damaged by a fire, tornado, or other covered peril. As a condo owner, your home insurance company typically includes loss of use insurance in the policy to help cover your additional costs.
Loss of use coverage, also called additional living expenses (ALE) coverage, helps pay for the difference in cost for you to live somewhere else until the condo is repaired.
How Much Does Condo Insurance Cost?
The average New York homeowners insurance policy for condo owners is $1,291. That's for a policy with coverage of $100,000 or more, according to the National Association of Insurance Commissioners (NAIC).
Many factors can influence homeowners insurance rates for condo dwellers:
Location, age, and type of building

Distance to fire-suppression services or devices

Policy discounts available

Choice of deductibles

Scope and amount of insurance coverage
How much you pay for condo insurance or homeowners insurance in NYC depends on the amount and type of protection you buy. It's also heavily weighted by the value, location, and building in which your condo is located.
It makes sense, right? Consider this: a $1 million condo will cost less to insure than a $10 million condo, and an older building may cost more to insure because of outdated electrical wiring.
One factor you might not think about that affects your average rates is your credit score. Insurance companies and insurance brokers can check your personal credit history before issuing a policy. However, insurers must follow strict New York state guidelines to prevent discrimination.
How to Get Condo Insurance in NYC
Choosing New York City condo insurance does not have to be a painful task. However, you should find the right coverage, not the cheapest.
Consider these steps when deciding how much condo insurance you need.
Step 1: Review the Master Condo Policy
First, review what your community's master condo policy includes. Look for gaps in coverage and find out if it's a bare walls, single entity, or all-in policy.
Make sure your dwelling coverage is enough to pay to rebuild or repair your condo if it's destroyed. Depending on the level of protection, you may need to increase coverages on your condo insurance.
Step 2: Add Up the Value of Your Belongings
How much "stuff" you own is a significant factor in looking for a condo insurance policy. The value of your belongings can determine the level of personal property insurance you need.
For instance, you'll need a higher amount of protection if you have considerable assets located in the condo.
Don't forget to consider the policy type when choosing your coverage. The two most common are actual cash value (ACV) and replacement cost insurance.
Some policies offer ACV as the default option for losses. With ACV, you would receive compensation for the value of the item at the time of loss, minus depreciation.
Typically, actual cash value payments are significantly less than what you paid for the item or what it would cost for you to replace it with a brand-new version.
Alternatively, you can opt for replacement cost coverage for your personal items. For example, suppose your five-year-old television was worth $200 when a fire destroyed it. But a similar television would cost $700 according to current market prices.
In this instance, ACV might pay only $200. But replacement cost insurance could reimburse you $700—the full value of the television, so you won't have to pay out of pocket to replace the item.
Hopefully, you never have to worry about filing a claim. But if the worst should happen, you don't want to fork over cash from your own pocket to replace your items.
Step 3: Consider Your Total Assets
Your condo insurance includes personal liability coverage. It can cover medical payments and lawsuits if someone injures themselves in your home. But what you may not realize is that there is a cap on how much the insurance company will pay.
If someone sues you for more than your policy limit, your personal assets—cash, bank accounts, retirement savings, vehicles, real estate, and more—could be in jeopardy.
Most condo insurance policies include minimal protection. If you have significant assets you want to protect against litigation, buy a higher amount of liability insurance.
You can also consider a separate umbrella policy to increase your coverage even more.
Step 4: Shop Around to Compare Condo Insurance Quotes
Finding the best condo insurance policy isn't rocket science. But there are a few things you should know before getting an insurance quote.
First, every insurer 's price for condo insurance will vary. Some will cost more than others, even for identical coverage.
Policy personalization can also vary between insurers. For example, some may offer more options and higher policy limits than others.
Make sure that the company you choose fits your insurance needs appropriately.
And finally, keep in mind that expensive insurance does not mean it's better.
You can find affordable New York City condo insurance in seconds using an insurance marketplace like Insurify.
Insurify gathers quotes from dozens of insurers so you can compare policies side by side to find the best one for you. It's fast and convenient, so you won't waste an entire day wading through insurance policies.
Step 5: Review Your Condo Insurance Policy Yearly
It is a good idea to review your policy each year, not just when you move.
Maybe you forgot to insure the grand piano you bought last year, or construction and labor prices have gone up. Either way, you may need to increase your coverage limits.
Make a note of your personal property, and be sure it still aligns with the level of coverage you bought.
Likewise, if your net worth increased significantly since purchasing the policy, higher personal and medical liability insurance may be wise.
Frequently Asked Questions
Some lenders require that condo owners buy insurance to fulfill the terms of a loan. The lender may have specific coverage limits and requirements your policy needs. Additionally, your condo association bylaws may mandate that you buy condo insurance. Check with the property management or condo association board to determine the insurance requirements.

Your policy deductible is how much out-of-pocket costs you pay before the insurance begins to cover the loss. Typically, you can decrease the cost of your insurance premium by choosing a higher deductible. By shifting more of the financial responsibility to yourself, the insurer rewards you with lower rates.

Some NYC insurers provide a discount if you reduce hazards in your home. For example, newer, more secure deadbolt locks lessen the chance of someone breaking into your condo. Smoke alarms, sprinkler systems, and security systems may also qualify. Typically, you can also get a discount if you combine auto insurance and condo insurance from the same company.
Condo Insurance NYC: The Bottom Line
Like most things in life, there isn't a one-size-fits-all approach to insurance coverage. The best condo insurance policy will depend on your individual needs, where you live, and what the master policy covers.
New Yorkers are used to a fast-paced lifestyle. But condo insurance is a significant decision. It's OK to take your time to choose a policy you're comfortable with.
Before you sign on the dotted line, make sure you understand what your policy covers—and, more importantly, what it doesn't.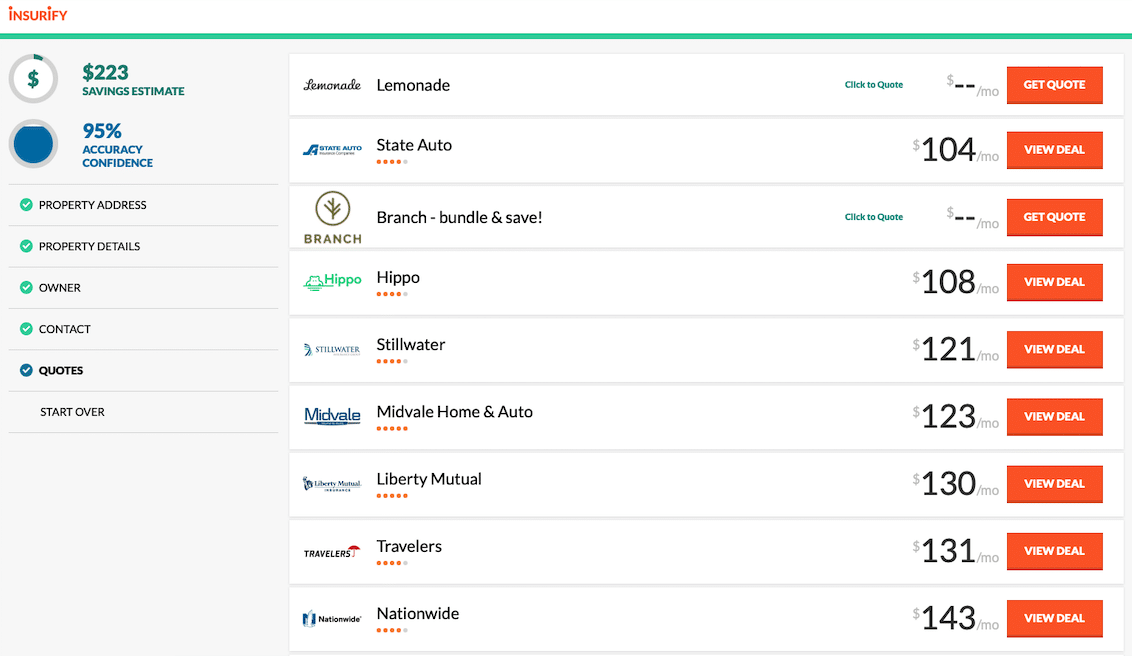 Compare Car Insurance Quotes Instantly
Personalized quotes in 5 minutes or less
No signup required
Data scientists at Insurify analyzed over 40 million auto insurance rates across the United States to compile the car insurance quotes, statistics, and data visualizations displayed on this page. The car insurance data includes coverage analysis and details on drivers' vehicles, driving records, and demographic information. With these insights, Insurify is able to offer drivers insight into how their car insurance premiums are priced by companies.