Do dogs have an effect on home insurance rates?
Owning certain breeds of dogs will result in increases in home insurance rates. The dangers some types of dogs pose to homeowners and their guests, or even their mailman, are some of the risk factors insurance providers consider when making these decisions.
Home insurance can cover your legal expenses if you're found at fault for causing someone's injury or damaging someone's property. This portion of an insurance policy is called liability coverage.
But what happens if your beloved furry friend is responsible for hurting someone or ruining their things? For dog owners, it's good to know that your liability insurance can extend to your dog and make sure you're covered if it were to unexpectedly bite a guest or chew on someone's belongings on your property. Unfortunately, some breeds of dogs are excluded from the list if they're known to be larger or more aggressive dogs.
If your dog breed isn't covered by your home insurance policy, you can protect yourself and your pet by purchasing dog liability insurance. This can be included in an umbrella policy for renters insurance or home insurance. Even if you're the owner of a restricted dog breed, it's important to go the extra step and make sure you're not left paying expensive medical bills for a dog bite.
Insurify has pulled together all the details and information you need to know for the best and most affordable insurance providers and liability policies. This way, you can make sure you're safe from any dog bite claims or other accidents.
For some dog owners, liability coverage is too important to be a burden. Read on to find out which dog breeds are restricted and what you can do to make sure you and Fido are protected after an incident. Having a pet can be a risk, but there are ways to make sure you don't have to pay for it.
Dog Breeds Insurance Companies Won't Cover
Across the United States, dogs are one of the most common pets. With owning an animal comes risk—more than 4.5 million people suffer from dog bites annually, according to the Centers for Disease Control and Prevention ( CDC ). A dog's breed can influence its temperament. For example, it could be easily startled or more inclined to protect its owner. Dog breeds also vary in size and strength. Larger dogs are seen as more likely to hurt someone or cause damage to your property or someone else's belongings, even if it's only an accident or a rare instance.
Sadly, the rest of the world might not love your dog as much as you do. Liability claims, like those for dog bites, tend to be higher for what some people might see as a dangerous dog. To reduce the chances of having to pay for expensive claims, make sure your insurance coverage includes dog liability policies.
Most insurers blacklist these breeds:
pit bulls

German shepherds

Akitas

Alaskan Malamutes

Doberman pinschers

Rottweilers

Presa Canarios

Staffordshire terriers

chow chows

Great Danes

mastiffs

Siberian huskies

cane corsos

Any wolf hybrids
Reasons for Restricting Dog Breeds
Nationwide, home insurance companies mainly get liability claims for injuries and property damage caused by dogs. The rates that companies charge tend to be higher if your dog is more likely to cause damage or a dog bite, and insurers can even deny insuring dogs that are too unpredictable or dangerous.
In addition, your pup may be even higher on the restricted list if it has a history of biting. Not only are these dog owners more at risk for being excluded, but you may need to sign a waiver each time your dog bites someone. If your dog causes damage to your home or personal belongings, you might find that the loss isn't covered by your homeowners insurance. You may not be reimbursed if your dog chews through a piece of furniture or ruins the drywall.
Typically, muscular dogs with thick chests or any type of wolf hybrid breeds are excluded from coverage. Some cities ban certain dog breeds, and if your city restricts your specific type, it may be difficult or even completely impossible to legally own your dog if its breed is banned. Most home insurance companies can choose to decline coverage in the case of a mishap if you willingly choose to adopt or buy a restricted dog breed despite local laws. A homeowners insurance company can even cancel your policy entirely.
Dog owners try to minimize the chance of paying extra on their insurance policy for their dogs by steering clear of insurance claims and accidents. It can help to show your insurer that your dog poses little risk and there's no reason to worry. Homeowners and renters can take steps to avoid dog bites and keep their insurance policies low by:
Keeping your dog on its leash when it's in the yard

Getting your dog vaccinated for rabies to lessen its risk with the CDC

Limiting playing games that get your dog to be more playful or aggressive

Training your dog to return and drop toys willingly so no one has to reach near its mouth

Never leave children alone with your dog

Being cautious and asking visitors or guests to respect your dog's space, especially when it's eating, drinking, or sleeping

Getting your dog comfortable with socializing by introducing it to other humans and dogs in a friendly way

Keeping an eye on your dog and being ready to remove it from situations that may cause tension, nervousness, or aggression.
Compare Car Insurance Quotes Instantly
Personalized quotes in 5 minutes or less
No signup required
Getting Past Dog Restrictions
Look for dog-friendly insurance companies if you want to make sure your pup is covered. You may be able to get a liability policy elsewhere because not all lists of restricted dog breeds are the same. Some providers will cover any and all dog breeds, even if they have a reputation for being more dangerous. Pet liability insurance is also a solution, where dog owners can purchase a specialized policy to cover injury or damage caused by any breed.
If your insurance provider learns that you have a restricted dog breed, the most common consequence is an increased insurance premium. Much of this depends on several factors, though, like which exact breed you have, your particular insurance policies, and where you live.
The biggest risk is owning one of the more commonly known aggressive dog breeds, like a pit bull or wolf hybrid. In this case, you are more likely to have to agree to an exclusion in your policy, Which would mean that your liability insurance will not cover a dog bite. Your insurer might not even agree to offer you homeowners liability coverage at all. The chance of this goes up if your dog has a history of showing signs of aggression.
State Farm can be a good option for dog owners looking for an insurance policy because they do not ask what breed of dog is owned for homeowners or renters insurance. They care more about dog bites and see this as a possibility, regardless of breed. Most landlords do not provide coverage and may not even agree to a lease in the case of a dog bite. State Farm does not exclude coverage based on the dog breed, so it may be a solution for some owners of restricted dog breeds.
USAA also offers policies to dog owners regardless of breed, but it may charge more for owning a restricted dog breed. Underwriting, or taking on an added financial risk for a fee, can increase the cost of your policy if someone files an insurance claim.
Insurify can help you start by comparing multiple insurance companies. Not all insurers restrict the same dog breeds, so if your current insurer won't offer you a home insurance policy based on the breed of your pet, you likely will be able to find another company that will. It is worth it to shop around for the best deal. If you have specific questions, be sure to ask your insurance agent which policy is best for you.
Frequently Asked Questions - Restricted Dog Breeds
Typically, yes. If your dog bites someone and they decide to sue you, the liability portion of your homeowners insurance policy should save you from paying expenses out of pocket. But if you have a restricted breed, you should look into other insurance carriers that specialize in liability for pets to make sure you're covered.

In addition to restrictions on dog breeds, some insurance companies won't cover certain dogs if they're known to have a previous history of biting others or damaging property (yours or others').

Depending on location (as coverage and policies vary state to state) and claims history (if a dog is guilty of previous dog bites), owners of more aggressive dog breeds might have luck with AIG, Chubb, Encompass, Hippo, Safeco, State Auto, and Plymouth Rock.
Restricted Dog Breeds: The Bottom Line
Your furry friend shouldn't stop you from owning or renting your dream home. Most insurance policies will provide liability coverage for you and your pet. But if your dog is on a restricted dog breed list, there are solutions to work around it. Take the necessary steps to keep insurance claims low and research other insurance companies that will cover your pet. Insurify is the place to help you make sure you and your pup are covered.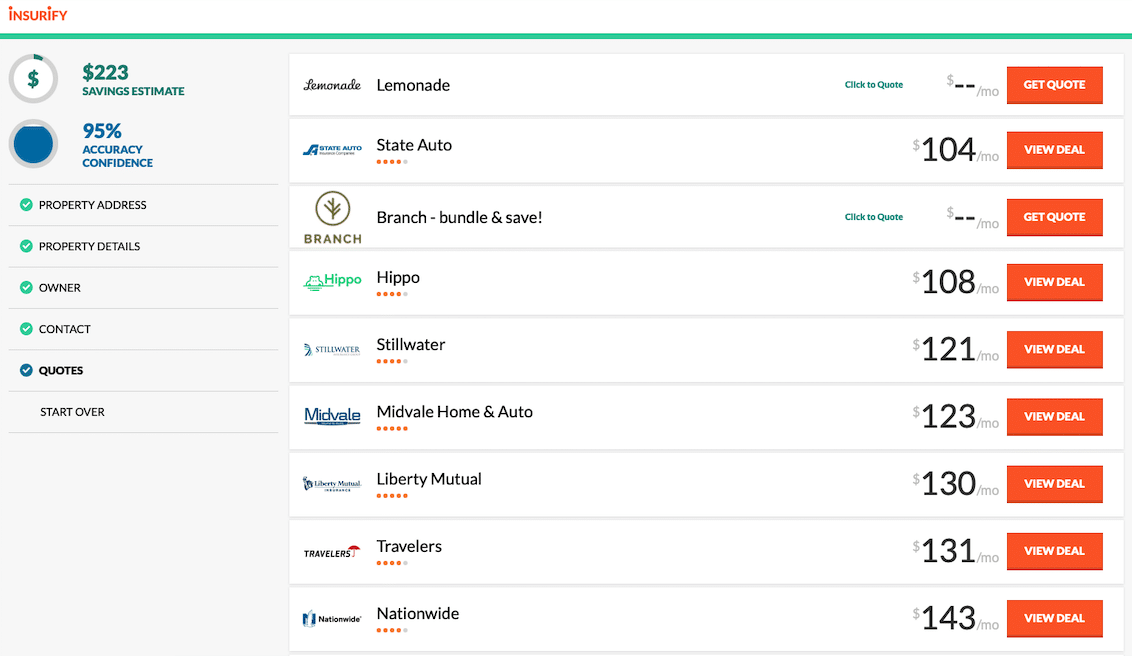 Compare Car Insurance Quotes Instantly
Personalized quotes in 5 minutes or less
No signup required
Data scientists at Insurify analyzed over 40 million auto insurance rates across the United States to compile the car insurance quotes, statistics, and data visualizations displayed on this page. The car insurance data includes coverage analysis and details on drivers' vehicles, driving records, and demographic information. With these insights, Insurify is able to offer drivers insight into how their car insurance premiums are priced by companies.