How much does home insurance cost?
There are many variables homeowners insurance companies take into account before quoting you for a standard home insurance policy. However, some insurers are notoriously more expensive than others. The best way to ensure you're getting the best rate is to compare rates.
Paying for home insurance is one of the many responsibilities of being a homeowner. The cost can be shocking for some, especially as the average home insurance cost continues to rise. Homeowners have seen prices increase as much as 88 percent over 10 years.
As the cost goes up, you may wonder what the average price is or how insurance companies determine how much you pay. The average annual premium can vary by state, coverage type, the home's value, proximity to the nearest fire station, history of prior insurance claims, and even your credit score. Think you might be paying too much for home insurance? Keep reading to find out how your rate compares to the average cost in your state.
Comparison shopping is an essential part of purchasing home insurance. Insurify can help you compare home insurance quotes to get the best price on a policy for your home, whether you're a new homeowner or have had coverage for years.
How Home Insurance Rates Are Set
Insurance companies use several factors to determine home insurance quotes. Typical variables that influence your insurance rate include:
Location

Construction type

Replacement cost

Liability coverage

Dwelling coverage

Credit history

Number of claims

Deductible amount
Your rate can also fluctuate if you operate a home-based business, are married or single, or own a swimming pool, hot tub, or trampoline.
Insurance companies can use various methods to determine the annual premium. For instance, a company may emphasize different factors, causing your rate to vary from one insurer to another. Some companies allow you to bundle your home insurance coverage with your auto insurance, this will often lead to a decrease in both rates as a sort of loyalty discount.
Because rates can change so much, it's smart to shop around before committing to an insurance company.  Comparing the cost of home insurance quotes can help you get the best deal for your needs.
Average Home Insurance Cost Can Vary by Location
Where you live in the United States can have a big impact on the average cost of home insurance. For instance, the average home insurance cost in Texas is different from that of Oregon, Ohio, Florida, or North Carolina.
A lot of it has to do with the risk of damage to your home from natural disasters, proximity to rivers and lakes, and area crime rates. For example, lightning strikes and home fires can occur anywhere, but earthquakes, floods, and hurricanes are common in certain regions.
Why Are Rates So Low in Some Areas?
Because so many factors go into calculating the cost of your homeowners policy, your price could be more (or less!) than someone with a similar house in another area.
For instance, areas with a lower cost of living generally have lower home values, which leads to lower average home insurance costs. States less susceptible to major disasters, such as hurricanes or wildfires, can also have lower rates.
Why Does Home Insurance Cost So Much in Some Areas?
Even the best home insurance companies have high rates in some areas. Expensive states are usually those with larger cities and a higher population density because home values are ordinarily higher. Some states are prone to natural disasters, which can increase rates because homeowners are more likely to file a claim.
Compare Car Insurance Quotes Instantly
Personalized quotes in 5 minutes or less
No signup required
Average Cost of Home Insurance by State
| State | Average Annual Premium |
| --- | --- |
| Alabama | $1,921 |
| Alaska | $1,151 |
| Arizona | $1,355 |
| Arkansas | $1,566 |
| California | $1,160 |
| Colorado | $2,263 |
| Connecticut | $1,130 |
| Delaware | $677 |
| Florida | $3,585 |
| Georgia | $1,533 |
| Hawaii | $892 |
| Idaho | $843 |
| Illinois | $1,284 |
| Indiana | $862 |
| Iowa | $1,351 |
| Kansas | $2,212 |
| Kentucky | $1,462 |
| Louisiana | $3,227 |
| Maine | $760 |
| Maryland | $1,289 |
| Massachusetts | $984 |
| Michigan | $1,035 |
| Minnesota | $1,745 |
| Mississippi | $1,530 |
| Missouri | $1,868 |
| Montana | $1,921 |
| Nebraska | $2,119 |
| Nevada | $908 |
| New Hampshire | $727 |
| New Jersey | $917 |
| New Mexcio | $1,319 |
| New York | $911 |
| North Carolina | $1,101 |
| North Dakota | $1,758 |
| Ohio | $1,148 |
| Oklahoma | $3,249 |
| Oregon | $995 |
| Pennsylvania | $864 |
| Rhode Island | $1,204 |
| South Carolina | $2,026 |
| South Dakota | $1,446 |
| Tennessee | $1,418 |
| Texas | $1,387 |
| Utah | $692 |
| Vermont | $576 |
| Virginia | $1,092 |
| Washington | $731 |
| West Virginia | $1,285 |
| Wisconsin | $1,203 |
| Wyoming | $1,212 |
The average home insurance cost per year depends on where you live. Other factors, such as dwelling coverage limits, the value of your home, and the amount of coverage, can also influence rates. Since there are different risks insurers take on by insuring a home in Hawaii when compared to Oklahoma or Kansas, geographic location can be one of the most important factors of setting insurance rates. Here are some example rates across the country:
Average Homeowners Insurance Annual Premiums
Some states have more incurred losses than others, and that can drive costs up. For example, in 2019, California ranked first in incurred losses with $44,488,554. Compare that to Oregon with $4,356,292 in incurred losses, and it's easy to see why home insurance in California can cost more. Keep in mind, whether you choose to have a higher deductible or a higher premium will impact your monthly rate.
Average Cost of Home Insurance by ZIP Code
The average homeowners insurance cost can vary by more than just which state you live in. Rates can fluctuate from one ZIP code to the next. The difference in price has a lot to do with your home's protection class. Protection class is one-way insurance companies measure risk, and risk is a significant determinant of how much you pay for your policy. The average premium in your neighborhood could be way more or less to your friends down the road.
The Insurance Services Office (ISO) assesses fire-protection services near your home and assigns a protection class value. If you're near a fire department and your city has excellent emergency and public safety policies, the protection class can lower your insurance coverage rates.
How Does Your Rate Compare to the National Average Home Insurance Cost?
According to the National Association of Insurance Commissioners, the average cost of home insurance is $1,211 per year. Don't be surprised if you pay a lot more or less than the national average. Your premium could also differ significantly from your state's average cost of homeowners insurance.
How your rate compares also depends on the coverage you have. A standard homeowners insurance policy will cover personal property loss or damage from natural disasters or theft and personal liability if someone has an accident while on your property. Your policy may also include loss-of-use coverage for additional living expenses if the damage to your home forces you to live somewhere else while it's being repaired.
However, before you commit to a policy, know that three main levels of coverage exist:
The actual cash value covers the cost of the house and your belongings minus depreciation. You're left with a value of how much the items are currently worth, not how much you paid for them.

Replacement cost covers the actual cash value without subtracting depreciation. This allows you to repair or replace up to the original value.

Guaranteed replacement is the highest amount of coverage. It covers the cost of repairing or rebuilding your home and replacing your belongings, even if the amount exceeds your policy limit.
When comparing rates, make sure you're comparing apples to apples. Don't compare the cost of an actual cash value policy to one that's guaranteed replacement. And keep in mind that the best insurance for you isn't always the cheapest. However, finding cheap homeowners insurance rates shouldn't be a burden. With comparison sites like Insurify, you get quotes that are tailor-made for your home.
The average home insurance cost has many variables. However, policies are complex and can leave homeowners with a lot of questions.
Frequently Asked Questions
A typical homeowners insurance policy includes personal property coverage, property damage, and medical payments if someone has an injury from an accident while on your property. Insurers generally include natural disasters; however, most policies don't protect against flooding or earthquakes. If you aren't sure what your policy covers, review your insurance documentation or contact your insurance agent.

If your home is vacant, you must notify your insurance agent right away. Insurers won't usually cover fire, vandalism, theft, liability, or other claims if the property is unoccupied or vacant because it presents a greater insurance risk. For instance, police or fire may have a slower response time. An empty home also has a higher chance of a break-in occurring.

The age of your home affects your annual premiums. If you're in the market to buy a home, purchasing a newer house could lower your insurance cost. Shop around to compare rates at least once a year to see if you can find a better deal and consider a higher deductible on your policy to reduce the cost without sacrificing the quality of your coverage. You could also bundle your home and auto insurance if you own a car. When you get your home and auto insurance from the same company, you could qualify for a bundling discount.

Every year, about five percent of insured homes have a claim. How an insurer treats your claim history depends on the company. Some companies can use your claim history to charge you more. Damage you have no control over, such as natural disasters and weather-related claims, is less likely to hike up the price. However, insurers can increase your cost for water damage, dog bites, and claims for theft.

Home insurance companies use your credit history to determine whether to issue or renew insurance policies. Your credit information also influences your premium amount. If you have an excellent credit history, home insurance companies are more likely to offer you a policy with a lower annual premium cost. You may pay a higher rate if you don't have a credit history. However, a company cannot refuse to offer you a policy if your credit history is nonexistent.
The Bottom Line: How Much Is Home Insurance on Average?
As you can see, the average home insurance cost can fluctuate considerably. Some of the biggest factors include where you live, the age of your home, coverage type, claims history, and whether you take advantage of discounts for bundling your home and auto policies.
When shopping for home insurance, don't base your choice on price alone. Your home is a valuable asset, and you want a responsive insurance company that will resolve and pays your claim quickly if it's destroyed or damaged. Property damage from storms, vandalism from burglars, and other perils are no joke. Protect your greatest investment with sufficient homeowners insurance. And don't forget – when it comes to homeowners insurance premiums "you get what you pay for" doesn't always apply. Pricing insurance policies is a game, you just have to know how to play. You can find incredible rates with just as incredible coverage options by compare quotes before committing.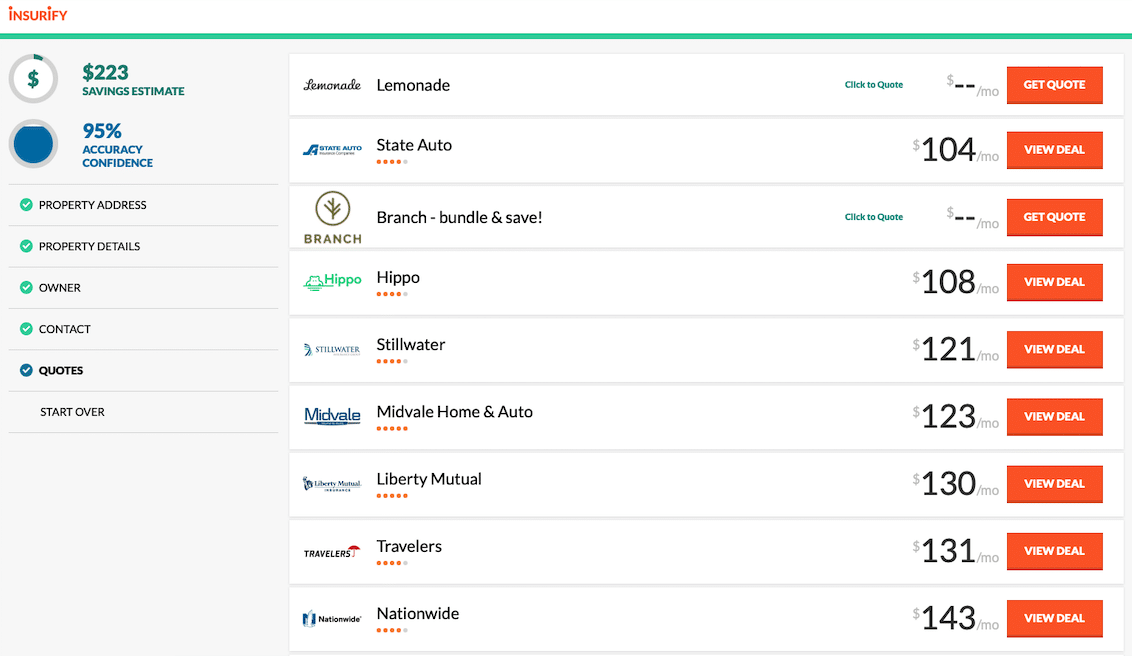 Compare Car Insurance Quotes Instantly
Personalized quotes in 5 minutes or less
No signup required
Data scientists at Insurify analyzed over 40 million auto insurance rates across the United States to compile the car insurance quotes, statistics, and data visualizations displayed on this page. The car insurance data includes coverage analysis and details on drivers' vehicles, driving records, and demographic information. With these insights, Insurify is able to offer drivers insight into how their car insurance premiums are priced by companies.