What is Young Alfred?
Young Alfred is an insurance startup that aims to simplify homeowners insurance shopping by partnering with trusted insurance companies.
Buying homeowners insurance can seem daunting, but the proliferation of online insurance platforms has simplified the process for worried homeowners. Sources like YoungAlfred.com connect customers with top insurers online without all the hassle of calling around to different insurance carriers.
Young Alfred is just one of many options. Insurify is another helpful tool that helps you compare insurance policies side by side so you can find the policy that fits your situation.
How Does Young Alfred Work for Home Insurance?
Young Alfred 's easy-to-use website holds your hand throughout the shopping process, making it easy to get the quotes you need. Begin by putting in some basic information about yourself, the property you need to insure, and the type of insurance you want.
Young Alfred 's tool will then analyze the address of your property to determine what your risks are. For example, this property in eastern Iowa is highly vulnerable to theft and freezing and has a moderate risk level for mold, tornadoes, wind, hail, and rain.
You'll then enter some basic information about yourself, including your birth date, gender, marital status, career status, and the number of people who will be living in the home.
Next, tell Young Alfred about your home. The online shopping tool will want to know the square footage of the home, the year it was built, and details about the construction of your home, such as:
Type of construction and the amount of brick veneer used

Shape and material of the roof

Whether your roof has solar panels

Whether you use a fireplace or other appliances that burn solid material

Distance to the nearest fire station

Location of the nearest fire hydrant and whether it's within 1,000 feet of your property

Primary source of heat

Any updates you've done to the property
The application process is extremely detailed, and it's important to be honest because accurate information leads to accurate insurance quotes. If you're not sure about something, you can save your progress on the application and come back to it later after you've researched your property.
After you finish filling out the personal information, simply submit the application and wait for personalized coverage options to arrive via email. You can easily take action if you see a great price, but there is no obligation to buy.
What Insurance Does Young Alfred Offer?
You can use Young Alfred to gather quotes for several types of insurance, including:
Homeowners insurance

Auto insurance

Bundled home and car insurance

Renters insurance

Pet insurance
You may be able to save money by choosing the bundled option if you need to buy both home and auto insurance.
Compare Car Insurance Quotes Instantly
Personalized quotes in 5 minutes or less
No signup required
Young Alfred Reviews: What You Need to Know
Customer reviews can be a great way to get the real story about an insurance provider. Young Alfred has generally high ratings from customers, who like that the company doesn't bother them with follow-up phone calls or spam them with an excessive number of emails.
Kristy K. gave Young Alfred a 5-Star review. "I loved that I didn't get those annoying phone calls; just an email with options. I'm saving over $100/month with more coverage than my last policy. Thank you!
Young Alfred has 641 reviews on TrustPilot with an average rating of 4.8 out of 5, with quite a few five-star reviews. Customers appreciate the easy application process and the ability to work with an independent insurance agent if you need help.
Young Alfred is also a Better Business Bureau accredited business. It has an A+ rating and average review score of 4.56 out of 5 with the BBB.
More About Young Alfred
Young Alfred was founded in 2016, making it a relative newcomer to the insurance market. Don't underestimate this young insurance agency, though—its powerful insurance-finding tool helps people in all 50 states find the right insurance coverage and save some money doing it. How does the company do this? It forms direct relationships with top insurance companies, which means you get a policy with a real rate directly from an insurance carrier that you can then easily buy online. Young Alfred also doesn't resell your information to insurance companies —instead, it gets a commission from the carrier when you buy a policy.
The company's technology finds the best coverage at the best price by analyzing billions of data points. Young Alfred 's goal is to empower customers with data so that they have all the information they need to make an informed decision.
Frequently Asked Questions
Online reviews indicate that you can expect a turnaround under 48 hours from Young Alfred's quote-shopping platform.

Don't worry about the pricing of Young Alfred's services. It's free to use. When you choose a policy, you'll pay the carrier for it, not Young Alfred.

You shouldn't use Young Alfred if you don't have a lot of information about your house. The application process is extremely detailed, and you need to have extensive information about your home and insurance needs. For best results, gather this information beforehand so there are no delays during the application process.
Is Young Alfred the Right Service For You?
Finding the right insurance carrier is a very important decision for a homeowner, and partnering with the right insurance shopping service is part of that. Find the best insurer by researching all your options and finding a company that can meet your needs both online and over the phone. Agencies like Young Alfred and Insurify can help you compare home insurance rates and find the best policy for your home at the best possible price.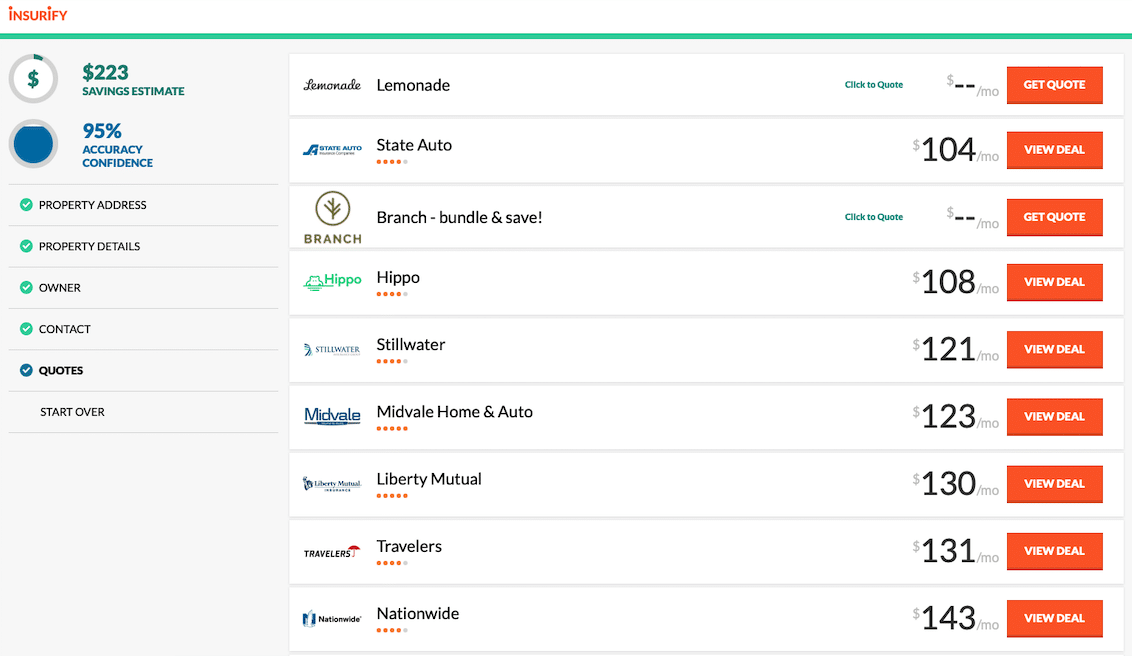 Compare Car Insurance Quotes Instantly
Personalized quotes in 5 minutes or less
No signup required
Data scientists at Insurify analyzed over 40 million auto insurance rates across the United States to compile the car insurance quotes, statistics, and data visualizations displayed on this page. The car insurance data includes coverage analysis and details on drivers' vehicles, driving records, and demographic information. With these insights, Insurify is able to offer drivers insight into how their car insurance premiums are priced by companies.