Your homeowners insurance policy can protect your home and its contents in case of disaster. However, no homeowners policy protects you against every possible threat.
It's important to understand how your particular policy works and what it covers so that you can be sure you're getting the protection you need.
New homeowner? Insurify lets you compare home insurance quotes and save on your policy in minutes! Insuring your home doesn't have to be stressful. Insurify will walk you through everything you need to know about picking the right home insurance policy. Whether you're a condo owner or renter, we've got you covered!
Homeowners Insurance Coverage Categories
A homeowners insurance policy may include as many as five different coverage categories. The basic coverage categories for homeowners insurance are:
Dwelling Protection: This protects the physical structure of your home. Your policy covers financial protection for damage to the structure of your home.

Other Structures: This protects structures on your property that aren't directly attached to your house, such as fences and sheds.

Personal Property: This protects your personal belongings inside your home. Basically, anything inside the house but not attached to it is considered personal property.

Loss of Use: If you can't live in your home temporarily because it's been damaged, this type of coverage will reimburse you for some or all of your relocation expenses (e.g. hotel bills). These generally fall in a category known as Additional living expenses.

Personal Liability: If someone sues you because of damage or injury they suffered on your property, this coverage may help out with related legal and other expenses. Personal liability might also cover the medical payments of someone injured on your property.
Each of the eight different types of homeowners insurance policy forms provides different types of coverage within these five basic categories.
The Basic Forms of Homeowners Insurance Policies
Nearly every type of insurance policy that protects your living space will fall into one of these eight classifications.
Basic Form (HO1)
The simplest and least comprehensive type of homeowners insurance provides coverage for only a handful of potential problems:
Explosions

Lightning

Hail and/or windstorms

Theft

Vandalism

Damage from vehicles

Damage from aircraft

Volcanic eruption (yes, really)
HO1 insurance policies usually only provide dwelling protection. Some insurance companies may allow you to add personal property coverage at an additional cost. Most mortgage lenders don't consider this type of policy to be adequate coverage, so if you've financed your home an HO1 policy is likely not an option.
Broad Form (HO2)
A broad form homeowners insurance policy will cover all the dangers included in basic form coverage, plus:
Falling objects

Weight of ice, snow, or sleet

Freezing of household systems, including HVAC systems

Sudden and accidental damage to pipes and other household systems

Accidental discharge or overflow of water or steam

Sudden and accidental damage from artificially generated electrical current
HO2 policies typically cover both dwelling protection and personal property. In some cases, they may also include personal liability coverage. However, they still only cover the specific damages listed in the policy. For example, these policies cover water damage from steam, but not from floods.
Special Form (HO3)
Special form policies are the most common type of homeowners insurance. HO1 and HO2 policies are examples of "named perils policies." That means they only cover dangers that are specifically listed in the policy. HO3 policies are "open peril policies". That means they'll cover all dangers except those specifically excluded in the policy documents.
Most HO3 policies exclude the following types of damage:
Landslides

Nuclear accidents

Neglect

General wear and tear
Exclusions can vary depending on whether the insurer believes your home is at high risk for certain types of damage. For example, HO3 policies on homes in areas at high risk of wildfires will often have a fire damage exclusion. HO3 policies typically include dwelling protection coverage, other structures coverage, personal property coverage, and liability coverage—many will also include loss of use coverage. However, the personal property coverage is usually limited to a narrower range of perils than the dwelling protection coverage.
Tenant's Form (HO4)
HO4 policies, more commonly known as renters insurance, are for people who rent rather than own their homes. Renters insurance policies typically cover all the same dangers as HO2 policies. These policies include personal property coverage and liability coverage, but don't cover the physical structure of the house. Some HO4 policies may also include loss of use coverage for the tenant.
Comprehensive Form (HO5)
Comprehensive form policies are usually the broadest and provide the highest level of coverage; not surprisingly, they also tend to be the most expensive type of homeowners insurance policies.
The biggest difference between HO3 and HO5 policies is that most HO3 policies are "actual cash value" policies, whereas typically HO5 policies are "replacement cost value" policies. An actual cash value policy will only reimburse you for the actual value of a damaged or destroyed item, while a replacement cost value policy will reimburse you for however much it would cost to completely replace or repair the damaged or destroyed item (up to the coverage limits on the policy). HO5 policies also provide personal property coverage against a wider range of dangers than the typical HO3 policy. Many HO5 policies also have extra coverage for high-value personal property such as jewelry and artwork.
Condo Form (HO6)
Not surprisingly, condo form insurance is for condominium owners. HO6 policies generally protect against the same types of dangers as HO3 policies. They provide dwelling protection coverage with a twist: HO6 policies cover the walls, floors, and ceiling of the condo unit but not the rest of the building. These policies also include personal property and liability coverage and may include loss of use coverage.
HO6 policies also apply to other types of co-op living. Generally, a condo association or HOA will cover property damage in common areas, but will also require unit-owners to hold condo insurance for their units.
Mobile Home Form (HO7)
If you own a mobile home or manufactured home, you likely have an HO7 policy. Mobile home form policies are typically identical to HO3 policies, except they're designed specifically for mobile and manufactured homes. Like HO3 policies, they provide dwelling protection coverage, other structures coverage, personal property coverage, liability coverage, and possibly loss of use coverage as well.
HO7 policies generally only protect the home when it's stationary; if you plan to move your mobile or manufactured home, you'll need to get a special policy to cover it while it's in transit. It's important to remember that mobile home insurance and insurance for RVs are different, so make sure you've selected the right category.
Older Home Form (HO8)
Older homes have generally been built to less stringent code standards than recently built homes, and so insurers have designed a specialized type of homeowners insurance policy for them. HO8 policies often only cover the basic perils listed in HO1 policies and generally apply to homes that are registered landmarks or otherwise deemed historic homes. Owners of registered landmarks are typically forbidden from updating HVAC, electrical and other parts of the home to enable them to qualify for a standard HO3 policy, so an HO8 policy is often the only option for them.
Compare Car Insurance Quotes Instantly
Personalized quotes in 5 minutes or less
No signup required
Additional Coverage Options
As you can see, certain hazards are excluded from all eight types of homeowners insurance policies—floods and earthquakes being two of the most common. However, if you want to get coverage for a commonly excluded hazard, you can purchase a separate policy for that purpose.
If you want flood insurance, you can get a policy from the government's National Flood Insurance Program. A few private insurance companies also sell flood insurance; a public insurance policy is usually the cheapest option, but if you want coverage that goes above and beyond what the National Flood Insurance Program will offer, private insurance is likely your best bet.
You can purchase earthquake insurance through many private insurance providers. Be aware that while earthquake insurance premiums are typically low, these policies usually set a deductible of 10% to 20% of your coverage limit. In other words, if you had a dwelling coverage limit of $200,000 and you filed a claim for earthquake damage, the insurer would require you to cover the first $20,000 to $40,000 in damages.
Understanding the 8 Types of Homeowners Insurance - Frequently Asked Questions
For standard home insurance policies, it can be rather intuitive knowing which form to pick. For instance, if you own a mobile home, you'll opt for HO4, if you live in a condo, HO6, or if you're a renter, HO4. It can get trickier when it comes to picking between basic, broad, and special form policies. Insurify's agents can help you narrow down your picks to make sure you've chosen the right type.

Unlike auto insurance, homeowners insurance is not mandated by law. However, most mortgage lenders will require proof of home insurance prior to signing your loan. Besides, even if your mortgage lender did not require it, insurance can help homeowners have peace of mind knowing they're covered in case of emergency. Insurance doesn't have to break the bank – compare quotes on insurify.com to ensure you've found the best rate for the best coverage.

No. Well, most of the time, no. Acts of God like volcanic eruptions, hurricanes, and other catastrophes require their own special coverage that is generally not included in standard home insurance policies.

If you live in a flood zone, you'll want to add on supplemental flood insurance, or fire insurance in wildfire-prone areas. Standard insurance is an excellent first step to protection, but add-on products can help you level-up your insurance game.
Choosing the Right Homeowners Insurance Policy For You
With eight possible options to choose from, picking the right type of homeowners insurance policy might seem like a daunting task. However, since most of these policies are specialized, you really only have a few options at most. If you own a manufactured home or a condominium, for example, then you'll want to stick with the type of homeowners policy that's designed for those particular sorts of homes.
Owners of traditional-style homes have the most options to choose from, but remember that it's not the type of policy that matters— it's the type of coverage it provides. Before you choose your homeowners insurance policy, decide what types of dangers you want to be covered in the policy, how much of a deductible you're comfortable with, whether you're willing to settle for actual cash value or you insist on replacement cost value, and how high you want to set your coverage limit. Picking a sufficient amount of coverage and sufficient policy limits will result in ample reimbursement after claims are filed.
Then, use Insurify to find the best home insurance providers that meet your requirements. It doesn't matter if the homeowners policy you choose is an HO3 or an HO5, as long as it provides the coverage you need at a cost you can afford.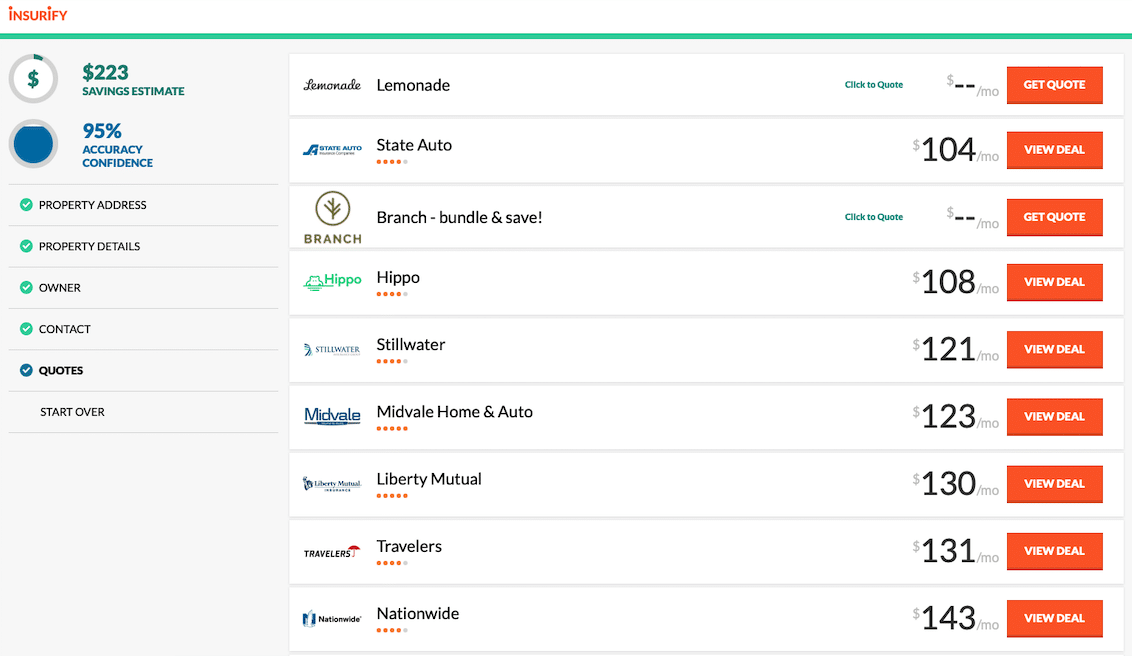 Compare Car Insurance Quotes Instantly
Personalized quotes in 5 minutes or less
No signup required
Data scientists at Insurify analyzed over 40 million auto insurance rates across the United States to compile the car insurance quotes, statistics, and data visualizations displayed on this page. The car insurance data includes coverage analysis and details on drivers' vehicles, driving records, and demographic information. With these insights, Insurify is able to offer drivers insight into how their car insurance premiums are priced by companies.