Tower Hill homeowners insurance could be your future home insurance company.
Every homeowner has unique needs when it comes to their insurance policy. Insurify can help you decide if this is the right insurance company for you.
If you're looking for Florida home insurance, you've probably come across Tower Hill Insurance Group. But if your search for a Tower Hill home insurance policy left you with more questions than clarity, you've come to the right place.
Founded in 1972 as Mobile Home Insurance Associates, Tower Hill Insurance Group ( THIG ) is one of the largest insurance companies in Florida and is headquartered in Gainesville. THIG consists of four Tower Hill subsidiaries
Tower Hill Prime Insurance

Tower Hill Preferred Insurance

Tower Hill Select Insurance (merged with Omega Insurance in 2020)

Tower Hill Signature Insurance
All provide insurance coverage to over two million individuals and businesses in 17 states and counting.
Whether you're seeking a reliable home insurance company or trying to find the best company for multiple insurance products, Insurify can help you compare insurance providers, policies, and premiums. Use Insurify's comparison tools to get quick quotes and see whether Tower Hill home insurance rates are on par with other providers. And keep reading for a full guide on Tower Hill home insurance.
Tower Hill Home Insurance Coverages
Tower Hill insures homeowners and business owners across the country through a network of independent insurance agents. It primarily offers coverage options for homeowners, high-value homes, mobile homes, landlords, renters, and condominiums but also provides commercial insurance, dwelling fire, and private flood coverage.
Only Florida homeowners can purchase standard Tower Hill home and renters insurance policies. Tower Hill only issues out-of-state homeowners policies for high-value homes. Tower Hill commercial property policies are available in Alabama, Florida, South Carolina, and Texas.
Florida homeowners considering Tower Hill insurance can expect their policy to include:
Dwelling Coverage
This is your basic property insurance in case of vandalism, theft, and natural disasters like windstorms. Tower Hill recommends purchasing enough coverage to pay for rebuilding your home as well as debris removal and any costs to keep your home on par with updated building codes.
Other Structures Coverage
If you have a garage, pool, fence, or additional structures on your property, other structures coverage makes sure your policy pays for these losses, too.
Personal Possessions
Home insurance doesn't just protect your home, and a Tower Hill home insurance policy covers your personal property, too. Talk to your local agent to see if you need additional coverage to properly protect expensive belongings like jewelry or furs.
Personal Liability
Tower Hill home insurance will always include liability coverage. This protects your family in case someone is injured on your property and seeks legal action.
Loss of Use
Most Tower Hill home insurance policies include loss of use, or additional living expenses, coverage. This can help pay for your family's costs of living (like an extended hotel stay) in case a covered storm leaves your home unlivable.
Basic Tower Hill homeowners insurance comes with actual cash value coverage, but policyholders can opt for replacement cost coverage for a higher premium. While most homeowners policies include other protections, like medical payments coverage, Tower Hill doesn't explicitly say its standard policies include this coverage. Tower Hill's website directs customers to contact a local agent for more information on policy specifics.
Optional Coverages for Your Tower Hill Home Insurance Policy
Home insurance policies are made to be customized. In other words, you're probably going to need more coverage than the standard policy provides. Tower Hill's additional coverage options include:
Flood Insurance
Flood insurance is one of the most important additional coverages for Florida homeowners. No home insurance policy will pay for damages caused by flooding, and while many Floridians qualify for flood insurance through the National Flood Insurance Program, homeowners in low-risk areas might be eligible for cheaper premiums with Tower Hill's private flood coverage than with the NFIP.
Personal Injury
Similar to personal liability coverage, personal injury can help offset legal expenses in case of false arrest, wrongful eviction, and slander.
Water Backup
If water backs up from your sewer or sump pump, repairing your home is going to cost you. Since homeowners policies don't include water backup as a covered loss, the extra coverage will be well worth the cost.
Personal Articles Endorsement
This additional coverage option allows policyholders to list specific items that need to be insured. Any items you choose to list on your policy need to be appraised, but the endorsement has no deductible, and certain items like jewelry are covered regardless of whether they're damaged, lost, or stolen.
Emerald Endorsement
Tower Hill's emerald endorsement enhances your basic homeowners policy with comprehensive coverage. This endorsement includes "over 15 optional coverages," according to Tower Hill's endorsement explainer video. These include replacement cost coverage, higher personal property limits, water backup, identity theft coverage, and more.
Tower Hill doesn't disclose much information about the company's home insurance coverage and additional coverage options on its website. The only way to find out more about your specific Tower Hill home insurance options is to speak with a local independent insurance agent.
Compare Car Insurance Quotes Instantly
Personalized quotes in 5 minutes or less
No signup required
Available Discounts
Tower Hill doesn't discuss specific discount options on its website, other than the company's recently launched discount for homeowners who bundle their Tower Hill home insurance with a SafeCo auto insurance policy.
Talk to a local agent for more information about Tower Hill home insurance discount options and rates.
Claims Process
Need to file an insurance claim? The good news is that you can do so online or over the phone. For a claim (non-flood) on your residential property or a flood claim with Lloyd's, you can go to www.THIG.com/report or call 1 (800) 342-3407. If you have a flood claim with Tower Hill Prime – Wright Flood, you should go to www.THIG.com/wright or call 1 (800) 820-3242.
Once you submit your claim, you'll be assigned an adjuster. The adjuster will examine the damage and determine your payout (minus your deductible.
Tower Hill Home Insurance Reviews: Customer Satisfaction
A.M. Best Rating: B++

Better Business Bureau Rating: A+

NAIC Complaint Ratio: 28.35
AM Best reduced Tower Hill's financial strength rating from A- to B++ (which still indicates good financial standing) in December 2020, citing the company's recent difficulty managing increasing volumes of "challenging claims."
The rating service recognized that Tower Hill has been working to fix these claims and underwriting complications through "rate increases, more aggressive agency management, refinement of underwriting schemes, and more selective risk criteria." But ultimately, the company's "underwriting performance has not yet stabilized."
Potential customers may face higher rates with Tower Hill than with other insurers until the company addresses these issues.
Tower Hill home insurance reviews show that the company's responsiveness leaves customers wanting more.
BBB customer reviews rate Tower Hill 3.36 out of 5 stars. This, paired with high NAIC complaint ratios (the industry average is 1) for all three Tower Hill companies, reflects policyholders ' frustrations with the insurance provider.
The number one reason for customers' NAIC complaints was claims handling. Customers and even a contractor who worked on Tower Hill policyholders ' homes also left complaints with BBB regarding Tower Hill's latency in paying out covered claims.
Some long-term customers voiced concern when Tower Hill unexpectedly canceled their policies or issued notices of nonrenewal.
Still, the company resolved many complaints that customers brought to BBB 's attention, especially cases regarding claims payments.
While Tower Hill home insurance reviews largely indicate customer dissatisfaction, some customers continue to be impressed and pleased with the company's insurance coverage and customer service.
Severe weather caused over $60 billion in damages globally in 2020, and more than 80 percent of these damages occurred in the U.S. Floridians alone were struck with 30 named storms, 13 hurricanes, and six major hurricanes in 2020, according to the Tampa Bay Times, and it seems Tower Hill has found itself in a slump following the record-setting year. But with 49 years of experience in the insurance industry, Tower Hill has the expertise and financial strength to recover after periods of stress.
Frequently Asked Questions - Tower Hill Homeowners Insurance
Yes, Tower Hill offers free quotes on its website. Remember, comparing insurance quotes with multiple insurers can help you get the best coverage with the lowest insurance premiums.

Tower Hill doesn't offer auto insurance coverage, but the insurance agency recently began offering discounts for policyholders who bundle their homeowners policies with a SafeCo car insurance policy.

Omega Insurance Company is currently part of THIG, but this wasn't always the case. Omega Insurance Company started partnering with Tower Hill in 1987, when Tower Hill was still Mobile Home Insurance Associates, but continued underwriting policies as Omega Insurance. In June 2020, Omega, along with two Tower Hill subsidiaries—Tower Hill Select and Tower Hill Signature—consolidated under the Tower Hill Signature name.

In order to purchase Tower Hill home insurance, you need to work with an independent insurance agent, who will help find you the best policy and additional coverages. Because of this, Tower Hill provides your insurance coverage and handles billing, but your local agent can more easily manage other aspects of your policy as well as any policy changes you may need.
The Best Way to Save on Home Insurance
The best way to save on insurance is to compare rates. Insurify's comparison tools could save you hundreds on your annual home insurance premiums. You can also compare car insurance and life insurance products quickly and confidentially. Your information is never sold to third-party groups, and you control which companies you speak to about a policy. Plus the tool is free to use and there's no obligation to buy. Try it now!
Tower Hill Insurance Overview
Tower Hill has the experience and network of affiliates to provide Florida homeowners with exceptional home insurance coverage. The company's current financial and customer service standings show that Tower Hill took a hit in recent years but is working its way back to normalcy. Before diving headfirst into a Tower Hill home insurance policy, use Insurify's comparison tools to make sure you're getting the perfect policy and rate for you with a home insurance company you can trust.
Tower Hill Home Insurance Contact Information
| Department | Contact |
| --- | --- |
| Phone number | 1 (352) 332-8800 |
| Claims | 1 (800) 342-3407 |
| Website | www.thig.com |
Use Insurify to compare free quotes for homeowners insurance premiums for your property in your area. It's like having an insurance agency at your fingertips, without annoying sales calls. When you're ready, we're here to help.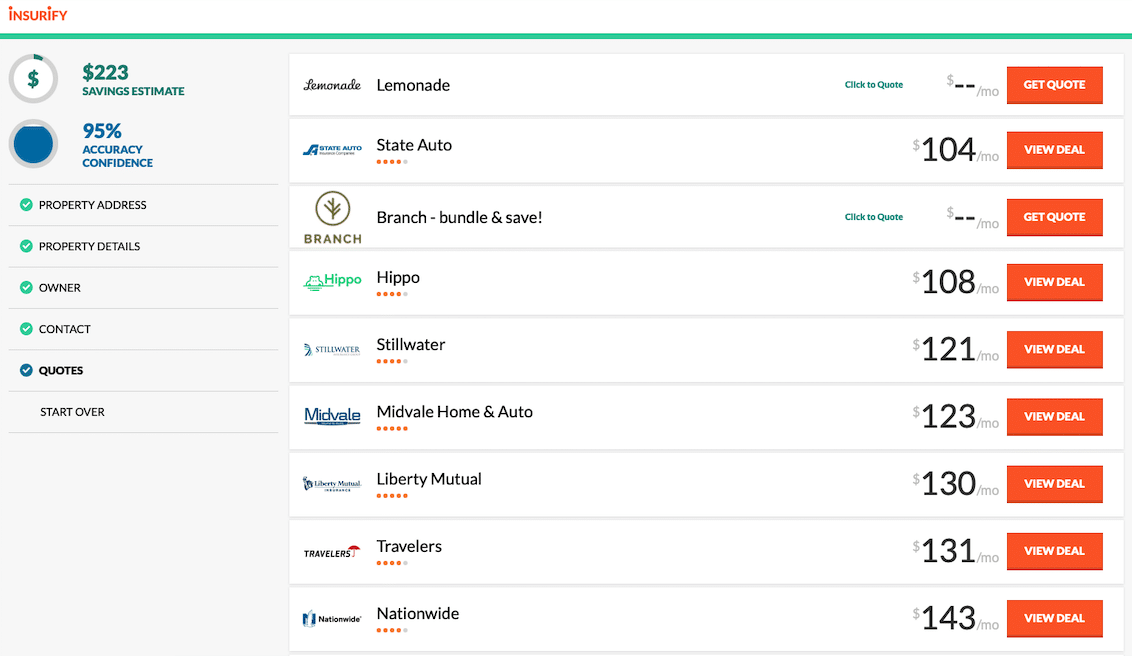 Compare Car Insurance Quotes Instantly
Personalized quotes in 5 minutes or less
No signup required
Data scientists at Insurify analyzed over 40 million auto insurance rates across the United States to compile the car insurance quotes, statistics, and data visualizations displayed on this page. The car insurance data includes coverage analysis and details on drivers' vehicles, driving records, and demographic information. With these insights, Insurify is able to offer drivers insight into how their car insurance premiums are priced by companies.