Property insurance protects your home investment. Is State Farm the right choice to protect you?
Whether you reside in California, North Carolina, or anywhere in between, you've probably heard of the State Farm Insurance Company. With a nearly 100-year history of serving customers, State Farm Home Insurance has a well-known reputation across the United States. Often remembered for offering car insurance, State Farm also offers homeowners insurance that's feature-rich and prides itself on excellent customer service. In fact, it's one of the largest homeowners insurance providers in the country. However, its rates may not be the lowest available.
Keep in mind that when you're shopping for a homeowners insurance policy, a wide range of factors contribute to the rates you see advertised. Make sure to visit Insurify before making a purchase to compare quotes and get a real-time idea of your options.
State Farm Home Insurance Quotes
Obtaining a quote for State Farm insurance products requires that you speak with a captive agent, as the home insurance company doesn't allow you to build a policy on State Farm's website alone. In some ways, many prefer this option as it allows for a more thorough understanding of the insurance coverage that's available. Your State Farm agent will work with you to determine the best features for your specific needs, so it's important to remember that your rates may not be the same as others.
In general, State Farm homeowners insurance pricing tends to be on the higher side, and in some cases, might be the most expensive option in your area. Coverage from Amica tends to be comparable, with policies costing roughly $2,500 to $4,000 per year depending on the coverage limits. Allstate and Esurance purport to offer homeowners insurance coverage at far lower rates; however, they do not provide the same level of customer service and selection of benefits as State Farm.
One thing to keep in mind when price shopping for home insurance is that State Farm often provides a multi-policy discount to help you save money. If you also enroll in auto coverage or life insurance, your homeowners coverage rate might decrease.
State Farm Homeowners Insurance Reviews: Here's what people are saying…
As a whole, State Farm has a high customer satisfaction rate, with many opting to cover their homes continuously for decades on end. Many individuals note that claims are handled efficiently and paid fairly, while others simply enjoy the peace of mind knowing that the company is one of the most secure choices with fantastic financial strength. The Better Business Bureau (BBB) has awarded State Farm an A+ rating, and the company's renters insurance options ranked second from J.D. Power and Associates. Additionally, A.M. Best gives State Farm an A++, the highest rating.
However, you can't please everyone all of the time, and some unsatisfied customers describe in online reviews their significant frustration when it comes to insurance claims. Policyholders have found that it can take an excessive amount of time to get their claims approved, and even some virtually claim-free individuals have received notices of rate increases without any explanation.
Here are some recent home insurance reviews from State Farm customers:
Compare Car Insurance Quotes Instantly
Personalized quotes in 5 minutes or less
No signup required
What's Covered by State Farm Home Insurance
The types of coverage offered through State Farm's insurance products are plentiful, allowing customers to select the options that work best for their needs.
Like those of most major homeowners insurance companies, standard coverage with State Farm's home insurance policies provides coverage for personal belongings, personally injury, dwelling coverage, and medical payments. When deciding how much coverage you need for personal belongings, it's smart to create a home inventory. Be sure to include the market value for collectibles and other special items. Once the inventory is completed, you can add up the value of your belongings. Be sure your policy gives you full coverage.
Those looking for business insurance, flood insurance, or other types of additional coverage will want to speak with their local agent to learn about their options. Additional coverage and other add-ons can typically be included for an additional cost.
Policyholders have discovered that options like loss of use and replacement cost features go above and beyond, allowing the frustrating burden of enduring home damage to be lightened significantly. It's advised that you talk with your insurance agent in detail to determine the best coverage options for your family.
How Does State Farm's Claims Process Work?
It's frustrating and stressful to experience property damage. Luckily, filing a claim on your homeowners insurance policy is easy with State Farm, as you can begin the process in several ways. Once you've experienced a covered loss, begin by visiting statefarm.com and click "Claims" at the top. You can also contact your local agent or call 1 (800) 732-5246 to speak with a representative.
Each claim is handled based upon the specific situation, and you may need to provide photos or meet with an inspector at some point in the process. State Farm ensures that each customer claim will be completed and customers receive their pay out as promptly as possible.
State Farm Home Insurance Discounts and Payment Methods
Saving on insurance premiums is so important. What exact discounts are available to you depends on your location. Always be sure to talk with your insurance agent about which discounts are available to you. Here's a list of discounts that State Farm offers to help you lower insurance costs:
Bundling: if you have State Farm auto insurance you can bundle the policies together for a discount on both.

Home security: if you have fire alarms, a sprinkler system, or burglar alarms, you can lower your rate with a home security discount.

Roofing: impact-resistant roofing, such as hail-resistant shingles, can also lower your rate.
You can lower your rate by raising your deductible. Just don't raise it so high you can't afford it when the time comes.
Paying your premium is easy with State Farm, as you can create an account online, pay in person via your local insurance agent, or make a payment over the phone. If you're pressed for time, consider paying your bill through the mobile app or simply dropping a check in the mail.
Other Types of Home Insurance Offered by State Farm
You don't have to own a traditional home to enjoy the benefits that State Farm offers, as the company features additional coverage types. Those interested in enrolling with State Farm have the option to purchase one of the following types of insurance:
Condominium Coverage

Renters Insurance

Rental Property Coverage

Personal Articles Coverage

Manufactured Home Insurance

Farm and Ranch Policies

Personal Liability Coverage
State Farm Home Insurance FAQ
Can I get any discounts through State Farm home insurance?
While there's no such thing as a free discount, State Farm goes the extra mile to offer an exceptional number of savings opportunities to new and current customers. Most notably, State Farm provides multi-policy, security system, and impact-resistant roofing discounts.
Does State Farm home insurance cover theft?
Yes, your insurance policy will pay toward items that have been stolen during a home robbery. Check with your local agent for details on your specific level of coverage.
Is State Farm home insurance expensive?
State Farm products can be some of the most expensive options available, however, it's always best to compare quotes before you make a purchase. Visit Insurify to see how State Farm compares to other home insurance companies in your area.
All About the Bottom Line: The Best Way To Save on Home Insurance
Home insurance can be a significant expense each year, so it's crucial that you find a policy that offers the best mix of savings and coverage options. While State Farm may or may not be the most affordable choice for your needs, you'll gain a better understanding of the best way to save by visiting Insurify, where you can compare home insurance quotes at once before you buy!
State Farm Insurance Overview
Founded in 1922 in Bloomington, Illinois, State Farm has grown from a small auto insurance company to a large insurer that covers more homes and vehicles than any other company in America. Ranked number 36 on the Fortune 500, it handles almost 36,000 claims daily and offers over 100 products to residents across all 50 states.
National Association of Insurance Commissioners (NAIC) number: 25143.
State Farm Home Insurance Contact Information
| | |
| --- | --- |
| Customer service phone number | 1 (800) 782-8332 |
| Headquarters address | One State Farm Plaza, Bloomington, Illinois 61710 |
| Website URL | statefarm.com |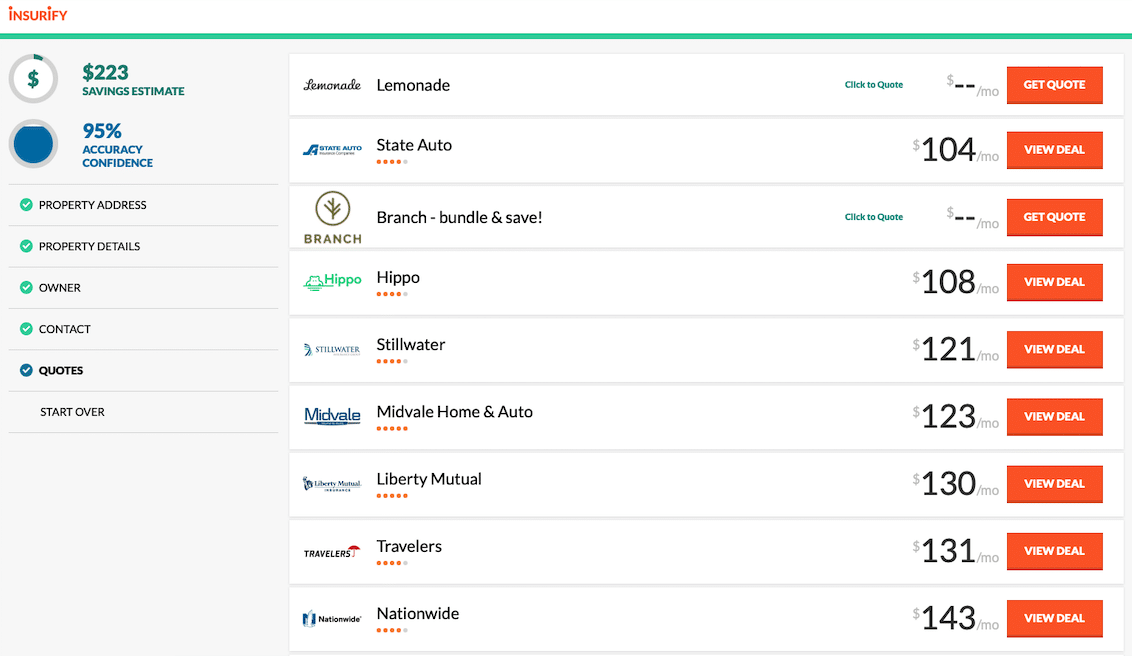 Compare Car Insurance Quotes Instantly
Personalized quotes in 5 minutes or less
No signup required
Data scientists at Insurify analyzed over 40 million auto insurance rates across the United States to compile the car insurance quotes, statistics, and data visualizations displayed on this page. The car insurance data includes coverage analysis and details on drivers' vehicles, driving records, and demographic information. With these insights, Insurify is able to offer drivers insight into how their car insurance premiums are priced by companies.