What is secondary home insurance?
It's is a home insurance policy for a second home you own that is not your primary residence. The type of secondary homeowners insurance policy you need will depend on how you use the property—whether it's a vacation getaway or rental property.
If you have a second home—like a vacation home or a rental property —you'll need another homeowners insurance policy for it. Although the home-buying process for a second home is very similar to that of your primary residence, purchasing home insurance is a different story.
Second homes tend to have a different set of liabilities, requiring a separate insurance policy with specific coverage details. Before you begin searching for the best insurance coverage options, it will help to learn the basics. Here's what you need to know before signing a secondary homeowner's insurance policy.
Homeowners Insurance: Primary vs. Secondary Insurance
So, what's the difference between primary home and secondary home insurance? Since these types of properties are used very differently, they each have risks that need to be accounted for.
Primary homes are occupied for the majority of the year. Secondary homes, on the other hand, are more likely to be unoccupied throughout the year, making them more susceptible to risks like burglaries or damage from leaks or fires. Because of this, insuring a second home is typically seen as a higher risk than insuring your primary residence.
Let's say you use your second home as a rental property. Whether it's for long-term residential contracts or short-term stays, such as a vacation home for rent on Airbnb, rental properties in general are likely to have a higher number of claims than primary residences. Tenants—even long-term tenants—are not as likely to treat a home with the same care as the primary homeowner would, which is what secondary home insurance needs to account for.
What Should Secondary Home Insurance Cover?
Typically, secondary home insurance will provide the same coverages as your primary home insurance plus more, depending on how you plan to use the property to be insured.
Landlord Insurance for Rental Properties
If you are planning to use this second home as a source of income and rent it out, then you should look for landlord insurance, which is coverage tailored specifically to protect the home in this use case and also any potential loss in income. To further protect your home, you can request that tenants get renters insurance. In some states, like Florida, a landlord can require their tenants to get renters insurance.
Builders Risk Insurance for Investment Properties
If you purchased a second home as an investment with the plan to renovate and flip the property down the road, then builders risk insurance may make the most sense to have while renovations are underway.
Vacation Home Insurance
Another common scenario is using the home as a vacation getaway or somewhere you live part-time due to work travel, family, or other reasons. With this type of insurance, you'll notice many similarities to your primary home insurance policy —just remember that you must let your insurer know that this property is a second home and not your primary home. This is an important distinction that, if ignored, could result in loss of coverage should you need to make a claim.
Vacant Home Insurance
If you have a second home but don't have plans to use it as a vacation home or a rental property, you may want to look into vacant home insurance. Most insurance companies will consider a home to be vacant if nobody lives in it for at least 30 days or more. This type of insurance is designed to help cover you from events such as theft, vandalism, fire, or certain natural disasters, such as tornadoes or wildfires.
Secondary Home Insurance Coverages
Here are the types of coverages you can expect to find in a secondary home insurance policy:
Dwelling coverage: This covers the structure of the home against hazards like fire, weather-related damage, and burglary.

Other structures coverage: This will cover the additional structures on your second home's property, such as sheds, detached garages, fences, or boat docks.

Personal property coverage: This will cover personal belongings like furniture, kitchenware, and clothing.

Personal liability coverage: If someone is injured on your second home's property, this will cover the legal and medical expenses if you're found to be legally responsible for said injury.

Loss of use coverage: If your second home becomes uninhabitable for an extended period of time (for example, if your home is affected by a natural disaster and needs to be rebuilt or undergo renovations), this may cover expenses like hotel stays, storage facility costs, and more.
Additional Coverage to Consider
If you have a second home located near the water, such as a beach house or lake house, then you'll likely need (and want to) get flood insurance to protect from potential water damage. Most homeowners insurance policies do not come with flood coverage, so if you are concerned about the possibility of flood damage, you'll need to get a separate flood insurance policy.
Compare Car Insurance Quotes Instantly
Personalized quotes in 5 minutes or less
No signup required
How Much Does Second Home Insurance Cost?
In general, you can expect for your second home insurance policy to cost more than your primary home insurance since second homes are seen as riskier. Since home insurance rates are quoted based on a variety of factors, like home size, home age, location, insurance history, and more, it's hard to provide a blanket estimate without knowledge of these important factors. (Thankfully, receiving spam-free, anonymous quotes has been made easier with the help of insurance comparison tools like Insurify.)
When comparing home insurance quotes, you'll be looking at the insurance premium, which is what you pay monthly for coverage, and the deductible, which is the amount of money you are responsible for paying before your insurance company pays for a covered loss.
How Do I Find the Best Second Home Insurance Policy?
The first step you'll want to take when comparing policies is checking whether your current homeowners insurance policy can cover a second home. If it does, you are likely all good to go. While this isn't the case for most homeowners, it never hurts to ask. And while your current homeowner's insurance policy might not cover a second home, you may discover that your insurer offers discounts for bundling primary and second home insurance policies. Or you might qualify for discounts if you bundle home insurance with other insurance policies, such as car insurance, from the same insurer.
Another way you can save money on secondary home insurance is to reduce potential risks, such as by installing a central alarm system to deter burglars and acts of vandalism. Some insurance companies offer discounted rates for homes with an installed security system or smart-home devices designed to protect your home from other threats. These can be water leak sensors, smart smoke detectors, smart locks, and more. Each insurer will have different qualifications, so make sure to ask and determine whether the insurance savings are worth it for you.
FAQ: Secondary Homeowners Insurance Coverage
Umbrella insurance can help cover damages to your second home if they are higher than what is covered on your home insurance policy. This is an additional form of coverage and not a replacement for secondary home insurance.

In some cases, yes. However, this is rare. Typically, homeowners need separate insurance policies for their primary residence and second home because there are different risks associated with how the homes will be used, whether for full-time living, short-term stays, or long-term rentals.

If you are selling or renting out your primary home and would like to make your second home your new primary residence, that is possible. If you want to have two primary residences, that is difficult to qualify for. There are rare instances when a homeowner can have two primary residences, including if their family grows too large to live in one primary residence or if someone is buying a home for a dependent who will live in the second home full-time.
Conclusion: Compare Home Insurance Policies Online for the Best Rate
If you have a second home, chances are you need to purchase a separate policy. It's easy to shop around and compare home insurance coverage quotes. Try the Insurify comparison tool to find a policy and get a secondary home insurance quote today.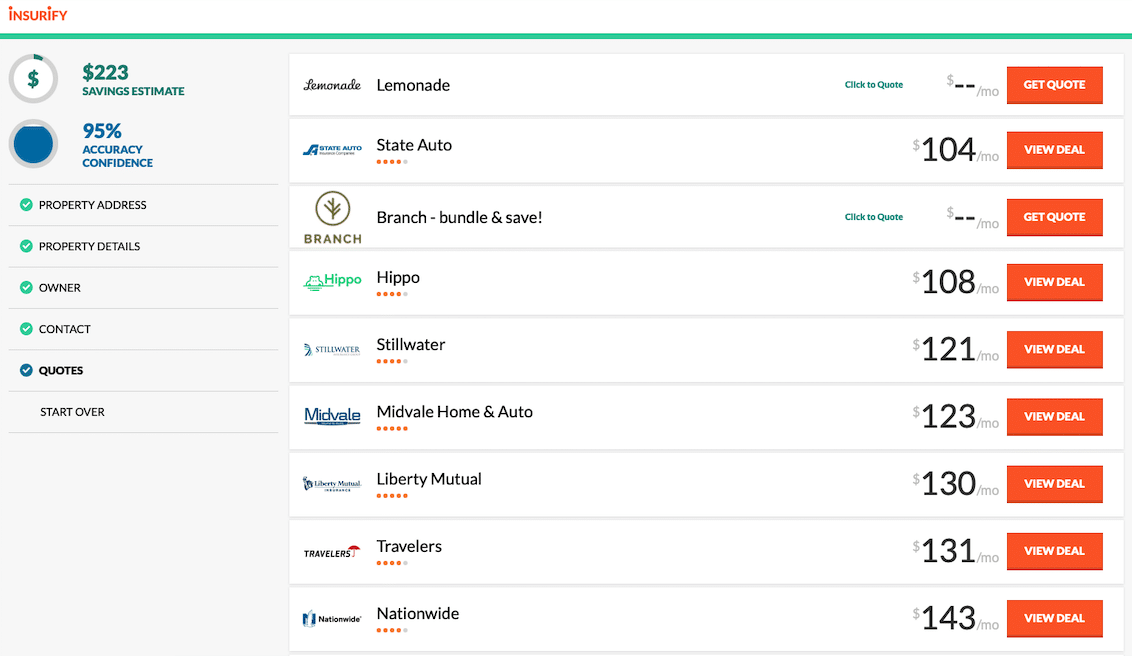 Compare Car Insurance Quotes Instantly
Personalized quotes in 5 minutes or less
No signup required
Data scientists at Insurify analyzed over 40 million auto insurance rates across the United States to compile the car insurance quotes, statistics, and data visualizations displayed on this page. The car insurance data includes coverage analysis and details on drivers' vehicles, driving records, and demographic information. With these insights, Insurify is able to offer drivers insight into how their car insurance premiums are priced by companies.