Off-grid living means different things to different people, but most people who adopt the lifestyle agree that it means living independently from modern technology by producing your own daily necessities. Off-grid life means taking care of your own power, water, sewage, and more.
In some cases, this means purchasing a property—often in the wilderness or another remote area—and living full-time off the grid. For others, living off-grid is a seasonal activity in a second property. Some homeowners living in regular homes opt to go partially off the grid by obtaining their energy from a non-grid alternative energy source (usually solar panels ) while maintaining their connections to city water and sewer hookups.
Going off the grid is a challenge, but it can be a worthwhile investment of time and energy for someone who wants to reduce their reliance on modern conveniences or lower their carbon footprint. Protect your investment in your off-grid home by finding insurance through Insurify, a simple tool that helps you compare quotes for home insurance.
Here's what you need to know about insuring off-grid real estate.
How Off-Grid Insurance Works
Insuring an off-grid home can be difficult for a few reasons. One is that certain technologies that make off-grid living possible also raise your risk of being involved in a property-damaging event.
For example, many off-grid homeowners forgo gas and grid electricity in favor of wood stoves or propane boilers. Wood stoves, in particular, pose a greater threat of fires, which makes insurers wary. Remote homes may also fall outside service areas for local fire departments and have limited access to a water source, which means any fire damage could rage out of control or even destroy the home.
Some people living off the grid install their own solar panels or other DIY technologies rather than having a professional do it, which can also give insurers pause.
Living off-grid seasonally? Recreational or seasonal homes typically cost more to insure because they're not occupied all year, which makes them targets for theft, burglary, and vandalism.
It may still be possible to insure your off-grid home, but the smart thing to do is to talk to an insurance agent before you buy the property. There are restrictions on every type of home insurance policy, and you need to make sure you're getting the right one for your situation.
Costs of Living Off the Grid
Living off-grid can involve many hidden costs that people new to the lifestyle wouldn't expect. Creating your own power, water, and sewer technologies allows you to avoid utility bills, but it also produces costs that can quickly add up if you're not careful.
Power: Divorcing from the electrical grid means you'll have to make your own electricity. Your options are generally limited to a wind turbine or solar panels. Be sure to have them installed professionally—even if it's not a legal requirement in your area, it involves working with high-voltage electrical wiring.
Water and sewer: You'll have to establish your own system for water and disposing of waste, which likely includes a well, a septic tank, and possibly a waterless composting toilet. The well alone will run at least $7,000, and a septic tank commonly costs about $5,000.
Heat: You have a few options for heating your home. Some homes use solar energy as a heat source, while others drill for geothermal heat pumps that use the constant temperature of the earth below the surface to heat the home. These can range from $7,000 to $20,000 or more. Propane, wood-burning stoves, and fireplaces are also popular options but can present a fire hazard, which can make you uninsurable (or at the very least, expensive for underwriting homeowners insurance ).
These costs aren't insurmountable and may be worth it to would-be homesteaders, but it underscores the need for research before you embark on your off-grid adventure.
Is It Hard to Get Off-Grid Home Insurance?
Insuring your homestead or off-grid home should be top of mind when you're thinking about living off the grid. But first, you should do some research to find out what kind of coverage and insurance premiums you can expect from insurance companies. You can make yourself more insurable by considering a few key concepts.
Home insurance companies don't like to insure homeowners who depend on firewood and coal. To an insurer, that's a fire waiting to happen. But they do like to insure people who have taken other steps to become self-sufficient, like installing solar panels and geothermal pumps. Some companies cover this under regular homeowners insurance, while others require add-on insurance, otherwise known as endorsements. There are even insurance companies that will give you discounts for installing these green- energy systems.
Insurance companies don't cover DIY installation. You need to hire a professional to install your electrical equipment.
You need a dependable source of water. This can be a tall order for homesteading properties, but you probably need access to a water system for an insurance company to cover you.
3 Ways to Reduce the Costs of Off-Grid Home Insurance
Still determined to live life away from the grid? There are a few things you can do to bring down the cost of your home insurance.
Rent out your property. This makes the most sense for people who only live off the grid seasonally. Rent out your cabin when you're not there. Rented properties that are regularly occupied may qualify for different insurance than a seasonal family home and may be cheaper to insure.

Improve security. Show your insurance company that there are neighbors or a fire hall nearby (if applicable). Install security technologies that will alert you and law enforcement if there's a break-in.

Split the property with multiple owners. Sharing the property makes it easier to get insurance coverage because someone will regularly keep an eye on the place.
Frequently Asked Questions - Off-Grid Homeowners Insurance
Most rooftop solar panels are covered by standard homeowners insurance policies, but you might need to increase the amount of coverage to account for the cost of the system. Other kinds of solar, like solar panel carports or ground-mounted panels, may require an add-on or a new policy. Compare policies to make sure you have the coverage you need.

Seasonal home insurance, sometimes referred to as "cabin insurance," typically covers your property in case of fire damage, storm damage, theft, burglary, vandalism, arson, and injuries to other people on your property.

Insurance companies like to see that you've taken steps to keep your home safe from intruders and disasters alike. Protection measures that can help you lower your premiums include alarm systems, deadbolt locks, smart home devices, smoke detectors, and fire extinguishers.
Insuring an Off-Grid Home Is Possible
Off-grid life can be challenging, but it can also be rewarding. And though you'll be living away from many modern conveniences, you can still enjoy the peace of mind that comes with properly insuring your home.
You've worked hard to establish a life apart from the grid. Protect your investment by finding the right insurance through Insurify with just a few minutes of research.
Use Insurify to compare home insurance premiums for your property in your area.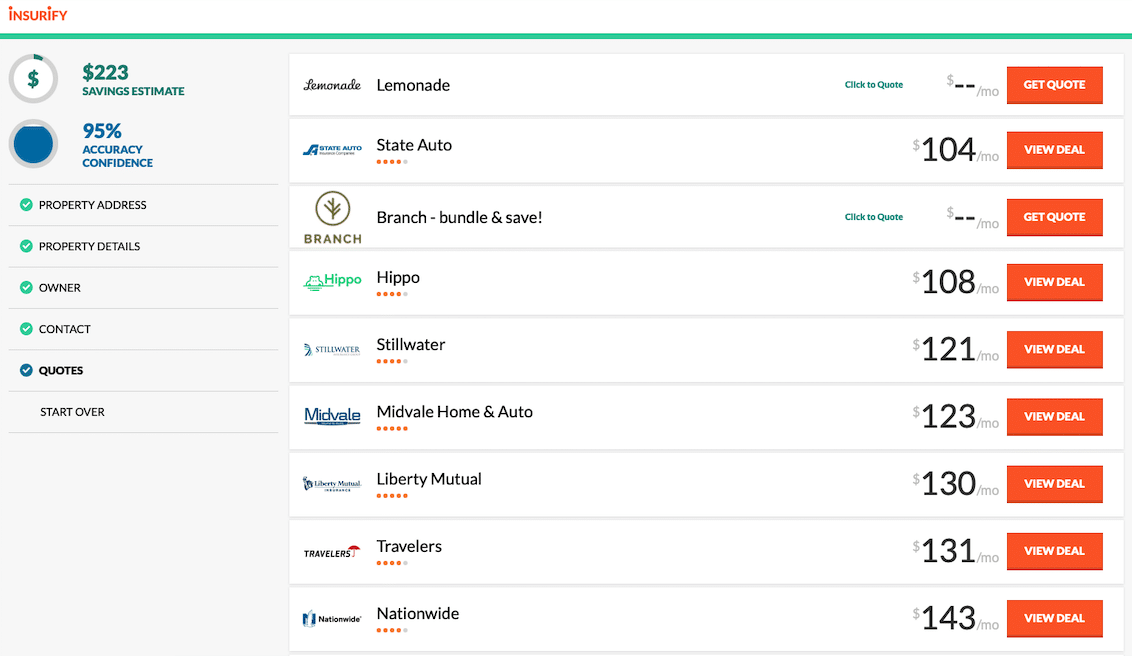 Compare Home Insurance Quotes Instantly
Personalized quotes in 5 minutes or less
No signup required