I have a second home, do I need a second insurance policy?
Yes! If you own multiple policies, each needs its own homeowners insurance policy. Coverage on one property will not rollover to coverage on another property, even if they have the same owner.
Owning a vacation home or second property isn't all fun and games. Even if it's not your primary home, in order to protect your property investment, it's vitally important that you properly insure your secondary property.
Like any form of homeownership, primary or otherwise, a sufficient home insurance policy to protect your property will give you peace of mind and protect you in times of hardship. Many factors affect your home insurance rate, but having a home that's vacant for much of the year may greatly increase the rates you're offered. Policies for a secondary home are almost always higher than that of a primary residence. This is for numerous reasons, including but not limited to the dangers presented by a seasonally vacant home, or a beachside property susceptible to damage from hurricanes or storms.
According to the United States Census, about 3% of all homes in the country are only used seasonally as vacation rentals and getaways. Whether you're a snowbird jetting south to Sarasota in the winter, or heading to Lake Tahoe for summertime waterskiing at your lodge, finding the right home insurance for your vacation home or second property is an important step in responsible homeownership.
Cost of Insuring a Vacation Home
Decades ago, many Americans would seek refuge during the summer or winter months for retreat. Many families took to Cape Cod for summer vacation or Sedona for a wintertime retreat. Today, vacation homes and second properties are more likely to be investment properties than anything else. Before purchasing a second property as a vacation oasis, it's important to think through all the associated costs beyond the initial down payment. Winterizing or closing down a property for entire seasons out of the year may result in high annual costs. Insurance costs may also run much higher than other homeowners policies for personal property. For the same reason home insurance companies love to see a home office or a stay-at-home parent, they see increased risk when a seasonal home is vacant for much of the year. Because of this, homeowners insurance for a second property is almost always higher than that of a primary residence. Your policy may have certain exclusions that require additional coverage like expanded personal liability coverage or flood insurance – make sure your policy covers these perils, and if not, consider supplemental policies.
Saving on Second Home Insurance
Premium prices for vacation homes are based on the same variables as that of any other home, such as replacement costs, deductible level, and coverage options you choose to customize for your own needs. Even if your vacation home is worth the same amount as your primary residence, insuring your vacation property will cost you more. The higher risk posed to insurance companies due to lack of inhabitants for much of the time means there's a higher likelihood insurance claims will be filed. If there's a bad storm or natural disaster that floods your secondary property and no one is there to take care of it in a timely manner, the damage might worsen, increasing the cost of repairs. Insurers take this into consideration when quoting your policy.
You will likely be able to bundle your insurance policies for your primary residence and vacation property. You might even be able to find further savings by bundling these homeowners insurance policies with your auto insurance. Most home insurance companies will charge a surcharge for policies covering non-primary properties. If a full-time housekeeper or grounds person stays on your vacation property during the off-season, or if you lease the property as a vacation rental, you may be able to find further discounts on your property coverage thanks to their supervision of your property.
Taking steps to mitigate preventable problems like security systems to protect against vandalism or replacing an old roof to prevent leaking will help lower the cost of your vacation home insurance. Installing an alarm system will give you peace of mind that your vacation home is safe and sound even when you're far away from your beach house. Searching for vacation home insurance on Insurify will allow you to customize your desired policy inclusions and compare insurance premiums side by side. Finding the right coverage for your home policy has never been easier.
More Coverage Considerations
Depending on where your vacation home is will determine the unique customizations you should consider adding to your property insurance. A ski lodge in northern Vermont won't have the same needs as a beachside cabin on the Pacific coast. Determining whether adding flood insurance for your house or earthquake coverage for your will depend on the location of your secondary property. These supplementary coverage options are generally not considered the standard and will need to be added as an additional insurance product as additional coverage. Your policy includes a number of covered losses
Insuring Vacation Homes as Rental Properties
If you are looking to make an extra buck or just realize you're not getting as much use out of your second home as you once intended, consider renting your property to others. Websites like VRBO and Airbnb have made this process easier than ever before, with systems in place to protect you and your property. If you plan on renting out your vacation home or secondary property, you will likely have to notify your insurance provider. Some companies require a separate policy in the form of landlord insurance to protect your property- this will depend on the length and frequency of your guests' stays. It's important to think through the risks you pose to your property by renting out to other people, either for short vacations or as long-term tenants. This is a great option for homeowners to pay off mortgages faster and have an extra source of income through renters. If you're renting out your extra space through Airbnb, you will probably be covered by their Host Guarantee. If you're renting out your space to tenants long-term, consider mandating they acquire r enters insurance. Always make sure you're protected with proper insurance coverage. To get an insurance quote for your rental property, use Insurify to compare dozens of options at once.
Vacation and Second Home Insurance FAQs
Well, define cheap. Home insurance costs for a second property can actually be much higher than that of a primary residence. That's because home insurance companies perceive a much greater risk when there's no one staying at property to ensure it's safety. Insurance policies can be much higher for vacation homes because of this. Also, your second home might be in a disaster-prone area, like the woods of California that are prone to wildfires or the mountains of Vermont that face harsh winters. These are factors you should take into consideration when deciding if investing in a vacation home is a viable investment option because of all the other associated costs that come along with your two months in the sun or snow.

Yes, if you're planning on listing your secondary property on a vacation rental website like Airbnb or VRBO you should absolutely contact your homeowners insurance agency Renting to tenants will bring on an increased risk for them to insure your property. You may even be required to obtain additional policies like rental insurance or landlord insurance to protect your new endeavor.

Depending on your home insurance company, you'll likely be able to bundle your home policies. Your vacation home coverage will probably cost more than that of your primary residence, but bundling could save you in the long run. You might even be able to add on your auto insurance or other insurance products for even more savings.
Keeping Your Second Home Insurance Affordable: The Bottom Line
If you're splurging on a second home for summer getaways and winter hideouts, you may be able to save big on insuring your vacation property. Just because vacation home insurance is generally more expensive than that of traditional properties, that doesn't mean you can't save big. Using Insurify allows you to browse dozens of quotes with customized policy options, all in one place. Now that's something to get excited about. Your perfect second home deserves perfect home insurance coverage.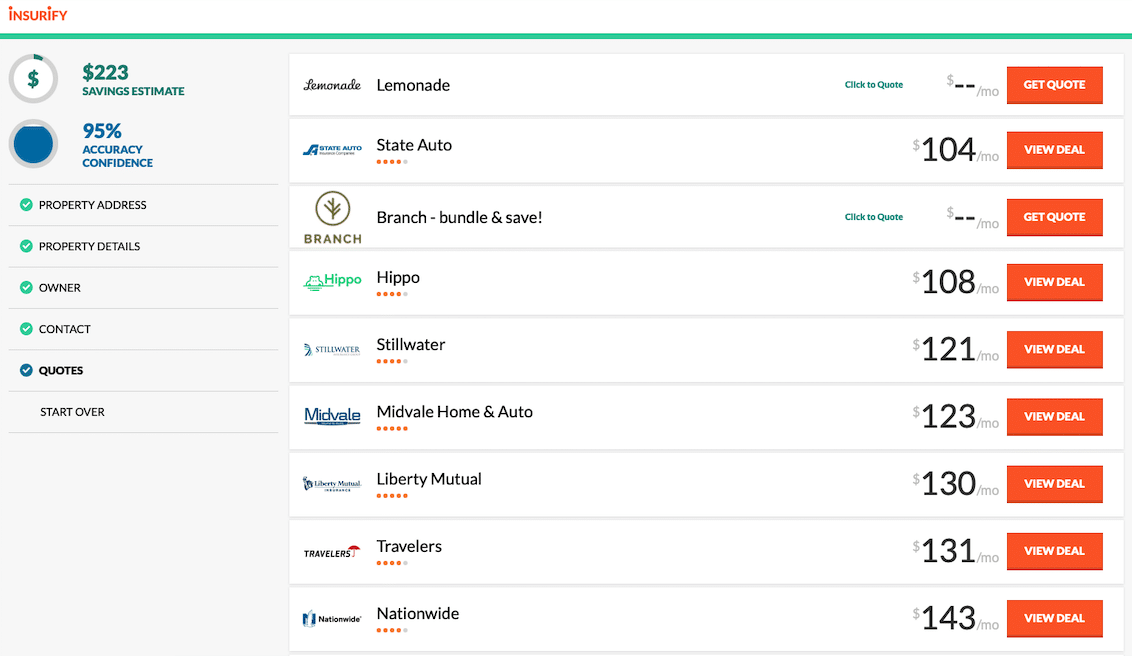 Compare Home Insurance Quotes Instantly
Personalized quotes in 5 minutes or less
No signup required