Where can I find flood insurance in Pennsylvania?
Pennsylvania property owners have two options: public or private flood insurance.
If you're a Pennsylvania homeowner, you probably already know someone who's suffered flood damage —and the odds are that they didn't live in a high-risk flood area. Flooding can strike nearly anywhere. In fact, 99 percent of U.S. counties have been impacted by a flooding event in the last 20 years, according to the Federal Emergency Management Agency ( FEMA ).
Homeowners here in Pennsylvania are especially at risk since the majority of the state experiences 50 or more flooding incidents in any given year.
Why not rely on your homeowners insurance policy to pay out after a flood incident? Because your standard homeowners insurance specifically excludes damage from flooding. Homeowners, condo, and renters insurance usually covers dwelling damage that comes from the top down (think rain or wind damage) or originates outside (fire or burst pipes). It specifically does not cover rising water or flooding.
For that, you need a separate flood insurance policy. This insures you against damages from flooding of normally dry land from overflow of inland or tidal waters, unusual and rapid accumulation or runoff of surface waters, and mudslides or mudflows that are caused by flooding.
Explore your insurance options with Insurify. This online tool is easy to use and can help you find the right policy for you.
Do I Need Flood Insurance in Pennsylvania?
Yes! If you live in a traditional floodplain as defined by FEMA 's flood maps, your mortgage lender may require you to buy flood insurance, as they commonly do for people who live in high-risk areas. However, people outside of traditional flood zones may still need flood insurance even if it's not required. Here's why flood insurance can be a smart buy in Pennsylvania.
The average claims payment for flooding in Pennsylvania is more than $20,000. The most flood-prone regions of the state are the southeastern, southwestern, and northwestern counties. But even if you live miles away from water, floodwaters can still reach your home, as they did during Hurricane Sandy. In Pennsylvania, nearly 25 percent of flood insurance claims are paid on policies in low-risk and moderate- risk areas.
Not only are you at risk of flooding from major storms, but there are other causes of flooding, too. A broken sewer line or a slow-moving rainstorm can cause flooding and won't be covered by your home insurance. With so much flood activity, Pennsylvania homeowners should think long and hard about buying a flood insurance policy to protect against potential water damage and the financial devastation it can cause.
Pennsylvania Flood Zones
PA flood risks are numerous and spread throughout the state. The Susquehanna River, the nation's 16th-largest river, causes some of those risks. This 464-mile waterway drains 27,510 square miles, and some of its tributaries are in steeper terrain, which increases flood risk. Heavy rain or snowmelt increases the risk that the Susquehanna will flood. For example, the end of Tropical Storm Lee dumped 10 to 15 inches of rain on parts of central Pennsylvania in fall 2011, causing the Susquehanna's third-highest crest in history.
Flash floods are also a danger for Pennsylvania homeowners. Some parts of York County received 8 to 14 inches of rain in just four hours in September 2018, causing extensive flash flooding damage. Also, flooding happens nearly every year along Yellow Breeches Creek near Camp Hill.
Pennsylvania 's winters are another major contributor. Ice dams or ice jams can restrict the flow of water, as they did on the Delaware River in January 2018, which resulted in flooding in the Morrisville area.
What's Covered with Pennsylvania Flood Insurance?
Flood insurance policies cover your home, and you can also get contents coverage that protects your belongings. The building portion of the coverage typically covers things like:
Your home's structure and foundation

Electrical and plumbing systems

Major air conditioning equipment, furnaces, and heaters

Major appliances, like washers and dryers, refrigerators, and stoves

Debris removal for flood cleanup
Contents coverage covers your personal possessions, like clothing, furniture, and electronics.
Compare Car Insurance Quotes Instantly
Personalized quotes in 5 minutes or less
No signup required
What's Not Covered with Pennsylvania Flood Insurance?
Pennsylvania flood coverage only covers losses that are directly caused by flooding, defined as an excess of water on land that is normally dry. That means if your sewer backs up as a direct result of flooding, the resulting damage will be covered, but if the sewer backup isn't caused by flooding, the damage won't be covered.
These items also typically aren't included in either building coverage or contents coverage:
Temporary housing or additional living expenses that you incur while your home is being repaired

Property outside the insured building, like your hot tub or swimming pool

Financial losses from business interruption

Currency, stock certificates, and other valuable papers

Cars

Personal property that you keep in the basement
What's the Cost of Flood Insurance in Pennsylvania?
The average Pennsylvania resident pays $1,176 per year for their flood insurance coverage, but simply looking at the average can be misleading. That's because there are many factors that determine insurance companies ' flood insurance rates in Pennsylvania, so the amount that policyholders in Erie pay will be different from the cost for someone in Pittsburgh or Harrisburg.
Your premiums may be higher or lower than the average based on information like:
Your area's specific flood risk

The type of coverage you're buying

The deductible you select

The amount of building and/or contents coverage you choose

The construction and age of your home
How to Get a Flood Insurance Policy in Pennsylvania
Pennsylvania homeowners have two options for flood insurance: private insurers or public insurance through the National Flood Insurance Program ( NFIP ), which is sold by regular insurance agents but backed by the federal government. If you have a mortgage, your lender may have certain restrictions on the type of coverage you can buy. For example, if you have an FHA loan, you may be required to purchase NFIP coverage. Other loan types may let you choose between a private or NFIP policy.
National Flood Insurance Program ( NFIP )
The National Flood Insurance Program is administered by FEMA and has been around for more than 50 years. It has two types of homeowners policies—one covers the dwelling or building itself and the other covers contents or personal property. It features a maximum of $250,000 of coverage on any one building and up to $100,000 for personal belongings.
It's important to know that NFIP coverage has a waiting period of 30 days, so you can't buy it right before a major storm and expect to be covered. Learn more at floodsmart. gov.
Private Flood Insurance
Private insurers tend to have extra coverage options that aren't included in NFIP insurance. For example, higher coverage limits are available—some private insurers offer up to $1 million for the building and contents. Flood insurance quotes from private insurers are also usually lower than NFIP insurance, although this is partially because private insurers won't write policies in high-risk areas, where the NFIP may be the only option available.
Private insurers may offer add-on coverage for things like temporary living expenses, coverage of basement contents, pool repairs and refilling, and coverage of detached structures, like garages and sheds. The waiting period is also typically shorter with private insurance, kicking in around 10–14 days after purchase.
The Pennsylvania Insurance Department maintains a list of licensed private insurers that write flood insurance policies. Neptune, Palomar Specialty, and Lloyd's of London are just a few of the options for Pennsylvania homeowners.
In Pennsylvania, you also have the option of partnering with a surplus lines insurer. These are insurance providers not licensed in Pennsylvania but licensed in the state in which they're based and may be authorized to sell surplus lines policies in Pennsylvania.
There are pros and cons to surplus lines coverage. Some mortgage lenders are not willing to accept flood insurance policies from surplus lines, and the Guaranty Fund doesn't protect surplus lines carriers like it does regular insurers. However, surplus lines policies may offer savings for people whose property is only partially in a floodplain or who were recently redrawn into floodplains.
Frequently Asked Questions
Remember, there's a waiting period no matter which type of insurance you buy. Pennsylvania tends to flood most during the spring, so make sure you buy your policy well in advance of the spring thaw. That way, your coverage will be active by the time you need it.

You can appeal the decision by calling 1 (877) FEMA-MAP or visiting the FEMA website. If FEMA denies your appeal, you need to get a flood insurance policy so you have the coverage you need.

FEMA only provides disaster relief to areas where the president has declared an emergency. Many floods don't qualify for an emergency declaration. Flood insurance pays out whether the area is a disaster zone or not, and it also pays out more than disaster relief typically provides.
Act Now for Pennsylvania Flood Insurance
Time's ticking when it comes to buying flood coverage in Pennsylvania. The spring thaw will be here before you know it, so make sure you purchase flood insurance soon so that you'll be adequately covered in time.
Need new homeowners insurance to go with your flood policy? Explore your options with Insurify.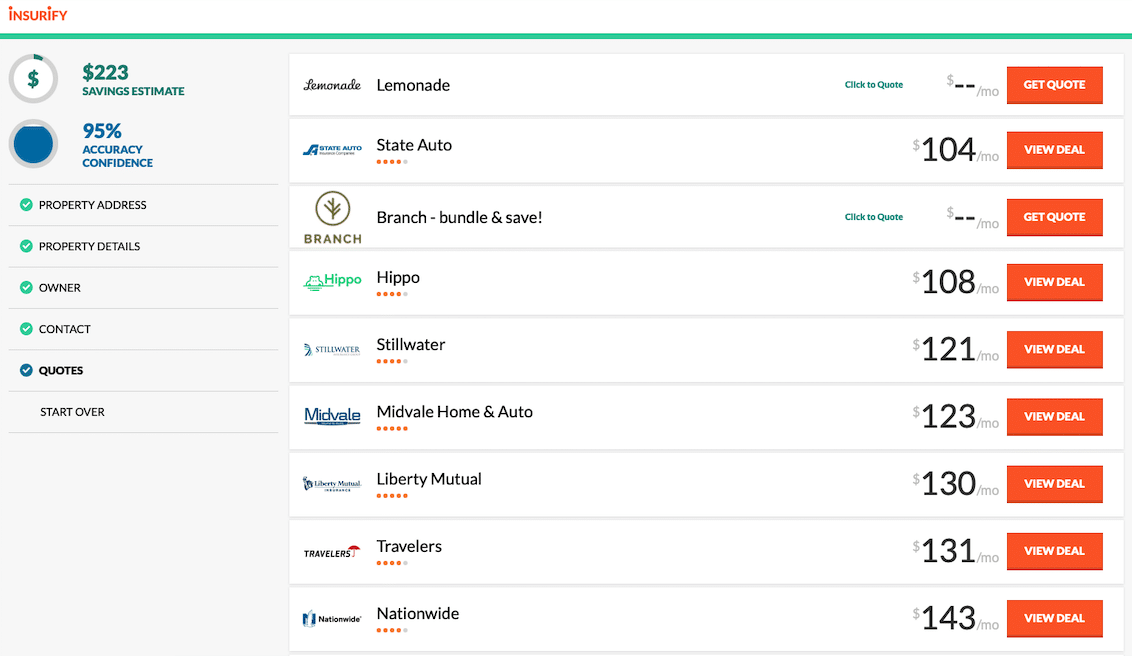 Compare Car Insurance Quotes Instantly
Personalized quotes in 5 minutes or less
No signup required
Data scientists at Insurify analyzed over 40 million auto insurance rates across the United States to compile the car insurance quotes, statistics, and data visualizations displayed on this page. The car insurance data includes coverage analysis and details on drivers' vehicles, driving records, and demographic information. With these insights, Insurify is able to offer drivers insight into how their car insurance premiums are priced by companies.