Is earthquake insurance worth it in Oklahoma?
Depending on the risk level of your area, having earthquake insurance can save you big financially in the long run. It's always worth getting a quote.
The increased number of earthquakes in recent years has many residents talking about and purchasing Oklahoma earthquake insurance. It's no surprise: the state sits along a fault line and has had a surge of seismic activity since 2009.
While you want to protect your property, you also want to consider the impact of earthquake insurance on your wallet. You may be asking questions like "Is a policy required in Oklahoma?" "How much does it cost?" "What will a policy cover if there's an earthquake?"
We've got you covered with this guide to Oklahoma earthquake insurance. Find out if you need earthquake insurance, what's included, and how to get a quote to fit your needs.
And if you're looking for homeowners insurance, we can help with that, too. Insurify's free home insurance comparison tool lets you search and compare quotes to help you get the best coverage to protect your home.
Do You Need Oklahoma Earthquake Insurance?
Whether they need earthquake insurance is a question many homeowners ask. Oklahoma earthquake insurance isn't required by state or federal law. Lenders don't typically require it unless your home is in a high-risk area for quakes.
However, damaging earthquakes can cause catastrophic losses, and standard homeowners insurance policies don't cover the damage.
The likelihood of a quake is high in Oklahoma, and residents are seeing more earthquakes than ever before.
The chance of an earthquake is about 40 times higher than it was in 2009. The increase over the last three decades means you should consider earthquake insurance if you don't already have it.
What Oklahoma Earthquake Insurance Covers
Earthquake insurance in Oklahoma is a type of catastrophe insurance. It covers home repairs needed because of earthquakes and aftershocks. It can also cover structures not attached to your house, like a garage or shed, and personal property.
If your home requires improvements to meet current building codes, some policies can cover the extra costs to ensure those get done. Earthquake insurance generally covers debris removal and additional living expenses you may have while your home is being repaired or rebuilt.
Compare Car Insurance Quotes Instantly
Personalized quotes in 5 minutes or less
No signup required
What Earthquake Insurance Doesn't Cover
Because standard homeowners insurance doesn't include earthquake damage, it's important to know what exclusions an earthquake policy might have.
It can vary from one policy to the next, but most policies don't cover masonry or brick veneer, vehicles, or pre-existing damage.
However, your Oklahoma car insurance policy might cover vehicle damage.
If you have questions about what may or may not be covered, review your policy and ask your insurance agent for clarification.
Average Cost of Earthquake Insurance in Oklahoma
Earthquake insurance premiums have gotten much criticism in the past. Because just four companies account for over half of the market in the state, former Oklahoma Insurance Commissioner John Doak declared the market "noncompetitive." That means the department can review rates before they become active.
Since then, premiums have come down and are much more affordable for Oklahomans. According to the Oklahoma Insurance Department (OID), an earthquake policy can cost the average homeowner $50 to $300 per year.
Keep in mind that earthquake insurance deductibles are often much higher than a standard homeowners deductible. You can expect to pay a deductible that's around 10 to 20 percent before the insurance kicks in.
How to Get Quotes
If an earthquake strikes, you'll want to have the insurance coverage you need in place. Luckily, getting covered is simple.
In many cases, policyholders can add an earthquake endorsement to their existing Oklahoma homeowners insurance policy. Contact your insurance company to ask if this is an option and determine how much it might cost to add it to your policy.
Because not every company offers an earthquake endorsement, insurers also offer stand-alone policies.
Most insurers implement a 30- or 60-day waiting period and won't sell new policies following a recent quake. The best time to get coverage is before there's an earthquake.
Oklahoma Earthquake Insurance - Frequently Asked Questions
Earthquakes can leave behind a trail of damage and destruction. Coverage isn't required, but the risk of a quake in Oklahoma is 40 times higher than it was in 2009. Standard homeowners policies don't cover damage from earthquakes, so it's often worth the cost to purchase earthquake insurance.

The best earthquake insurance company might be the one you already have. Oklahoma earthquake insurance is often sold as an add-on to homeowners insurance. Contact your homeowners insurance company to find out your coverage options and ask about rates.

Yes, you can purchase earthquake insurance if you rent your living space. Earthquake insurance is an important consideration for renters in Oklahoma because renters insurance doesn't cover quake damage. Many times, you can add it to your renters policy. Earthquake coverage can make sure your personal belongings and property are protected.
Oklahoma Earthquake Insurance: The Bottom Line
Since 2009, the risk of an earthquake in Oklahoma has increased 40 times over. The state sits along fault lines, further increasing the risk of a quake and aftershocks. The damage can be devastating for homeowners.
An earthquake insurance policy can protect your home and your belongings. Since standard homeowners policies don't cover it, adding an earthquake coverage endorsement or buying a separate policy can give you peace of mind.
Like homeowners insurance, different insurers can sell similar policies for different rates. It pays to shop around when you're comparing home insurance quotes.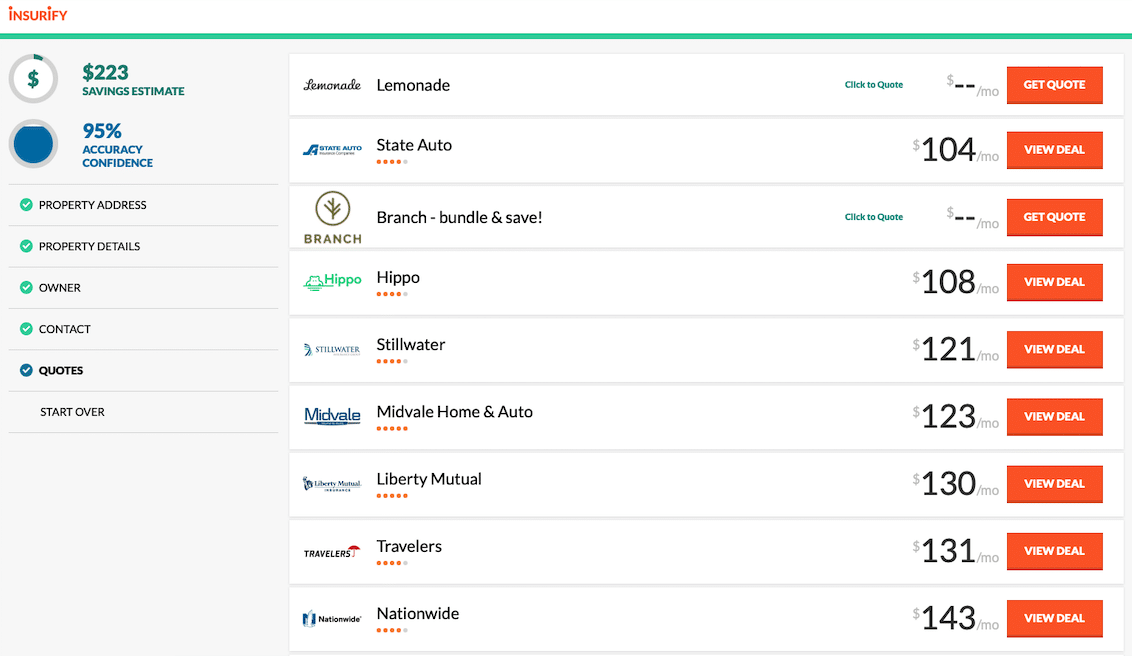 Compare Car Insurance Quotes Instantly
Personalized quotes in 5 minutes or less
No signup required
Data scientists at Insurify analyzed over 40 million auto insurance rates across the United States to compile the car insurance quotes, statistics, and data visualizations displayed on this page. The car insurance data includes coverage analysis and details on drivers' vehicles, driving records, and demographic information. With these insights, Insurify is able to offer drivers insight into how their car insurance premiums are priced by companies.