Blog
Home Insurance
Hawaii Flood Insurance Everything You Need To Know 2021
Why you can trust Insurify
Do I need flood insurance in Hawaii?
Not everyone is required to have flood insurance, but no one is safe from flood risk—especially in Hawaii.
Just about everyone is vulnerable to flood risk. But in Hawaii, the tropical climate can bring sudden, heavy rainfall along with tsunamis, hurricanes, and tropical storms, while mudflow and wave action can make flood damage much worse. So it's never a bad time to learn more about Hawaii flood insurance.
Homeowners insurance rarely covers floods. So if you don't already have stand-alone flood insurance but want to be covered by flood damage, you'll need to buy a policy from the National Flood Insurance Program (NFIP) or on the private market.
Buying insurance can be disorienting. There are so many insurance companies —how will you know you're getting the best rate? Luckily, Insurify is here to help you compare quotes using a simple tool. It's free and takes only a few minutes. Try it out now!
Do I Need Flood Insurance in Hawaii?
In the most severe flood zones, homeowners with federally backed loans are required to purchase flood insurance. And even when not federally required, some mortgage lenders require flood insurance in high-risk areas.
But while homeowners in high-risk flood zones are certainly wise to buy flood insurance coverage, whether or not it's required, everyone should think about it. Flash floods and other calamities can happen anywhere, and the resulting flood losses can be devastating. It's also not as uncommon as you might think. About 25 percent of flood insurance claims come from areas that are at a low or moderate flood risk —so wherever you land on the flood map, you should consider flood insurance.
Do you think you already have Hawaii flood insurance? Even if you have a homeowners insurance policy, that policy probably doesn't cover flood damage. But it wouldn't hurt to ask your insurance agent just in case.
Renters are not required to have flood insurance but should consider protecting their belongings from flooding. Luckily, it's the responsibility of the landlord to protect the building, so renters will find that flood insurance is more affordable.
Hawaii Flood Zones
As the Hawaiian government says, "Everyone lives in a flood zone." But flood zones are coded based on the types of risk they're exposed to and the severity of those risks. Check out the Federal Emergency Management Agency ( FEMA )'s Flood Map Service Center to put in your address and determine your flood risk. There's a simple code to the flood zones:
If you enter your address into a flood map and it says "D," that means your flood risk is undetermined. It does not mean your flood risk is zero; natural disasters can happen anytime, anywhere!
If your flood zone is X or XS, you're at a low or moderate flood risk. But remember, 25 percent of flood insurance claims originate from homes in this risk area.
Flood zones starting with A are in the 100-year floodplain, meaning that statistically, their chance of flooding is 1 in every 100 years. This might sound low, but it's the standard for high-risk and means you live in a Special Flood Hazard Area (SFHA) where insurance requirements apply.
If your flood zone begins with a V, that means you're in the 100-year floodplain and in a coastal area that could sustain additional flood damage from waves and other oceanside hazards. If you're in one of these areas (including parts of Honolulu and other areas on Oahu, coastal areas of Kauai County and Maui ), then flood insurance is a good idea.
What's Covered with Hawaii Flood Insurance?
Flood insurance generally offers two areas of coverage:
The first is called building coverage. If you live in a house, flood insurance covers damage to most of the building's important systems and infrastructure, like HVAC, heating, appliances, fuel and water pumps, walls, carpets, and your garage.
Flood insurance typically also includes contents coverage, which reimburses covered damage to your personal property in the home, such as rugs, AC units, curtains, clothing, and furniture. Most contents coverage covers the value of the things you damaged rather than the cost to replace them.
Keep in mind that with NFIP flood insurance, there is a $100,000 limit on contents coverage and a $250,000 limit on building coverage. Private plans might offer higher limits and stronger protections for higher-value personal property and other extra accommodations, though often at a higher cost.
You can learn more about the flood insurance provided by the federal government through the NFIP at FloodSmart. Gov.
Compare Car Insurance Quotes Instantly
Personalized quotes in 5 minutes or less
No signup required
What's Not Covered with Hawaii Flood Insurance?
One thing to remember about flood insurance is the 30-day waiting period that applies to all policies. So don't wait until you see a hurricane on the radar to apply for coverage.
Property owners also won't have coverage for trees, shrubs, and landscaping on their property, swimming pools, hot tubs, decks, patios, or other exterior property.
What's the Cost of Flood Insurance in Hawaii?
The cost of Hawaii flood insurance varies highly depending on your risk of a flood, but the average annual premium is $684, which ranks as one of the cheapest in the nation. Low and moderate risk areas pay even less, $485 on average—a very sensible investment, considering that flood damage can exceed $10,000 with just an inch of water.
Higher-risk flood zones pay an average of $962 per year, which can feel high, but a year of flood insurance costs a whole lot less than even the mildest flood damage. For Special Flood Hazard Areas, where this kind of damage is most likely, policyholders can breathe easy and know that the federal government regulates flood insurance costs so that flood-prone areas can benefit from subsidized rates.
When you buy a flood insurance policy, you'll also set a deductible, usually between $1,000 and $5,000. When you file a claim, you'll have to pay that deductible first—but then you'll be covered up to the coverage limit on your policy.
How to Get a Flood Insurance Policy in Hawaii
Most traditional insurance companies also sell flood insurance through FEMA 's National Flood Insurance Program ( NFIP ). An insurance agent you already work with can help you find a flood insurance policy without much trouble because every insurer offers the same NFIP policies.
National Flood Insurance Program ( NFIP )
The NFIP was created by the federal government to make sure high-risk areas were protected at a reasonable cost. But anyone can purchase an NFIP policy. Insurance companies sell NFIP policies, but FEMA sets the rates based on flood risk.
If your lender is requiring you to have flood insurance to comply with federal law for your government-backed loan, then you need an NFIP policy. Other flood insurance policyholders have a choice—they can substitute NFIP for a private policy.
Private Flood Insurance
Flood insurance is also sold on the private market. The NFIP is a subsidized program, so it's typically hard to beat. But homeowners with high-value homes or property they want to protect may feel limited by the NFIP coverage limits.
Frequently Asked Questions
Only if you're in a Special Flood Hazard Area and have a federally backed mortgage are you required to have flood insurance. Otherwise, it's a good idea to consider it, especially because a good portion of flood insurance claims isn't even from areas considered risky by FEMA.

It's cheap compared to the rest of the country. Low- and moderate-risk homeowners pay less than $500 per year on average, while high-risk areas pay almost $1,000. Deductibles range from $1,000 to $5,000.

Everyone lives in a flood zone! But check the Flood Map Service Center from FEMA to see what your risk of flooding is. You'll find out if your home is in a 100-year floodplain, which would put you at higher flood risk.

Most of the stuff inside your house and the important equipment that powers, heats, and cools it, along with your appliances, furniture, clothing, and belongings—up to coverage limits.

You can get an NFIP policy from most insurance agents. Search your area for a nearby agent at FloodSmart.Gov.
Is Hawaii Flood Insurance Worth It?
Hawaii 's surf, rainforest, and muddy coastlines are some of its most wonderful assets. But they also make the risk of flooding significant enough for anyone to be worried, no matter if they're on a mountaintop or beachfront.
Luckily, flood insurance in Hawaii is highly affordable compared to most states. But only 15 percent of people in the state have a policy. It wouldn't hurt to look into flood insurance ASAP.
To make all of your insurance policy research as smooth as possible, Insurify made a powerful tool that helps you compare quotes tailored to your needs—for free.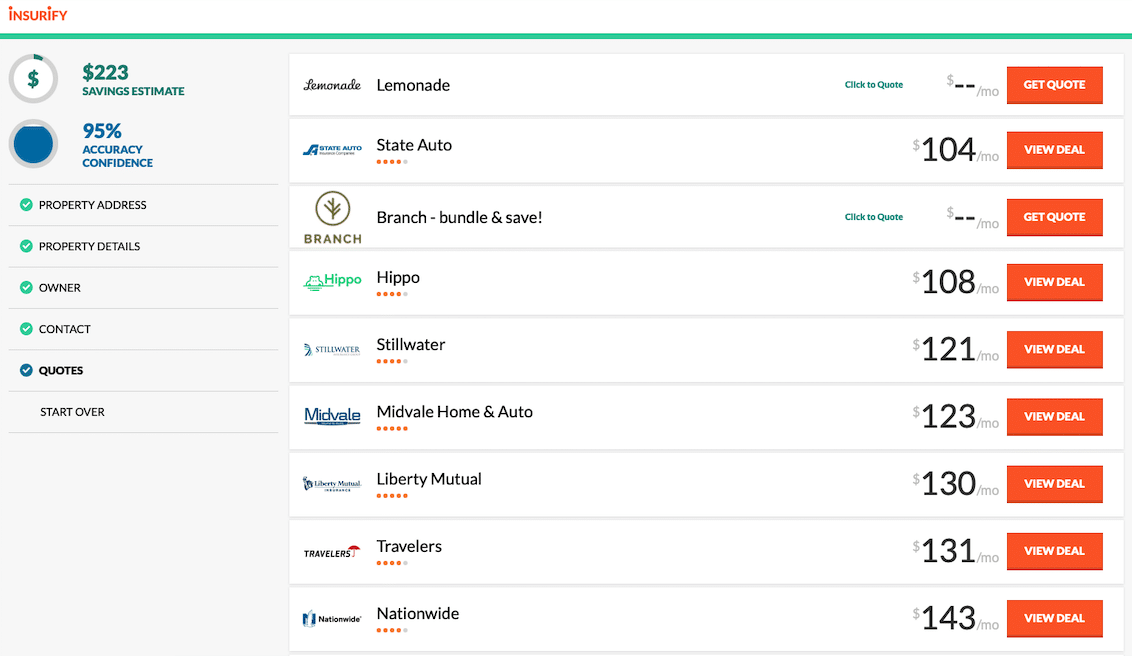 Compare Car Insurance Quotes Instantly
Personalized quotes in 5 minutes or less
No signup required
Data scientists at Insurify analyzed over 40 million auto insurance rates across the United States to compile the car insurance quotes, statistics, and data visualizations displayed on this page. The car insurance data includes coverage analysis and details on drivers' vehicles, driving records, and demographic information. With these insights, Insurify is able to offer drivers insight into how their car insurance premiums are priced by companies.