How much does condo insurance cost?
The cost is determined by your location, the deductible, and the amount of coverage you need.
Condo insurance coverage can be a lifesaver for anyone who suffers a covered loss while living in a condo. Also known as HO-6 policies, condo insurance is designed to cover your personal belongings and the inside of your structure from the walls in.
You probably already know that your condo association carries a master insurance policy that covers all the things the association is responsible for. This includes the ground, common areas like elevators, and the exterior physical structure of the condo. But in most cases, their property insurance doesn't extend to your condo.
What should you do? First, understand the condo association 's master policy, then get a condo insurance quote today to make sure your personal belongings are covered. Find the coverage options you need from more than one insurance company at once with Insurify, an easy-to-use tool that only takes a few minutes of research.
How to Know if You Need Condo Insurance
Life can be unpredictable. You need condo or co-op insurance to protect your unit and your belongings against unexpected occurrences like fire, lightning, theft, and vandalism.
Condo insurance also includes liability coverage that covers you in case of certain accidents. For example, if someone slips and falls inside your unit and sues you, your insurer will step in and help pay their medical bills. None of this would be covered by the condo association 's master policy, which only covers common areas and the exterior structure.
See more: How to Find Cheap Condo Insurance
Condo Insurance Coverages
Condo insurance helps pay for costs that result from covered perils, which are similar to the covered perils that a typical homeowners insurance policy covers. Depending on the policy, these perils usually include:
Theft

Fire and smoke damage

Vandalism

Sudden, accidental water damage (not from flooding)
There are three main components to condo coverage: unit coverage, your personal belongings, and liability coverage. Let's explore these in more detail.
Unit coverage is protecting what's inside your unit from the walls in. This includes things like carpeting, interior walls, and cabinets.
Personal property or personal belongings include anything from furniture to your clothing, jewelry, and electronics. When you buy condo insurance, it's important to know whether you're buying insurance that covers the actual cash value or the total replacement cost. Actual cash value is the replacement cost minus any depreciation since you bought the item, while a policy with total replacement cost will pay out what it actually costs to replace an item.
Personal liability coverage covers injury or property damage by you or a member of your household. It also includes medical payment coverage for anyone who gets hurt on your property and doesn't live with you.
Note that there are some exclusions when it comes to what condo insurance does and doesn't cover. Some of the most common exclusions are:
Appliance breakdowns and basic maintenance repairs

Flooding, earthquakes, and water/sewer backup (though you can often buy additional insurance to cover these)

High-value items, like expensive jewelry or furs (they may need additional protection to cover the full value)
Before you buy a condo insurance policy, it's a good idea to sit down with an insurance agent and talk about what the condominium insurance policy does and doesn't cover. Start by getting quotes, then talk to individual local agents from whichever insurance agency you choose to make sure you understand the ins and outs of the policy you're about to buy.
See more: Condo Insurance vs. Homeowners Insurance
Compare Car Insurance Quotes Instantly
Personalized quotes in 5 minutes or less
No signup required
The Cost of Condo Insurance
Many factors influence the cost of your condo insurance, such as your location, the deductible you choose, and the amount and type of coverage you need. The average condo insurance policy nationwide costs $625 per year and includes $60,000 in personal property coverage, a $1,000 deductible, and $300,000 in liability protection, according to insurance.com.
North Dakota is the cheapest state to buy condo insurance in, at an average cost of $292 per year. Meanwhile, Florida is the most expensive state for condo policyholders, with an average cost of $1,051 per year, according to insurance.com's statistics.
There are a few things to remember when you're buying condo coverage. One important one is that you won't need as much dwelling coverage as you would if you were buying a home insurance policy to cover a single-family home. You don't have to cover the exterior of your condo or any of the common areas —that's the condo association 's responsibility. Figuring out how much insurance you need and what to insure are major challenges with buying condo insurance.
The key to understanding how much insurance you need is to understand which of the three major types of coverage applies to your condo master policy. These are:
Bare walls coverage: You have to insure your unit from the drywall or wall studs inward. That means you cover the walls, sinks, cabinets, appliances, and interior materials, as well as any renovations or improvements you make.

Single entity coverage: The master policy held by the condo association covers almost everything, including your unit and the fixtures. You insure your personal possessions. Upgrades are not covered if you suffer a loss.

All-in coverage: This is like a single entity plan, except that the master policy also covers upgrades and renovations.
As a rule of thumb, it's better to buy too much coverage than not enough. This is especially true when it comes to loss assessment coverage. This coverage reimburses you if the condo association charges a special assessment fee to cover repairs that are more expensive than the coverage limits of the master policy. Most condo policies include some loss assessment coverage, but the standard condo policy only includes about $1,000 in coverage, which may not be enough. Special assessments can be very expensive for condo owners—sometimes, thousands of dollars. There are a few things you can do to lower the cost of your policy, but loss assessment coverage is not the place to cut corners.
See more: How Much Does Homeowners Insurance Cost?
Frequently Asked Questions
No. The master policy covers parts of the building's structure but not your possessions or personal liability. An individual condo policy will help you repair or replace your belongings if they're damaged by a covered peril. Depending on the policy, you may also benefit from add-ons that aren't in the master policy, like identity theft protection or living expenses for loss of use if your condo is damaged and you can't live in it for a while.

There are a few ways you can lower the cost of your condo insurance without negatively impacting the quality of your coverage. Raising your deductible is a common way to save money. You may also qualify for insurance discounts if you install smoke alarm systems, fire extinguishers, or a security system. Also, consider bundling your condo and auto insurance—combining home/condo and auto insurance is an easy way to save money on both policies.

Many lenders require you to purchase HO-6 condo insurance to help cover the interior structure, fixtures, and personal property in your condo. Your lender will let you know if this is the case.
Condo Insurance Protects Your Assets
Condo insurance protects the value of your belongings if you suffer from a covered loss. Find a policy today and make sure your condo is covered.
Need to find a new policy? Try Insurify, the online tool that makes it easy to compare quotes from top insurers.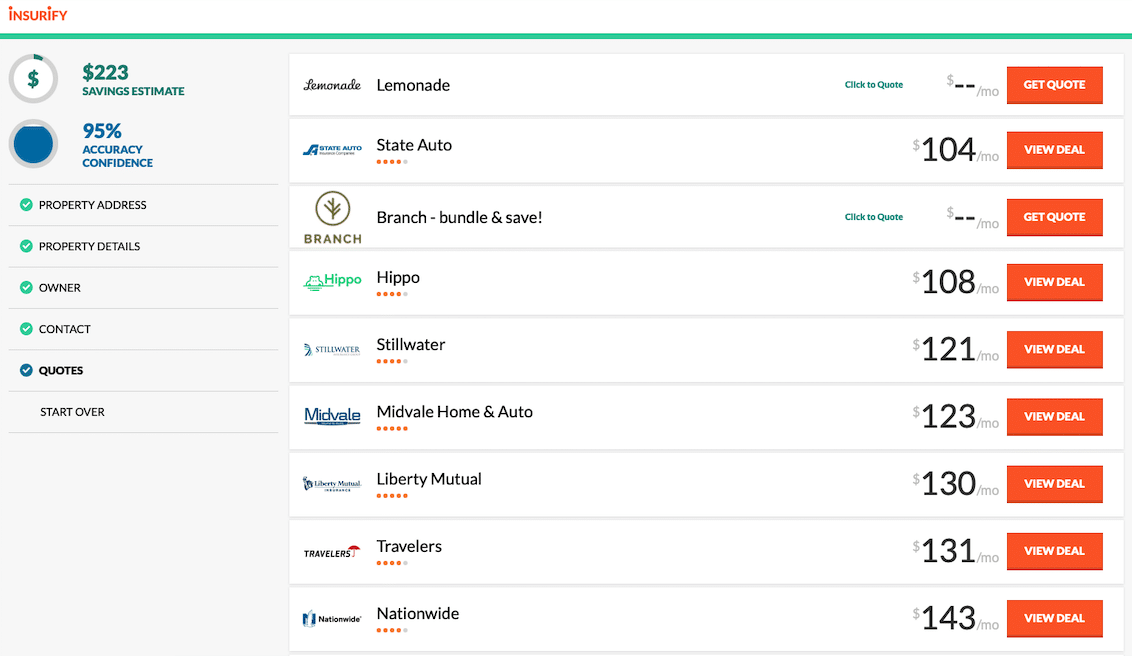 Compare Car Insurance Quotes Instantly
Personalized quotes in 5 minutes or less
No signup required
Data scientists at Insurify analyzed over 40 million auto insurance rates across the United States to compile the car insurance quotes, statistics, and data visualizations displayed on this page. The car insurance data includes coverage analysis and details on drivers' vehicles, driving records, and demographic information. With these insights, Insurify is able to offer drivers insight into how their car insurance premiums are priced by companies.