What is condo association insurance?
Condo association insurance is a policy that covers the structure of the condo building and common areas shared by building occupants.
Are you a condo owner? If so, condo association insurance is essential. It can protect the building's structure and shared spaces from fire, windstorm, and other damage.
But it may not protect the inside of your unit. Before you buy condominium insurance, you must understand what condo association insurance is and what it covers.
Condo Association Insurance: The Basics
Condo association insurance is a master policy that protects the structure and common areas of the building. Depending on the type of coverage, it may partially cover condos or residential units in the building.
However, it does not cover your personal belongings —you need a personal condo insurance policy for that.
You might see condo association insurance referred to as an HOA ( homeowners association ) master policy, HOA insurance, or a master policy.
The condominium unit owners share the policy's cost. Typically, they pay recurring condo or HOA fees. If you're a condo owner, your bylaws may require dues to also cover maintenance costs or anticipated annual expenses.
See more: Best Condo Insurance Companies
What the Master Policy Covers
Condo master insurance is responsible for covering two main areas of risk:
Property damage for common areas

General liability for the association
Common areas typically include the roof, exterior walls, stairways, clubhouse, elevators, hallways, and grounds.
General liability coverage can protect the condo association from bodily injury or property damage claims or lawsuits. For example, if a dog bit someone on your front stoop or if a guest slipped and fell in a stairway.
The master policy can cover a variety of hazards:
Fire and smoke

Theft and vandalism

Windstorm and hail
The extent of the coverage can vary and depends on the type of policy. Talk to your condo association or condo board members if you aren't sure what the insurance coverage includes.
Compare Car Insurance Quotes Instantly
Personalized quotes in 5 minutes or less
No signup required
Types of Condominium Association Building Coverage
The association master policy typically provides coverage for common areas such as hallways, elevators, recreational rooms, and other shared spaces. It can also include building equipment like boilers and machinery.
Some policies may cover a portion of your individual unit:
Bare Walls Coverage
According to the International Risk Management Institute (IRMI), bare walls coverage is one of three types of protection used for condo master policies. A bare walls policy insures only:
The building

Fixtures in shared spaces

Furnishings in shared spaces

The grounds
A master policy with bare walls coverage has the least amount of protection for condo unit owners.
Suppose you own a condo unit, and your condo association has a bare walls policy. In that case, you are responsible for buying insurance to cover sinks, built-in cabinets, appliances, flooring, wallpaper, any improvements you made to the unit, and personal property coverage.
Single Entity Coverage
A master policy with single entity coverage is a middle-of-the-road approach to condo association insurance. Single entity covers the structure, fixtures, and shared spaces like a bare walls policy, but it can also include limited coverage for your individual unit:
Fixtures

Built-in cabinets

Countertops
Essentially, it includes what was originally part of the condo. It does not protect structural improvements, additions, upgrades, or personal items.
All-In Coverage
The most comprehensive protection that condo association insurance can offer is all-in coverage. As the name suggests, it is " all in "—policies can include the entire original structure of the condo building and:
Original fixtures

Installations

Appliances
Unlike the other two types of master policies, all-in coverage typically protects additions and remodels. It still does not extend to your personal belongings.
See more: Condo Insurance Quotes
Why You Still Need Personal Condo Insurance
As a condo owner, your building's master policy should automatically include you. However, condominium association insurance isn't enough.
A master policy protects the property's exterior and common areas only. You still need individual coverage for:
Furniture, clothing, electronics, and other personal belongings

Personal liability insurance for bodily injury and property damage

Improvements or upgrades to your unit
Your individual policy may need to include your unit's walls, cabinets, and fixtures. How much coverage you need for condo insurance depends on the master insurance policy —an all-in master policy offers the most protection, so you may not need as much insurance compared to a bare walls master policy.
You should also become familiar with the natural disasters and other risks in your area. Some master and individual policies do not include coverage for flooding, earthquakes, or wildfires.
You may need to buy additional coverage, such as flood insurance or a separate catastrophe insurance policy, to protect against some disasters.
Contact your insurance company or insurance agent to discuss coverage limits, deductible amounts, and options for what condo insurance covers.
Frequently Asked Questions
Unlike home insurance, condo insurance includes two separate policies. The master association insurance protects the building's structure, common areas, and property. Your individual condo policy covers your personal items and can include your unit's walls, cabinets, and fixtures.

Yes, condo association insurance includes liability protection. It can cover legal or medical costs if there's an accident or injury in any of the building's common areas.

Yes, you need condo insurance in addition to the condo association's master policy. The master policy does not cover your personal belongings. In many cases, it doesn't cover cabinets, fixtures, or appliances in your unit. Having an individual policy can give you the protection you need.

The best condo insurance is a policy that fits your budget while protecting what matters most. It helps to get insurance quotes from a few insurance agencies. That way, you can compare coverage options and get an affordable policy to fit your needs.
Condo Association Insurance: The Bottom Line
Condo association insurance is a policy that protects the common areas of a complex from damage and liability claims.
If you are a condo owner, you must understand what your condo's master policy covers —the master policy is a key factor in determining the amount of condo insurance you buy.
Your condo coverage should be varied enough to protect you against different types of catastrophic events. If you're not sure, talk to your condo board and insurance agency to make sure your insurance needs are covered.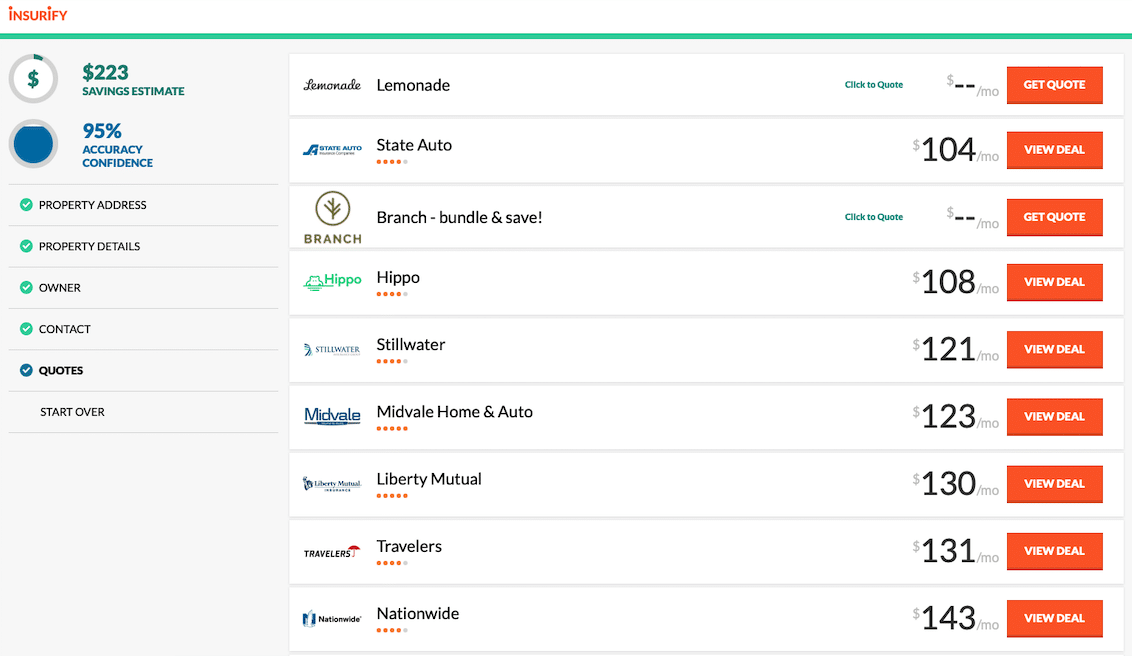 Compare Car Insurance Quotes Instantly
Personalized quotes in 5 minutes or less
No signup required
Data scientists at Insurify analyzed over 40 million auto insurance rates across the United States to compile the car insurance quotes, statistics, and data visualizations displayed on this page. The car insurance data includes coverage analysis and details on drivers' vehicles, driving records, and demographic information. With these insights, Insurify is able to offer drivers insight into how their car insurance premiums are priced by companies.