Do I need flood insurance in Baton Rouge?
Yes, flood insurance is extremely important in Baton Rouge.
Even if you haven't lived in Louisiana very long, you know flooding is a way of life. Hurricanes batter the coastline, and tidal and river waters regularly rise, endangering homes and belongings all over the state.
In fact, the Federal Emergency Management Agency ( FEMA ) has declared the entire state of Louisiana to be a flood zone. That means that no matter where you live in the state, you have a chance of sustaining flood damage. You don't have to live near a body of water for your property to flood—flooding can also be caused by rainfall, poor drainage systems, or a broken water main. However, with the Mississippi River practically serving as the front door to Baton Rouge, it's especially important for people in Louisiana 's capital city to think about flood insurance.
Louisiana 's rainy summers and falls can flood your property, even if it has never flooded before. Explore your options with our guide to how to buy flood insurance in Baton Rouge.
Need new home insurance? Try Insurify. This online tool is easy to use and can help you get insurance quotes from multiple insurers.
Do I Need Flood Insurance in Baton Rouge?
Flood insurance coverage isn't legally mandated in Louisiana. However, mortgage lenders may require property owners in high-risk areas, like along the bayou or near the Mississippi River, to buy it in order to qualify for a federally backed mortgage.
Flood claims are incredibly common in Louisiana. In 2016, more flood claims were filed in Louisiana than in the next three states combined. Why? Because Louisiana is one of the country's wettest states, with an average of 60 inches of rain per year. And Baton Rouge is certainly no exception. The flood risk in this state makes flood insurance a necessity even if you live in an area that's not designated as a high-risk flood zone.
Why is Louisiana flood insurance necessary? Because homeowners insurance policies don't cover damages from floodwaters. Home insurance companies specifically exclude flood damage from standard home insurance policies, so you need a separate policy to cover that.
Baton Rouge Flood Zones
In Baton Rouge and the River Parishes, most people only live a few feet above sea level, which means that storms can put you at even greater risk for flooding. Many neighborhoods in Baton Rouge and the surrounding areas are designated by FEMA as Special Flood Hazard Areas, or flood zones at higher risk than other areas.
However, flood zones don't have to be located near a water source—anywhere that gets rain can flood, especially if it's relatively low-lying compared to surrounding homes.
What's Covered with Baton Rouge Flood Insurance?
There are two types of flood insurance: building coverage, which covers your home, and contents coverage, which protects your personal property. The building portion of the coverage typically covers things like:
Structure and foundation

Electrical and plumbing systems

Major air conditioning equipment, furnaces, and heaters

Major appliances, like washers and dryers, refrigerators, and stoves

Debris removal for flood cleanup

Carpeting permanently installed over an unfinished floor
Contents coverage covers your personal possessions, like:
Clothing

Furniture

Electronics

Smaller and portable appliances that aren't covered by the building coverage

Carpeting that's installed over a finished floor
Compare Car Insurance Quotes Instantly
Personalized quotes in 5 minutes or less
No signup required
What's Not Covered with Baton Rouge Flood Insurance?
Flood insurance only covers losses that are directly caused by flooding. That means if your sewer backs up because of a flood, the damage will be covered, but if the sewer backup isn't caused by flooding, the damage won't be covered.
These items also typically aren't covered by flood insurance:
Temporary housing and additional living expenses that are incurred because your home is being repaired

Property outside the home, like your hot tub or swimming pool

Financial losses from business interruption

Valuable papers, like currency or stock certificates

Cars

Personal property that you keep in the basement
What's the Cost of Flood Insurance in Baton Rouge?
The average price of flood insurance through the National Flood Insurance Program ( NFIP ) in Louisiana is $726 per year, but looking at the average can be misleading. That's because there are many factors that go into determining flood insurance rates, so the amounts people pay in Baton Rouge, Lafayette, and New Orleans will all be different.
For example, the most expensive place in Louisiana to buy flood insurance is Denham Springs, where policyholders pay an average of $1,209 a year. The cheapest location is St. Bernard Parish, at $527 per year. Baton Rouge falls right in the middle, with an average annual cost of $686.
Your specific premiums might be higher or lower than the premium based on things like:
Your area's flood risk

Your home's elevation relative to nearby bodies of water

Distance from nearby bodies of water

Nearby flooding mitigation factors, like levees

The type of coverage you're buying

The deductible you select

The amount of building and/or contents coverage you choose

The construction and age of your home

How high the lowest level of your house is
For example, if your house and your neighbor's house are at the same elevation, but they have a basement and you don't, they'll pay more than you do for flood insurance.
How to Get a Flood Insurance Policy in Baton Rouge
Baton Rouge homeowners have two options for flood insurance: private insurers or NFIP flood insurance, which is sold by regular insurance agents but backed by the federal government. Your mortgage lender may have certain restrictions on the type of coverage you can buy. For example, if you have an FHA loan, you may be required to purchase NFIP coverage.
National Flood Insurance Program ( NFIP )
The National Flood Insurance Program is administered by FEMA and has existed for more than five decades. It has two types of homeowners policies—one covers the dwelling or building itself, and the other covers contents or personal property. NFIP insurance offers a maximum of $250,000 of coverage on any one building and up to $100,000 for personal belongings. The coverage amounts are the same no matter where you live in the country.
NFIP flood insurance quotes are calculated using a formula developed by FEMA, so any company selling NFIP insurance services will give you the same price—you don't have to get multiple quotes for NFIP insurance like you do with other types of insurance products.
It's also important to know that NFIP coverage has a waiting period of 30 days. That means you can't wait until a hurricane is coming, buy a policy at the last minute, and expect to be covered. Learn more about NFIP insurance at floodsmart. gov.
Private Flood Insurance
Private insurers are another option for Louisiana homeowners. One plus is that they tend to have other coverage options that aren't included in NFIP insurance, such as higher coverage limits. Their premiums are also usually lower than NFIP insurance, although part of the reason for this is that private insurers won't write policies in high-risk areas, where the NFIP is the only game in town.
With a private insurance policy, you also may be able to get supplemental coverage for things like temporary living expenses, coverage of basement contents, and swimming pool repairs.
Frequently Asked Questions
Louisiana floods most in the summer and fall, so make sure you buy your flood insurance policy well in advance. That way, it will be effective by the time you're most likely to need it.

Reach out to a private carrier to see if there are other coverage options in your area. Some private flood insurance policies have higher coverage limits available.

Yes! Renters (and business owners) can also get flood insurance policies. Talk to a flood insurance carrier for more details.
Be Prepared for Louisiana Floods
Floods are a part of life in Louisiana, so it's important to be prepared. Instead of hoping it never happens to you, buy flood insurance now so you know you're protected if a disaster happens. It's a small price to pay for protecting your home, which can cost tens of thousands of dollars to repair after a flood.
Need a new homeowners policy to go with your flood insurance? Insurify can help you find affordable home insurance today.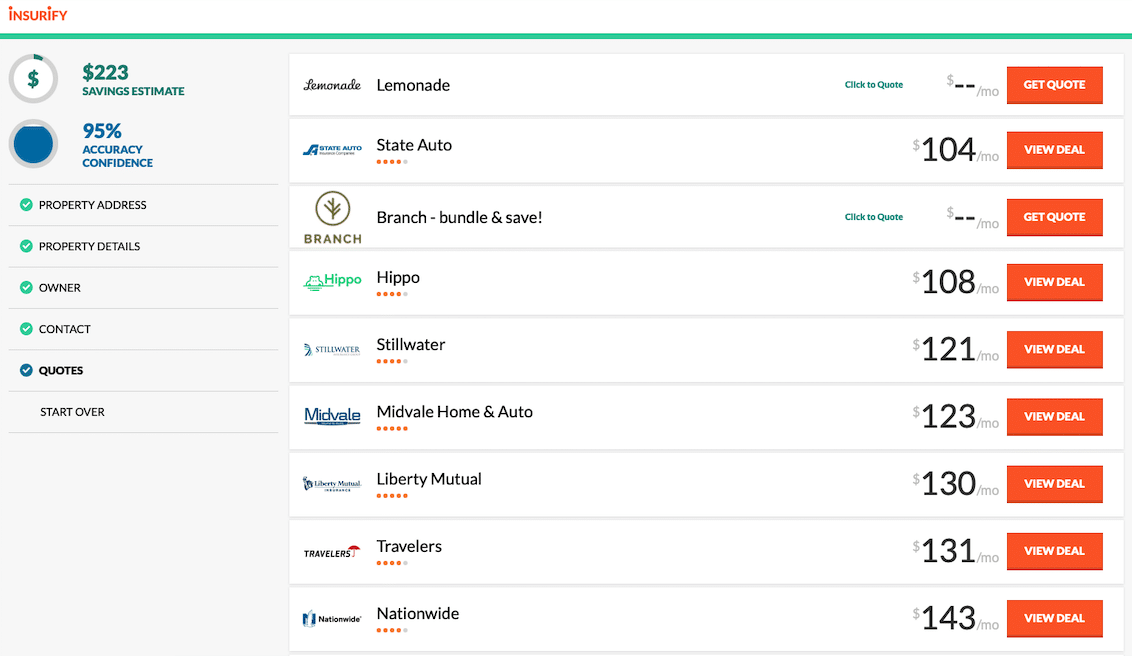 Compare Car Insurance Quotes Instantly
Personalized quotes in 5 minutes or less
No signup required
Data scientists at Insurify analyzed over 40 million auto insurance rates across the United States to compile the car insurance quotes, statistics, and data visualizations displayed on this page. The car insurance data includes coverage analysis and details on drivers' vehicles, driving records, and demographic information. With these insights, Insurify is able to offer drivers insight into how their car insurance premiums are priced by companies.