Should I buy flood insurance in Arizona?
If your property is at high or moderate risk of flood damage, you should absolutely carry a flood insurance policy, even if it's not required. Homeowners with mortgaged properties in high-risk areas will be required to carry a policy.
Homeowners insurance policies do not cover floods, and this can take property owners by surprise. Luckily, there are several options available to get flood insurance and protect your property.
This article will walk you through the ins and outs of flood insurance, including:
Understanding your property's risk of flooding

Understanding whether you're required to carry flood insurance

How to tell if you need flood insurance when policies are optional

Where to buy flood insurance

How to save on your flood insurance policy
If you're looking to save on home insurance, Insurify has got you covered. Use our home insurance rate comparison tool to uncover rates in your area. Compare your options side by side, and buy only if the price is right. The service is completely confidential and free to use. Try it today!
Do I Need Flood Insurance in Arizona?
Many residents of Arizona need flood insurance. Though much of Arizona is desert or semi-desert in climate, heavy rains hit vast regions of the state every year. Due to environmental factors, flooding and flash floods are more likely in Arizona than in other states with more precipitation.
That being said, whether you'll be required to carry a flood insurance policy will depend on whether:
You live in a high-risk flood zone, also called a Special Flood Hazard Area (SFHA)

You have a mortgage or other lending product collateralized on your home
People who live in high-risk areas and have a mortgage are required to carry flood insurance. People in moderate-risk areas may also be required to carry a policy.
People in low-risk areas and people who do not have a mortgage on their property will get to choose. Flood insurance is almost always a good idea because:
Flood damage is very expensive, even when that damage is minor.

Flooding causes other forms of property damage, including mold and rot.

Flood losses are never covered with a standard home insurance policy.

Flooding is becoming more frequent and more severe.
Arizona Flood Zones
Floodplains exist in every county in Arizona. Furthermore, population growth and its co-occurring sprawl of concrete are creating increased flood risk in urban areas. Even areas without a major river close by can be at risk.
To make matters worse, increased rains are making floods more common all over the state. The cities with the most at-risk properties in Arizona are:
Phoenix: 62,351 properties at risk

Glendale: 25,429 properties at risk

Scottsdale: 17,781 properties at risk

Peoria: 7,850 properties at risk

Maricopa: 7,479 properties at risk
According to FloodFactor, Arizona will see an increase in flood risk of 1.8 percent in the next 30 years. But the good news is that many communities are fighting back with adaptation measures, including:
Protecting open spaces

Building rain gardens and bioswales

Building spillways, dams, and levees
Through these measures, more than 800,000 properties in Arizona have added protection from floods.
To see a detailed flood map of your area, visit your town's government website for up-to-date information regarding flooding. If that doesn't work, you can also visit FEMA 's website (www. FEMA. gov ) and order a flood map there.
What's Covered with Arizona Flood Insurance?
There are two parts to flood insurance coverage in Arizona: building coverage and contents coverage. Building coverage is mandatory with every policy. It protects permanent parts of the building's structure, including:
Detached garages

Foundation walls

Anchorage systems

Staircases

Electrical systems

Plumbing systems

Built-in appliances

Refrigerators, stove/oven, and dishwashers

Water heaters, air conditioners, and sump pumps

Permanently installed carpets

Built-in cabinets, paneling, and bookshelves

Fuel tanks

Well-water tanks and pumps

Solar energy equipment
Home contents coverage is optional. Even though it's optional, it's a good idea to add it to your policy, as it offers coverage for your personal belongings and is inexpensive. Contents coverage protects:
Washer and dryer

Microwave

Portable and window air conditioners

Clothing, furniture, and electronics

Valuables, such as jewelry, artwork, and furs

Curtains

Non-permanent carpeting
Compare Car Insurance Quotes Instantly
Personalized quotes in 5 minutes or less
No signup required
What's Not Covered with Arizona Flood Insurance?
There are several common exclusions in a flood insurance policy. These include:
Additional living expenses (ALE)

Business losses caused by interruption

Landscaping

Septic systems

Decks and patios

Pools and hot tubs

Fences and seawalls

Documents like stock certificates

Precious metals

Currency

Automobiles

Self-propelled vehicles (ATVs, etc.)

Personal belongings kept in basements
And don't forget that flooding not caused by natural factors (e.g., heavy rains ) is also excluded. Burst pipes, for example, are typically covered under an HO-3 home insurance policy.
What's the Cost of Flood Insurance in Arizona?
Flood insurance costs vary from property to property. How much you pay for your flood insurance premium will depend on several factors, including:
How at-risk your property is for flooding—the higher the risk, the more expensive the premium.

The size of your home—the bigger the building(s), the more expensive the premium.

Your home's building materials —the more expensive the materials, the more expensive the premium.

The age of your home—older homes are more susceptible to damage, especially if they have not been updated/renovated.

Your deductible —the higher the deductible, the lower your premium.
Most people can expect flood insurance to tack on $700 to $800 or more to their annual homeowners insurance costs.
Flood Insurance Deductibles
The minimum deductible rates for a flood insurance policy through the NFIP are:
$1,000 for building coverage $100,000 and under

$1,250 for building coverage over $100,000
You can raise that deductible if you want. The advantage of raising your deductible is that it comes with a discount. You can save up to 40 percent if you choose the maximum deductible of $10,000.
But the higher the deductible, the more you'll pay in the event of a claim. Your discount may not make up for the extra $9,000 you'll pay out of pocket when the water rises.
Replacement Cost Value vs. Actual Cash Value
You can purchase a flood insurance policy to cover either replacement cost value (RCV) or actual cash value (ACV). The main difference between the two is that ACV takes into account the depreciation of your building. The payout is lower with an ACV policy.
You're safer buying an RCV policy if it's possible. It's more expensive month to month but saves you thousands in the event of a claim.
How to Get a Flood Insurance Policy in Arizona
There are several ways to get flood insurance in Arizona. First, you'll need to decide if you need a federally backed policy, a private policy, or a combination of the two. Here's how to choose:
Federally backed policies provide up to $250,000 for the home and $100,000 for personal belongings. These policies tend to be less expensive.

Private policies have larger coverage limits and can be molded to fit your needs. However, if you're substituting a private policy to meet flood insurance requirements, be sure that your policy meets your lender 's needs before purchasing. They tend to be more expensive.
For people with high-value homes, a combination of public and private policies often works best. It combines the affordability of a public policy with the flexibility of a private option.
National Flood Insurance Program ( NFIP )
The most common form of flood insurance comes from the National Flood Insurance Program ( NFIP ). The NFIP is operated by the federal government. You can purchase an NFIP policy through your current insurer if it offers flood options. Insurers that offer NFIP -backed flood policies in Arizona include:
State Farm

Auto-Owners

Farmers

The Hartford

Liberty Mutual

USAA
Alternatively, you can visit FloodSmart.gov or call the NFIP at 1 (877) 336-2627 to find providers in your area.
Private Flood Insurance
For homeowners needing more than standard flood insurance, a private policy can help fill in the gaps. This is appropriate for people with homes that would cost more than $250,000 to rebuild or with mortgages larger than $250,000.
Some homeowners opt to purchase a private policy instead of one backed by the NFIP. This is acceptable so long as the policy complies with federal standards. Your lender will help you ensure that your policy is adequate.
Does FEMA Provide Flood Insurance?
FEMA is the Federal Emergency Management Agency. It exists to coordinate the federal response to natural disasters and other large-scale emergencies. While FEMA does provide payouts to people who suffer losses from disasters, it is not a substitute for flood insurance.
FEMA only offers financial help to people affected by a declared emergency. Even when flooding is declared an emergency, the FEMA payout is small. The maximum payout is $30,000. However, the average homeowner receives between $3,000 and $7,000. This is not enough to cover even minor damages from flooding.
Frequently Asked Questions
You should expect to pay between $700 and $800 a year for flood insurance. Your rate will heavily depend on whether you live in a high-, moderate-, or low-risk flood zone.

If you live in a high-risk area and have a mortgage, you have to buy flood insurance. Your lender will require it. If you live in a moderate- or low-risk area, you may be required to buy a flood insurance policy. But even if you're not required, you should consider carrying flood coverage. Three inches of water can cause more than $10,000 in property damage.

Renters with homes in areas with a high or moderate risk of flooding should purchase flood insurance. The good news is that these policies are much less expensive than homeowners policies, as they're only applicable to personal property.

Most of the time, yes. Flooding is a common cause of natural property damage. Heavy rains, a backed-up storm drain system, and overrun natural water tables can all cause minor or major flooding to your property. Property damage caused by flooding is expensive and can cause other issues, like rotting and mold.
How to Save on Flood Insurance
Even people with homes in high-risk areas can do things to prevent property damage, reduce their flood insurance premiums, and reduce costs in the event of a flood insurance claim. We suggest:
Comparing flood insurance quotes

Using discount programs

Installing flood-prevention features

Elevating basement appliances

Storing personal property in the attic
And don't forget to compare your home insurance policy with Insurify. Our tool will help get the best rate fast. Still have questions? Speak to one of our qualified insurance agents, and get the answers you need to make the best choice.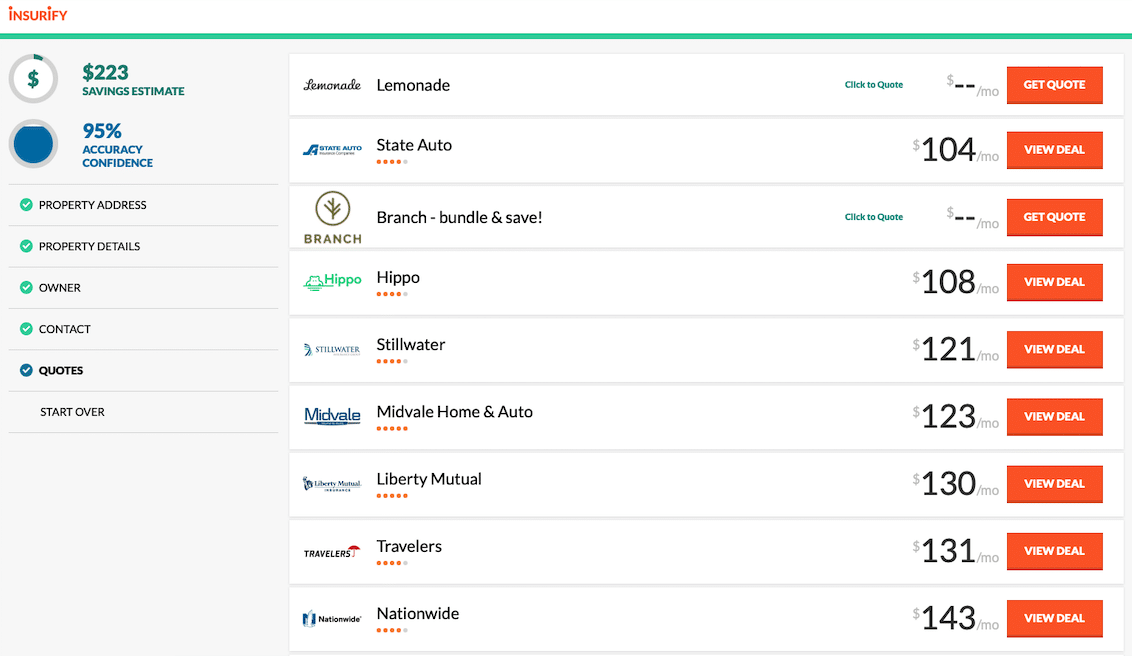 Compare Car Insurance Quotes Instantly
Personalized quotes in 5 minutes or less
No signup required
Data scientists at Insurify analyzed over 40 million auto insurance rates across the United States to compile the car insurance quotes, statistics, and data visualizations displayed on this page. The car insurance data includes coverage analysis and details on drivers' vehicles, driving records, and demographic information. With these insights, Insurify is able to offer drivers insight into how their car insurance premiums are priced by companies.