Is earthquake insurance worth it in Alaska?
Depending on the risk level of your area, having earthquake insurance can save you big financially in the long run. It's always worth getting a quote.
Alaska is one of the most beautiful places in the world. Homeowners can enjoy the coastal mountains, unspoiled tundras, and rivers. Yet there's a hidden danger you might not have guessed: earthquakes.
Earthquakes can happen anytime and anywhere. They can be terrifying and leave behind substantial damage. Considering earthquakes are common throughout most of the state, Alaska earthquake insurance should be something you think about.
If you don't already have a policy, here's what you need to know about the cost and coverage options of earthquake insurance in Alaska.
We can also help you compare homeowners insurance policies when you use Insurify to compare rates. In less than five minutes, you could have a dozen or more policy quotes. See how much you could save today!
Do You Need Alaska Earthquake Insurance?
An earthquake insurance policy can protect your home and belongings from the damage and destruction of an earthquake.
The federal government doesn't require earthquake insurance coverage. Many lenders don't require it, either. So, do you need it? You might think your homeowners or renters policy is enough. However, standard homeowners and renters policies don't cover earthquake damage.
The Insurance Information Institute includes Alaska as one of the states with the highest risk of quakes. According to the Alaska Earthquake Center at the University of Alaska Fairbanks, the state has more earthquakes than any other part of the U.S.
Although Alaska.gov reports the state is the most seismically active region in the U.S., the risk is generally higher in Anchorage and other Southcentral locations. Visit the Earthquake Hazard Map from the Federal Emergency Management Agency (FEMA) to see the risk where you live.
What Alaska Earthquake Insurance Covers
Earthquake insurance in Alaska covers the repair and replacement of your home and personal belongings due to earthquake damage. It typically includes:
Dwelling coverage for your home

Attached structures, such as a garage

Unattached structures, like a shed or detached garage

Furniture, electronics, and other personal property

Debris removal

Additional living expenses if you can't live in your home while it's being repaired
Policies can vary. Call your insurance provider to find out what's covered and what isn't in the event of an earthquake.
Compare Car Insurance Quotes Instantly
Personalized quotes in 5 minutes or less
No signup required
What Earthquake Insurance Doesn't Cover
Earthquake insurance in Alaska doesn't usually cover fire or water damage following a quake. If a water line or gas pipe bursts, your homeowners policy usually kicks in to cover that type of damage.
An earthquake policy doesn't cover vehicle repairs, either. Your Alaska auto insurance may pay for earthquake damage to your vehicles, so ask your agent about what your policy might include.
Average Cost of Alaska Earthquake Insurance
Because the seismic activity is higher in Alaska, earthquake insurance tends to come with higher premiums. Your price depends on several factors:
Age and location of the home

Construction material

Costs to rebuild the home

Policy deductible
Earthquake coverage for older homes or brick-built homes tends to cost more. You can expect to pay around $1.25 per thousand in value for a brand-new home. For an older home, you could pay up to 25 percent or more of that amount.
How to Get a Quote
Earthquakes are common in Alaska. According to Alaska's Division of Insurance, only about 15 percent of homeowners buy earthquake insurance. That leaves many residents without the protection they need.
Many insurance companies let you add an earthquake insurance endorsement to your Alaska home insurance policy. To get a quote, contact your current homeowners or renters insurance agent.
Alaska Earthquake Insurance - Frequently Asked Questions
Earthquake damage can be costly. Homeowners without earthquake insurance can spend more than $30,000 in repairs. Because Alaska is at high risk for earthquakes, the price of an earthquake policy could be worth it.

Yes, you can buy earthquake insurance if you rent your living space. Many insurers sell earthquake insurance as an add-on to existing renters insurance policies. You may also be able to purchase a separate policy to get the coverage you need.

Standard homeowners and renters policies do not cover earthquake damage. However, they often cover events immediately following an earthquake, such as water damage or a fire. If a quake caused a water pipe to break and flood your home, your policy might not cover the broken water pipe. But it could cover the costs from the water damage.
Alaska Earthquake Insurance: The Bottom Line
Alaska earthquake insurance can protect you financially. Policies can be expensive, which is why many homeowners in the state don't purchase earthquake coverage.
The risk of quakes in Alaska is higher than in other regions of the U.S. If there's a small or big earthquake or additional damage from aftershocks, you may not have enough money set aside to cover repairs. Buying a policy can get you the coverage you need to protect the financial investment you made in your home.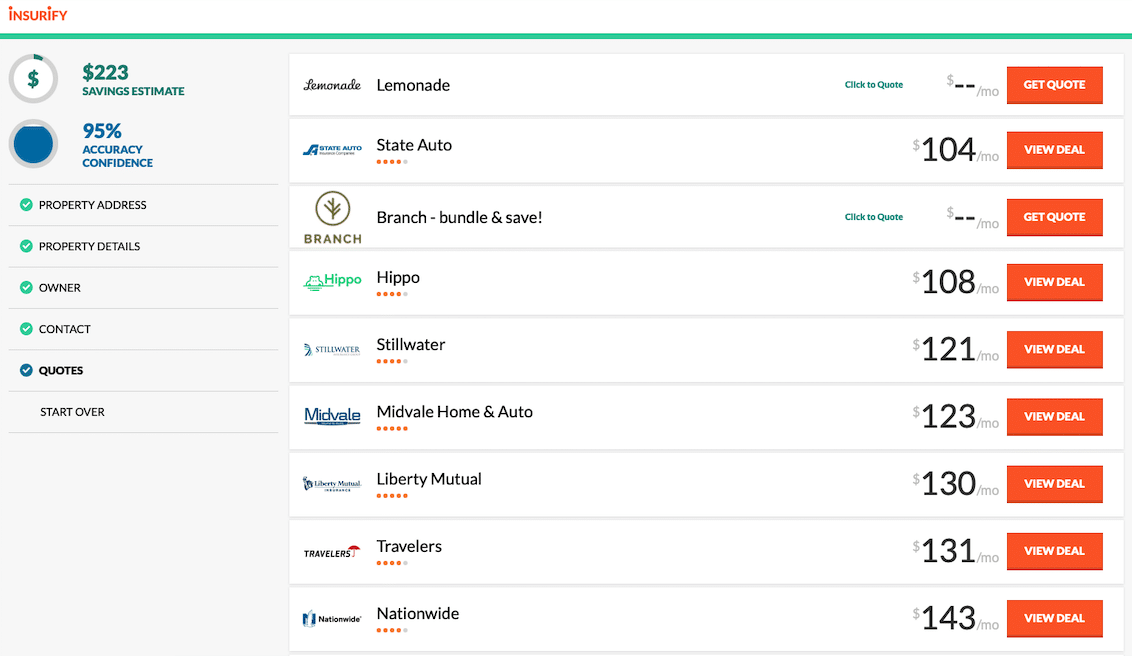 Compare Car Insurance Quotes Instantly
Personalized quotes in 5 minutes or less
No signup required
Data scientists at Insurify analyzed over 40 million auto insurance rates across the United States to compile the car insurance quotes, statistics, and data visualizations displayed on this page. The car insurance data includes coverage analysis and details on drivers' vehicles, driving records, and demographic information. With these insights, Insurify is able to offer drivers insight into how their car insurance premiums are priced by companies.