You've just purchased a new home—welcome! Whether a first-time buyer or buying your next home, you made a significant investment. Now you need to find a way to protect your purchase. Finding the best home insurance is not for the faint of heart. With so many considerations, coverage options, coverage limits, and insurance rates, it will take some research before you commit to the best homeowners insurance policy.
Luckily, you have Insurify to help you navigate the overwhelming pool of home insurance companies, including homeowners insurance costs. Let us help you find the best options at the cheapest home insurance rates.
Compare Best and Worst Home Insurance Companies
When you think of shopping around for the best home insurance, what is the first thing that comes to mind? Pricing is the primary consideration that comes to mind for most people. But you also should consider your needs and whether you'll need additional coverage for valuable personal items. Or what if you live in an area vulnerable to earthquakes and hurricanes? How will the home insurance company you choose affect your life?
The truth is, it's effortless to get duped by bad home insurance companies. Consider this scenario: You see a low price tag, and you go with the first home insurance company you see. A natural disaster happens, and you find out that you don't have the right coverage.
You do not want to be in that kind of situation. And everyone has different needs. That's why it's essential to know how to find the best home insurance policy at an affordable price. Thankfully, we at Insurify can help you compare the best insurance companies depending on your individual needs.
Best Homeowners Insurance Companies
Finding the cheapest home insurance does not mean you have to compromise, though. You can still review the best home insurance companies and consider all aspects. Whether it's Allstate, Amica, State Farm, Liberty Mutual, or USAA, they differ depending on your coverage needs. Here's what you should have in the back of your mind as you compare the best homeowners insurance companies:
Customer Satisfaction
You'll be happier when you choose a company with a high customer satisfaction rating. It's an overall better experience when you talk to insurance agents who are friendly and get the job done correctly.
It's always good to do a little research and find out if customers are happy with your potential home insurance company. The best place to look is J.D. Power because they survey thousands of homeowners a year. Some insurance companies are J.D. Power Award winners, making them top choices in customer excellence. It makes a difference when you have a pleasant customer experience, so make sure you consider it when finding a homeowners policy.
Insurance Premiums
If you're not familiar with homeowners insurance premiums already, it's the amount you pay for an insurance policy. Think of the insurance premium as income for the insurance company. The National Association of Insurance Commissioners (NAIC) reported in 2017 that the average premium for the most common type of home insurance was $1,211 a year.
Your location can impact your premium. If you live in an area prone to natural disasters, such as hurricanes, wildfires, or earthquakes, you can expect a higher premium. The reasoning is behind spikes in insurance claims over the years. The Insurance Information Institute reported that the 2018 California Camp Fire (California's deadliest and most destructive wildfire) had insured loss totals between $8.5 billion and $10.5 billion.
Let's say you just moved to California, but last year your ZIP code experienced a wildfire. You can bet that the insurance premium will reflect the previous year's losses and be higher than usual.
Average Cost of Home Insurance by State
| State | Average Annual Premium |
| --- | --- |
| Alabama | $1,921 |
| Alaska | $1,151 |
| Arizona | $1,355 |
| Arkansas | $1,566 |
| California | $1,160 |
| Colorado | $2,263 |
| Connecticut | $1,130 |
| Delaware | $677 |
| Florida | $3,585 |
| Georgia | $1,533 |
| Hawaii | $892 |
| Idaho | $843 |
| Illinois | $1,284 |
| Indiana | $862 |
| Iowa | $1,351 |
| Kansas | $2,212 |
| Kentucky | $1,462 |
| Louisiana | $3,227 |
| Maine | $760 |
| Maryland | $1,289 |
| Massachusetts | $984 |
| Michigan | $1,035 |
| Minnesota | $1,745 |
| Mississippi | $1,530 |
| Missouri | $1,868 |
| Montana | $1,921 |
| Nebraska | $2,119 |
| Nevada | $908 |
| New Hampshire | $727 |
| New Jersey | $917 |
| New Mexcio | $1,319 |
| New York | $911 |
| North Carolina | $1,101 |
| North Dakota | $1,758 |
| Ohio | $1,148 |
| Oklahoma | $3,249 |
| Oregon | $995 |
| Pennsylvania | $864 |
| Rhode Island | $1,204 |
| South Carolina | $2,026 |
| South Dakota | $1,446 |
| Tennessee | $1,418 |
| Texas | $1,387 |
| Utah | $692 |
| Vermont | $576 |
| Virginia | $1,092 |
| Washington | $731 |
| West Virginia | $1,285 |
| Wisconsin | $1,203 |
| Wyoming | $1,212 |
Coverage Options
Homeowners insurance coverage options are not state-mandated like car insurance. In many cases, your mortgage lender may have a requirement of insuring a percentage of your home's value. You don't want to underinsure yourself, though. Being underinsured could pose a risk, especially if you have to rebuild in the future.
On the other hand, it may be a disadvantage to buy too much homeowners insurance coverage, also. You can't just assume to cover your home's total market value. Your home is often valued higher than the cost to rebuild. The best thing to do is to buy enough insurance to cover the rebuild of your home, better known as the replacement value or replacement cost. It's best to discuss this price with the insurance agent when you go over your home insurance quote.
Add-Ons
You want your assets to be covered, too. That's why it's best to look at your insurance options and add-ons. Add-ons are not usually standard in a homeowners insurance policy, and they can increase the cost of your standard policy. It's essential to be aware of this when getting your home insurance quote. Consider the following add-ons that could save you more money in the future, should the unforeseeable occur:
Earthquakes, hail, or windstorm damage: It's essential to know if your area is prone to one of these occurrences. Hail especially can cause significant damage to your home. There may be a separate deductible or stand-alone coverage available for windstorm, earthquake, or hail damage.

Extended replacement cost: This pays 10 to 50 percent above the limit of coverage in cases where building costs skyrocket after a catastrophe. If you're thinking about an extended replacement cost add-on, be sure to ask for details before making the purchase.

Sewer backups: For a small yearly cost, you would be protected if a line failure were to cause sewage backup into your house. For example, you have tree roots growing into your sewer line. An add-on for this case can save you a lot of money in the long term.

Replacement cost coverage: Standard policies might only reimburse the depreciated cash value of damaged or stolen personal property, known as actual cash value. An add-on like replacement cost coverage will help you afford to replace items instead of paying you for their lower actual value. Pro tip: make sure you have documentation like a video or slideshow of your personal inventory and store it on a drive or in the cloud for safekeeping.

Personal property coverage: A floater is an excellent choice as an add-on because it covers costly items. Most homeowner insurance policies put dollar amount limits on the replacement value for jewelry, firearms, and other personal property coverage. But if your personal property is worth more than what the insurer is willing to pay out, you're losing money. The floater does make your premium higher, but only by a small amount, and you're covered in case anything happens to your personal belongings.

Ordinance, aka law and endorsement: This is extra coverage if local building codes are updated and you need to rebuild in compliance with local ordinance.

Inflation guard: You must check or ask your insurance agent if there's an inflation guard rider or feature that will automatically raise your coverage to reflect increases in annual home building costs.
Liability Coverage
Liability coverage covers the costs and damages associated with lawsuits. Homeowners insurance policies typically have a liability insurance limit starting at $100,000. Though, in some places, you can get sued for everything you have. If your assets are more than $100,000, you should increase your personal liability limit. Remember that liability coverage is added protection if the value of your assets exceeds $100,000.
How to Find the Best Home Insurance Rates
Let's say you narrowed down-home insurance companies, and now you're ready to reap the benefits. Whether picking Auto-Owners, Nationwide, or Metlife, you are finally ready to get the cheapest insurer with everything you are looking for in homeowners insurance. Well, now you have to do the legwork, but that's fine because you are going to find the best home insurance rates. Here's what you need to do:
Determine a Company's Financial Strength
Home insurance should be supplied through a company that's stable enough and can pay out insurance claims, also known as financial strength. To find an insurer's financial state rating, the Insurance Information Institute suggests going online and doing research. Standard & Poor's, Fitch, Kroll Bond Rating Agency, Moody's, and A.M. Best are the five independent agencies that rate the financial state of insurance companies.
Each of the above agencies has rating standards and a rating scale. It's important to remember that the agencies might disagree with one another, so we suggest you look at the ratings from two or three of them before picking the best insurer.
Remember, due to bias, the insurance agencies themselves might highlight a positive rating from one agency and disregard a low rating from another agency. Always look up the score on the agency's website rather than the insurer's website to get the lowdown on the home insurance company's financial strength rating.
Shop Around for Homeowners Insurance Rates
Now that you have the best insurance companies with high customer satisfaction, high financial strength, and you know the best coverage options for your needs, it's time to shop around for the best home insurance rates before committing to an insurance quote.
Remember to have your list and make notes of any additional living expenses to be aware of and any add-ons, like personal property coverage. Note the value of your home, the type of insurance you want, the coverage amount, and the type of coverage.
Compare Insurance Quotes
You can either call or go online to compare home insurance quotes. If you have questions about coverage options, you should speak directly with an insurance agent. That way, you can also get a feel for what their customer service is like.
You might also be eligible for discounts; for instance, many home insurance providers provide discounts for security systems installed in the home. The insurance agent may help you find the best insurance products if you talk with them about your homeowner's insurance needs.
See If Bundling Is Available
Many of the big insurance carriers offer bundling of auto insurance, life insurance, and home insurance. And often, when you bundle dwelling coverage with life insurance or auto policies, you can get a discount. If the insurance agent does not already suggest it, be sure to ask them about available bundling.
Best Home Insurance Frequently Asked Questions
Most home insurance policies do not cover flooding unless there's water damage caused by a pipe or another broken system. And even if you live in a low-risk area, floods still happen. You'll need separate flood insurance to protect against flooding, water damage, and mudflows from outside the home. Check out the National Flood Insurance Program website for an estimate.

If you're not familiar with the insurance industry, a deductible is a fixed dollar amount you pay out of pocket when you file a claim for a loss covered by insurance. A normal deductible range is anywhere from $500 to $2,000. Though remember, a higher deductible results in a lower premium. Just make sure it's set at an affordable price in case you have to file a claim.

A typical home insurance policy will have liability coverage, personal property, coverage on your physical house and other structures, and additional living expenses (ALE) in case you have to wait for claim-related repairs or rebuilds.
How to Find the Best Homeowners Insurance
Remember, the best homeowners insurance doesn't always have to come at a hefty price. And coverage needs are not one-size-fits-all. By knowing your individual needs for coverage and comparing quotes, you can find the best and cheapest homeowners insurance available
Are you comparing home insurance companies? Take a look at the best options by using Insurify to help you find the best price in minutes.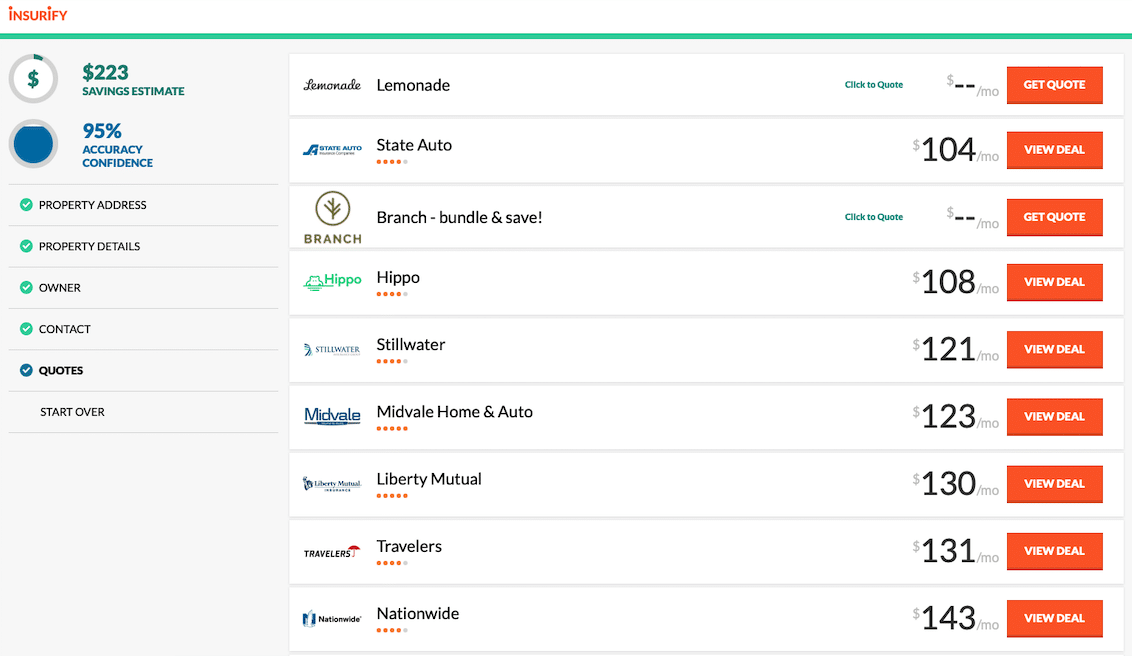 Compare Home Insurance Quotes Instantly
Personalized quotes in 5 minutes or less
No signup required