Do I need condo insurance in Florida?
Yes, even if you're part of a homeowners association at a condominium complex, you need your own condo insurance in Florida because of the unique risks the climate poses in this region.
Living in a condo is generally low maintenance. Depending on your building, you may not have to worry about lawn maintenance or cleaning the gutters. But there's a crucial component to being a condo owner you might miss: condominium insurance.
Florida doesn't require condo insurance. But that doesn't mean you're off the hook. Many times, your condo association will instruct you to buy a policy.
Condo insurance in Florida, also known as HO-6 insurance, can protect your condo and personal belongings from damage and destruction. It can also save you from personal liability if someone files a lawsuit against you.
Here's what you need to know about condo insurance of homeowners insurance in Florida.
And if you're here for homeowners insurance, we can help you with that, too. Insurify is your one-stop shop to compare policies and quotes to get the home insurance you need.
What Does HO-6 Condo Insurance Cover in Florida?
As a condo unit owner, you're partially protected by the condo association 's master policy. But there's a catch: it doesn't cover your unit or personal property.
Because life is unpredictable, you need condo insurance. It provides coverage if a fire, a hurricane, or another disaster damages your condo or destroys your belongings.
Your Condo Unit
The condo association's policy protects the building's outside structure and common areas. But it doesn't cover what's inside your unit. Luckily, a condo insurance policy does.
Dwelling coverage, or Coverage A, generally includes:
Interior walls

Carpeting and flooring

Cabinets and countertops

Built-in bookcases
The coverage you need depends on the master policy. Talk to your condo association to find out what their policy covers to ensure you get enough insurance for your unit.
Your Personal Property
Condo insurance policies include personal property coverage. It protects your clothing, furniture, appliances, electronics, and other belongings.
Keep in mind your policy will have a coverage limit. Consider how much it would cost to replace your valuables to make sure you have enough insurance coverage.
Personal Liability Protection and Medical Coverage
Accidents happen. If you're found to be legally liable for bodily injury to another person, you need liability coverage. Personal liability insurance may help pay for legal fees and medical bills if you're responsible for the damage.
Condo insurance can also include medical coverage. It can make medical payments for expenses if someone hurts themselves in your condo, even if it's not your fault.
Additional Living Expenses
The most common natural disasters in Florida are floods, hurricanes, tornadoes, and wildfires. If destruction from those events or other covered perils makes your condo uninhabitable, additional living expenses (ALE) coverage can help.
ALE, sometimes called loss of use, can reimburse you for extra housing costs, restaurant meals, and more if you can't live in your condo while it's being repaired.
Loss Assessment
You share many common areas with other condo owners. Loss assessment coverage can help pay for claims if there's an accident in one of the shared spaces, such as the pool, hallway, or fitness center.
What Does HOA Master Insurance Cover?
The master policy includes many of the same perils as your condo insurance. Coverage typically includes damage from fire, smoke, lightning, hurricanes, vandalism, and theft.
But the HOA master insurance covers only the building and common areas. It doesn't protect your condominium unit or the items inside it.
Three different types of condo master policies exist:
Bare walls coverage provides the least amount of protection. It includes the structure of the building and minimal coverage of the shared spaces.

Single entity covers everything the bare walls policy does, plus the fixtures inside your unit.

All-inclusive includes everything a single entity policy covers and updates or structural upgrades you make to your condo.
How far the coverage extends depends on the type of master policy. Ask your condo association about which policy type they have.
How Much Does a Florida Condo Insurance Policy Cost?
The average Florida condo insurance policy costs $964 per year, or about $80 per month, according to a 2020 report from the National Association of Insurance Commissioners. Compare that to the national average of $506, and you'll see it costs almost twice as much.
You might pay more or less than $964 a year for HO-6 insurance in Florida. Insurers use different methods to calculate premiums. How much you pay can depend on:
The home's age

The home's location

Construction and rebuild cost

Catastrophe and risk exposure
Condos in high-risk areas for hurricanes or other disasters are generally more expensive to insure. If you have a pet, you may need additional coverage. That can increase your premiums, too.
What Is the Deductible for Condo Insurance?
The policy deductible is another factor to consider when calculating the cost of condo insurance. How much you'll pay depends on your coverage options and the deductible amount you choose.
For a covered loss, your deductible could be $500 or $1,000. Higher deductibles generally mean lower premium costs. Your insurer might have the option for you to raise the amount above $1,000.
Compare the value of raising your deductible to the amount of savings you'll get to make sure it's worth it.
How to Get a Florida Condo Insurance Quote
To discover Florida condo insurance rates, you'll need to get a quote. But prices can vary between insurance companies.
Shop around to at least three different insurers to compare rates and pick the best coverage options for you.
If you already have auto insurance, you may want to start with that company. Many insurance providers offer several policy types. Bundling your condo policy with your car insurance can help you qualify for a bundling discount and potentially lower your insurance costs.
What insurance do I need for a condo in Florida?
You need two types of insurance for a Florida condo. The condo association takes care of getting a master insurance policy to cover building and property damage to shared spaces. The second coverage is your condo insurance policy. The master policy doesn't cover the inside of your unit or your personal items, but your condo coverage will.
How much condo insurance do I need?
You want to make sure you have enough coverage to pay for the actual cash value of replacing your personal belongings and damage to the unit. You might make a home inventory to help you calculate the coverage amount that's right for you. An insurance agent can also estimate how much the replacement cost might be and match you with the right policy limit.
Do I need condo insurance if I'm renting a condo?
You do not need condo insurance if you're renting a condo. Instead, consider a renters insurance policy. It isn't required by law, but a renters policy can protect you from the risk of your belongings being destroyed or stolen. It can cover the cost to replace your items and provide liability protection if someone gets hurt in your home.
Who has the best condo insurance in Florida?
The best policy depends on your situation and circumstances. The top insurers in Florida include Amica, USAA, Erie Insurance, Allstate, and State Farm. But what's best for others might not be right for you. Because insurers calculate premiums differently, shopping around to compare options can help you save on costs without sacrificing coverage.
Condo Insurance in Florida: The Bottom Line
A Florida HO-6 policy is a type of property insurance that protects your condo and the things you own. The state doesn't require you to purchase it. However, the condo association may mandate that you buy a policy.
The cost of condo insurance in Florida is almost double the national average. But don't settle for the first quote you get. Shop around to compare quotes and make sure you get the coverage you need at a great rate.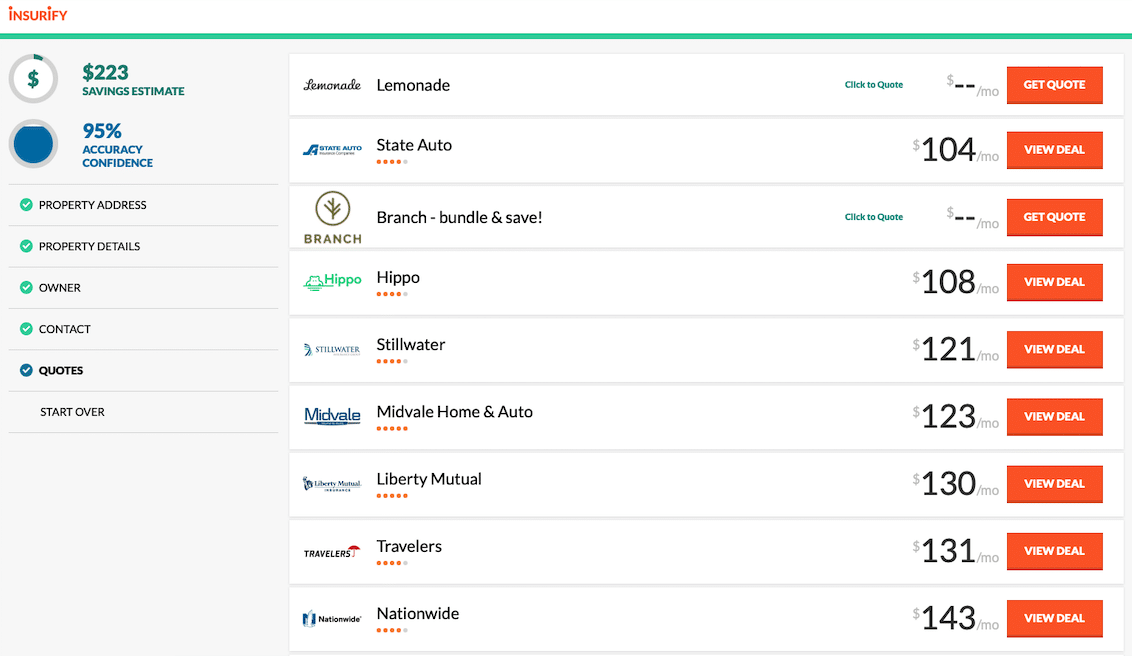 Compare Home Insurance Quotes Instantly
Personalized quotes in 5 minutes or less
No signup required