How can I buy New Hampshire flood insurance?
New Hampshire flood insurance is available through the National Flood Insurance Program (NFIP) or a private insurer. Check with your homeowners insurance company to discover your options.
Flooding is a frequent occurrence in New Hampshire, making flood insurance a necessity for many homeowners. In July 2021 alone, 20 towns throughout the western part of the state faced washed-out roads, damaged bridges, and flooded homes.
What many don't realize is that homeowners insurance doesn't cover damage caused by flooding. If you don't have flood insurance when disaster strikes, you'll likely face significant hurdles to restoring your property and belongings.
Knowing how to get New Hampshire flood insurance and what it covers is crucial to your financial well-being. But a flood policy isn't a replacement for standard homeowners insurance —compare home insurance rates and policy options with Insurify to get excellent coverage at an affordable price.
Do I Need Flood Insurance in New Hampshire?
According to the New Hampshire Department of Environmental Services, flooding is New Hampshire 's most common and costly natural disaster.
Most people assume their home insurance covers any flood damage they might have—it doesn't.
Flood insurance isn't required for most New Hampshire renters or homeowners. However, your mortgage lender can direct you to buy coverage as a condition of your home loan if your home is in a flood zone.
But 30 percent of flood insurance claims are a result of flooding in low-risk and moderate- risk areas. So you may still need flood insurance even if you're not in a high-risk flood zone.
How would you know your risk of flooding?
Whether you're in Concord, Manchester, Amherst, or Portsmouth, turn to the Federal Emergency Management Agency ( FEMA ). FEMA flood maps can help you determine your home's flood zone.
New Hampshire Flood Zones
Everyone in New Hampshire lives in an area with some flood risk. So the question isn't "Are you at risk?" but rather "What level of risk does your area have?"
New Hampshire 's Office of Strategic Initiatives has resources to locate your flood zone. It recommends the FEMA Map Service Center to find Flood Insurance Rate Maps (FIRMs). The state has a handy guide to find your flood zone.
When looking at the maps, pay attention to the Special Flood Hazard Areas. These include different flood zones, such as Zones A, AE, AO, A1–30, and VE. Typically, you'll be required to buy flood insurance if you're in one of those designated zones.
You can also contact a local realtor. They can help you determine the flood zone you're in.
What's Covered with New Hampshire Flood Insurance?
If floodwaters invade your home, you must be familiar with what your policy covers (and what it doesn't).
Flood coverage can pay for the cost of damages done to your physical property. Policyholders can typically expect coverage for a home's structure and systems, such as mechanical, electric, plumbing, heating and air conditioning, and water heaters.
It also covers permanent appliances, flooring, permanent shelves and cabinets, and window blinds.
Your policy's contents coverage protects personal belongings and non-permanent items in your home. A few examples include furniture, clothing, window treatments, non-permanent appliances (like a portable or window air conditioner), flooring, and valuables (up to a certain dollar amount).
Compare Car Insurance Quotes Instantly
Personalized quotes in 5 minutes or less
No signup required
What's Not Covered with New Hampshire Flood Insurance?
Like any insurance, your New Hampshire flood insurance policy will have exclusions for what it covers. Here's what a typical flood insurance policy doesn't cover:
Anything outside your home—pools, decks, and landscaping

Additional living expenses if you're forced to live elsewhere while your home is repaired

Cars or other vehicles

Paper currency, including stock certificates
Understanding what it doesn't cover before the disaster happens is crucial—you don't want to expect reimbursement during a flooding crisis only to discover something isn't covered.
What's the Cost of Flood Insurance in New Hampshire?
The average cost of flood insurance in New Hampshire is $1,098 per year. That breaks down to about $92 per month. If the price seems expensive, consider the potential cost of being uninsured.
If you don't think you can afford flood insurance, look for ways to lower your rates:
Relocate to a low-risk area that's less flood-prone.

Elevate your water heater, furnace, and other utilities to above base flood elevation.

Install flood vents to release floodwater from your house.

Fill in basements or crawl spaces.

Increase your deductible to transfer more risk away from the insurance company.
Keep in mind that flood insurance premiums will vary based on your location, the flood zone you're in, and the size of your property.
For example, a policy in Bedford or Goffstown might be less expensive than a policy in Portsmouth.
How to Get a Flood Insurance Policy in New Hampshire
A typical New Hampshire property owner has two options to buy flood insurance coverage: a policy through FEMA 's National Flood Insurance Program ( NFIP ) or from a private insurance company.
No matter where you buy your policy, know that it's separate from your home insurance—home insurance does not cover flood damage.
National Flood Insurance Program ( NFIP )
The National Flood Insurance Program ( NFIP ) is a government-backed option to buy coverage. However, you don't go through a government agency to get it. Instead, NFIP works with participating insurance companies that sell and manage policies.
Contact your homeowners insurance agent to ask about buying coverage and getting a flood insurance quote. You can also visit Floodsmart.gov to access an interactive tool to help you find a local flood insurance provider.
But remember that NFIP policies have a 30-day waiting period from the date of purchase before your coverage goes into effect.
Private Flood Insurance
Private flood insurance is another option to cover flood losses. If you don't qualify for NFIP coverage or need higher policy limits, a private flood insurance policy might be just what you're looking for.
Keep in mind that most flood insurance policies have a 10- to 30-day waiting period. Make sure you buy your policy well in advance and not right before an impending storm or predicted flooding.
Frequently Asked Questions
FEMA's National Flood Insurance Program is the most common way to get flood insurance, but it's not the only way. Suppose you don't qualify for coverage through FEMA, or you want to shop around for higher coverage limits. In that case, you may get quotes from any private insurance company offering flood insurance in New Hampshire.

Yes, anyone—homeowners and renters—can buy flood insurance. You don't need to be in a designated floodplain to get coverage. If your community participates in the NFIP, you can purchase flood insurance through FEMA. Getting coverage from a private insurer is another option.

Mortgage companies take a large risk when lending you money for a home. Flood insurance ensures the mortgage company doesn't have a total loss should your home flood. They can require you to carry flood insurance in the same way they can require homeowners insurance.
Is New Hampshire Flood Insurance Worth It?
Floods can cause destructive damage that costs thousands of dollars and takes many months to clear up. While New Hampshire doesn't have a law that requires flood insurance, you should consider buying a policy to protect yourself and your family.
Contact your current insurance company to ask about an NFIP flood insurance policy or coverage through a private insurer.
If you don't have homeowners insurance or want to update your policy, use Insurify to get insurance quotes and compare policy options to get the protection you need to safeguard your home.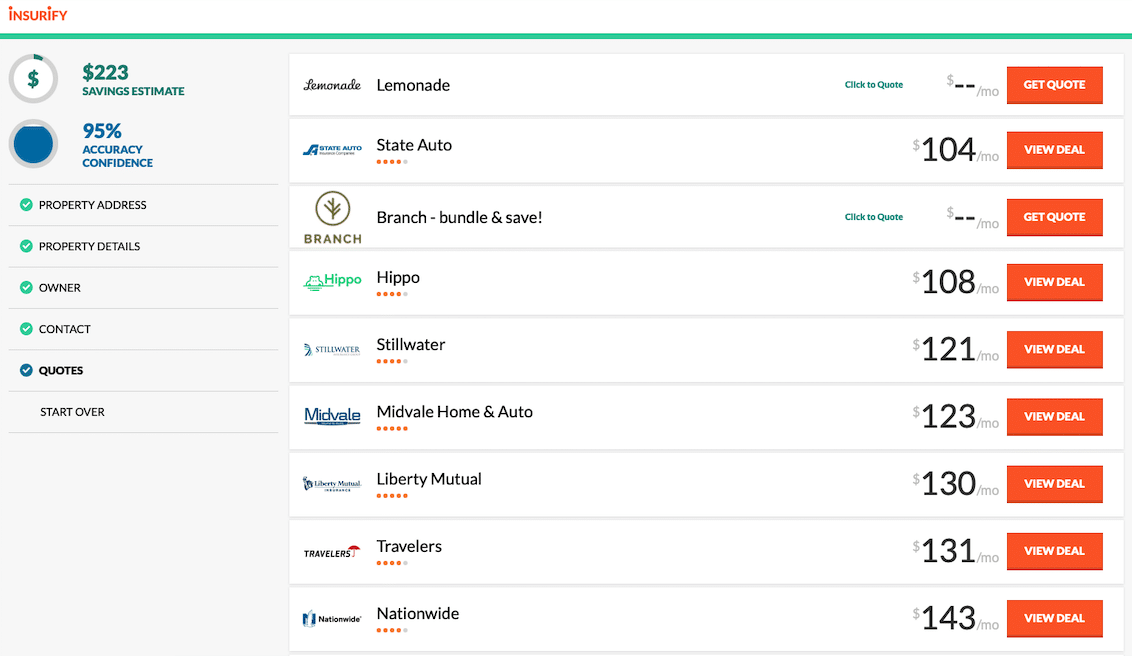 Compare Car Insurance Quotes Instantly
Personalized quotes in 5 minutes or less
No signup required
Data scientists at Insurify analyzed over 40 million auto insurance rates across the United States to compile the car insurance quotes, statistics, and data visualizations displayed on this page. The car insurance data includes coverage analysis and details on drivers' vehicles, driving records, and demographic information. With these insights, Insurify is able to offer drivers insight into how their car insurance premiums are priced by companies.