You may not have heard of Mercury Insurance unless you live in one of a select few states. The insurer works with independent insurance agents to provide auto insurance, homeowners policies, and more to those living in:
Arizona

California

Florida

Georgia

Illinois

Nevada

New Jersey

New York

Oklahoma

Texas

Virginia
By working closely with your local agent, you're guaranteed to have the best possible experience with the company. Most customers describe Mercury as an insurance company that offers a good variety of coverage options with reasonable rates. However, many customer reviews state that things could be better. Mercury has low customer satisfaction ratings due to claims and pricing issues.
The bulk of the company's negative reviews are related to car insurance, and few reviews are available for home insurance. So while it's tough to say what your experience with a home insurance policy would be like, it's safe to assume that Mercury would still adhere to its general system of policies and procedures.
Ultimately, you'll want to do some research before you purchase insurance coverage, but who has time to go price shopping? Instead, you can compare homeowners insurance quotes to find the best rate for the best policy for you in a matter of minutes by visiting Insurify.
Mercury Home Insurance Reviews: Customer Satisfaction
When you purchase an insurance policy from Mercury, you can cover your home with a wide range of options. Those who want more robust features can add additional features and enjoy peace of mind that their home is fully protected. While the price you pay will vary based on the age of your home, the state you live in, and any additional coverage that you opt for, you can expect insurance rates from Mercury to be fairly low.
Mercury insurance reviews are mixed. Customers who are pleased with the company noted that they always receive excellent service from their independent agents and that filing claims was a quick and easy process. However, almost just as many people offer anecdotes that are the exact opposite, stating that Mercury doesn't pay out fairly and that rates are raised by unreasonable amounts.
Both J.D. Power and A.M. Best give Mercury lower ratings for both financial strength and customer satisfaction. The Better Business Bureau (BBB) gives Mercury an A- rating. The 32 BBB customer reviews amount to one star out of five. Plus, there are 126 customer complaints (all closed).
Mercury's National Association of Insurance Commissioners (NAIC) complaint index is 1.10. The methodology for calculating the complaint index is to divide the market share of complaints by the market share of insurance premiums written. The lower the number, the better. While Mercury's complaint index is certainly not the lowest, it does score lower than GEICO, Liberty Mutual, and Nationwide.
Mercury Homeowners Insurance Quotes
A majority of insurance companies offer online tools for new customers to retrieve quotes and explore coverage options, but Mercury Insurance Group hasn't quite reached that level yet. There is a mobile app available. It lets you pay premiums, view your insurance cards, and access roadside assistance if you carry Mercury car insurance.
If you're interested in learning about pricing, you're asked to enter your ZIP code in order to find a local agent. General descriptions of insurance products are listed on its website but if you're looking for detailed information, speaking with an agent is your best bet.
Mercury prides itself on providing a combination of low rates and robust policy features, but it's important to keep in mind that your individual rate will vary. Policyholders who take advantage of additional coverage options may find that annual premiums are on the higher side, however, the company does offer a policy discount when you bundle your car insurance with a home policy.
Compare Car Insurance Quotes Instantly
Personalized quotes in 5 minutes or less
No signup required
What's Covered by Mercury Home Insurance?
If you're in the market for a home insurance policy that includes a wealth of features as part of its standard options, you might love what Mercury has to offer. Policyholders can enjoy the following as a part of their base policy without having to pay for additional features:
Dwelling protection for your home, fences, and sheds

Personal property coverage for your belongings

Extended replacement cost to help rebuild your home

Additional living expenses in the event your home is uninhabitable

Personal liability protection safeguards you in the event someone is hurt on your property

Guest medical coverage offers additional protection for injuries

Identity theft protection pays toward any expenses incurred as a result of criminal activity
You can also opt for extra personal property coverage if you have items of high value, including art or jewelry. Those concerned about personal injury protection can explore higher limits on this type of coverage, and in general, it's recommended that you speak with your agent to determine the appropriate options for your needs. Any homeowners policy can also include these additional coverages:
Home systems protection that covers your appliances

Identity management services which offer extra support in the case of identity theft

Home cyber protection for your personal data

Service line coverage in the event of a sewer issue

Umbrella insurance for high-value property
How Does Mercury's Claims Process Work?
If you've experienced a covered loss and need to begin a home insurance claim, contact Mercury right away by calling 1 (800) 503-3724. Representatives are available 24 hours a day, 7 days a week, and can help you step by step through the claims process. When you call, make sure to have the following information available:
Your policy number

The date, time, and location of the event

A detailed description of the damage

If a police report was taken, the report number and the name of the police department
Depending on the details of your claim, you may submit photos of the damage with no inspection. Some cases will require an inspector to visit your property. Mercury works to process all claims as efficiently as possible and you can always contact your claims representative for updates along the way.
After your claim is approved, you'll be sent reimbursement minus your deductible and up to your coverage limits.
Insurance Discounts and Payment Methods
Policyholders expecting a slew of discounts may be slightly underwhelmed with the savings Mercury provides, however that's not to say that you can't enjoy a lower rate through one of the following:
Protective devices including deadbolts, burglar alarms, smoke alarms, and more can take a portion off of your annual rate

Homes built with fire-resistant construction materials may be less expensive to cover

Both newer homes, as well as those within a gated community, can be eligible for savings

Bundling your home, renters, or condo insurance policy with auto insurance can help you save money as well
Payment Methods
There are several options when making your payment to Mercury, including logging into your online account or calling 1 (800) 503-3724. Policyholders can utilize a debit or credit card and can even pay with more than one card if needed. You can also submit your premium via MoneyGram or mail a check or money order to:
Mercury Insurance Group
P.O. Box – 11991
Santa Ana, CA 92711
Bundling Home with Mercury Auto Insurance
By far, the most common bundling discount is to connect your home and auto insurance. Mercury offers lower rates than most car insurance companies. In addition to basic liability protection, you can get:
Collision and comprehensive coverage

Medical payments coverage

Personal injury protection

Uninsured and underinsured motorist protection

Rental car coverage

Roadside assistance
Your auto insurance policy also comes with its own set of discounts to help you lower your rates even further. Popular discounts include:
Good driver

Good student

Auto-pay

Anti-theft

Pay in full

Multi-car
Other Types of Home Insurance Coverage Offered by Mercury
You don't have to own a traditional home in order to enjoy coverage from Mercury, as the company offers policies for renters insurance as well as condo insurance.
Landlord insurance is also available for those who own rental properties and not only helps to protect the structure of the building but also covers property damage and safeguards you in the event of a tenant's bodily injury.
Mercury Home Insurance FAQ
Individuals looking for a robust set of policy options will be pleased with Mercury, as the company includes a variety of features in its basic coverage. Additional coverage options are also available.

Those who have written a Mercury insurance review tend to have mixed feelings about the company, with some absolutely loving their experience and others leaving to do business with another company.

There are some discounts available from Mercury depending on the features of your home. If you're looking for the best rates in your area, make sure to visit Insurify first.
The Best Way to Save on Home Insurance
Finding an insurance policy that meets your coverage needs without breaking your budget can take some work, and it's far too time-consuming to visit individual websites and obtain a quote.
Instead, you can head to Insurify and compare quotes between multiple insurance providers at once. You'll be able to see how different levels of coverage impact your rate and explore which policy checks off all of your boxes.
Mercury Insurance Overview
Also known as Mercury General, Mercury Insurance Group offers a variety of insurance products to residents in 11 states. It partners with more than 8,000 independent agents to bring home, auto, renters, and business insurance to its customers along with other options including identity theft protection.
Mercury is best known for auto insurance coverage, providing policyholders with roadside assistance, low rates, and discounts for being a good student and a safe motorist. When you bundle your auto coverage with a home insurance product, Mercury will apply a multi-policy discount.
Most enjoy the level of customer satisfaction provided by Mercury, however, some do complain about claims being paid out at a low rate and other accounting issues. The company is competitive when it comes to pricing and options but doesn't have as stellar of a customer service rating as others.
| Department | Contact Information |
| --- | --- |
| Customer Service/Claims/Billing | 1 (800) 503-3724 |
| Company Headquarters | 1700 Greenbriar Lane Brea, CA 92821 |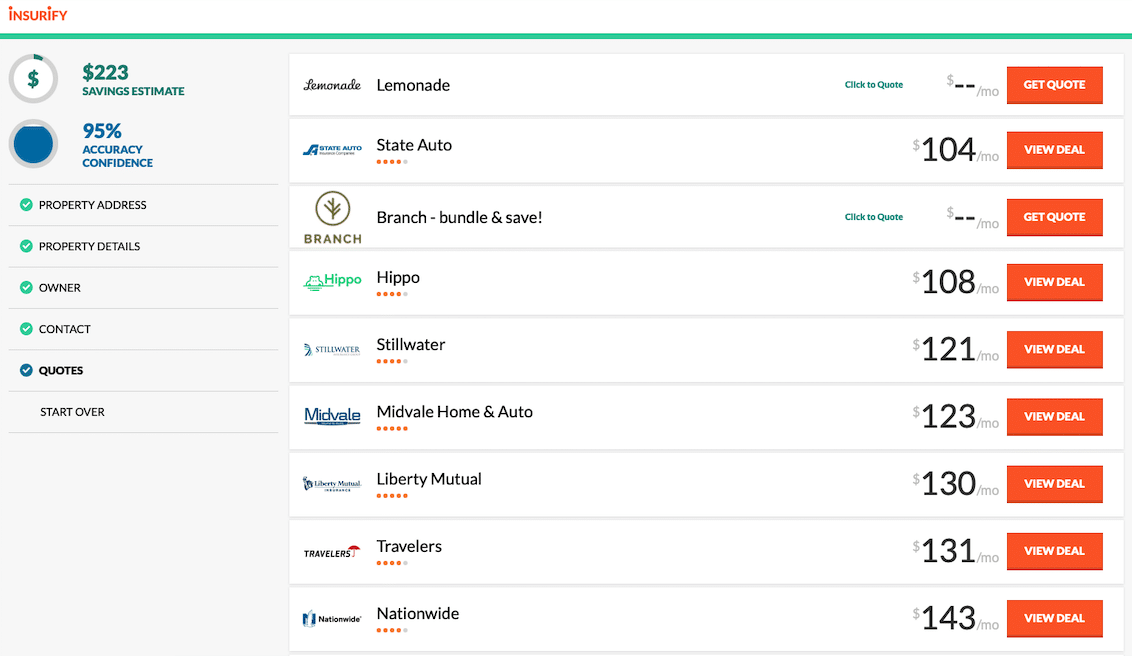 Compare Car Insurance Quotes Instantly
Personalized quotes in 5 minutes or less
No signup required
Data scientists at Insurify analyzed over 40 million auto insurance rates across the United States to compile the car insurance quotes, statistics, and data visualizations displayed on this page. The car insurance data includes coverage analysis and details on drivers' vehicles, driving records, and demographic information. With these insights, Insurify is able to offer drivers insight into how their car insurance premiums are priced by companies.