Your home is possibly your biggest investment to date. Protecting it and your personal contents should be a top priority, but do you know what to look for in a home insurance policy?
Most homeowners are well aware of the need for insurance to cover their domicile, the items in it, and perhaps even additional coverage for other structures on the property. Yet with so many companies offering different types of policies at varying rates, home insurance buyers are often confused about the amount of coverage they really need, whether flood insurance is necessary, and a host of other considerations.
Before enrolling in the first homeowners insurance option you find online, make sure to visit Insurify. There, you can compare home insurance quotes from multiple companies at once to find the option that best meets your needs.
Homeowners Insurance 101: The Basics
In many ways, a home insurance policy is similar to car insurance coverage.
A wide variety of unforeseen events—whether it's a car accident or a tree falling on your house—can leave you with out-of-pocket damages that your policy will pay toward.
With home insurance, not only is the basic structure of your home covered in the event of a fire, windstorm, or other events, but most policies also include liability insurance in case of an accident in your home.
There are many types of policies available, and each is designed to compensate you for the replacement value of your home and the items within. These policies include:
HO-1: Basic Form
There are 10 scenarios in which an HO-1 policy will cover damages to your home including natural disasters, theft, riots, and more. Most customers don't even have the option of purchasing this type of coverage on its own since it's so limited.
HO-2: Broad Form
If the HO-1 option doesn't quite feel like enough coverage, you can include other events through a Broad Form policy. In addition to the 10 listed in an HO-1 policy, you'll also be protected in the event of falling objects, freezing of HVAC systems, and more.
HO-3: Special Form
One of the most common forms of homeowners insurance, an HO-3 policy includes all of the events mentioned above. It also provides coverage for the personal belongings in your home and additional structures like your shed or gazebo. While this is a fairly standard policy, Special Form insurance usually excludes earthquake and flood provisions.
HO-4: Tenant's Form
You don't have to own your home to enjoy the peace of mind that comes with personal property coverage, as renters insurance is an excellent option for those living in an apartment. An HO-4 policy will often safeguard a tenant in the event their building is damaged by offering additional living expenses as well.
HO-5: Comprehensive Form
Those who are in the market for as much homeowners insurance coverage as possible will find a Comprehensive Form meets their needs. Not only does it cover the events listed in less robust options, but it will also pay toward other scenarios as long as they aren't explicitly excluded within the policy.
HO-6: Condo Form
While a condo owner shares many of the same interests as a homeowner when it comes to insurance, the details of policy coverage here are a bit different. An HO-6 option will extend to cover property damage, accidents in the home, and walls, floors, and ceiling of your unit as well.
HO-7: Mobile Home Form
Similar in nature to the HO-3 Special Form, a Mobile Home Form is a somewhat stripped-down version of a homeowners insurance policy that's tailored to cover this specific type of dwelling.
HO-8: Older Home Form
The coverage needs of an older home are quite different from those of one that's new, so if you live in a historic home or a registered landmark, you'll want to speak with your insurance company to determine the right coverage amount for your property.
Choosing Your Coverage Limits
Contrary to popular belief, no federal or state law requires a homeowner to purchase home insurance. Instead, it's your mortgage company that will place specific requirements on your policy details to ensure that their investment is protected should anything happen. Make sure to pay attention to any stipulations they set forth so that you're not breaching your mortgage contract.
Depending on your needs, you might decide to buy a more basic policy that offers low liability limits and dwelling coverage limits. Others with more expensive personal property might see it differently, so how exactly are you supposed to know the amount of insurance you need?
It's best to keep in mind that there are basically three different levels of general coverage:
Actual cash value: This would provide you with the funds to replace your personal property and repair damages to your home after factoring in depreciation.

Replacement cost: Both the cost to repair your home and replace the items inside would be determined without depreciation, giving you a bit more cash to work with.

Guaranteed replacement/cost value: By factoring inflation into the calculations, this extra coverage would provide up to 20-25 percent more than the price of building materials and replacement possessions.
Remember, there's technically no mandate for homeowners insurance at all, so theoretically, any of the above options are, well, optional. Homeowners should take the time to consider their level of cash reserves as well as the cost of replacing their personal property before purchasing a policy.
Compare Car Insurance Quotes Instantly
Personalized quotes in 5 minutes or less
No signup required
Types of Home Insurance Coverage
There are several options available when it comes to homeowners coverage, yet you may find that not all of them will suit your specific situation. It's advised that you consider not only the value of your home and belongings before purchasing a policy, but also your current level of assets. Covered perils may be limited based on your deductible amount, and predetermined covered losses.
By and large, the three most important types of home insurance coverage include:
Liability Coverage
Accidents can happen at a moment's notice, and if a friend or family member gets hurt inside your home or while on your property, they could sue you for damages and medical payments. Liability coverage under your homeowners policy will protect you and your assets should this occur. Liability coverage may also offer medical bill payments to individuals injured in an accident on your property.
Personal Property
People often wonder just how much personal property coverage is right for them, and it ultimately depends on the contents of your home and how important they are to you. Items that could be easily repurchased and hold little sentimental value might not hold as much weight as a rare piece of art, so this level of replacement cost coverage will vary for everyone. If you have any especially expensive items, like fine art or precious jewelry, consider adding supplemental coverage to better protect valuable items. Be sure to always keep an up-to-date home inventory with all your personal property listed so you can get the most out of your insurance claim if anything were to happen to your personal property.
Dwelling Coverage
The foundational aspect of a home insurance policy is dwelling coverage, which protects your home, roof, plumbing, and more. Many home insurance companies determine your policy limits based on the square footage of the house, market value, and more.
More thorough home insurance options include loss of use and umbrella insurance, so it's best to consult a professional if you have questions about what makes the most sense for you. Insurers also offer living expense coverage if you're displaced from your home after an accident. Dwelling coverage will reimburse construction costs as long as all building codes were followed prior to an accident.
Picking Condo Insurance Limits
The differences between a homeowners policy and a condo insurance policy aren't dramatically different, as individuals still want to carefully consider their personal liability coverage as well as their desired level of personal property coverage. However, there is one main difference, and it's found within the dwelling portion of your policy.
Homeowners need to protect every inch of their property from damage, so most options will cover the roof, foundation, and everything in between, as well as the land surrounding the home. Conversely, a condo resident isn't responsible for the roof, exterior walls, and many other facets of their building, making their policy slightly more basic in nature.
Picking Renters Insurance Limits
Individuals who rent an apartment can enjoy the most straightforward options of any insurance scenario, as they don't have any responsibility for the dwelling they reside in. Liability protection is crucial no matter what type of housing situation you're in as anyone sustaining an injury at your residence could potentially take legal action against you; however, dwelling coverage won't apply in this situation.
Most renters focus most on their personal belongings. As renters insurance is often very affordable, it's common to see individuals purchase policies with limits that extend well above the actual replacement value of their possessions. Again, the right amount of coverage will differ for everyone, so it's essential to have a general understanding of just how costly it would be if you needed to replace every item in your apartment.
Picking the Right Coverage - Frequently Asked Questions
No. Words are deceiving. Though comprehensive coverage may offer more protection than basic forms of homeowners insurance, there's no such thing as true, complete coverage. To make sure you understand what is and is not covered on your insurance policy, take a look at the declaration page of your homeowners insurance policy.

If you live in a flood zone, an area prone to high winds, or close to the coastline, you may need supplemental homeowners insurance. Your mortgage lender may inform you if you need any special supplemental coverage, especially if you're in a hurricane or wildfire region.

We all know we shouldn't cut corners when it comes to insurance. But it's expensive! To save money on your home insurance premiums, make sure you're periodically comparing quotes from different insurance companies. Insurify.com is the easiest way to make sure you've got the best and cheapest home insurance available to you. Compare quotes today for free.
Homeowners Insurance: The Policy You Can't Afford To Go Without
Although a home insurance policy will likely be required by your mortgage lender, you won't necessarily want to select the lender's preferred insurance company without doing some research first. Home insurance can help you with everything from damages caused by vandalism to living expense coverage if you're displaced from your home. Don't miss out!
Take the time to consider the most important aspects of coverage for your needs and then head over to Insurify.
You'll be able to compare quotes in real-time and find the best homeowners insurance option for your budget.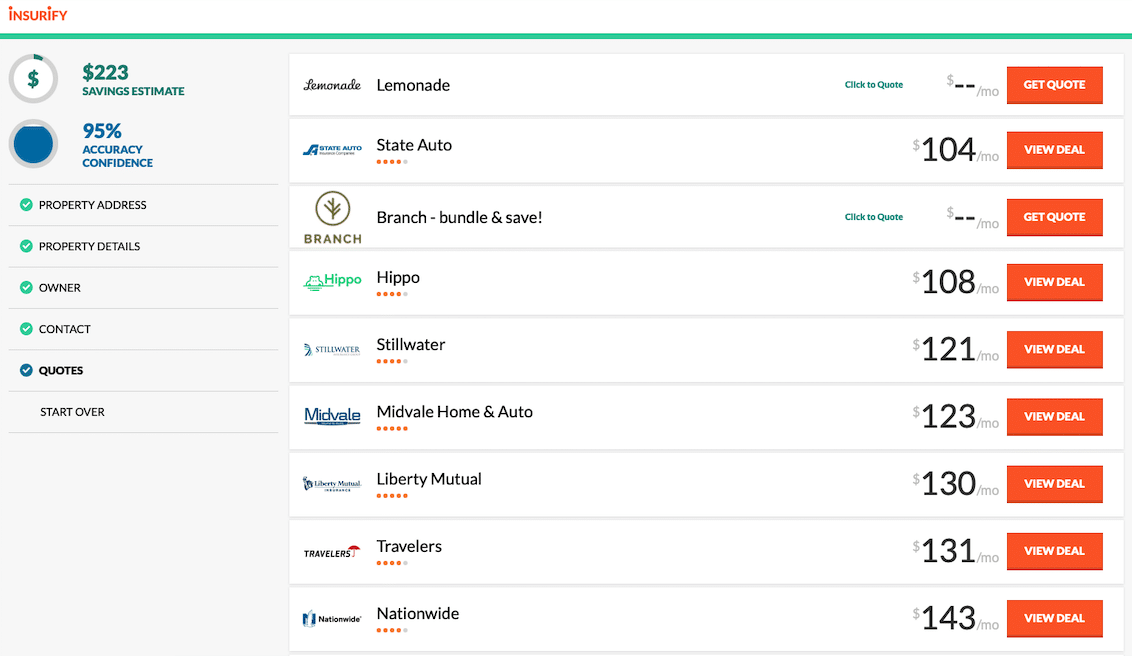 Compare Car Insurance Quotes Instantly
Personalized quotes in 5 minutes or less
No signup required
Data scientists at Insurify analyzed over 40 million auto insurance rates across the United States to compile the car insurance quotes, statistics, and data visualizations displayed on this page. The car insurance data includes coverage analysis and details on drivers' vehicles, driving records, and demographic information. With these insights, Insurify is able to offer drivers insight into how their car insurance premiums are priced by companies.