Do you need homeowners insurance if you own a townhome?
Although it's not legally required, it is highly recommended to insure your townhome and is often required from mortgage lenders.
If you're considering buying a townhome, you may be curious how insurance for it works. There are homeowners insurance and condo insurance, but is there an insurance policy made specifically for townhomes? Does your townhome 's HOA already cover your unit?
Although there are no state or federal laws that require you to purchase insurance coverage for your townhome, it's often a requirement from mortgage lenders. Finding the right insurance coverage will be a pivotal step during the process of securing a home loan. And even if you own the home outright, it's still a smart idea to protect this huge financial investment—likely one of the largest investments you'll ever make in your life.
Here, we cover everything you need to know about finding the right insurance policy for your townhome. And when you're ready to begin reviewing the best coverage options in your area, try Insurify, an easy-to-use tool that only takes a few minutes of research.
What Kind of Insurance Do I Need for a Townhome?
The type of insurance you need depends on your living situation. Are you renting your townhome or planning to purchase a townhome? If you're a homeowner, then you'll either need condo insurance or homeowners insurance, depending on whether your townhouse has a condominium association or homeowners association ( HOA ).
Also, depending on your geographic location, you may need to supplement your main insurance policy with additional policies. For example, if you live in an area prone to flooding, such as Florida, you may want to consider purchasing flood insurance. Or, if you live in a state that experiences earthquakes, like California, purchasing an earthquake insurance plan may be worth it. In most states, earthquakes, sinkholes, and flooding are not covered by your standard condo insurance or homeowners insurance policy.
If You Rent Your Townhome
If you rent your townhome, then it's recommended to purchase renters insurance. A renters insurance policy will provide coverage for your personal belongings, such as furniture, electronics, personal appliances, and clothing. It also typically includes liability protection coverage, which can help protect you in a case where you are found legally responsible for injuries to other people in your townhome or for any damages to the townhome.
Depending on the policy you choose, you may even receive additional living expense coverage that helps pay for costs you may incur if you're unable to live in your townhome due to a covered loss.
The actual structure of the townhome you're renting will be covered by your landlord's insurance, which is likely either a condo insurance or homeowners insurance policy.
If Your Townhome Has an HOA or Condominium Association
If your townhome is part of a condominium association or HOA, you will likely need a condominium insurance policy. Since townhomes are different from condos, the idea of buying a condo insurance policy for your townhouse can be confusing at first. The reason you'll need a condo insurance policy instead of a homeowners insurance policy, in this case, is that the HOA or condo association will typically take care of the townhome 's exterior, as well as common areas and shared resources, like hallways, pathways, and sometimes even your townhome 's roof.
If your townhome has community amenities, like a swimming pool, clubhouse, gym, or elevator, the funds from your condo or homeowners association should cover the maintenance of these amenities. If property damage in the common areas and repairs is needed, the homeowner or condo association fees that you pay will fund those projects.
As a homeowner, you pay monthly or annual dues to the HOA or condo association, which are meant to fund the cost of maintenance, repair, or upgrades to these common areas.
Condo insurance will cover many of the same items that homeowners insurance covers: personal liability coverage, personal property, loss of use (additional living expenses ), and certain water damage. It will not cover the exterior of your building, shared common areas, or anything that your condominium association or HOA 's master insurance policy covers.
The details of your community's master insurance policy will vary, so make sure to check with your condo or homeowners association 's policy and bylaws to verify what is and isn't covered.
If Your Townhome Does Not Have an HOA
Some townhomes don't have a condo or homeowners association. Row houses are popular in highly populated cities, such as New York and San Francisco, and are akin to owning a single-family home.
Since your townhome doesn't have an association covering the exterior or any shared common areas that you benefit from, you can purchase a standard homeowners insurance policy. In addition to everything a condo insurance policy covers, your home insurance policy will also cover vandalism on your home's exterior, the townhome 's dwelling/structure, and the land your property is on.
Does It Cost More to Insure a Townhome?
If you're comparing condos and townhomes, you'll find that insurance rates are typically lower for condos because owners only need the interior of their unit covered. Townhomes, in comparison, may also need coverage on the exterior, which can result in higher insurance rates. Some townhomes also come with a lawn, backyard space, or detached garage. There's more to cover with a townhome, reflected in the townhouse owner 's insurance policy premium.
In many cases, townhomes are considered a single-family dwelling that shares one or two walls with neighbors. While some townhomes belong to an HOA, some are more private. On the other hand, condominiums are considered a shared complex with multiple units, each owned by a different person—much like an apartment building.
While insuring a townhome can cost more than insuring a condo, you receive more coverage, so the extra expense makes sense. As you compare insurance policies, remember to factor in the policy's deductibles. It's easy to pay attention solely to a plan's premium, but should it come time to make an insurance claim, the deductible (the amount you pay out of pocket before insurance kicks in) is critical.
A little tip: if you're experiencing sticker shock at the cost of insurance policies, remember that there are ways you can save. Some national insurance companies offer discounts when you bundle homeowners insurance with other insurance plans they offer, such as auto insurance.
FAQ: Townhouse Insurance
A townhome is a building structure that shares one or two walls with neighboring units. Similarly, condos are units within a large building. The big difference is that condo units do not come with land and have common areas shared by all condo complex residents. Townhomes come with land, including a personal driveway, front lawn, backyard, and personal detached or attached garage.

Yes. But while the condo or homeowners association may cover important aspects of the community, it does not cover everything that a personal insurance policy will—like personal liability coverage, personal belongings, loss of use, and more.

No. There's condo insurance and homeowners insurance. The type of insurance policy you will need depends on the ownership structure of your property and whether there's a community association.
How to Find Townhouse Insurance
If you're ready to find the right coverage for your townhome, it's easy to review your coverage options and compare multiple insurance quotes with Insurify. Fill out one form—all it takes is two minutes—and you can begin comparing quotes from top insurers today.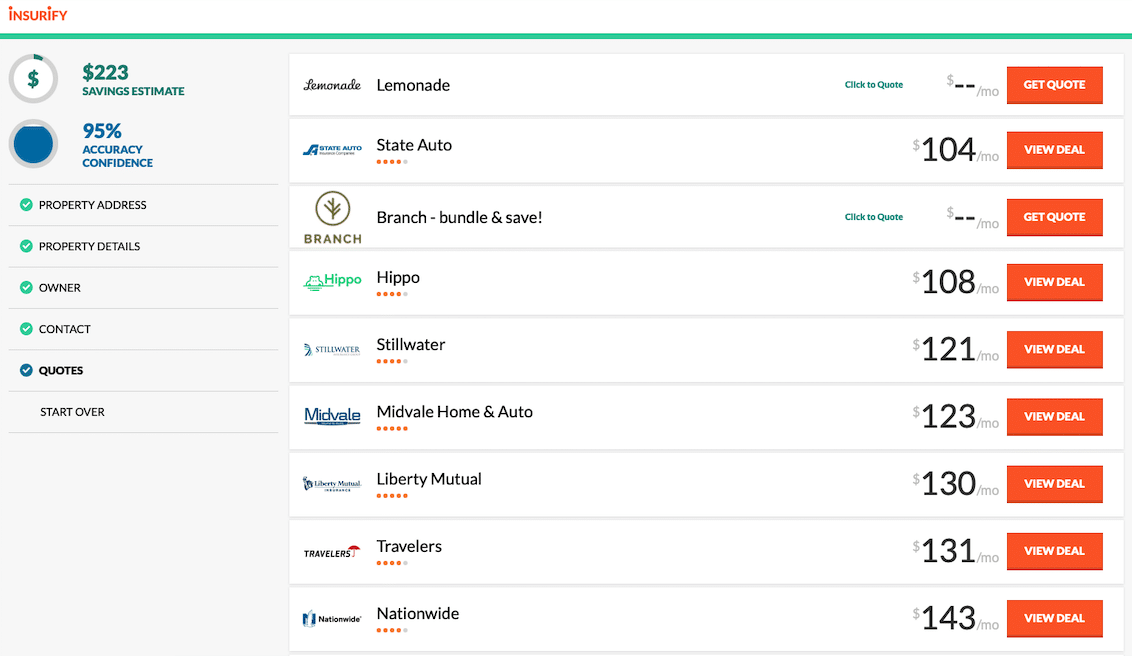 Compare Home Insurance Quotes Instantly
Personalized quotes in 5 minutes or less
No signup required